Correction to: Prediction of femoral strength using 3D finite element models reconstructed from DXA images: validation against experiments
In the original publication of the article, Fig. 3 and Tables 2, 4 and 5 were published with errors. The issue was caused by an error in the code used to predict femoral strength in the finite element (FE) models, and that was presented in a previous publication (Grassi et al. 2016). For any details about the error and how that was addressed, we refer the interested reader to the corrigendum that was published for that publication (Grassi et al. 2019).
The correct Fig. 
3
and Tables 
2
,
4
and
5
are provided below. The overall accuracy of the new results was similar to that in the original article. Thus, the overall findings and conclusions from the original article are still valid.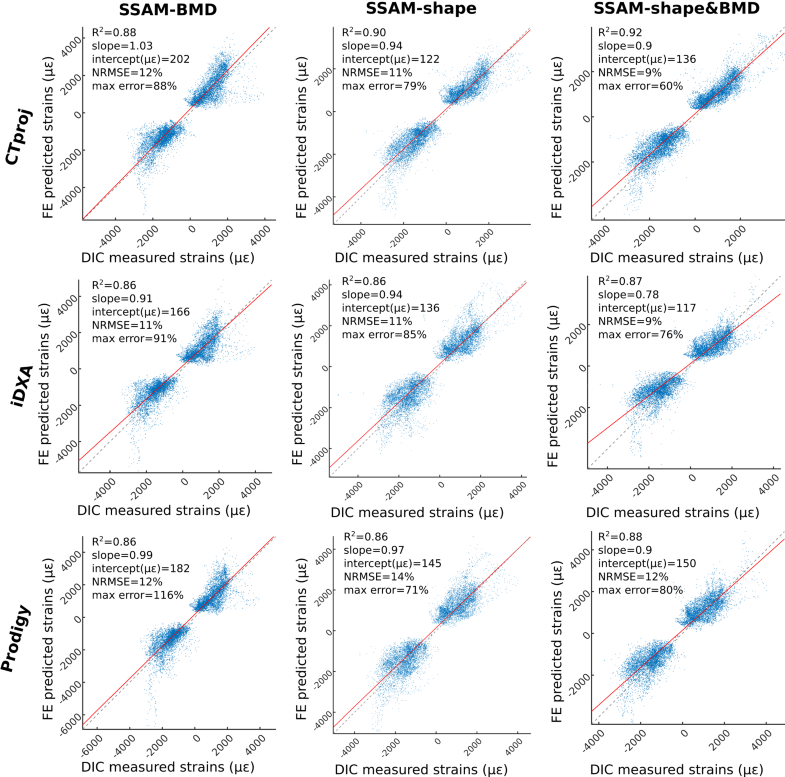 Bone #1

Bone #2

Bone #3

CTproj

iDXA

Prodigy

CTproj

iDXA

Prodigy

CTproj

iDXA

Prodigy

SSAM-BMD

 R2

0.9

0.9

0.9

0.84

0.83

0.83

0.92

0.89

0.89

 Slope

1

0.91

0.92

1.03

0.99

1.08

1.03

0.85

0.97

 Intercept (µε)

225

199

200

257

263

283

142

84

107

 NRMSE (%)

13

11

11

19

18

20

12

12

12

 Max error (%)

64

69

70

89

89

113

63

58

80

SSAM-shape

 R2

0.90

0.85

0.84

0.91

0.91

0.89

0.91

0.87

0.89

 Slope

0.87

0.93

1.01

0.91

0.82

0.84

1.07

1.17

1.16

 Intercept (µε)

195

263

299

65

100

94

54

76

91

 NRMSE (%)

12

15

17

12

12

13

10

11

14

 Max error (%)

37

46

82

79

49

66

82

88

84

SSAM-shape and BMD

 R2

0.88

0.84

0.86

0.94

0.89

0.9

0.92

0.87

0.88

 Slope

0.81

0.76

0.88

0.9

0.74

0.86

0.98

0.86

0.99

 Intercept (µε)

197

217

252

109

141

181

68

3

17

 NRMSE (%)

11

14

15

10

11

13

9

8

12

 Max error (%)

34

37

43

51

70

61

74

72

91

CT-based (Grassi et al. 2016)

 R2

0.92

0.93

0.94

 Slope

0.93

0.92

1.00

 Intercept (µε)

148

111

64

 NRMSE (%)

11

11

10

 Max error (%)

41

52

59
Table 4
Prediction accuracy for the major and minor principal strains in the femoral neck region only for SSAM-based models, for the three bones pooled and for each individual bone. Only the second row (SSAM-shape) and the reference data from CT-based models (Grassi et al. 2019, 2016) are affected by the corrigendum
 

3 bones pooled

Bone #1

Bone #2

Bone #3

CTproj

iDXA

Prodigy

CTproj

iDXA

Prodigy

CTproj

iDXA

Prodigy

CTproj

iDXA

Prodigy

SSAM-BMD

 R2

0.81

0.77

0.76

0.83

0.83

0.83

0.76

0.73

0.74

0.88

0.83

0.81

 Slope

0.84

0.76

0.83

0.90

0.87

0.84

0.77

0.77

0.91

0.86

0.69

0.80

 Intercept (µε)

103

80

94

245

249

235

− 39

− 42

− 56

37

− 19

− 11

 NRMSE (%)

10

11

9

17

16

15

22

25

29

14

14

17

 Max error (%)

67

68

71

72

74

77

98

95

115

70

66

88

SSAM-shape

 R2

0.87

0.86

0.85

0.90

0.86

0.84

0.87

0.91

0.89

0.88

0.85

0.88

 Slope

0.91

0.97

1.00

0.87

0.90

0.95

0.91

0.88

0.90

0.98

1.27

1.27

 Intercept (µε)

68

122

161

190

270

342

− 97

− 33

− 16

28

215

218

 NRMSE (%)

10

15

13

11

15

17

19

14

16

11

12

16

 Max error (%)

59

78

57

38

46

84

75

42

59

73

95

91

SSAM-shape and BMD

 R2

0.89

0.85

0.86

0.88

0.83

0.83

0.93

0.87

0.89

0.88

0.84

0.86

 Slope

0.89

0.78

0.91

0.79

0.71

0.81

0.95

0.75

0.88

0.95

0.93

1.08

 Intercept (µε)

163

110

154

269

245

291

27

27

67

60

51

84

 NRMSE (%)

10

12

12

12

14

16

13

14

16

11

10

14

 Max error (%)

51

65

66

41

35

39

45

66

57

71

74

91

CT-based (Grassi et al. 2016)

 R2

0.90

0.88

0.90

0.93

 Slope

0.86

0.90

0.83

0.88

 Intercept (µε)

77

192

− 22

37

 NRMSE (%)

11

14

14

10

 Max error (%)

46

40

49

44
Table 5
Femoral strength prediction accuracy for bones #1 and #2, for the three different FE models (SSAM-BMD, SSAM-shape, and SSAM-shape and BMD), each of them built for the three different 2D reference images (CT projection, iDXA, and Prodigy). All computational data in table is affected by the corrigendum
 

Bone #1

Bone #2

SEE [N]

CTproj

iDXA

Prodigy

CTproj

iDXA

Prodigy

SSAM-BMD

10,821 (− 19%)

11,043 (− 17%)

11,242 (− 16%)

7155 (− 9%)

5945 (− 24%)

5593 (− 29%)

2077

SSAM-shape

13,158 (− 2%)

12,373 (− 8%)

10,900 (− 19%)

8229 (+ 5%)

8724 (+ 11%)

7879 (+ 0%)

1164

SSAM-shape and BMD

14,946 (+ 12%)

13,427 (+ 0%)

12,070 (− 10%)

7516 (− 4%)

8873 (+ 13%)

7548 (− 4%)

950

CT-based (Grassi et al. 2016)

13,144 (− 1.8%)

7663 (− 2.5%)

403

Experimentally measured (Grassi et al. 2014)

13,383

7856

–
Reference
Grassi L, Väänänen SP, Amin Yavari S, Jurvelin JS, Weinans H, Ristinmaa M, Zadpoor AA, Isaksson H (2014) Full-field strain measurement during mechanical testing of the human femur at physiologically relevant strain rates. J Biomech Eng 136:111010.

 

https://doi.org/10.1115/1.4028415

CrossRef

Google Scholar
Copyright information
© Springer-Verlag GmbH Germany, part of Springer Nature 2019