Abstract
Despite a recent study of Honmoroko, Gnathopogon caerulescens, reproduction in lagoons around Lake Biwa having demonstrated the importance of lagoon inlets as spawning habitats for the species, no quantitative studies have examined the conditions determining the environmental suitability of spawning habitats. A survey of Honmoroko egg distribution in the inlets indicated that mature Honmoroko selectively spawn in regions of greater current velocity, utilizing a greater abundance of submerged plants and larger substrate (gravel and pebble) size, not utilizing the emergent plants, habitat characteristics supported by a generalized linear mixed model. The biological information gained is essential for future conservation of Honmoroko spawning habitats.
This is a preview of subscription content, log in to check access.
Access options
Buy single article
Instant unlimited access to the full article PDF.
US$ 39.95
Price includes VAT for USA
Subscribe to journal
Immediate online access to all issues from 2019. Subscription will auto renew annually.
US$ 99
This is the net price. Taxes to be calculated in checkout.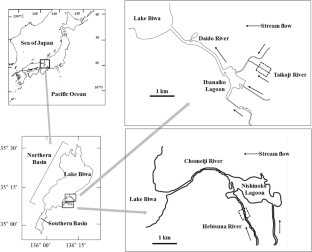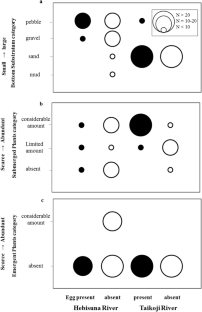 References
Akaike H (1974) A new book at the statistical model identification. IEEE Trans Automat Control 19: 716–723

Bain MB, Fin JT, Book HE (1985) Quantifying stream structure for habitat analysis studies. N Am J Fish Manag 5: 499–500

Bohlen J (2000) Behaviour and microhabitat of early life stages of Cobitis taenis. Folia Zool 49 (suppl 1): 173–178

Bohlen J (2003) Spawning habitat in the spined loach, Cobitis taenia (Cypriniformes: Cobitidae). Ichthyol Res 50: 98–101

Fujioka, Y (2013) Present status and conservation of endangered endemic Lake Biwa cyrinids, Honmoroko (Gnathopogon caerulescens), Nigorobuna (Carassius auratus grandoculis) and Gengorobuna (Carassius cuvieri). Jpn J Ichthyol 60: 57–63

Fujioka Y, Saegusa J (2015) Sex ratio in relation to age and body size in "Honmoroko" Gnathopogon caerulescens. Ichthyol Res 62: 512–515

Fujioka Y, Kikko T, Saegusa J, Usuki T, Ohtsuka T (2015) Response of sex ratio to timing of breeding in the small cyprinid Gnathopogon caerulescens. J Fish Biol 87: 958–966

Gosch NJC, Phelps QE, Willis DW (2006) Habitat characteristics at bluegill spawning colonies in a South Dakota glacial lake. Ecol Freshw Fish 15: 464–469

Hassler JT (1970) Environmental influences on early development and year-class strength of northern pike in Lakes Oahe and Sharpe, South Dakoda. Trans Am Fish Soc 99: 369–375

Hayashi K, Koyama A, Onikura N (2013) Spawning habitat of the Chinese false gudgeon, Abbottina rivularis, in an irrigation channel near the Ushizu River. Jpn J Ichthyol 60: 141–147

Iguchi K, Mizuno N (1999) Early starvation limits survival in amphidromous fishes. J Fish Biol 54: 705–712

Ihara T, Inui R, Ohata T, Onikura N (2011) The spawning habitat of the domestic alien fish Opsariichthys uncirostris uncirostris in a rive flowing into a dam. Bull Biogeogr Soc Jpn 66: 41–48

Ishizaki D, Kikko T, Fujioka Y, Mizuno T, Nagata T, Yodo T, Okubo T (2016) The importance of habitat continuity between Lake Biwa and inlets rivers with respect to fish fauna. Jpn J Ichthyol 63: 89–106

Kikko T, Nemoto M, Sawada N, Fujioka Y, Kai Y (2012) Desiccation of eggs of cyprinid fishes in Lake Biwa, Japan. Jpn J Ichthyol 59: 84–86

Kikko T, Okamoto H, Ujiie M, Ishizaki D, Usuki T, Nemoto M, Saegusa J, Kai Y, Fujioka Y (2014) Spawning ecology of Honmoroko, Gnathopogon caerulescens, in inlets of the Nishinoko lagoon, Lake Biwa. Jpn J Ichthyol 61: 1–8

Kikko T, Ishizaki D, Ninomiya K, Kai Y, Fujioka Y (2015a) Diel patterns of larval drift of honmoroko Gnathopogon caerulescens in an inlet of Ibanaiko Lagoon, Lake Biwa, Japan. J Fish Biol 86: 409–415

Kikko T, Usuki T, Ishizaki D, KaiY, Fujioka Y (2015b) Relationship of egg and hatchling size to incubation temperature in the multiple-spawning fish Gnathopogon caerulescens (Honmoroko). Environ Biol Fish 98:1151–1161

Kikko T, Okamoto H, Ujiie M, Ishizaki D, Saegusa J, Kai Y, Fujioka Y (2015c) Different timings of spawning migration between sexes in Honmoroko, Gnathopogon caerulescens from Lake Biwa to the Ibanaiko Lagoon, Japan. Jpn J Ichthyol 62: 157–162

Kikko T, Kitakado T, Ishizaki D, Ujiie M, Sawada N, Saegusa J, Sakai A, Suzuki T, Nishimori K, Ninomiya K, Kai Y (2015d) Estimates of numbers of Honmoroko Gnathopogon caerulescens caught by recreational anglers around Ibanaiko lagoon, adjacent to Lake Biwa. Nippon Suisan Gakkaishi 81: 17–26

Kikko T, Ishizaki D, Kuwamura K, Okamoto H, Ujiie M, Ide A, Saegusa J, Kai Y, Nakayama K, Fujioka Y (2018a) Juvenile migration of exclusively pelagic cyprinid Gnathopogon caerulescens (Honmoroko) in Lake Biwa, central Japan. J Fish Biol 92: 1590–1603

Kikko T, Nishimori K, Ishizaki D, Yoshioka T, Omae S, Nakamura R, Chimura Y, Kubota Y, Kataoka Y, Nemoto M, Okamoto H, Oue N, Fujioka Y (2018b) Introduction of capturing prohibition Honmoroko Gnathopogon caerulescens for spawning inlets of the lagoons, Lake Biwa, Japan. Nippon Suisan Gakkaishi 84: 452–455

Kubota H, Sakai T, Doi T (2010) Effect of rotational fishing on enhancement of fish stocks in mountain streams. Nippon Suisan Gakkaishi 76: 1048–1055

Maruyama A, Rusawa B, Yuma M (2003) Interpopulational egg-size variation of a landlocked Rhinogobius goby related to the risk of larval starvation. Environ Biol Fish 67: 223–230

Mills CA (1981a) The attachment of dace, leucicus leuciccus L., eggs to the spawning substratum and the influence of changes in water current on their survival. J Fish Biol 19: 129–134

Mills CA (1981b) Egg population dynamics of naturally spawning dace, Leuciscus leuciscus (L.). Env Biol Fish 6: 151–158

Mizuno S, Sasaki Y, Omoto N, Imada K (2004) Elimination of adhesiveness in the eggs of shishamo smelt Spirinchus lanceolatus using kaolin treatment to achieve high hatching rate in an environment with a high iron concentration. Aquacul 242: 713–726

Moriyama A, Yanagisawa Y, Mizuno N, Omori K (1998) Starvation of drifting goby larvae due to retention of free embryos in upstream reaches. Environ Biol Fish 52: 321–329

Nakamura M (1969) Cyprinid fishes of Japan: Studies on life history of cyprinid fishes of Japan. Special publication research in Institute of National Resource 4, Sigenkagaku Kenkyusho, Tokyo

R Core Team (2017) R: A language and environment for statistical computing. R Foundation for Statistical Computing, Vienna, Austria. URL https://www.R-project.org/

Sagawa S, Misawa K, Seo Y, Nakamura F (2003) Spawning habitat selectivity of shishamo smelt Spirinchus lanceolatus in a small mountain stream in southern Hokkaido, Japan. Jpn J Ichthyol 50: 63–66

Shibata J, Karube Z, Oishi M, Yamaguchi M, Goda Y, Okuda N (2011) Physical structure of habitat network differently affects migration patterns of native and invasive fishes in Lake Biwa and its tributary Lagoons: stable isotope approach. Popul Ecol 53: 143–153

Shirotori Y, Yamaguchi M, Ikuta K, Murakami M, Hakoyama H (2006) Spawning habitat selection and suitability for Japanese dace, Tribolodon hakonensis. J Ethol 24: 285–289

Tsukamoto K (1991) Age and growth of Ayu larvae Plecoglossus altivelis collected in the Nagara, Kiso and Tone Rivers during the downstream migration. Nippon Suisan Gakkaishi 57: 2013-–2022

Webb PW (1984) Form and function in fish swimming. Sci Am 251: 72-82

Zuur AF, Ieno EN, Walker N, Saveliev AA, Smith GM (2009) Mixed effects models and extensions in ecology with R. Springer-Verlag, New York.
Acknowledgments
We thank the Notogawa Fishery Cooperative for assistance with the field research, and Dr. G. S. Hardy for his critical reading of the manuscript. The fieldwork undertaken in this study complied with the current Japanese law.
Additional information
Publisher's Note
Springer Nature remains neutral with regard to jurisdictional claims in published maps and institutional affiliations.
About this article
Cite this article
Kikko, T., Ishizaki, D., Kataoka, Y. et al. Spawning habitat selectivity of Honmoroko, Gnathopogon caerulescens, in lagoon inlets, Lake Biwa, central Japan. Ichthyol Res 67, 185–190 (2020). https://doi.org/10.1007/s10228-019-00698-6
Received:

Revised:

Accepted:

Published:

Issue Date:
Keywords
Cyprinidae

Inlet

Lagoon

Lake Biwa

Spawning