Abstract
A study of waste material flow was carried out in Bali Province to define, evaluate, and analyse the existing condition of waste management as a reference for improving solid waste services. In this paper, waste quantity in every chain of waste management was measured. Waste sampling, observation, and interviews were also conducted to build the material flow model. Around 4.2 million residents and 4.9 million tourists yearly generate waste of up to 822,555 tonnes/year, which is dominated by organic waste for around 65% ww (wet weight) and plastic waste for around 15.67% ww. Around 200,718 tonnes/year (24.40% ww) of waste is transported directly to the landfills and 235,418 tonnes/year (28.62% ww) is collected first at the transfer depos, before being transported to the landfill. As much as 39,566 tonnes/year (4.81% ww) of waste enters the 3R-Transfer Depo for recycling and around 47,030 tonnes/year (5.72% ww) enter the waste bank. Furthermore, due to the lack of integrated waste management, around 283,369 tonnes/year (34.45% ww) waste is illegally dumped into the environment. In the end, up to 444,679 tonnes/year (54.06% ww) of waste is processed in ten landfills which serve Bali Province.
This is a preview of subscription content, log in to check access.
Access options
Buy single article
Instant access to the full article PDF.
US$ 39.95
Price includes VAT for USA
Subscribe to journal
Immediate online access to all issues from 2019. Subscription will auto renew annually.
US$ 99
This is the net price. Taxes to be calculated in checkout.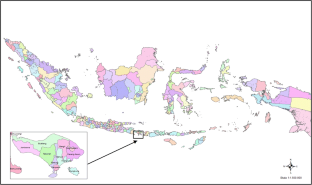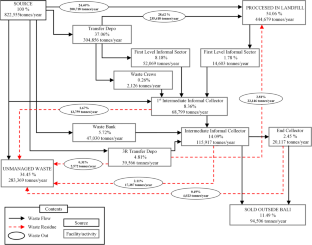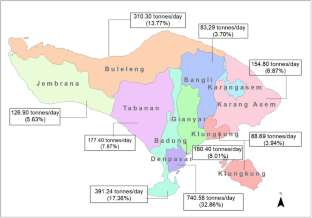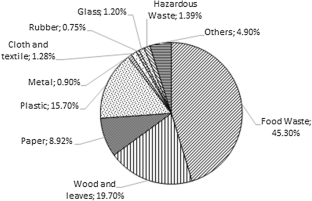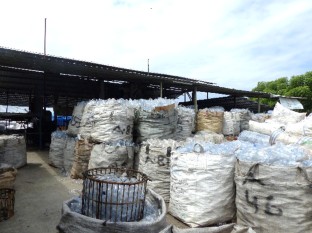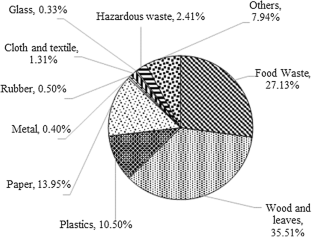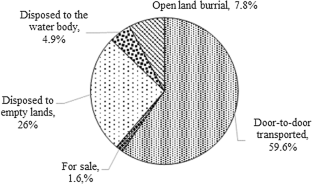 References
1.

Okumura S, Tasaki T (2014) Moriguchi Y (2014) Economic growth and trends of municipal waste treatment options in Asian countries. J Mater Cycles Waste Manag 16:335

2.

Province B (2017) Bali Province in number 2017. Badan Pusat Statistik, Bali

3.

Chen Y-C (2018) Effect of urbanisation on municipal solid waste composition. Waste Manag 79:828–836

4.

Troschinetz AM, James RM (2009) Sustainable recycling of municipal solid waste in developing countries. Waste Manag 29:915–923

5.

Makarichi L, Kua-anan T, Warangkana J (2018) Material flow analysis as a support tool for multi-criteria analysis in solid waste management decision-making. Resour Conserv Recycl 139:351–365

6.

United Nations (2015) Transforming our world: the 2030 agenda for sustainable development. Resolution Adopted by the General Assembly on 25 September 2015. Assembly, G. https://www.un.org/ga/search/view_doc.asp?Symbol=A/RES/70/1&Lang=E. Accessed 20 Dec 2018.

7.

Brunner HP, Rechberger H (2016) Handbook of material flow analysis: for environmental, resource, and waste engineers. CRC Press, London

8.

Millward-Hopkins J et al (2018) Fully integrated modelling for sustainability assessment of resource recovery from waste. Sci Total Environ 612:613–624

9.

Zhang L et al (2017) Characterising copper flows in international trade of China, 1975–2015. Sci Total Environ 601–602:1238–1246

10.

Stanisavljevic N, Brunner PH (2014) Combination of material flow analysis and substance flow analysis: a powerful approach for decision support in waste management. Waste Manag Res 32(8):733–744

11.

Yamane T (1967) Statistics, an introductory analysis, 2nd edn. Harper and Row, New York

12.

Marshall RE, Khosrow F (2013) System approaches to integrated solid waste management in developing countries. Waste Manag 33:988–1003

13.

Sevign E, Gasol CM, Rieradevall J, Gabarrell X (2015) Methodology of supporting decision-making of waste management with material flow analysis (MFA) and consequential life cycle assessment (CLCA): case study of waste paper recycling. J Clean Prod 105:253–262

14.

Miezah K, Kwasi O-D, Zsófia K, Bernard F-B, Moses YM (2015) Municipal solid waste characterisation and quantification as a measure towards effective waste management in Ghana. Waste Manag 46:15–27

15.

Eurostat (2015) Each person in the EU generated 481 Kg of municipal waste in 2013. 43% was recycled or composted (News Release 54/2015). https://ec.europa.eu/eurostat/documents/2995521/6757479/8-26032015-AP-EN.pdf/a2982b86-9d56-401c-8443-ec5b08e543cc.

16.

Eurostat (2016) Population projections. https://ec.europa.eu/eurostat/documents/2995521/8102195/3-10072017-AP-EN.pdf/a61ce1ca-1efd-41df-86a2-bb495daabdab

17.

Khair H, Rachman I, Matsumoto T (2019) Analyzing household waste generation and its composition to expand the solid waste bank program in Indonesia: a case study of Medan City. J Mater Cycles Waste Manag 21:1027–1037

18.

Beccarello M, Di Foggia G (2018) Improving efficiency in the MSW collection and disposal service combining price cap and yard stick regulation: the Italian case. Waste Manag 79:223–231

19.

Sembiring E, Nitivattananon V (2010) Sustainable solid waste management toward an inclusive society: integration of the informal sector. Resour Conserv Recycl 54:802–809

20.

Putri AR, Fujimori T, Takaoka M (2018) Plastic waste management in Jakarta, Indonesia: evaluation of material flow and recycling scheme. J Mater Cycles Waste Manag 20:2140

21.

Ulhasanah N, Goto N (2018) Assessment of citizens' environmental behavior toward municipal solid waste management for a better and appropriate system in Indonesia: a case study of Padang City. J Mater Cycles Waste Manag 20:1257
Acknowledgements
This research is funded by Research, Community Service, and Innovation Program (P3MI 2018)–ITB.
Additional information
Publisher's Note
Springer Nature remains neutral with regard to jurisdictional claims in published maps and institutional affiliations.
About this article
Cite this article
Widyarsana, I.M.W., Damanhuri, E. & Agustina, E. Municipal solid waste material flow in Bali Province, Indonesia. J Mater Cycles Waste Manag 22, 405–415 (2020). https://doi.org/10.1007/s10163-020-00989-5
Received:

Accepted:

Published:

Issue Date:
Keywords
Solid waste management

Bali Province

Material flow