Abstract
Urbanization accompanied by mass consumption leads to tremendous waste generation, environmental pollution and public health issues. Tackling solid waste management issues addresses more than half of the sustainable development goals. Low awareness and participation of Malaysians in practicing waste segregation and recycling cause serious threats in managing solid waste. Thus, a new waste segregation program was introduced within university students' hostel area to measure waste generation, composition and students' attitude and practice toward waste segregation and recycling. The impact of segregation educational program was measured via survey questionnaires in conjunction with waste measurement and composition analysis. It was found that there was a reduction in waste generation by 24.8% from 0.165 to 0.124 kg/capita/day, reaching recycling rate of 25% and reduction of recyclables entering landfill by 62.6% from 0.091 to 0.034 kg/capita/day. The university students' awareness increased to 75.3% after the program was implemented. Therefore, cooperation from various stakeholders, namely residents, housing management, educational institute, private waste collectors, local council, retailer, manufacturer and recyclers is utmost needed to grant success of the new waste segregation program.
This is a preview of subscription content, log in to check access.
Access options
Buy single article
Instant access to the full article PDF.
US$ 39.95
Price includes VAT for USA
Subscribe to journal
Immediate online access to all issues from 2019. Subscription will auto renew annually.
US$ 99
This is the net price. Taxes to be calculated in checkout.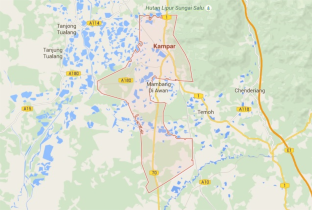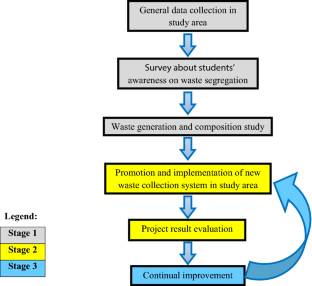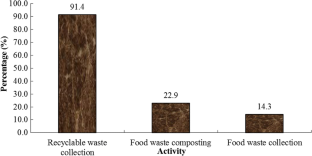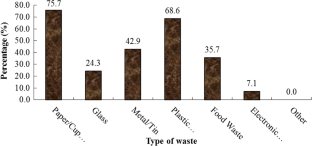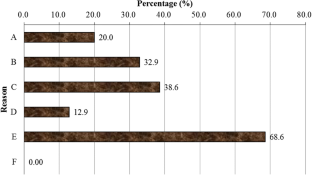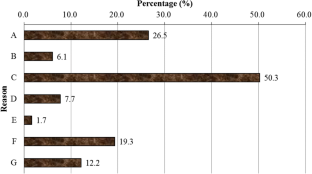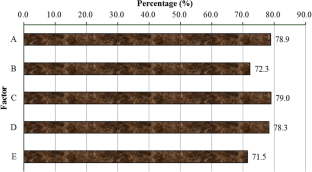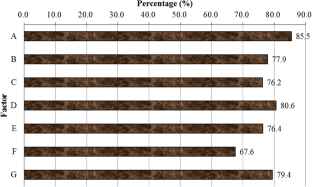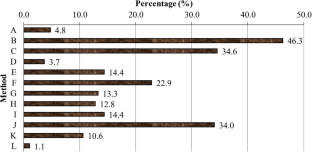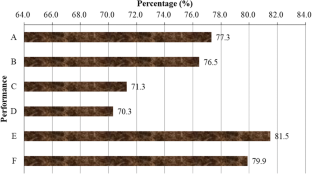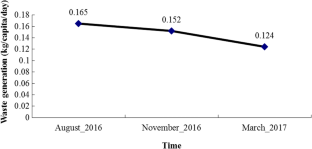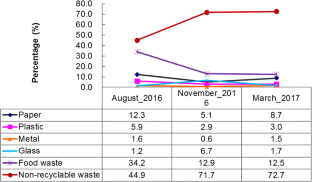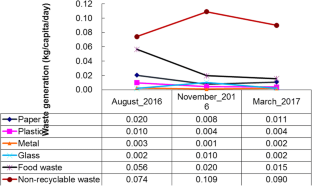 References
1.

Mian MM, Zeng X, Nasry AANB, Al-Hamadani SM (2017) Municipal solid waste management in China: a comparative analysis. J Mater Cycles Waste Manag 19(3):1127–1135

2.

Ghosh A, Debnath B, Ghosh SK, Das B, Sarkar SP (2018) Sustainability analysis of organic fraction of municipal solid waste conversion techniques for efficient resource recovery in India through case studies. J Mater Cycles Waste Manag 20(4):1969–1985

3.

Abuabdou SMA, Bashir MJK, Ng CA, Sethupahi S (2017) Applicability of anaerobic membrane bioreactors for landfill leachate treatment: review and opportunity. IOP Conf Ser Earth Environ Sci 140(1):012033

4.

Bashir MJK, Tao GH, Abu Amr SS, Tan KW (2018) Public concerns and behaviors towards solid waste minimization using composting in Kampar district, Malaysia. Glob NEST J 20:316–323

5.

Tanaka M (2014) Municipal solid waste management in Japan. In: Agamuthu P, Masaru T (eds) Municipal solid waste management in Asia and the Pacific Islands. Springer, Singapore, pp 157–171

6.

Murad W, Siwar C (2007) Waste management and recycling practices of the urban poor: a case study in Kuala Lumpur city, Malaysia. Waste Manag Res 25(1):3–13

7.

Abas MA, Wee ST (2014) Municipal solid waste management in Malaysia: an insight towards sustainability. In: 4th international conference on human habitat & environment 2014, conference paper, vol 18, pp 192–206

8.

Yong ZJ, Bashir MJK, Ng CA, Sethupathi S, Lim J-W (2018) A sequential treatment of intermediate tropical landfill leachate using a sequencing batch reactor (SBR) and coagulation. J Environ Manag 205:244–252

9.

Mohamad ZF, Keng J (2013) Opportunities and challenges in sustainable waste management transition in Malaysia: a multi-level socio-technical perspective. In: Globelics seminar on low carbon development, vol 2013

10.

Yong ZJ, Bashir MJK, Ng CA, Sethupathi S, Lim JW, Show PL (2019) Sustainable waste-to-energy development in Malaysia: appraisal of environmental financial, and public issues related with energy recovery from municipal solid waste. Processes 7:676. https://doi.org/10.3390/pr7100676

11.

Chua HS, Bashir MJK, Tan KT, Chua HS (2019) A sustainable pyrolysis technology for the treatment of municipal solid waste in Malaysia. AIP Conf Proc 2124:020016. https://doi.org/10.1063/1.5117076

12.

Tarmudi Z, Abdullah ML, Tap M, Osman A (2009) An overview of municipal solid wastes generation in Malaysia. Jurnal Teknologi 51(F):1–15

13.

Bashir, M.J.K., Ng, C.A., Sethupathi, S, Lim, J.W. Assessment of the environmental, technical and economic issues associated with energy recovery from municipal solid waste in Malaysia. IOP Conf Ser Earth Environ Sci 268:012044. doi: 10.1088/1755-1315/268/1/012044.

14.

Fauziah SH, Agamuthu P (2012) Trends in sustainable landfilling in Malaysia, a developing country. Waste Manag Res 30(7):656–663

15.

Shehzad A, Bashir MJK, Sethupathi S, Lim JW (2015) An overview of heavily polluted landfill leachate treatment using food waste as an alternative and renewable source of activated carbon. Process Saf Environ Prot 98:309–318

16.

Bashir MJK, Tay MX, Shehzad A, Sethupahi S, Ng CA, Abu Amr S (2017) Sequential treatment for landfill leachate by applying coagulation-adsorption process. Geosyst Eng 20:9–20

17.

Idris A, Inanc B, Hassan MN (2004) Overview of waste disposal and landfills/dumps in Asian countries. J Mater Cycles Waste Manag 6(2):104–110

18.

Wilson DC, Rodic L, Modak P, Soos R, Carpintero A, Velis K, Iyer M, Simonett O (2015) Global waste management outlook. https://www.greenreport.it/wp-content/uploads/2015/09/Global-Waste-Management-Outlook-2015.pdf. Accessed 14 May 2016

19.

Japanese Ministry of the Environment (2014) History and current state of waste management in Japan. https://www.env.go.jp/en/recycle/smcs/attach/hcswm.pdf. Accessed 12 May 2015

20.

Krejcie RV, Morgan DW (1970) Determining sample size for research activities. Educ Psychol Measur 30:607–610

21.

Ecosystem G (2011) A study on plastic management in peninsular Malaysia. National Solid Waste Management Department Ministry of Housing and Local Government Malaysia, pp 1–282

22.

Goh SC (2011) Solid waste management in Kampar District Council, Kampar, Perak, Malaysia. https://kitaq-compost.net/sites/default/files/KitaQDocuments/2011%20Seminar%20Files/Kampar.pdf. Accessed 12 May 2015

23.

Matsumoto S (2011) Waste separation at home: are Japanese municipal curbside recycling policies efficient? Resour Conserv Recycl 55(3):325–334

24.

Hotta Y, Aoki-Suzuki C (2014) Waste reduction and recycling initiatives in Japanese cities: lessons from Yokohama and Kamakura. Waste Manag Res 32(9):857–866

25.

Hogg D, Mansell D (2002) Maximising recycling rates: tackling residuals. Report for community recycling network

26.

Mohamed Akil A, Johar F, Amir A (2012) The need for behavioural change towards sustainable solid waste management in Malaysia. https://epublication.fab.utm.my/354/1/THE%20NEED%20FOR%20BEHAVIOURIAL%20CHANGE%20TOWARDS%20SUSTAINABLE%20SOLID%20WASTE%20MANAGEMENT%20IN%20MALAYSIA.pdf Accessed 14 Mar 2018

27.

Hassan MN, Rahman RA, Chong TL, Zakaria Z, Awang M (2000) Waste recycling in Malaysia: problems and prospects. Waste Manag Res 18(4):320–328

28.

Herat S, Agamuthu P (2012) E-waste: a problem or an opportunity? Review of issues, challenges and solutions in Asian countries. Waste Manag Res 30(11):1113–1129

29.

Saeed MO, Hassan MN, Mujeebu MA (2009) Assessment of municipal solid waste generation and recyclable materials potential in Kuala Lumpur, Malaysia. Waste Manag 29(7):2209–2213

30.

Premakumara DGJ, Abe M, Maeda T (2011) Reducing municipal waste through promoting integrated sustainable waste management (ISWM) practices in Surabaya city, Indonesia. WIT Trans Ecol Environ 144:457–468

31.

Sachs JD (2012) From millennium development goals to sustainable development goals. Lancet 379(9832):2206–2211

32.

Abu Amr S, Zakaria SNF, Aziz HA (2017) Performance of combined ozone and zirconium tetrachloride in stabilized landfill leachate treatmen. J Mater Cycles Waste Manag 19:1384–1390
Acknowledgements
Our sincere acknowledgement goes to the financial support of MAJLIS DAERAH KAMPAR fund no "Bil. (124) dlm.MDKpr. (KES) 32/17 Jld.15" and to Mr. Goh Seng Chee for allowing us to conduct solid waste generation and composition studies together with the great supports from Danish House Sdn. Bhd. and KT Sdn. Bhd.
Additional information
Publisher's Note
Springer Nature remains neutral with regard to jurisdictional claims in published maps and institutional affiliations.
About this article
Cite this article
Bashir, M.J.K., Jun, Y.Z., Yi, L.J. et al. Appraisal of student's awareness and practices on waste management and recycling in the Malaysian University's student hostel area. J Mater Cycles Waste Manag (2020). https://doi.org/10.1007/s10163-020-00988-6
Received:

Accepted:

Published:
Keywords
Municipal solid waste

Waste composition

Segregation program

University students

Attitude

Recycling