Abstract
In this study, a newly developed biomass transfer kinetic model was utilized for studying anaerobic digestion behaviour of proteins in sludge from two different thermally treatment processes [i.e., the thermal hydrolysis process (THP) and intermediate thermal hydrolysis processes (ITHP)]. Three different experimental runs comprising a high-level protein load (HLPL) (2000 < X < 3000 mg/L), intermediate-level protein load (ILPL) (1000 < X < 2000 mg/L), and low-level protein load (LLPL) (X < 1000 mg/L) were allowed to undergo anaerobic degradation for 312 h to monitor changes in total protein concentration. Analysis of protein degradation kinetics revealed that the first-order model was inappropriate for studying AD behaviour of protein in thermally treated sludge. However, the biomass transfer kinetic model provided an excellent fitting for the experimental data. In addition, it was observed that the anaerobically digested ITHP-treated sludge displayed higher values for the initial hydrolysis rate and overall biomass transfer coefficient at HLPL as compared to the anaerobically digested THP-treated sludge. Furthermore, step-wise kinetics was blamed on variability in the rates of utilizing highly soluble hydrozylate protein fractions present in the liquid phase in comparison to the slowly degradable proteins present in the liquid–solid sludge interface.
This is a preview of subscription content, log in to check access.
Access options
Buy single article
Instant unlimited access to the full article PDF.
US$ 39.95
Price includes VAT for USA
Subscribe to journal
Immediate online access to all issues from 2019. Subscription will auto renew annually.
US$ 99
This is the net price. Taxes to be calculated in checkout.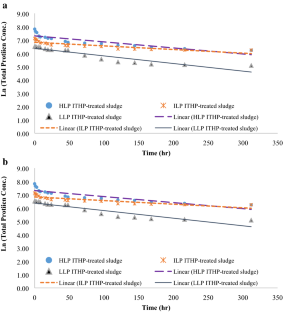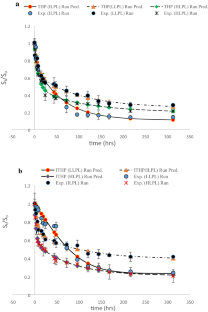 References
1.

Vaa M (1993) Toward more appropriate technologies? Experience from the water and sanitation sector, research report 94 Nordiska Afrikainstitutet Uppsala.

2.

Tomei MC, Braguglia CM, Mininni G (2008) Anaerobic degradation kinetics of particulate organic matter in untreated and sonicated sewage sludge: Role of the inoculum. Bioresour Technol 99(14):6119–6126

3.

Shana A, Ouki S, Asaadi M, Pearce P (2011) Application of an innovative process for improving mesophilic anaerobic digestion of sewage sludge; Proceedings from 16th European biosolids and organic Resources conference

4.

Eastman JA, Ferguson JF (1981) Solubilization of particulate organic carbon duringthe acid phase of anaerobic digestion. J Water Pollut Control Fed 53:352–366

5.

Pavlostathis SG, Giraldo-Gomez E (1991) Kinetics of anaerobic treatment: a critical review. Crit Rev Environ Control 21(5–6):411–490

6.

Chen N, Liu Y, Liu N, Wang S (2012) Energy balance of thermal hydrolysis and anaerobic digestion on waste activated sludge. World Automation Congress (WAC), IEEE, pp 1–3.

7.

Barber WPF (2016) Thermal hydrolysis for sewage treatment: a critical review. Water Res 104:53–57

8.

Yang G, Zhang P, Zhang G, Wang Y, Yang A (2015) Degradation properties of protein and carbohydrate during sludge anaerobic digestion. Bioresour Technol 192:126–130

9.

Bougrier C, Delgenes JP (2007) Impact of thermal pre-treatments on the semi-continuous anaerobic digestion of waste activated sludge. Biochem Eng J 34:20–27

10.

Breure AM, Mooijman KA, Vanandel JG (1986) Protein-degradation in anaerobic digestion: influence of volatile fatty-acids and carbohydrates on hydrolysis and acidogenic fermentation of gelatin. Appl Microbiol Biotechnol 24(5):426–431

11.

Shana A (2015) Application of an innovative process for improving mesophilic anaerobic digestion of sewage sludge. PhD Dissertation, University of Surrey, Gilford UK

12.

Carrere H, Dumas C, Battimelli A, Batstone DJ, Delgenes JP, Steyer JP, Ferrer I (2010) Pre-treatment methods to improve sludge anaerobic digestibility: a review. J Hazard Mater 183:1–15

13.

Watson JD, Hopkins NHR, Roberts JW, Steitz JA, Weiner AM (1987) Cells obey the laws of chemistry. Molecular biology of the gene. The Benjamin/Cummings Publishing Company, Menlo Park, pp 25–64

14.

Shana A, Ouki SK, Asaadi M, Pearce P (2013) The impact of intermediate thermal hydrolysis on the degradation kinetics of carbohydrates in sewage sludge. Bioresour Technol 137:239–244

15.

Shana A, Ouki S, Asaadi M, Pearce P (2012) Influence of intermediate thermal hydrolysis process on the kinetics of anaerobic digestion of sewage sludge. Chem Eng Transac 29:267–1272

16.

Li Y, Jin Y, Li J, Li H, Yu Z, Nie Y (2017) Effects of thermal pre-treatment on degradation kinetics of organics during kitchen waste anaerobic digestion. Energy 118:377–386

17.

Christopher WA, Novak JT, Murthy SN (2009) Thermal hydrolysis of the lipid and protein fractions of wastewater sludge: implications for digester performance and operational considerations. Water Environ Fed 12:3918–3922

18.

Fernandes XA, Kimber L (1990) WRc Standard (Biodegradability) test for amenability of sewage sludge to anaerobic digestion; report No.UM1053, WRc Swindon, UK.

19.

Lowry OH, Rosebrough JN, Farr AL, Randall JR (1951) Protein measurement with Folin phenol reagent. Department of pharmacology, Washington University, school of medicine, St. Louis, Missori.

20.

Vavilin CA, Fernnadez B, Palatsi J, Flotats X (2008) Hydrolysis kinetics in anaerobic degradation of particulate organic matter: an overview. Waste Manag 28:939–951

21.

Dwyer J, Starrenburg D, Tait S, Barr K, Batstone DJ, Lant P (2008) Decreasing activated sludge thermal hydrolysis temperature reduces product colour, without decreasing degradability. Water Res 42(18):4699–4709

22.

Gonzalez VM (2006) Enhanced gas production in mesophilic anaerobic digestion. A Thesis Submitted in Fulfilment of the Requirement for the Degree of Doctor of Philosophy, the University of Surrey.

23.

Asaadi M (2008) Review of the performance of an advanced digestion process In: 13th European Biosolids and Organic Resources Conference and Workshop, November 10–12, Lancashire UK

24.

Shao L, Wang T, Li T, Lu F, He P (2013) Comparison of sludge digestion under aerobic and anaerobic conditions with a focus on the degradation of proteins at mesophilic temperature. Bioresour Technol 140:131–137

25.

Pavlostathis SG, Gossett JM (1986) A kinetic model for anaerobic digestion of biological sludge. Biotechnol Bioeng 28:1519

26.

Pavlostathis SG, Gossett JM (1988) Preliminary conversion mechanisms in anaerobic digestion of biological sludge. J Environ Eng Div ASCE 114:575
Acknowledgements
The authors would like to thank Thames Water Utilities for funding this research work. This work is a collaborative research project between the University of Surrey and Thames Water Utilities, UK and University of Port Harcourt, Nigeria.
Ethics declarations
Conflict of interest
We declare that there was no conflict of interest associated with the preparation of this article.
Additional information
Publisher's Note
Springer Nature remains neutral with regard to jurisdictional claims in published maps and institutional affiliations.
About this article
Cite this article
Momoh, O.L.Y., Shana, A., Ouki, S. et al. Modelling the anaerobic digestion behaviour of proteins in thermally treated sludge using a new biomass transfer kinetic model. J Mater Cycles Waste Manag (2020). https://doi.org/10.1007/s10163-020-00971-1
Received:

Accepted:

Published:
Keywords
Thermally treated sludge

Step-wise degradation

Biomass transfer

Anaerobic digestion

Kinetics