Abstract
Background
The prognostic significance of glomerular extracapillary hypercellularity (EXHC) in diabetic kidney disease (DKD) is unclear. The aim of this study was to investigate the clinicopathological features and outcomes of DKD patients with EXHC.
Methods
We studied 70 cases of renal biopsy-confirmed type 2 DKD that were diagnosed between 2004 and 2014 and compared the clinicopathological features and outcomes of 22 patients with EXHC (EXHC group) with those of 48 patients without EXHC (control group). All of the patients were Japanese. We assessed the renal biopsy specimens based on the Renal Pathology Society classification system. Clinical and laboratory data were collected at the time of the renal biopsy, and renal outcomes were assessed based on progression to end-stage renal disease (ESRD) requiring renal replacement therapy. The median duration of the observation period was 3 years.
Results
In pathological features, nodular sclerosis (Kimmelstiel–Wilson lesions) was observed more frequently in the EXHC group than in the control group (63.6% vs. 35.4%, P = 0.027). There were no significant intergroup differences in clinical features or renal outcomes. Univariate and multivariate Cox regression analyses of all patients showed that a high level of proteinuria, a low initial eGFR, and severe interstitial inflammation were poor prognostic factors.
Conclusions
EXHC is related to nodular sclerosis, which is a known risk factor for ESRD. Careful observation is needed during the follow-up of DKD patients with EXHC, although there were no significant differences in renal outcomes between the EXHC and control groups.
This is a preview of subscription content, log in to check access.
Access options
Buy single article
Instant access to the full article PDF.
US$ 39.95
Price includes VAT for USA
Subscribe to journal
Immediate online access to all issues from 2019. Subscription will auto renew annually.
US$ 99
This is the net price. Taxes to be calculated in checkout.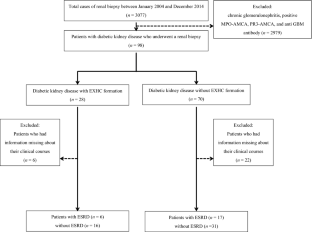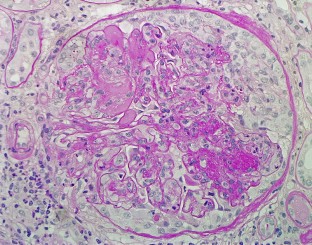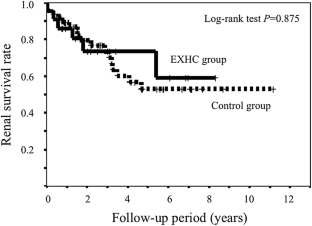 References
1.

Ritz E, Orth SR. Nephropathy in patients with type 2 diabetes mellitus. N Engl J Med. 1999;341:1127–33.

2.

Masakane I, Nakai S, Ogata S, Kimata N, Hanafusa N, Hamano T, et al. An overview of regular dialysis treatment in Japan (as of 31 December 2013). Ther Apher Dial. 2015;19:540–74.

3.

Afkarian M, Zelnick LR, Hall YN, Heagerty PJ, Tuttle K, Weiss NS, et al. Clinical manifestations of kidney disease among US adults with diabetes, 1988–2014. JAMA. 2016;316:602–10.

4.

Furuichi K, Yuzawa Y, Shimizu M, Hara A, Toyama T, Kitamura H, et al. Nationwide multicentre kidney biopsy study of Japanese patients with type 2 diabetes. Nephrol Dial Transplant. 2018;33:138–48.

5.

Tervaert TW, Mooyaart AL, Amann K, Cohen AH, Cook HT, Drachenberg CB, et al. Pathologic classification of diabetic nephropathy. J Am Soc Nephrol. 2010;21:556–63.

6.

An Y, Xu F, Le W, Ge Y, Zhou M, Chen H, et al. Renal histologic changes and the outcome in patients with diabetic nephropathy. Nephrol Dial Transplant. 2015;30:257–66.

7.

Hoshino J, Mise K, Ueno T, Imafuku A, Kawada M, Sumida K, et al. A pathological scoring system to predict renal outcome in diabetic nephropathy. Am J Nephrol. 2015;41:337–44.

8.

Mottl AK, Gasim A, Schober FP, Hu Y, Dunnon AK, Hogan SL, et al. Segmental sclerosis and extracapillary hypercellularity predict diabetic ESRD. J Am Soc Nephrol. 2018;29:694–703.

9.

Moroni G, Ponticelli C. Rapidly progressive crescentic glomerulonephritis: early treatment is a must. Autoimmun Rev. 2014;13:723–9.

10.

Elfenbein IB, Reyes JW. Crescents in diabetic glomerulopathy. Incidence and clinical significance. Lab Invest. 1975;33:687–95.

11.

Tóth T. Epithelial crescent in diabetic glomeruli. A case report. Int Urol Nephrol. 1987;19:347–53.

12.

Otani N, Akimoto T, Yumura W, Matsubara D, Iwazu Y, Numata A, et al. Is there a link between diabetic glomerular injury and crescent formation? A case report and literature review. Diagn Pathol. 2012;7:46.

13.

Stout LC, Kumar S, Whorton EB. Focal mesangiolysis and the pathogenesis of the Kimmelstiel-Wilson nodule. Hum Pathol. 1993;24:77–89.

14.

Gaut JP, Hoshi M, Jain S, Liapis H. Claudin-1 and nephrin label crescents in diabetic glomerulosclerosis. Hum Pathol. 2014;45:628–35.

15.

Ryu M, Migliorini A, Miosge N, Gross O, Shankland S, Brinkkoetter P, et al. Plasma leakage through glomerular basement membrane ruptures triggers the proliferation of parietal epithelial cells and crescent formation in non-inflammatory glomerular injury. J Pathol. 2012;228:482–94.

16.

Kimmelstiel P, Wilson C. Intercapillary lesions in the glomeruli of the kidney. Am J Pathol. 1936;12:83–988.

17.

Schwartz MM, Lewis EJ, Leonard-Martin T, Lewis JB, Batlle D. Renal pathology patterns in type II diabetes mellitus: relationship with retinopathy. The collaborative study group. Nephrol Dial Transplant. 1998;13:2547–52.

18.

Zhao HL, Lai FM, Tong PC, Tomlinson B, Chan JC. Clinicopathologic characteristics of nodular glomerulosclerosis in chinese patients with type 2 diabetes. Am J Kidney Dis. 2004;44:1039–49.

19.

Heaf JG, Lokkegaard H, Larsen S. The relative prognosis of nodular and diffuse diabetic nephropathy. Scand J Urol Nephrol. 2001;35:233–8.

20.

Yang SL, So WY, Kong AP, Clarke P, Ho CS, Lam CW, et al. End-stage renal disease risk equations for Hong Kong Chinese patients with type 2 diabetes: Hong Kong diabetes registry. Diabetologia. 2006;49:2299–308.

21.

Chen PM, Wada T, Chiang CK. Prognostic value of proteinuria and glomerular filtration rate on Taiwanese patients with diabetes mellitus and advanced chronic kidney disease: a single center experience. Clin Exp Nephrol. 2017;21:307–15.

22.

Okada T, Nagao T, Matsumoto H, Nagaoka Y, Wada T, Nakao T. Histological predictors for renal prognosis in diabetec nephropathy in diabetes mellitus type 2 patients with overt proteinuria. Nephrology (Carlton).2012;17:68–75.

23.

Hoshino J, Furuichi K, Yamanouchi M, Mise K, Sekine A, Kawada M, et al. A new pathological scoring system by the Japanese classification to predict renal outcome in diabetic nephropathy. PLoS ONE. 2018;13:e0190923.
Acknowledgements
This study was supported in part by Akita Jinfuzen Kenkyukai. The authors thank all of the doctors at our affiliated hospitals for referring the patients.
Ethics declarations
Conflict of interest
All authors declare that they have no conflicts of interest.
Ethical approval
All of the procedures performed in studies involving human participants were carried out in accordance with the ethical standards of the relevant institutional and/or national research committees (institutional review board approval number: 1026) and with the 1964 Helsinki declaration and its later amendments or comparable ethical standards.
Informed consent
Informed consent was obtained from all individual participants included in this study.
Additional information
Publisher's Note
Springer Nature remains neutral with regard to jurisdictional claims in published maps and institutional affiliations.
About this article
Cite this article
Saito, A., Komatsuda, A., Saito, M. et al. Clinicopathological features and outcomes of diabetic kidney disease with extracapillary hypercellularity: a Japanese single-center experience. Clin Exp Nephrol (2020). https://doi.org/10.1007/s10157-020-01859-y
Received:

Accepted:

Published:
Keywords
Clinicopathological study

Crescent

Diabetic kidney disease

Extracapillary hypercellularity

Prognosis