Abstract
Background
The hemorrhoid laser procedure with suture-pexy (HeLPexx), consisting of Doppler-guided hemorrhoidal dearterialization with laser and the addition of anal mucopexy, is a novel non-excisional procedure to treat hemorrhoids. The aim of the present study was to describe the technique and report the clinical and long-term results.
Methods
A prospective study was conducted on patients with grade III hemorrhoids who had HeLPexx from January 2012 to February 2018. Pre- and postoperative assessment included a thorough clinical examination, constipation and incontinence scoring systems and a symptom questionnaire which was administered at all patients before surgery and at each follow-up visit to evaluate bleeding, prolapse, manual reduction, discomfort or pain, and impact on quality of life. Each symptom had a score between 0 and 4, (0 indicates no symptoms and 4 indicates daily symptoms). The sum of the score for each symptom constituted the Hemorrhoid Symptom Score. Resolution of symptoms, pain, morbidity, need for further medical and/or surgical therapy were also recorded.
Results
One hundred and seventy consecutive patients with grade III hemorrhoids [74 females; mean age 49.5 years (range 22–79) years] were included. Median length of follow-up was 36 (range 12–72) months. Postoperative morbidity included urinary retention (7 patients, 4.1%), bleeding not requiring transfusion (1 patient, 0.6%) and thrombosis of hemorrhoidal piles (2 patients, 1.2%). The mean postoperative pain VAS score at 1 week postoperatively was 1.8 ± 1.1 (range 0–5) and 12 (7%) patients used pain medications for more than 1 week postoperatively while none of the patients reported any pain by the end of the third week postoperatively. The Hemorrhoid Symptom Score significantly improved from 15.83 ± 3.04 to 1.3 ± 2.4 (p ≤ 0.001) and showed a statistically significant improvement in all items. Recurrent symptoms were reported in 12 patients (7%) who required further treatment. Severe chronic constipation prior to surgery was found to be a predictive factor of failure (p = 0.04).
Conclusions
HeLPexx appears to be safe and effective for treatment of symptomatic hemorrhoids. Further studies are needed to confirm our results.
This is a preview of subscription content, log in to check access.
Access options
Buy single article
Instant access to the full article PDF.
US$ 39.95
Price includes VAT for USA
Subscribe to journal
Immediate online access to all issues from 2019. Subscription will auto renew annually.
US$ 99
This is the net price. Taxes to be calculated in checkout.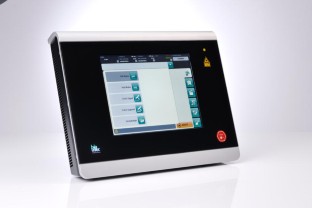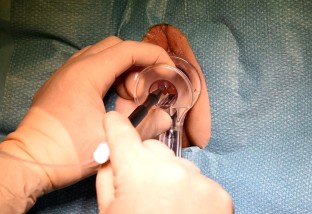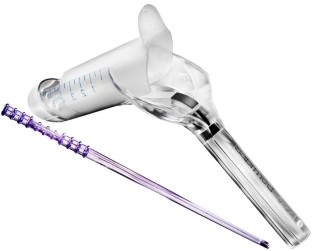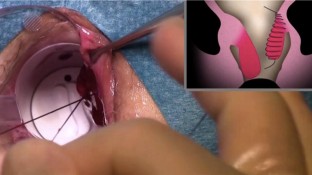 References
1.

Giamundo P, Cecchetti W, Esercizio L, Valente M et al (2011) Doppler-guided hemorrhoidal laser procedure for the treatment of symptomatic hemorrhoids: experimental background and short-term clinical results of a new mini-invasive treatment. Surg Endosc 25:1369–1375

2.

Crea N, Pata G, Lippa M, Chiesa D, Gregorini ME, Gandolfi P (2014) Hemorrhoidal laser procedure: short- and long-term results from a prospective study. Am J Surg 1:21–25

3.

De Nardi P, Tamburini AM, Gazzetta PG, Lemma M, Pascariello A, Asteria CR (2016) Hemorrhoid laser procedure for second and third-degree hemorrhoids: results from a multicenter prospective study. Tech Coloproctol 20(7):455–459

4.

Giamundo P, Salfi R, Geraci M, Tibaldi L, Murru L, Valente M (2011) The hemorrhoid laser procedure technique vs rubber band ligation: a randomized trial comparing 2 mini-invasive treatments for second- and third-degree hemorrhoids. Dis Colon Rectum 54:693–698

5.

Goligher JC (1980) Hemorrhoid or piles. In: Goligher JC (eds) Surgery of the anus rectum and colon. Bailliere Tindall, London

6.

Altomare D, Spazzafumo L, Rinaldi M, Dodi G, Ghiselli R, Piloni V (2008) Set-up and statistical validation of a new scoring system for obstructed defecation syndrome. Colorectal Dis 1:84–88

7.

Jorge JM, Wexner SD (1993) Etiology and management of fecal incontinence. Dis Colon Rectum 36:77–97

8.

Giordano P, Nastro P, Davies A, Gravante G (2011) Prospective evaluation of stapled haemorrhoidopexy versus transanal haemorrhoidal dearterialization for stage II and III haemorrhoids: 3-year outcomes. Tech Coloproctol 15:67–73

9.

Aigner F, Bodner G, Conrad F, Mibaka G, Koreczy A, Fritsch H (2004) The superior rectal artery and its branching pattern with regard to its clinical influence on ligation techniques for internal hemorrhoids. Am J Surg 187:102–108

10.

Schuurman JP, Go PM, Bleys RL (2009) Anatomical branches of the superior rectal artery in the distal rectum. Colorectal Dis 11:967–971

11.

Davis BR, Lee-Kong SA, Migaly J, Feingold DL, Steele SR (2018) The American Society of Colon and Rectal Surgeons clinical practice guidelines for the management of hemorrhoids. Dis Colon Rectum 61:284–292

12.

Franklin EJ, Seetharam S, Lowney J, Horgan PG (2003) Randomized, clinical trial of Ligasure vs. conventional diathermy in hemorrhoidectomy. Dis Colon Rectum 46:1380–1383

13.

Kwok SY, Chung CC, Tsui KK, Li MKW (2005) A double-blind, randomized trial comparing Ligasure and Harmonic scalpel hemorrhoidectomy. Dis Colon Rectum 48:344–348

14.

Simillis C, Thoukididou SN, Slesser AA, Rasheed S, Tan E, Tekkis PP (2015) Systematic review and network meta-analysis comparing clinical outcomes and effectiveness of surgical treatments for haemorrhoids. Br J Surg 13:1603–1618

15.

Morinaga K, Hasuda K, Ikeda T (1995) A novel therapy for internal hemorrhoids: ligation of the hemorrhoidal artery with a newly devised instrument (Moricorn) in conjunction with a Doppler flowmeter. Am J Gastroenterol 90:610–613

16.

Dal Monte PP, Tagariello C, Sarago M (2007) Transanal haemorrhoidal dearterialization:nonexcisional surgery for the treatment of haemorrhoidal disease. Tech Coloproctol 11:333–339

17.

Giordano P, Tomasi A, Pascariello A, Mills E, Elahi S (2014) Transanal dearterialization with targeted mucopexy is effective for advanced haemorrhoids. Colorectal Dis 16:373–376

18.

Faucheron JL, Poncet G, Voirin D, Badic B, Gangner Y (2011) Doppler-guided hemorrhoidal artery ligation and rectoanal repair (HAL-RAR) for the treatment of grade IV hemorrhoids: long-term results in 100 consecutive patients. Dis Colon Rectum 54:226–231

19.

Giordano P, Overton J, Madeddu F, Zaman S, Gravante G (2009) Transanal hemorrhoidal dearterialization: a systematic review. Dis Colon Rectum 52:1665–1671

20.

Pucher PH, Sodergren MH, Lord AC, Darzi A, Ziprin P (2013) Clinical outcome following Doppler-guided haemorrhoidal artery ligation: a systematic review. Colorectal Dis 15:e284–e294

21.

Ratto C, Parello A, Veronese E et al (2014) Doppler-guided transanal haemorrhoidal dearterialization for haemorrhoids: results from a multicenter trial. Colorectal Dis 17:10–19

22.

NICE Interventional Procedure Guidance 342, N2155 12 May 10. http://www.nice.org.uk/nicemedia/live/12236/48673/48673.pdf. Accessed May 2010

23.

Denoya PI, Kakhoury M, Chang K, Fakhoury J, Bergamaschi R (2013) Dearterialization with mucopexy versus haemorrhoidectomy for grade III or IV haemorrhoids: short-term results of a double-blind randomized controlled trial. Colorectal Dis 15:1281–1288

24.

Trenti L, Biondo S, Galvez A, Bravo A, Cabrera J, Kreisler E (2017) Distal Doppler-guided transanal hemorrhoidal dearterialization with mucopexy versus conventional hemorrhoidectomy for grade III and IV hemorrhoids: postoperative morbidity and long-term outcomes. Tech Coloproctol 5:337–344

25.

Brown SR, Tieman JP, Watson AJM et al (2016) Haemorrhoidal artery ligation in the management of symptomatic second-degree and third-degree haemorrhoids (HubBLe): a multicenter, open-label randomized trial. Lancet 10042:356–364

26.

Infantino A, Altomare DF, Bottini C et al (2011) Prospective randomized multicenter study comparing stapler haemorrhoidopexy with Doppler-guided transanal haemorrhoid dearterialization for third-degree haemorrhoids. Colorectal Dis 14:2015–2213

27.

Gupta PJ, Kalaskar S, Taori S, Heda PS (2011) Doppler-guided hemorrhoidal artery ligation does not offer any advantage over suture ligation of grade 3 hemorrhoids. Tech Coloproctol 15:439–444

28.

Basile M, Di Resta V, Ranieri E (2016) Transanal anopexy with HemorPex System (HPS) is effective in treating grade II and III hemorrhoids: medium-term follow-up. Tech Coloproctol 20:353–359

29.

Masson JL (1990) Outpatient hemorrhoidectomy using CO2 laser. J Chir 127:227–229

30.

Ram E, Bachan GR, Goldes Y, Joubran S, Rath-Wolfson L (2018) Modified Doppler-guided laser procedure for the treatment of second- and third-degree hemorrhoids. Laser Ther 27:137–142

31.

Giamundo P, Braini A, Calabro G, Crea N, De Nardi P, Fabiano F, Lippa M, Mastromarino A, Tamburini AM (2018) Doppler-guided hemorrhoidal dearterialization with laser (HeLP): a prospective analysis of data from a multicenter trial. Tech Coloproctol 22:636–643

32.

Jayaraman S, Colquhoun PH, Malthaner RA (2007) Stapled hemorrhoidopexy is associated with a higher long-term recurrence rate of internal hemorrhoids compared with conventional excisional hemorrhoid surgery. Dis Colon Rectum 50:1297–1305
Ethics declarations
Conflict of interest
PG: Surgical Trainer for Biolitec, Biomedical Technology (no financial interests); MDA: no conflict of interest; AM: No conflict of interest.
Ethical approval
The study was conducted in accordance with the ethical standards reported in the Declaration of Helsinki.
Informed consent
All patients provided written informed consent.
Additional information
Publisher's Note
Springer Nature remains neutral with regard to jurisdictional claims in published maps and institutional affiliations.
About this article
Cite this article
Giamundo, P., De Angelis, M. & Mereu, A. Hemorrhoid laser procedure with suture-pexy (HeLPexx): a novel effective procedure to treat hemorrhoidal disease. Tech Coloproctol 24, 199–205 (2020). https://doi.org/10.1007/s10151-020-02152-6
Received:

Accepted:

Published:

Issue Date:
Keywords
Hemorrhoids

Laser therapy

HeLP

Dearterialization

Anal mucopexy