Abstract
Background
In an elective setting, there is no consensus regarding the type of colectomy that is best for patients with tumors of the splenic flexure: segmental left colectomy (or splenic flexure colectomy), left hemicolectomy or subtotal colectomy (or extended right hemicolectomy). In the United Kingdom, extended right hemicolectomy is preferred by surgeons. The aim of the present survey was to report on the practices in France for this particular tumor location.
Methods
Between 15/07/17 and 15/10/17, members of two French surgical societies [the French Association of Surgery (AFC) and the French Society of Digestive Surgery (SFCD)] and two French surgical cooperative groups [the French Federation of Surgical Research (FRENCH) and the French Research Group of Rectal Cancer Surgery (GRECCAR)] were solicited by email to answer an online anonymous questionnaire.
Results
A total of 190 out of 420 surgeons participated in this study (response rate 45%). The preferred procedure was splenic flexure colectomy (70%), followed by left hemicolectomy (17%) and subtotal colectomy (13%). The most used surgical approach was laparoscopy (63%), followed by laparotomy (31%) and hand-assisted laparoscopy (6%). Lymph node dissection was extended to the middle colic artery in 29% of splenic flexure colectomies and in 33% of left hemicolectomies. Twenty-nine percent of responders thought that tumors of the splenic flexure had a worse prognosis in comparison with other colonic sites, because of insufficient lymph node dissection (73%) or a more advanced stage (50%) at diagnosis. However, this opinion did not change the type of colectomy performed.
Conclusions
There is a strong consensus in France to operate tumors of the splenic flexure with a splenic flexure colectomy and lymph node dissection limited to the left colic artery.
This is a preview of subscription content, log in to check access.
Access options
Buy single article
Instant unlimited access to the full article PDF.
US$ 39.95
Price includes VAT for USA
Subscribe to journal
Immediate online access to all issues from 2019. Subscription will auto renew annually.
US$ 99
This is the net price. Taxes to be calculated in checkout.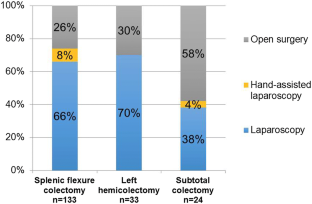 References
1.

Bray F, Ferlay J, Soerjomataram I, Siegel RL, Torre LA, Jemal A (2018) Global cancer statistics 2018: GLOBOCAN estimates of incidence and mortality worldwide for 36 cancers in 185 countries. CA Cancer J Clin 68:394–424. https://doi.org/10.3322/caac.21492

2.

Bhangu A, Kiran RP, Slesser A, Fitzgerald JE, Brown G, Tekkis P (2013) Survival after resection of colorectal cancer based on anatomical segment of involvement. Ann Surg Oncol 20:4161–4168. https://doi.org/10.1245/s10434-013-3104-5

3.

Steele RJ (2001) Colonic cancer. In: Phillips RK (ed) Colorectal surgery, 2nd edn. WB Saunders, London, pp 53–88

4.

Griffiths JD (1956) Surgical anatomy of the blood supply of the distal colon. Ann R Coll Surg Engl 19:241–256

5.

Fukuoka A, Sasaki T, Tsukikawa S, Miyajima N, Ostubo T (2017) Evaluating distribution of the left branch of the middle colic artery and the left colic artery by CT angiography and colonography to classify blood supply to the splenic flexure. Asian J Endosc Surg 10:148–153. https://doi.org/10.1111/ases.12349

6.

Yada H, Sawai K, Taniguchi H, Hoshima M, Katoh M, Takahashi T (1997) Analysis of vascular anatomy and lymph node metastases warrants radical segmental bowel resection for colon cancer. World J Surg 21:109–115

7.

Manceau G, Mori A, Bardier A, Augustin J, Breton S, Vaillant JC, Karoui M (2018) Lymph node metastases in splenic flexure colon cancer: is subtotal colectomy warranted? J Surg Oncol 118:1027–1033. https://doi.org/10.1002/jso.25169

8.

Alves A, Panis Y, Trancart D, Regimbeau JM, Pocard M, Valleur P (2002) Factors associated with clinically significant anastomotic leakage after large bowel resection: multivariate analysis of 707 patients. World J Surg 26:499–502. https://doi.org/10.1007/s00268-001-0256-4

9.

You YN, Chua HK, Nelson H, Hassan I, Barnes SA, Harrington J (2008) Segmental vs. extended colectomy: measurable differences in morbidity, function, and quality of life. Dis Colon Rectum 51:1036–1043. https://doi.org/10.1007/s10350-008-9325-1

10.

Manceau G, d'Annunzio E, Karoui M, Breton S, Rousseau G, Blanchet AS, Vaillant JC, Hannoun L (2013) Elective subtotal colectomy with ileosigmoid anastomosis for colon cancer preserves bowel function and quality of life. Colorectal Dis 15:1078–1085. https://doi.org/10.1111/codi.12237

11.

Marcello PW, Schoetz DJ (1997) Surgery for colonic carcinoma. In: Nicholls RJ, Dozois RR (eds) Surgery of the colon and rectum, 1st edn. Churchill Livingstone, New York, pp 411–426

12.

Corman ML (1984) Carcinoma of the colon. In: Pedersen DD, Hallowell R (eds) Colon and rectal surgery, 1st edn. Lippincott Williams & Williams, Philadelphia, pp 267–328

13.

Chan DS, Shah PR, Soanes M, Saklani AP (2013) Current trends and controversies in the management of patients with splenic flexure tumours. J Can Res Ther 1:8–10

14.

Martin Arevalo J, Moro-Valdezate D, Garcia-Botello SA, Pla-Marti V, Garces-Albir M, Perez Santiago L, Vargas-Duran A, Espi-Macias A (2018) Propensity score analysis of postoperative and oncological outcomes after surgical treatment for splenic flexure colon cancer. Int J Colorectal Dis 33:1201–1213. https://doi.org/10.1007/s00384-018-3063-1

15.

Odermatt M, Siddiqi N, Johns R, Miskovic D, Khan O, Khan J, Parvaiz A (2014) Short- and long-term outcomes for patients with splenic flexure tumours treated by left versus extended right colectomy are comparable: a retrospective analysis. Surg Today 44:2045–2051. https://doi.org/10.1007/s00595-013-0803-2

16.

Vogel JD, Eskicioglu C, Weiser MR, Feingold DL, Steele SR (2017) The American Society of Colon and Rectal Surgeons Clinical Practice Guidelines for the Treatment of Colon Cancer. Dis Colon Rectum 60:999–1017. https://doi.org/10.1097/DCR.0000000000000926

17.

Rouffet F, Hay JM, Vacher B, Fingerhut A, Elhadad A, Flamant Y, Mathon C, Gainant A (1994) Curative resection for left colonic carcinoma: hemicolectomy vs. segmental colectomy. A prospective, controlled, multicenter trial. French Association for Surgical Research. Dis Colon Rectum 37:651–659

18.

Beisani M, Vallribera F, Garcia A, Mora L, Biondo S, Lopez-Borao J, Farres R, Gil J, Espin E (2018) Subtotal colectomy versus left hemicolectomy for the elective treatment of splenic flexure colonic neoplasia. Am J Surg 216:251–254. https://doi.org/10.1016/j.amjsurg.2017.06.035

19.

de'Angelis N, Hain E, Disabato M, Cordun C, Carra MC, Azoulay D, Brunetti F (2016) Laparoscopic extended right colectomy versus laparoscopic left colectomy for carcinoma of the splenic flexure: a matched case-control study. Int J Colorectal Dis 31:623-630 https://doi.org/10.1007/s00384-015-2469-2

20.

Sadler GP, Gupta R, Foster ME (1992) Carcinoma of the splenic flexure—a case for extended right hemicolectomy? Postgrad Med J 68:487. https://doi.org/10.1136/pgmj.68.800.487

21.

Martinez-Perez A, Brunetti F, Vitali GC, Abdalla S, Ris F, de'Angelis N (2017) Surgical treatment of colon cancer of the splenic flexure: a systematic review and meta-analysis. Surg Laparosc Endosc Percutan Tech 27:318–327. https://doi.org/10.1097/SLE.0000000000000419

22.

Moran B, Cunningham C, Singh T, Sagar P, Bradbury J, Geh I, Karandikar S (2017) Association of Coloproctology of Great Britain and Ireland (ACPGBI): guidelines for the management of cancer of the colon, rectum and anus (2017)—surgical management. Colorectal Dis 19(Suppl 1):18–36. https://doi.org/10.1111/codi.13704

23.

Rombeau JL, Collins JP, Turnbull RB Jr (1978) Left-sided colectomy with retroileal colorectal anastomosis. Arch Surg 113:1004–1005

24.

Manceau G, Karoui M, Breton S, Blanchet AS, Rousseau G, Savier E, Siksik JM, Vaillant JC, Hannoun L (2012) Right colon to rectal anastomosis (Deloyers procedure) as a salvage technique for low colorectal or coloanal anastomosis: postoperative and long-term outcomes. Dis Colon Rectum 55:363–368. https://doi.org/10.1097/DCR.0b013e3182423f83

25.

Gravante G, Elshaer M, Parker R, Mogekwu AC, Drake B, Aboelkassem A, Rahman EU, Sorge R, Alhammali T, Gardiner K, Al-Hamali S, Rashed M, Kelkar A, Agarwal R, El-Rabaa S (2016) Extended right hemicolectomy and left hemicolectomy for colorectal cancers between the distal transverse and proximal descending colon. Ann R Coll Surg Engl 98:303–307. https://doi.org/10.1308/rcsann.2016.0112

26.

Han KS, Choi GS, Park JS, Kim HJ, Park SY, Jun SH (2010) Short-term outcomes of a laparoscopic left hemicolectomy for descending colon cancer: retrospective comparison with an open left hemicolectomy. J Korean Soc Coloproctol 26:347–353. https://doi.org/10.3393/jksc.2010.26.5.347

27.

Nakashima M, Akiyoshi T, Ueno M, Fukunaga Y, Nagayama S, Fujimoto Y, Konishi T, Noaki R, Yamakawa K, Nagasue Y, Kuroyanagi H, Yamaguchi T (2011) Colon cancer in the splenic flexure: comparison of short-term outcomes of laparoscopic and open colectomy. Surg Laparosc Endosc Percutan Tech 21:415–418. https://doi.org/10.1097/SLE.0b013e31823aca96

28.

Bertelsen CA, Bols B, Ingeholm P, Jansen JE, Jepsen LV, Kristensen B, Neuenschwander AU, Gogenur I (2014) Lymph node metastases in the gastrocolic ligament in patients with colon cancer. Dis Colon Rectum 57:839–845. https://doi.org/10.1097/DCR.0000000000000144

29.

Aldridge MC, Phillips RK, Hittinger R, Fry JS, Fielding LP (1986) Influence of tumour site on presentation, management and subsequent outcome in large bowel cancer. Br J Surg 73:663–670. https://doi.org/10.1002/bjs.1800730829

30.

Kim CW, Shin US, Yu CS, Kim JC (2010) Clinicopathologic characteristics, surgical treatment and outcomes for splenic flexure colon cancer. Cancer Res Treat 42:69–76. https://doi.org/10.4143/crt.2010.42.2.69

31.

Nakagoe T, Sawa T, Tsuji T, Jibiki M, Nanashima A, Yamaguchi H, Yasutake T, Ayabe H, Ishikawa H (2000) Carcinoma of the splenic flexure: multivariate analysis of predictive factors for clinicopathological characteristics and outcome after surgery. J Gastroenterol 35:528–535

32.

Jess P, Hansen IO, Gamborg M, Jess T, Danish Colorectal Cancer G (2013) A nationwide Danish cohort study challenging the categorisation into right-sided and left-sided colon cancer. BMJ Open. https://doi.org/10.1136/bmjopen-2013-002608

33.

Benedix F, Kube R, Meyer F, Schmidt U, Gastinger I, Lippert H, Colon/Rectum Carcinomas Study G (2010) Comparison of 17,641 patients with right- and left-sided colon cancer: differences in epidemiology, perioperative course, histology, and survival. Dis Colon Rectum 53:57–64. https://doi.org/10.1007/DCR.0b013e3181c703a4

34.

Steffen C, Bokey EL, Chapuis PH (1987) Carcinoma of the splenic flexure. Dis Colon Rectum 30:872–874. https://doi.org/10.1007/bf02555427

35.

Levien DH, Gibbons S, Begos D, Byrne DW (1991) Survival after resection of carcinoma of the splenic flexure. Dis Colon Rectum 34:401–403. https://doi.org/10.1007/bf02053691

36.

Zhang Y, Ma J, Zhang S, Deng G, Wu X, He J, Pei H, Shen H, Zeng S (2015) A prognostic analysis of 895 cases of stage III colon cancer in different colon subsites. Int J Colorectal Dis 30:1173–1183. https://doi.org/10.1007/s00384-015-2273-z

37.

Shaikh IA, Suttie SA, Urquhart M, Amin AI, Daniel T, Yalamarthi S (2012) Does the outcome of colonic flexure cancers differ from the other colonic sites? Int J Colorectal Dis 27:89–93. https://doi.org/10.1007/s00384-011-1292-7

38.

Binda GA, Amato A, Alberton G, Bruzzone M, Secondo P, Lopez-Borao J, Giudicissi R, Falato A, Fucini C, Bianco F, Biondo S (2019) Surgical treatment of a colon neoplasm of the splenic flexure: a multicentric study of short-term outcomes. Colorectal Dis. https://doi.org/10.1111/codi.14832
Acknowledgements
The authors would like to thank all participants in this survey.
Funding
This study did not receive any specific grant from funding agencies in the public, commercial, or not-for-profit sectors.
Ethics declarations
Conflicts of interest
None for all authors.
Ethical approval
This article does not contain any study with human participants or animals performed by any of the authors.
Informed consent
No informed consent.
Additional information
Publisher's Note
Springer Nature remains neutral with regard to jurisdictional claims in published maps and institutional affiliations.
About this article
Cite this article
Manceau, G., Benoist, S., Panis, Y. et al. Elective surgery for tumours of the splenic flexure: a French inter-group (AFC, SFCD, FRENCH, GRECCAR) survey. Tech Coloproctol (2020). https://doi.org/10.1007/s10151-019-02143-2
Received:

Accepted:

Published:
Keywords
Colon cancer

Splenic flexure

Surgery

Splenic flexure colectomy

Left hemicolectomy

Subtotal colectomy