Abstract
Background
Extensive multi-visceral resection, including components of the urinary tract, is often required to achieve clear resection margins, which is now well established as a key predictor of long-term survival for locally advanced pelvic tumours. The aims of this study were to analyse major morbidity and factors predicting complications and long-term outcomes following a urological procedure within extended radical resections.
Methods
Data were collected from prospective databases at two high-volume institutions specialising in extended radical resections for locally advanced and recurrent pelvic malignancies between 1990 and 2015. The primary endpoints were general major complications (Clavien–Dindo ≥ 3) and factors influencing complications and overall survival after urological resection.
Results
A total of 646 consecutive patients requiring an extended radical resection for locally advanced or recurrent pelvic malignancies were identified. The median age was 63 years (range 19–89 years) and the majority were female (371; 57.4%). A urological resection was performed as part of the resection in 226 patients (35.0%). The overall 30-day major complication rate was significantly higher in the urological intervention group (23%; n = 52) compared to the non-urological group (12.9%; n = 54 patients; p = 0.001). Intestinal anastomotic leak (p = 0.001) and intra-abdominal collections (p = 0.001) were more common in the urological cohort. Ileal conduit formation was an independent predictor of major morbidity (OR 1.95; 95% CI 1.24–3.07; p = 0.004). Independent prognostic markers for poor 5-year survival following urological procedures were recurrent tumour, cardiovascular disease, previous thromboembolic event and postoperative pulmonary embolism.
Conclusions
Extended radical resections which include a urological resection are associated with significantly more major morbidity than those without urological resection. Ileal conduit formation is independently associated with the development of major morbidity. Five-year overall survival is no different for patients who had or did not have urological resection as part of extended radical surgery for locally advanced or recurrent pelvic malignancy.
This is a preview of subscription content, log in to check access.
Access options
Buy single article
Instant access to the full article PDF.
US$ 39.95
Price includes VAT for USA
Subscribe to journal
Immediate online access to all issues from 2019. Subscription will auto renew annually.
US$ 99
This is the net price. Taxes to be calculated in checkout.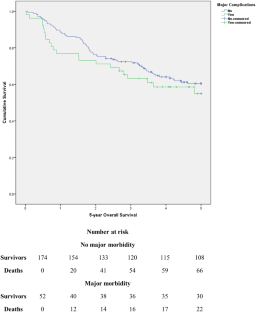 References
1.

Beyond TME Consensus (2013) Consensus statement on the multidisciplinary management of patients with recurrent and primary rectal cancer beyond total mesorectal excision planes. Br J Surg 100:1009–1014

2.

Harris CA, Solomon MJ, Heriot AG et al (2016) The outcomes and patterns of treatment failure after surgery for locally recurrent rectal cancer. Ann Surg 264:323–329

3.

Pawlik TM, Skibber JM, Rodriguez-Bigas MA (2006) Pelvic exenteration for advanced pelvic malignancies. Ann Surg Oncol 13:612–623

4.

Bhangu A, Ali SM, Darzi A, Brown G, Tekkis P (2012) Meta-analysis of survival based on resection margin status following surgery for recurrent rectal cancer. Colorectal Dis 14:1457–1466

5.

PelvEx Collaboration (2019) Surgical and survival outcomes following pelvic exenteration for locally advanced primary rectal cancer: results from an international collaboration. Ann Surg 269:315–321

6.

Teixeira SC, Ferenschild FT, Solomon MJ et al (2012) Urological leaks after pelvic exenterations comparing formation of colonic and ileal conduits. Eur J Surg Oncol 38:361–366

7.

Houvenaeghel G, Moutardier V, Karsenty G et al (2004) Major complications of urinary diversion after pelvic exenteration for gynecologic malignancies: a 23-year mono-institutional experience in 124 patients. Gynecol Oncol 92:680–683

8.

Bhangu A, Ali SM, Brown G, Nicholls RJ, Tekkis P (2014) Indications and outcome of pelvic exenteration for locally advanced primary and recurrent rectal cancer. Ann Surg 259:315–322

9.

Brown KG, Solomon MJ, Latif ER et al (2017) Urological complications after cystectomy as part of pelvic exenteration are higher than that after cystectomy for primary bladder malignancy. J Surg Oncol 115:307–311

10.

van den Heijkant F, Vermeer TA, Vrijhof E, Nieuwenhuijzen GAP, Koldewijn EL, Rutten HJT (2017) Psoas hitch ureteral reimplantation after surgery for locally advanced and locally recurrent colorectal cancer: Complications and oncological outcome. Eur J Surg Oncol 43:1869–1875

11.

Stotland PK, Moozar K, Cardella JA et al (2009) Urologic complications of composite resection following combined modality treatment of colorectal cancer. Ann Surg Oncol 16:2759–2764

12.

Brown KG, Koh CE, Vasilaras A, Eisinger D, Solomon MJ (2014) Clinical algorithms for the diagnosis and management of urological leaks following pelvic exenteration. Eur J Surg Oncol 40:775–781

13.

Heriot AG, Byrne CM, Lee P et al (2008) Extended radical resection: the choice for locally recurrent rectal cancer. Dis Colon Rectum 51:284–291

14.

Davis NF, Burke JP, McDermott T, Flynn R, Manecksha RP, Thornhill JA (2015) Bricker versus Wallace anastomosis: a meta-analysis of ureteroenteric stricture rates after ileal conduit urinary diversion. Can Urol Assoc J 9:E284–290

15.

Dindo D, Demartines N, Clavien PA (2004) Classification of surgical complications: a new proposal with evaluation in a cohort of 6336 patients and results of a survey. Ann Surg 240:205–213

16.

Berrios-Torres SI, Umscheid CA, Bratzler DW et al (2017) Centers for disease control and prevention guideline for the prevention of surgical site infection, 2017. JAMA Surg 152:784–791

17.

Rahbari NN, Weitz J, Hohenberger W et al (2010) Definition and grading of anastomotic leakage following anterior resection of the rectum: a proposal by the International Study Group of Rectal Cancer. Surgery 147:339–351

18.

Wagenlehner FM, Pilatz A, Naber KG, Weidner W (2008) Therapeutic challenges of urosepsis. Eur J Clin Invest 38(Suppl 2):45–49

19.

Kreiner L (2018) Intra-abdominal collection: BMJ best practice. https://bestpractice.bmj.com/topics/en-gb/996. Accessed 16 March 2019.

20.

Turner GA, Harris CA, Eglinton TW et al (2016) Cystoprostatectomy versus prostatectomy alone for locally advanced or recurrent pelvic cancer. ANZ J Surg 86:54–58

21.

Goldberg GL, Sukumvanich P, Einstein MH, Smith HO, Anderson PS, Fields AL (2006) Total pelvic exenteration: the Albert Einstein College of Medicine/Montefiore Medical Center Experience (1987–2003). Gynecol Oncol 101:261–268

22.

Lopez MJ, Standiford SB, Skibba JL (1994) Total pelvic exenteration. A 50-year experience at the Ellis Fischel Cancer Center. Arch Surg 129:390–395

23.

Brunschwig A (1948) Complete excision of pelvic viscera for advanced carcinoma; a one-stage abdominoperineal operation with end colostomy and bilateral ureteral implantation into the colon above the colostomy. Cancer 1:177–183

24.

Bolmstrand B, Nilsson PJ, Holm T, Buchli C, Palmer G (2018) Patterns of complications following urinary tract reconstruction after multivisceral surgery in colorectal and anal cancer. Eur J Surg Oncol 44:1513–1517

25.

Bochner BH, Sjoberg DD, Laudone VP, Memorial Sloan Kettering Cancer Center Bladder Cancer Surgical Trials G (2014) A randomized trial of robot-assisted laparoscopic radical cystectomy. N Engl J Med 371:389–390

26.

Tortorella L, Casarin J, Mara KC et al (2019) Prediction of short-term surgical complications in women undergoing pelvic exenteration for gynecological malignancies. Gynecol Oncol 152:151–156

27.

Hsu TW, Chiang FF, Chen MC, Wang HM (2011) Pelvic exenteration for men with locally advanced rectal cancer: a morbidity analysis of complicated cases. Asian J Surg 34:115–120

28.

Kusters M, Austin KK, Solomon MJ, Lee PJ, Nieuwenhuijzen GA, Rutten HJ (2015) Survival after pelvic exenteration for T4 rectal cancer. Br J Surg 102:125–131

29.

Aslim EJ, Chew MH, Chew GK, Lee LS (2018) Urological outcomes following pelvic exenteration for advanced pelvic cancer are not inferior to those following radical cystectomy. ANZ J Surg 88:896–900

30.

Somani BK, Gimlin D, Fayers P, N'Dow J (2009) Quality of life and body image for bladder cancer patients undergoing radical cystectomy and urinary diversion–a prospective cohort study with a systematic review of literature. Urology 74:1138–1143

31.

Russo P, Ravindran B, Katz J, Paty P, Guillem J, Cohen AM (1999) Urinary diversion after total pelvic exenteration for rectal cancer. Ann Surg Oncol 6:732–738

32.

Aoyama T, Oba K, Honda M et al (2017) Impact of postoperative complications on the colorectal cancer survival and recurrence: analyses of pooled individual patients' data from three large phase III randomized trials. Cancer Med 6:1573–1580

33.

Klok FA, Zondag W, Kralingen KWV et al (2010) Patient outcomes after acute pulmonary embolism. Am J Respir Crit Care Med 181:501–506

34.

White MC, Holman DM, Boehm JE, Peipins LA, Grossman M, Henley SJ (2014) Age and cancer risk: a potentially modifiable relationship. Am J Prev Med 46:S7–15

35.

Janssen-Heijnen ML, Houterman S, Lemmens VE, Louwman MW, Maas HA, Coebergh JW (2005) Prognostic impact of increasing age and co-morbidity in cancer patients: a population-based approach. Crit Rev Oncol Hematol 55:231–240

36.

Kong CH, Guest GD, Stupart DA, Faragher IG, Chan ST, Watters DA (2015) Colorectal preoperative surgical score (CROSS) for mortality in major colorectal surgery. ANZ J Surg 85:403–407

37.

Janssen-Heijnen ML, Szerencsi K, van de Schans SA, Maas HA, Widdershoven JW, Coebergh JW (2010) Cancer patients with cardiovascular disease have survival rates comparable to cancer patients within the age-cohort of 10 years older without cardiovascular morbidity. Crit Rev Oncol Hematol 76:196–207

38.

Peacock O, Waters PS, Bressel M et al (2019) Prognostic factors and patterns of failure after surgery for T4 rectal cancer in the beyond total mesorectal excision era. Br J Surg. https://doi.org/10.1002/bjs.11242
Ethics declarations
Conflict of interest
The authors declare that they have no conflict of interest.
Ethical approval
The study was approved by the Peter MacCallum Cancer Centre Human Research Ethics Committee (HREC 14/68R).
Informed consent
In this article, no patient care was involved.
Additional information
Publisher's Note
Springer Nature remains neutral with regard to jurisdictional claims in published maps and institutional affiliations.
Electronic supplementary material
Below is the link to the electronic supplementary material.
About this article
Cite this article
Peacock, O., Waters, P.S., Kong, J.C. et al. Complications and 5-year survival after radical resections which include urological organs for locally advanced and recurrent pelvic malignancies: analysis of 646 consecutive cases. Tech Coloproctol 24, 181–190 (2020). https://doi.org/10.1007/s10151-019-02141-4
Received:

Accepted:

Published:

Issue Date:
Keywords
Pelvic neoplasms

Neoplasm recurrence

Local recurrence

Pelvic exenteration

Urinary tract

Urinary diversion

Postoperative complications

Morbidity

Survival