Abstract
Background
Slow transit constipation is characterised by prolonged colonic transit and reliance on laxatives. The pathophysiology is poorly understood and in its most severe form, total colectomy with ileorectal anastomosis is the final treatment option. We present a follow-up study of the long-term function in patients who had surgery for laxative-resistant slow transit constipation.
Methods
A postal survey was sent to assess bowel frequency, abdominal pain, St Mark's continence score, satisfaction with procedure, likelihood to choose the procedure again, and long-term rates of small bowel obstruction and ileostomy. Longitudinal data from a subgroup studied 23 years previously are reported.
Results
Forty-two patients (male = 2) were available for follow-up out of an initial cohort of 102. Mean time since surgery was 15.9 years (range 1.7–29.7) years. Fifty percent had < 4 bowel motions per day, most commonly Bristol stool 6, mean St Mark's score 7.45. Twenty-one percent had severe incontinence. Satisfaction and likelihood to choose surgery were high (median 10/10). There was a high rate of small bowel obstruction, suggesting pan-intestinal dysmotility in some cases. Conversion to ileostomy occurred in 8 patients. In the longitudinal follow-up in 15 subjects, continence deteriorated (p < 0.01), stool consistency softened (p < 0.01), and stool frequency fell (p < 0.01).
Conclusions
Satisfactory stool frequency was achieved in the long term, and although 21% had incontinence scores > 12, patient satisfaction was high. This is the longest reported follow-up of colectomy for slow transit constipation, with longitudinal outcomes reported. There was considerable attrition of patients, so larger, longitudinal studies are required to better ascertain the functional outcomes of these patients.
This is a preview of subscription content, log in to check access.
Access options
Buy single article
Instant access to the full article PDF.
US$ 39.95
Price includes VAT for USA
Subscribe to journal
Immediate online access to all issues from 2019. Subscription will auto renew annually.
US$ 99
This is the net price. Taxes to be calculated in checkout.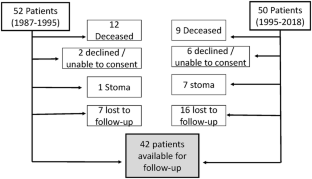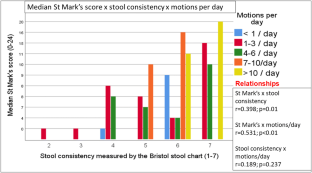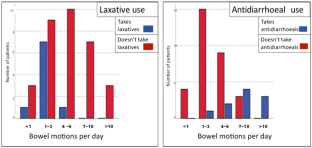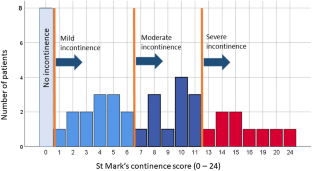 References
1.

Krogh K, Chiarioni G, Whitehead W (2017) Management of chronic constipation in adults. United Eur Gastroenterol J 5(4):465–472

2.

Andromanakos NP, Pinis SI, Kostakis AI (2015) Chronic severe constipation: current pathophysiological aspects, new diagnostic approaches, and therapeutic options. Eur J Gastroenterol Hepatol 27(3):204–214

3.

Dinning PG, Jones M, Hunt L, Fuentealba SE, Kalanter J, King DW et al (2011) Factor analysis identifies subgroups of constipation. World J Gastroenterol 17(11):1468–1474

4.

Tillou J, Poylin V (2017) Functional disorders: slow-transit constipation. Clin Colon Rectal Surg 30(1):76–86

5.

He CL, Burgart L, Wang L, Pemberton J, Young-Fadok T, Szurszewski J et al (2000) Decreased interstitial cell of cajal volume in patients with slow-transit constipation. Gastroenterology 118(1):14–21

6.

Knowles CH, Farrugia G (2011) Gastrointestinal neuromuscular pathology in chronic constipation. Best Pract Res Clin Gastroenterol 25(1):43–57

7.

Bassotti G, Roberto GD, Sediari L, Morelli A (2004) Toward a definition of colonic inertia. World J Gastroenterol 10(17):2465–2467

8.

Uemura S, Hurley MR, Hutson JM, Chow CW (1998) Distributions of substance P- and VIP-immunoreactive nerve fibres in the colonic circular muscle in children. Pediatr Surg Int 14(1):66–70

9.

Wedel T, Spiegler J, Soellner S, Roblick UJ, Schiedeck TH, Bruch HP et al (2002) Enteric nerves and interstitial cells of Cajal are altered in patients with slow-transit constipation and megacolon. Gastroenterology 123(5):1459–1467

10.

Patton V, Lubowski DZ (2015) Clinical outcome and efficacy of antegrade colonic enemas administered via an indwelling cecostomy catheter in adults with defecatory disorders. Dis Colon Rectum 58(4):457–462

11.

Piccirillo MF, Reissman P, Wexner SD (1995) Colectomy as treatment for constipation in selected patients. Br J Surg 82(7):898–901

12.

Fitzharris G, Garcia-Aguilar J, Parker S, Bullard K, Madoff R, Golberg S et al (2003) Quality of life after sub-total colectomy for slow transit constipation. Colon Rectum 46(4):433–440

13.

Yoshioka K, Keighley MR (1989) Clinical results of colectomy for severe constipation. Br J Surg 76(6):600–604

14.

Nyam DC, Pemberton JH, Ilstrup DM, Rath DM (1997) Long-term results of surgery for chronic constipation. Dis Colon Rectum 40(3):273–279

15.

Knowles CH, Scott M, Lunniss PJ (1999) Outcome of colectomy for slow transit constipation. Ann Surg 230(5):627–638

16.

Lubowski DZ, Chen FC, Kennedy ML, King DW (1996) Results of colectomy for severe slow transit constipation. Dis Colon Rectum 39(1):23–29

17.

Vaizey CJ, Carapeti E, Cahill JA, Kamm MA (1999) Prospective comparison of faecal incontinence grading systems. Gut 44:77–80

18.

Knowles CH, Grossi U, Chapman M, Mason J (2017) Surgery for constipation: systematic review and practice recommendations: results I: colonic resection. Colorectal Dis 19(Suppl 3):17–36

19.

Kuijpers HC (1990) Application of the colorectal laboratory in diagnosis and treatment of functional constipation. Dis Colon Rectum 33(1):35–39

20.

Reshef A, Alves-Ferreira P, Zutshi M, Hull T, Gurland B (2013) Colectomy for slow transit constipation: effective for patients with coexistent obstructed defecation. Int J Colorectal Dis 28(6):841–847

21.

Ding W, Jiang J, Feng X, Ni L, Li J, Li N (2015) Clinical and pelvic morphologic correlation after subtotal colectomy with colorectal anastomosis for combined slow-transit constipation and obstructive defecation. Dis Colon Rectum 58(1):91–96

22.

Duthie GS, Bartolo DC (1992) Anismus: the cause of constipation? Results of investigation and treatment. World J Surg 16(5):831–835

23.

Patton V, Stewart P, Lubowski DZ, Cook IJ, Dinning PG (2016) Sacral nerve stimulation fails to offer long-term benefit in patients with slow-transit constipation. Dis Colon Rectum 59(9):878–885

24.

Kamm MA, Hawley PR, Lennard-Jones JE (1988) Outcome of colectomy for severe idiopathic constipation. Gut 29(7):969–973

25.

Platell C, Scache D, Mumme G, Stitz R (1996) A long-term follow-up of patients undergoing colectomy for chronic idiopathic constipation. Aust N Z J Surg 66(8):525–529

26.

Dinning PG, Hunt L, Lubowski DZ, Kalantar JS, Cook IJ, Jones MP (2011) The impact of laxative use upon symptoms in patients with proven slow transit constipation. BMC Gastroenterol 11:121

27.

Ghosh S, Papachrysostomou M, Batool M, Eastwood MA (1996) Long-term results of subtotal colectomy and evidence of noncolonic involvement in patients with idiopathic slow-transit constipation. Scand J Gastroenterol 31(11):1083–1091
Funding
There was no external funding source for the research.
Ethics declarations
Conflict of interest
The authors declare that they have no conflict of interest.
Ethical approval
Ethics approval for this study was obtained from the South Eastern Sydney Human Research Ethics Committee ref: 16/263(LNR/16/POWH/508).
Informed consent
Patients were given an information sheet via email or post and informed consent was obtained.
Additional information
Publisher's Note
Springer Nature remains neutral with regard to jurisdictional claims in published maps and institutional affiliations.
About this article
Cite this article
Patton, V., Balakrishnan, V., Pieri, C. et al. Subtotal colectomy and ileorectal anastomosis for slow transit constipation: clinical follow-up at median of 15 years. Tech Coloproctol 24, 173–179 (2020). https://doi.org/10.1007/s10151-019-02140-5
Received:

Accepted:

Published:

Issue Date:
Keywords
Slow transit constipation

Colectomy

Long-term outcome

Surgery