Abstract
Background
Pelvic intraoperative neuromonitoring during nerve-sparing robot-assisted total mesorectal excision (RTME) is feasible. However, visual separation of the neuromonitoring process from the surgeon console interrupts the workflow and limits the usefulness of available information as the procedure progresses. Since the robotic surgical system provides multi-image views in the surgeon console, the aim of this study was to integrate cystomanometry and internal anal sphincter electromyography signals to aid the robotic surgeon in his/her nerve-sparing technique.
Methods
We prospectively investigated 5 consecutive patients (1 male, 4 females) who underwent RTME for rectal cancer at our institution in 2017. The robotic surgery was performed using the da Vinci Xi combined with pelvic intraoperative neuromapping with real-time electromyography and cystomanometry signal transmission by multi-image view during RTME.
Results
The adapted two-dimensional pelvic intraoperative neuromonitoring imaging successfully simulcasted to the surgeon console view in all 5 cases. The technical note is complemented by an intraoperative video.
Conclusions
This report demonstrates the technical feasibility of an improved neuromonitoring process during nerve-sparing RTME. Robotic neuromapping can be fully visualized from the surgeon console.
This is a preview of subscription content, log in to check access.
Access options
Buy single article
Instant unlimited access to the full article PDF.
US$ 39.95
Price includes VAT for USA
Subscribe to journal
Immediate online access to all issues from 2019. Subscription will auto renew annually.
US$ 99
This is the net price. Taxes to be calculated in checkout.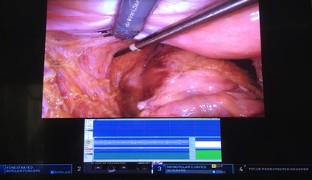 References
1.

Baader B, Herrmann M (2003) Topography of the pelvic autonomic nervous system and its potential impact on surgical intervention in the pelvis. Clin Anat 16:119–130

2.

Stelzner S, Böttner M, Kupsch J, Kneist W, Quirke P, West NP, Witzigmann H, Wedel T (2018) Internal anal sphincter nerves—a macroanatomical and microscopic description of the extrinsic autonomic nerve supply of the internal anal sphincter. Colorectal Dis 20:7–16

3.

Kim NK, Kim YW, Cho MS (2015) Total mesorectal excision for rectal cancer with emphasis on pelvic autonomic nerve preservation: expert technical tips for robotic surgery. Surg Oncol 24:172–180

4.

Kauff DW, Wachter N, Bettzieche R, Lang H, Kneist W (2016) Electrophysiology-based quality assurance of nerve-sparing in laparoscopic rectal cancer surgery—is it worth the effort? Surg Endosc 30:4525–4532

5.

Grade M, Beham AW, Schüler P, Kneist W, Ghadimi BM (2015) Pelvic intraoperative neuromonitoring during robotic-assisted low anterior resection for rectal cancer. J Robot Surg 10:157–160

6.

Bhayani SB, Snow DC (2008) Novel dynamic information integration during da Vinci robotic partial nephrectomy and radical nephrectomy. J Robot Surg 2:67–69

7.

Woo Y, Choi GH, Min BS, Hyung WJ (2014) Novel application of simultaneous multi-image display during complex robotic abdominal procedures. BMC Surg 14:13

8.

Volonté F, Buchs NC, Pugin F, Spaltenstein J, Schiltz B, Jung M, Hagen M, Ratib O, Morel P (2013) Augmented reality to the rescue of the minimally invasive surgeon. The usefulness of the interposition of stereoscopic images in the Da Vinci™ robotic console. Int J Med Robot 9:34–38

9.

Panteleimonitis S, Harper M, Hall S, Figueiredo N, Qureshi T, Parvaiz A (2017) Precision in robotic rectal surgery using the da Vinci Xi system and integrated table motion, a technical note. J Robotic Surg. https://doi.org/10.1007/s11701-017-0752-7

10.

Atallah S, DuBose A, Larach SW (2016) Towards the development of two-field robotic surgery. Tech Coloproctol 20:71–73

11.

Schiemer JF, Juo YY, Sanaiha Y, Lin AY, Kazanjian K, Lang H, Kneist W (2018) Application of a newly designed microfork probe for robotic‑guided pelvic intraoperative neuromapping. J Min Access Surg. https://doi.org/10.4103/jmas.JMAS_12_18

12.

Jayne D, Pigazzi A, Marshall H, Croft J, Corrigan N, Copeland J, Quirke P, West N, Rautio T, Thomassen N, Tilney H, Gudgeon M, Bianchi PP, Edlin R, Hulme C, Brown J (2017) Effect of robotic-assisted vs conventional laparoscopic surgery on risk of conversion to open laparotomy among patients undergoing resection for rectal cancer: the ROLARR randomized clinical trial. JAMA 318:1569–1580

13.

Atallah S, Zenoni S, Kelly J, Tilahun Y, Monson JR (2016) A blueprint for robotic navigation: pre-clinical simulation for transanal total mesorectal excision (taTME). Tech Coloproctol 20:653–654
Acknowledgements
We would like to thank Dipl.-Ing. K. Somerlik-Fuchs (inomed Medizintechnik GmbH, Emmendingen, Germany) and Dr. med. T. Schlick (Intuitive Surgical, Sunnyvale, CA, USA) for commitment and technical support as well as Monia Passalacqua (Department of General, Visceral and Transplant Surgery, University Medical Center of the Johannes Gutenberg-University Mainz, Germany) for participation in the video.
Ethics declarations
Conflict of interest
The authors declare that they have no conflict of interest.
Ethical approval
This research was performed in accordance with the 1964 Helsinki declaration and its later amendments.
Informed consent
Informed consent was obtained from all individuals included in the study.
Electronic supplementary material
Below is the link to the electronic supplementary material.
Supplementary material 1 (MP4 109557 KB)
About this article
Cite this article
Schiemer, J.F., Zimniak, L., Hadzijusufovic, E. et al. Novel multi-image view for neuromapping meets the needs of the robotic surgeon. Tech Coloproctol 22, 445–448 (2018). https://doi.org/10.1007/s10151-018-1804-3
Received:

Accepted:

Published:

Issue Date:
Keywords
Robotic surgical procedures

Rectal cancer

Neuromonitoring

Autonomic pathways