Abstract
Laparoscopic colectomy for cancer is increasingly practiced worldwide in the last 2 decades. However, due to procedural complexity, laparoscopic rectal cancer excision had not proceeded at a similar pace. This article deals with the technique of laparoscopic anterior resection. Resection of rectosigmoid or upper rectal tumors is first described, followed by the more difficult sphincter-saving total mesorectal excision. We have been using and modifying this technique of laparoscopic anterior resection for rectal cancer since 1990s. In our recent review, the local recurrence rate was 7.4%, and the overall 5-year survival was 70%. Our data suggest laparoscopic resection for rectal cancer is safe and is the procedure of choice in selected patients.
This is a preview of subscription content, log in to check access.
Access options
Buy single article
Instant unlimited access to the full article PDF.
US$ 39.95
Price includes VAT for USA
Subscribe to journal
Immediate online access to all issues from 2019. Subscription will auto renew annually.
US$ 99
This is the net price. Taxes to be calculated in checkout.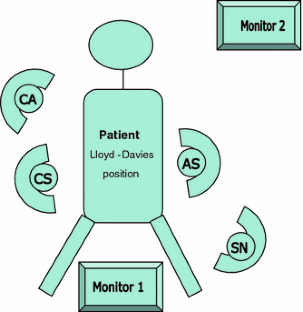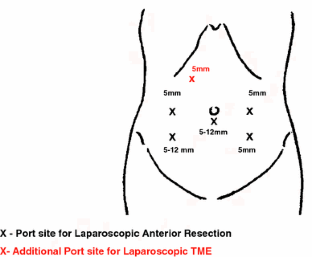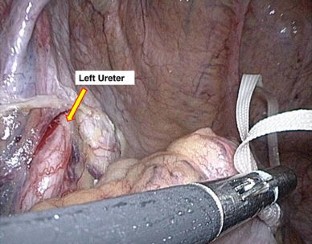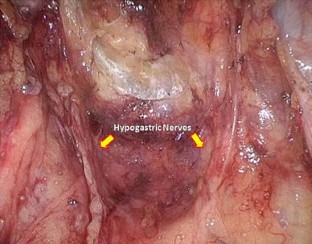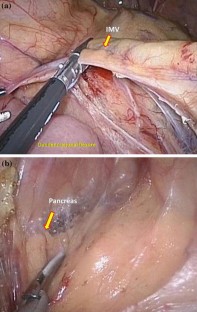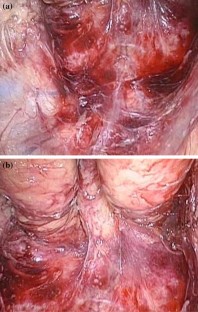 References
1.

Redwine DB, Sharpe DR (1991) Laproscopic segmental resection of the sigmoid colon for endometriosis. J Laparoendosc Surg 1:217–220

2.

Schlinkert RT (1991) Laparoscopic-assisted hemicolectomy. Dis Colon Rectum 34:1030–1031

3.

Kuhry E, Schwenk WF, Bonjer HJ et al (2008) Long-term results of laparoscopic colorectal cancer resection. Cochrane Database Syst Rev (2):CD003432. 2008 Apr 16, Review

4.

COST Study Group (2004) A comparison of laparoscopically assisted and open colectomy for colon cancer. N Engl J Med 350:2050–2059

5.

Veldkamp R, Kuhry E, Hop WC et al (2005) Laparoscopic surgery versus open surgery for colon cancer: short-term outcomes of a randomized trial. Lancet Oncol 6:477–484

6.

Schlachta CM, Mamazza J, Pouline EC et al (2001) Defining a learning curve for laparoscopic colorectal resection. Dis Colon Rectum 44:217–222

7.

Wong JC, Chung CC, Li MKW et al (2006) Endo-lap OR: an innovative "minimally invasive operating room" design. Surg Endosc 24:1252–1256

8.

Chung CC, Kwok SPY, Li AKC et al (1997) Use of cotton tape tie in laparoscopic colorectal surgery. AZNJ Surg 67:293–294

9.

Chung CC, Ha JPY, Li MKW et al (2001) Laparoscopic-assisted total mesorectal excision and colonic J pouch reconstruction in the treatment of rectal cancer. Surg Endosc 15:1098–1101

10.

Tsang WWC, Chung CC, Li MKW (2003) Prospective evaluation of laparoscopic total mesorectal excision with colonic J-pouch reconstruction for mid and low rectal cancers. Br J Surg 90:867–871

11.

Tsang WWC, Chung CC, Li MKW et al (2005) Laparoscopic total mesorectal excision with colonic J-pouch reconstruction: five-year results. Ann Surg 243:353–358

12.

Ng KH, Chung CC, Li MKW et al (2009) Laparoscopic surgery for rectal cancer: lessons learned from 579 cases. Ann Surg 249:82–86
Electronic supplementary material
Below is the link to the electronic supplementary material.
About this article
Cite this article
Cheung, H.Y.S., Chung, C.C. & Li, M.K.W. Laparoscopic anterior resection. Tech Coloproctol 14, 45–49 (2010). https://doi.org/10.1007/s10151-009-0557-4
Received:

Accepted:

Published:

Issue Date:
Keywords
Anterior resection

Rectal cancer

Laparoscopy