Abstract
This study aimed to assess the clinical applicability of MRI criteria for differentiation of pituitary adenomas and cystic pituitary lesions. One hundred ninety-eight consecutive patients with surgical resection of a pituitary adenoma/cystic pituitary lesion were retrospectively analyzed, blinded to clinical data and histopathological diagnosis. Different morphologic criteria were assessed: signal intensity in T2/T1w images, pattern of contrast enhancement, size, super-/infrasellar extension, and invasion of the cavernous sinus. For validation of the criteria, a second independent patient cohort (n = 102) was analyzed for diagnostic accuracy of the criteria. We identified differences between subtypes of pituitary adenomas regarding morphological MRI criteria. Especially, ACTH-producing adenomas and GH-producing adenomas showed partially specific imaging features. Application of our criteria on the second patient cohort (n = 102) did however not significantly improve diagnostic accuracy. Only differentiation between cystic pituitary lesions and adenomas was facilitated using these criteria, but did not reach statistical significance in this cohort (P = 0.352). MRI criteria might facilitate differentiation between pituitary adenomas and cystic pituitary lesions, but not between subtypes of pituitary adenomas. These subtypes show partially specific MR imaging features, however, due to a high variability knowledge of clinical symptoms and laboratory findings remain essential for the correct diagnosis.
This is a preview of subscription content, log in to check access.
Access options
Buy single article
Instant access to the full article PDF.
US$ 39.95
Price includes VAT for USA
Subscribe to journal
Immediate online access to all issues from 2019. Subscription will auto renew annually.
US$ 99
This is the net price. Taxes to be calculated in checkout.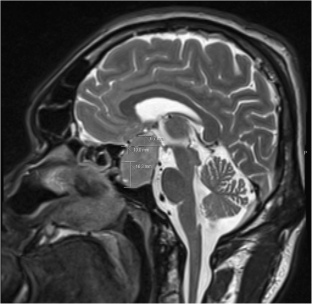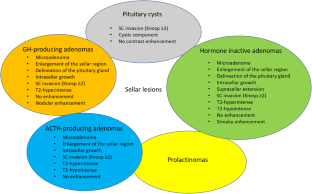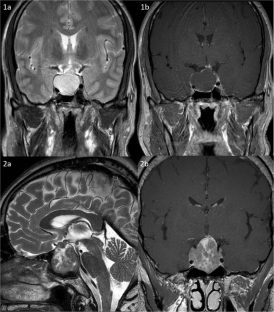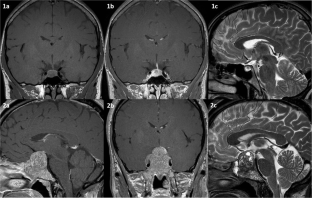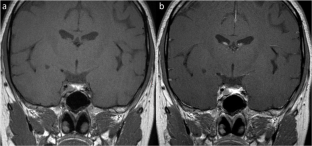 References
1.

Baik JS, Lee MH, Ahn KJ, Choi HS, Jung SL, Kim BS, Jeun SS, Hong YK (2015) Characteristic location and growth patterns of functioning pituitary adenomas: correlation with histological distribution of hormone-secreting cells in the pituitary gland. Clin Imaging 39:770–774

2.

Bonneville JF, Bonneville F, Cattin F (2005) Magnetic resonance imaging of pituitary adenomas. Eur Radiol 15:543–548

3.

Buchfelder M, Nistor R, Fahlbusch R, Huk WJ (1993) The accuracy of CT and MR evaluation of the sella turcica for detection of adrenocorticotropic hormone-secreting adenomas in Cushing disease. AJNR Am J Neuroradiol 14:1183–1190

4.

Choi SH, Kwon BJ, Na DG, Kim JH, Han MH, Chang KH (2007) Pituitary adenoma, craniopharyngioma, and Rathke cleft cyst involving both intrasellar and suprasellar regions: differentiation using MRI. Clin Radiol 62:453–462

5.

Ezzat S, Asa SL, Couldwell WT, Barr CE, Dodge WE, Vance ML, McCutcheon IE (2004) The prevalence of pituitary adenomas: a systematic review. Cancer 101:613–619

6.

General Assembly of the World Medical A (2014) World Medical Association Declaration of Helsinki: ethical principles for medical research involving human subjects. The Journal of the American College of Dentists 81:14–18

7.

Hagiwara A, Inoue Y, Wakasa K, Haba T, Tashiro T, Miyamoto T (2003) Comparison of growth hormone-producing and non-growth hormone-producing pituitary adenomas: imaging characteristics and pathologic correlation. Radiology 228:533–538

8.

Knosp E, Steiner E, Kitz K, Matula C (1993) Pituitary adenomas with invasion of the cavernous sinus space: a magnetic resonance imaging classification compared with surgical findings. Neurosurgery 33:610–617 discussion 617-618

9.

Larkin, S., & Ansorge, O. (2000). Pathology and pathogenesis of pituitary adenomas and other sellar lesions. In: L. J. De Groot, Chrousos, G., Dungan, K., Feingold, K. R., Grossman, A., Hershman, J. M., Koch, C., Korbonits, M., McLachlan, R., New, M., Purnell, J., Rebar, R., Singer, F., Vinik, A. (Eds.), Endotext. South Dartmouth (MA).

10.

Park M, Lee SK, Choi J, Kim SH, Kim SH, Shin NY, Kim J, Ahn SS (2015) Differentiation between cystic pituitary adenomas and Rathke cleft cysts: a diagnostic model using MRI. AJNR Am J Neuroradiol 36:1866–1873

11.

Potorac I, Petrossians P, Daly AF, Schillo F, Ben Slama C, Nagi S, Sahnoun M, Brue T, Girard N, Chanson P, Nasser G, Caron P, Bonneville F, Raverot G, Lapras V, Cotton F, Delemer B, Higel B, Boulin A, Gaillard S, Luca F, Goichot B, Dietemann JL, Beckers A, Bonneville JF (2015) Pituitary MRI characteristics in 297 acromegaly patients based on T2-weighted sequences. Endocr Relat Cancer 22:169–177

12.

Theodros D, Patel M, Ruzevick J, Lim M, Bettegowda C (2015) Pituitary adenomas: historical perspective, surgical management and future directions. CNS Oncology 4:411–429
Ethics declarations
Conflict of interest
All authors certify that they have no affiliations with or involvement in any organization or entity with any financial interest (such as honoraria; educational grants; participation in speakers' bureaus; membership, employment, consultancies, stock ownership, or other equity interests; and expert testimony or patent-licensing arrangements) or non-financial interest (such as personal or professional relationships, affiliations, knowledge, or beliefs) in the subject matter or materials discussed in this manuscript.
CZ has served on scientific advisory boards for Philips and Bayer-Schering; serves as co-editor on the Advisory Board of Clinical Neuroradiology; has received speaker honoraria from Bayer-Schering and Philips; and has received research support and investigator fees for clinical studies from Biogen Idec, Quintiles, MSD Sharp & Dome, Boehringer Ingelheim, Inventive Health Clinical UK Ltd., Advance Cor, Brainsgate, Pfizer, Bayer-Schering, Novartis, Roche, Servier, Penumbra, WCT GmbH, Syngis, SSS Internartional Clinical Research, PPD Germany GmbH, Worldwide Clinical Trials Ltd., Phenox, Covidien, Actelion, Medivation, Medtronic, Harrison Clinical Research, Concentric, Penumbra, Pharmtrace, Reverse Medical Corp., Premier Research Germany Ltd., Surpass Medical Ltd., and GlaxoSmithKline.

SB, JG, and BM work as consultants for Brainlab (Brainlab AG, Munich).

JSK has received speaker honoraria from Philips.

All named potential conflicts of interest are unrelated to this study.
Ethical approval
All procedures performed in studies involving human participants were in accordance with the ethical standards of the institutional and/or national research committee and with the 1964 Helsinki declaration and its later amendments or comparable ethical standards.
Informed consent
For this retrospective non-interventional study, informed consent was waived by the local ethics committee.
Electronic supplementary material
About this article
Cite this article
Bette, S., Butenschön, V.M., Wiestler, B. et al. MRI criteria of subtypes of adenomas and epithelial cysts of the pituitary gland. Neurosurg Rev 43, 265–272 (2020). https://doi.org/10.1007/s10143-018-1049-7
Received:

Revised:

Accepted:

Published:

Issue Date:
Keywords
Pituitary adenoma

Pituitary cysts

MRI

Neuroendocrinology