Abstract
Intraoperative monitoring systems that utilize various evoked potentials for the detection and/or preservation of cranial nerves have become increasingly common due to recent technical and commercial developments, particularly during skull base surgeries. We established a novel system for the intraoperative monitoring of the extraocular motor nerves (eOMNs) using a piezoelectric device capable of detecting imperceptible vibrations induced by ocular movement, with sensors placed on the eyelids alone. We first evaluated the efficacy and reliability of this device for the intraoperative monitoring of eOMNs in two Beagle dogs. Based on the results, we then determined the appropriate stimulation parameters for use in human surgical cases involving removal of various skull base tumors. Animal experiments revealed that a 0.4 mA monopolar electrical stimulation was required to elicit significant responses and that these responses were not inferior to those obtained via the electrooculogram/electromyogram. Significant responses were also detected in preliminary clinical investigations in human patients, following both direct and indirect monopolar electrical stimulation of the oculomotor and abducens nerves, although obtaining responses from the trochlear nerve was difficult. Intraoperative monitoring using a piezoelectric device provides a simple and reliable method for detecting eOMNs, especially the oculomotor and abducens nerves. This monitoring system can be adapted to various surgeries for skull base tumor.
This is a preview of subscription content, log in to check access.
Access options
Buy single article
Instant access to the full article PDF.
US$ 39.95
Price includes VAT for USA
Subscribe to journal
Immediate online access to all issues from 2019. Subscription will auto renew annually.
US$ 99
This is the net price. Taxes to be calculated in checkout.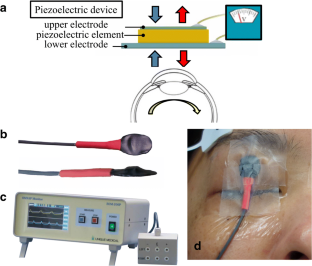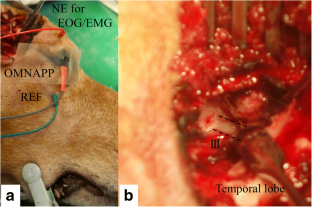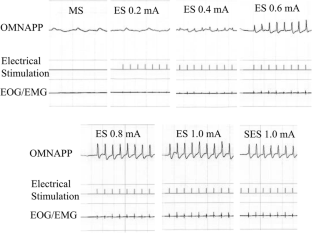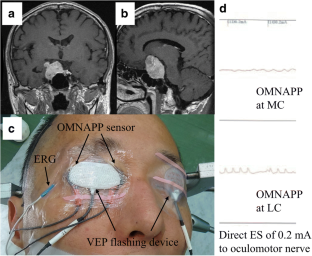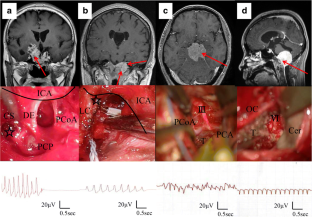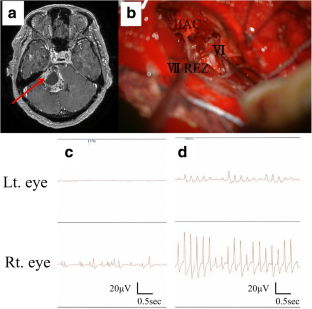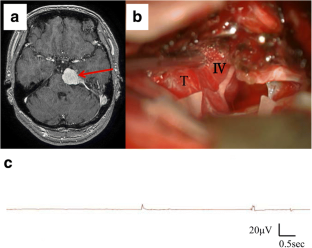 References
1.

Acioly MA, Liebsch M, de Aguiar PH, Tatagiba M (2013) Facial nerve monitoring during cerebellopontine angle and skull base tumor surgery: a systematic review from description to current success on functional prediction. World Neurosurg 80:e271–e300. https://doi.org/10.1016/j.wneu.2011.09.026

2.

Alberti O, Sure U, Riegel T, Bertalanffy H (2001) Image-guided placement of eye muscle electrodes for intraoperative cranial nerve monitoring. Neurosurgery 49:660–664

3.

Campos EC, Bolzani R, Schiavi C, Scorolli L, Piaggi S (1995) Technique of simultaneous recording of EMG from various extraocular muscles under EOG control. Graefes Arch Clin Exp Ophthalmol 233:371–373

4.

Fukaya C, Katayama Y, Kasai M, Kurihara J, Yamamoto T (2000) Intraoperative electro-oculographic monitoring for skull base surgery. Skull Base Surg 10:11–15

5.

Kaspera W, Adamczyk P, Ślaska-Kaspera A, Ładziński P (2015) Usefulness of intraoperative monitoring of oculomotor and abducens nerves during surgical treatment of the cavernous sinus meningiomas. Adv Med Sci 60:25–30. https://doi.org/10.1016/j.advms.2014.08.009

6.

Kawaguchi M, Ohnishi H, Sakamoto T, Shimizu K, Karasawa J, Furuya H (1996) Intraoperative electrophysiologic monitoring of ocular motor nerves under conditions of partial neuromuscular blockade during skull base surgery. Skull Base Surg 6:9–15

7.

Kawamata T, Ishii N, Amano K, Namioka T, Hori T, Okada Y (2013) A novel simple real-time electrooculographic monitoring system during transsphenoidal surgeries to prevent postoperative extraocular motor nerve dysfunction. Neurosurg Rev 36:371–376

8.

Kircher ML, Kartush JM (2012) Pitfalls in intraoperative nerve monitoring during vestibular schwannoma surgery. Neurosurg Focus 33:E5. https://doi.org/10.3171/2012.FOCUS12196

9.

Li ZY, Li MC, Liang JT, Bao YH, Chen G, Guo HC, Ling F (2017) Usefulness of intraoperative electromyographic monitoring of oculomotor and abducens nerves during skull base surgery. Acta Neurochir 159:1925–1937. https://doi.org/10.1007/s00701-017-3268-z

10.

López JR (2011) Neurophysiologic intraoperative monitoring of the oculomotor, trochlear, and abducens nerves. J Clin Neurophysiol 28:543–550

11.

Marmor MF, Zrenner E (1993) Standard for clinical electrooculography. International Society for Clinical Electrophysiology of Vision. Arch Ophthalmol 111:601–604

12.

Møller AR (ed) (2011) Practical aspects of monitoring cranial motor nerves. In: Intraoperative neurophysiological monitoring, 3rd edn. Humana Press, Totowa, pp 235–260

13.

Oyama K, Kawana F, Sunagawa K, Fukuhara N, Yamada S (2014) A handmade eye movement monitor using a piezoelectric device during transsphenoidal surgery. Neurosurg Rev 37:287–290

14.

Sasaki T, Suzuki K, Matsumoto M, Sato T, Kodama N, Yago K (2002) Origins of surface potentials evoked by electrical stimulation of oculomotor nerves: are they related to electrooculographic or electromyographic events? J Neurosurg 97:941–944

15.

Schlake HP, Goldbrunner R, Siebert M, Behr R, Roosen K (2001) Intra-operative electromyographic monitoring of extra-ocular motor nerves (Nn. III, IV) in skull base surgery. Acta Neurochir 143:251–261

16.

Sekiya T, Iwabuchi T, Suzuki S, Maeda S, Hatayama T, Takiguchi M (1990) Recordings of evoked electromyographic responses from the extraocular muscles to monitor the oculomotor, trochlear, and abducens nerve function during skull base and orbital surgery. No Shinkei Geka (Jpn) 18:447–451

17.

Sekiya T, Hatayama T, Iwabuchi T, Maeda S (1992) A ring electrode to record extraocular muscle activities during skull base surgery. Acta Neurochir 117:66–69

18.

Sekiya T, Hatayama T, Iwabuchi T, Maeda S (1993) Intraoperative recordings of evoked extraocular muscle activities to monitor ocular motor nerve function. Neurosurgery 32:227–235 discussion 235

19.

Sekiya T, Hatayama T, Shimamura N, Suzuki S, Tamura M (1997) A simplified method to monitor oculomotor nerve function in midbrain surgery: recordings of compound muscle action potentials by percutaneous superior orbital electrode. No Shinkei Geka (Jpn) 25:987–992

20.

Sheshadri V, Bharadwaj S, Chandramouli BA (2016) Intra-operative electrooculographic monitoring to prevent post-operative extraocular motor nerve dysfunction during skull base surgery. Indian J Anaesth 60:560–565

21.

Thirumala PD, Mohanraj SK, Habeych M, Wichman K, Chang YF, Gardner P, Snyderman C, Crammond DJ, Balzer J (2013) Value of free-run electromyographic monitoring of extraocular cranial nerves during expanded endonasal surgery (EES) of the skull base. J Neurol Surg Rep 74:43–50

22.

Zhu NX, Meng YQ, Feng BH, Wang XH, Li XY, Yang M, Zhu SG, Li ST (2009) Study on surgical approaches and electrode implantation of oculomotor nerve and inferior obliquus in beagle dog. Saudi Med J 30:358–364
Acknowledgments
We acknowledge the help provided by Unique Medical Co., Ltd. and the LSI Medience Animal Research Center. We also thank all staff of the Department of Ophthalmology at the Kurume University Hospital for perioperative evaluation of ocular movement.
Funding
This study was funded by Japan Society for the Promotion of Science KAKENHI Grant Number JP16J68927.
Ethics declarations
Conflict of interest
Unique Medical Co. Ltd. was engaged only in the development of equipment (OMNAPP monitoring system) and did not provide any financial support; we purchased genuine equipment from Unique Medical Co. Ltd. and used it for the animal experiments and clinical studies. The authors declare that they have no conflict of interest.
Research involving human participants and/or animals
Beagle dogs bred by LSI Medience (Osaka, Japan) Animal Research Center were used for this experiment, which was conducted in accordance with the Japanese Institutional Ethical Committee Guidelines for Animal Research. Animals were handled and cared for in accordance with the Guide for the Care and Use of Laboratory Animals.
All procedures performed in studies involving human participants were in accordance with the ethical standards of the national research committee and with the 1964 Helsinki declaration and its later amendments or comparable ethical standards. The clinical usage of the OMNAPP monitoring system was approved by the ethical committee of Kurume University (approval number: 16026).
Informed consent
Informed consent for surgery, intraoperative monitoring, and general clinical research was obtained from all individual participants included in the study.
About this article
Cite this article
Sakata, K., Suematsu, K., Takeshige, N. et al. Novel method of intraoperative ocular movement monitoring using a piezoelectric device: experimental study of ocular motor nerve activating piezoelectric potentials (OMNAPP) and clinical application for skull base surgeries. Neurosurg Rev 43, 185–193 (2020). https://doi.org/10.1007/s10143-018-1028-z
Received:

Revised:

Accepted:

Published:

Issue Date:
Keywords
Piezoelectric device

Intraoperative ocular movement monitoring

Ocular motor nerves

Skull base surgery

Ocular motor nerves activating piezoelectric potentials (OMNAPP)