Abstract
Operative management of intrinsic brainstem lesions remains challenging despite advances in electrophysiological monitoring, neuroimaging, and neuroanatomical knowledge. Surgical intervention in this region requires detailed knowledge of adjacent critical white matter tracts, brainstem nuclei, brainstem vessels, and risks associated with each surgical approach. Our aim was to systematically verify internal anatomy associated with each brainstem safety entry zone (BSEZ) via neuroimaging modalities commonly used in pre-operative planning, namely high-resolution magnetic resonance imaging (MRI) and diffusion tensor tractography (DTT). Twelve BSEZs were simulated in eight, formalin-fixed, cadaveric brains. Specimens then underwent radiological investigation including T2-weighted imaging and DTT using 4.7 T MRI to verify internal anatomic relationships between simulated BSEZs and adjacent critical white matter tracts and nuclei. The distance between simulated BSEZs and pre-defined, adjacent critical structures was systemically recorded. Entry points and anatomic limits on the surface of the brainstem are described for each BSEZ, along with description of potential neurological sequelae if such limits are violated. With high-resolution imaging, we verified a maximal depth for each BSEZ. The relationship between proposed safe entry corridors and adjacent critical structures within the brainstem is quantified. In combination with tissue dissection, high-resolution MR diffusion tensor imaging allows the surgeon to develop a better understanding of the internal architecture of the brainstem, particularly as related to BSEZs, prior to surgical intervention. Through a careful study of such imaging and use of optimal surgical corridors, a more accurate and safe surgery of brainstem lesions may be achieved.
This is a preview of subscription content, log in to check access.
Access options
Buy single article
Instant access to the full article PDF.
US$ 39.95
Price includes VAT for USA
Subscribe to journal
Immediate online access to all issues from 2019. Subscription will auto renew annually.
US$ 99
This is the net price. Taxes to be calculated in checkout.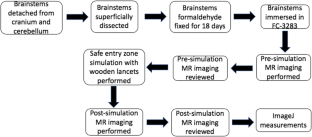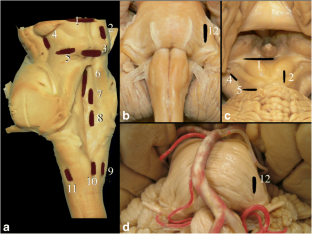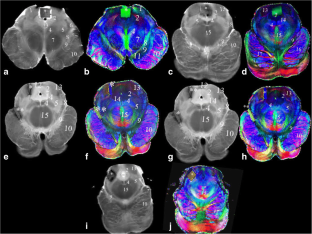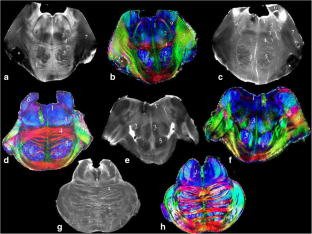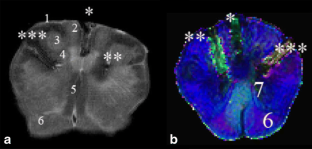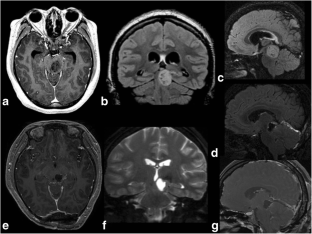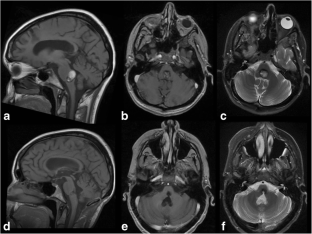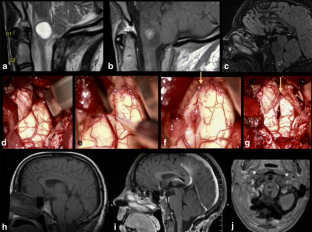 References
1.

Abla AA, Lekovic GP, Turner JD, de Oliveira JG, Porter R, Spetzler RF (2011) Advances in the treatment and outcome of brainstem cavernous malformation surgery: a single-center case series of 300 surgically treated patients. Neurosurgery 68(2):403–415

2.

Bricolo A (2000) Surgical management of intrinsic brain stem gliomas. Oper Tech Neurosurg 3(2):137–154

3.

Bricolo A and Turazzi S. Surgery for gliomas and other mass lesions of the brainstem. Adv Tech Stand Neurosurg (Vol. 22, pp. 261–341). Vienna: Springer. 1995

4.

Brown AP, Thompson BG, Spetzler RF (1996) The two-point method: evaluating brain stem lesions. Barrow Neurol Inst Q 12(1):1–6

5.

Cavalcanti DD, Preul MC, Kalani MYS, Spetzler RF (2015) Microsurgical anatomy of safe entry zones to the brainstem. J Neurosurg:1–18

6.

Epstein F, McCleary EL (1986) Intrinsic brain-stem tumors of childhood: surgical indications. J Neurosurg 64(1):11–15

7.

Giliberto G, Lanzino DJ, Diehn FE, Factor D, Flemming KD, Lanzino G (2010) Brainstem cavernous malformations: anatomical, clinical, and surgical considerations. Neurosurg Focus 29(3):E9

8.

Ishihara H, Bjeljac M, Straumann D, Kaku Y, Roth P, Yonekawa Y (2006) The role of intraoperative monitoring of oculomotor and trochlear nuclei -safe entry zone to tegmental lesions. Min - Minimally Invasive Neurosurgery 49(3):168–172

9.

Kaku Y, Yonekawa Y, Taub E (1999) Transcollicular approach to intrinsic tectal lesions. Neurosurgery 44(2):333–343

10.

Kalani MY, Yagmurlu K, Spetzler RF The interpeduncular fossa approach for resection of ventromedial midbrain lesions. J Neurosurg

11.

Kyoshima K, Kobayashi S, Gibo H, Kuroyanagi T (1993) A study of safe entry zones via the floor of the fourth ventricle for brain-stem lesions. J Neurosurg 78(6):987–993

12.

Lassiter KRL, Alexander E Jr, Davis CH Jr, Kelly DL Jr (1971) Surgical treatment of brain stem gliomas. J Neurosurg 34(6):719–725

13.

Matson DD, Ingraham FD (1969) Neurosurgery of infancy and childhood, 2nd edn, Springfield

14.

Párraga RG, Possatti LL, Alves RV, Ribas GC, Türe U, de Oliveira E (2015) Microsurgical anatomy and internal architecture of the brainstem in 3D images: surgical considerations. J Neurosurg:1–19

15.

Porter RW, Detwiler PW, Spetzler RF, Lawton MT, Baskin JJ, Derksen PT, Zabramski JM (1999) Cavernous malformations of the brainstem: experience with 100 patients. J Neurosurg 90(1):50–58

16.

Raimondi AJ (1987) Pediatric neurosurgery, 2nd edn. Springer, New York

17.

Wind JJ, Bakhtian KD, Sweet JA, Mehta GU, Thawani JP, Asthagiri AR, Oldfield EH, Lonser RR (2010) Long-term outcome after resection of brainstem hemangioblastomas in von Hippel-Lindau disease. J Neurosurg 114(5):1312–1318

18.

Yagmurlu K, Rhoton AL Jr, Tanriover N, Bennett JA (2014) Three-dimensional microsurgical anatomy and the safe entry zones of the brainstem. Neurosurgery 10:602–620

19.

Yagmurlu K, Kalani MY, Preul MC, Spetzler RF The superior fovea triangle approach: a novel safe entry zone to the brainstem. J Neurosurg

20.

Zhou LF, Du G, Mao Y, Zhang R (2005) Diagnosis and surgical treatment of brainstem hemangioblastomas. Surg Neurol 63(4):307–315
Funding
Debraj Mukherjee, MD, MPH is partially supported by The Robert Wood Johnson Foundation, The Beckwith Institute, and an American Medical Association Foundation Seed Grant. None of these grants were used in this study.
Ethics declarations
Conflict of interest
The authors declare that they have no conflict of interest.
Ethical approval
The complete study was performed on the cadaveric specimens of the Department of Neurosurgery, University of Wisconsin, Madison, USA. According to the Institutional Rules, the use of these cadaveric specimens for anatomical dissections does not require specific approval from ethics committee.
This article does not contain any studies with human participants or animals performed by any of the authors. For this type of study, formal consent is not required.
Additional information
This manuscript has been partially reported as an oral presentation at the Congress of Neurological Surgeons Annual Meeting in September 2016 in San Diego, USA.
About this article
Cite this article
Mukherjee, D., Antar, V., Soylemez, B. et al. High-resolution diffusion tensor magnetic resonance imaging of the brainstem safe entry zones. Neurosurg Rev 43, 153–167 (2020). https://doi.org/10.1007/s10143-018-1023-4
Received:

Revised:

Accepted:

Published:

Issue Date:
Keywords
Brainstem

Diffusion tensor imaging

Magnetic resonance imaging

Microsurgical anatomy

Safe entry zone

Surgical approaches