Abstract
The efficacy of tumor removal via craniotomies on preoperative hydrocephalus (HC) in adult patients with intracranial tumors is largely unknown. Therefore, we sought to evaluate the effect of tumor resection in patients with preoperative HC and identify the incidence and risk factors for postoperative VP shunt dependency. All craniotomies for intracranial tumors at Oslo University Hospital in patients ≥ 18 years old during a 10-year period (2004–2013) were reviewed. Patients with radiologically confirmed HC requiring surgery and subsequent development of shunt dependency were identified by cross-linking our prospectively collected tumor database to surgical procedure codes for hydrocephalus treatment (AAF). Patients with preexisting ventriculoperitoneal (VP) shunts (N = 41) were excluded. From 4774 craniotomies performed on 4204 patients, a total of 373 patients (7.8%) with HC preoperatively were identified. Median age was 54.4 years (range 18.1–83.9 years). None were lost to follow-up. Of these, 10.5% (39/373) required permanent CSF shunting due to persisting postoperative HC. The risk of becoming VP shunt dependent in patients with preexisting HC was 7.0% (26/373) within 30 days and 8.9% (33/373) within 90 days. Only secondary (repeat) surgery was a significant risk factor for VP shunt dependency. In this large, contemporary, single-institution consecutive series, 10.5% of intracranial tumor patients with preoperative HC became shunt-dependent post-craniotomy, yielding a surgical cure rate for HC of 89.5%. To the best of our knowledge, this is the first and largest study regarding postoperative shunt dependency after craniotomies for intracranial tumors, and can serve as benchmark for future studies.
This is a preview of subscription content, log in to check access.
Access options
Buy single article
Instant access to the full article PDF.
US$ 39.95
Price includes VAT for USA
Subscribe to journal
Immediate online access to all issues from 2019. Subscription will auto renew annually.
US$ 99
This is the net price. Taxes to be calculated in checkout.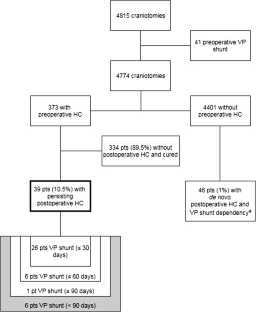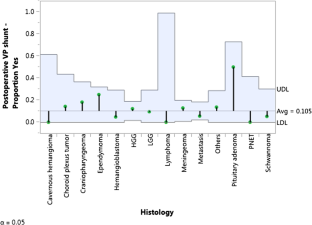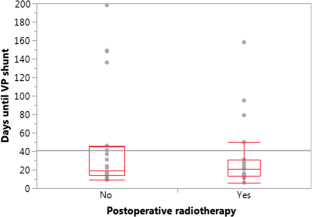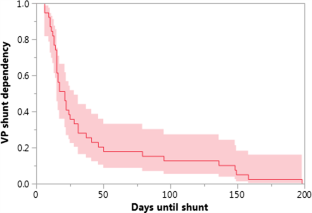 References
1.

Ahmadi R, Dictus C, Hartmann C, Zurn O, Edler L, Hartmann M, Combs S, Herold-Mende C, Wirtz CR, Unterberg A (2009) Long-term outcome and survival of surgically treated supratentorial low-grade glioma in adult patients. Acta Neurochir 151:1359–1365. https://doi.org/10.1007/s00701-009-0435-x

2.

Al-Zabin M, Ullrich WO, Brawanski A, Proescholdt MA (2010) Recurrent brain metastases from lung cancer: the impact of reoperation. Acta Neurochir 152:1887–1892. https://doi.org/10.1007/s00701-010-0721-7

3.

Ammirati M, Galicich JH, Arbit E, Liao Y (1987) Reoperation in the treatment of recurrent intracranial malignant gliomas. Neurosurgery 21:607–614

4.

Barker FG 2nd (2004) Craniotomy for the resection of metastatic brain tumors in the U.S., 1988-2000: decreasing mortality and the effect of provider caseload. Cancer 100:999–1007. https://doi.org/10.1002/cncr.20058

5.

Barker FG 2nd, Chang SM, Gutin PH, Malec MK, McDermott MW, Prados MD, Wilson CB (1998) Survival and functional status after resection of recurrent glioblastoma multiforme. Neurosurgery 42:709–720 discussion 720-703

6.

Bloch O, Auguste KI, Manley GT, Verkman AS (2006) Accelerated progression of kaolin-induced hydrocephalus in aquaporin-4-deficient mice. J Cereb Blood Flow Metab 26:1527–1537. https://doi.org/10.1038/sj.jcbfm.9600306

7.

Bognar L, Borgulya G, Benke P, Madarassy G (2003) Analysis of CSF shunting procedure requirement in children with posterior fossa tumors. Childs Nerv Syst 19:332–336. https://doi.org/10.1007/s00381-003-0745-x

8.

Castro BA, Imber BS, Chen R, McDermott MW, Aghi MK (2017) Ventriculoperitoneal shunting for glioblastoma: risk factors, indications, and efficacy. Neurosurgery 80:421–430. https://doi.org/10.1227/NEU.0000000000001263

9.

Chaichana KL, Zadnik P, Weingart JD, Olivi A, Gallia GL, Blakeley J, Lim M, Brem H, Quinones-Hinojosa A (2013) Multiple resections for patients with glioblastoma: prolonging survival. J Neurosurg 118:812–820. https://doi.org/10.3171/2012.9.JNS1277

10.

Chang SM, Parney IF, McDermott M, Barker FG 2nd, Schmidt MH, Huang W, Laws ER Jr, Lillehei KO, Bernstein M, Brem H, Sloan AE, Berger M, Glioma Outcomes I (2003) Perioperative complications and neurological outcomes of first and second craniotomies among patients enrolled in the glioma outcome project. J Neurosurg 98:1175–1181. https://doi.org/10.3171/jns.2003.98.6.1175

11.

Claus EB, Bondy ML, Schildkraut JM, Wiemels JL, Wrensch M, Black PM (2005) Epidemiology of intracranial meningioma. Neurosurgery 57:1088–1095 discussion 1088-1095

12.

Culley DJ, Berger MS, Shaw D, Geyer R (1994) An analysis of factors determining the need for ventriculoperitoneal shunts after posterior fossa tumor surgery in children. Neurosurgery 34:402–407 discussion 407-408

13.

Dashti SR, Baharvahdat H, Spetzler RF, Sauvageau E, Chang SW, Stiefel MF, Park MS, Bambakidis NC (2008) Operative intracranial infection following craniotomy. Neurosurg Focus 24:E10. https://doi.org/10.3171/FOC/2008/24/6/E10

14.

Del Bigio MR, Zhang YW (1998) Cell death, axonal damage, and cell birth in the immature rat brain following induction of hydrocephalus. Exp Neurol 154:157–169. https://doi.org/10.1006/exnr.1998.6922

15.

Dewan MC, Lim J, Shannon CN, Wellons JC 3rd (2017) The durability of endoscopic third ventriculostomy and ventriculoperitoneal shunts in children with hydrocephalus following posterior fossa tumor resection: a systematic review and time-to-failure analysis. J Neurosurg Pediatr 19:578–584. https://doi.org/10.3171/2017.1.PEDS16536

16.

Ding Y, McAllister JP 2nd, Yao B, Yan N, Canady AI (2001) Neuron tolerance during hydrocephalus. Neuroscience 106:659–667

17.

Dirks P, Bernstein M, Muller PJ, Tucker WS (1993) The value of reoperation for recurrent glioblastoma. Can J Surg 36:271–275

18.

Fadul C, Wood J, Thaler H, Galicich J, Patterson RH Jr, Posner JB (1988) Morbidity and mortality of craniotomy for excision of supratentorial gliomas. Neurology 38:1374–1379

19.

Fischer CM, Neidert MC, Peus D, Ulrich NH, Regli L, Krayenbuhl N, Woernle CM (2014) Hydrocephalus after resection and adjuvant radiochemotherapy in patients with glioblastoma. Clin Neurol Neurosurg 120:27–31. https://doi.org/10.1016/j.clineuro.2014.02.012

20.

Fukuda M, Oishi M, Kawaguchi T, Watanabe M, Takao T, Tanaka R, Fujii Y (2007) Etiopathological factors related to hydrocephalus associated with vestibular schwannoma. Neurosurgery 61:1186–1192; discussion 1192-1183. https://doi.org/10.1227/01.neu.0000306096.61012.22

21.

Gerganov VM, Pirayesh A, Nouri M, Hore N, Luedemann WO, Oi S, Samii A, Samii M (2011) Hydrocephalus associated with vestibular schwannomas: management options and factors predicting the outcome. J Neurosurg 114:1209–1215. https://doi.org/10.3171/2010.10.JNS1029

22.

Gerlach R, Raabe A, Scharrer I, Meixensberger J, Seifert V (2004) Post-operative hematoma after surgery for intracranial meningiomas: causes, avoidable risk factors and clinical outcome. Neurol Res 26:61–66. https://doi.org/10.1179/016164104773026543

23.

Harsh GR, Levin VA, Gutin PH, Seager M, Silver P, Wilson CB (1987) Reoperation for recurrent glioblastoma and anaplastic astrocytoma. Neurosurgery 21:615–621

24.

Hart MG, Grant R, Walker M, Dickinson H (2005) Surgical resection and whole brain radiation therapy versus whole brain radiation therapy alone for single brain metastases. Cochrane Database Syst Rev 1:CD003292. https://doi.org/10.1002/14651858.CD003292.pub2

25.

Hirayama A (1980) Histopathological study of congenital and acquired experimental hydrocephalus. Brain Dev 2:171–189

26.

Hosainey SAM, Lassen B, Hald JK, Helseth E, Meling TR (2018) Risk factors for new-onset shunt-dependency after craniotomies for intracranial tumors in adult patients. Neurosurg Rev 41:465–472. https://doi.org/10.1007/s10143-017-0869-1

27.

Hosainey SA, Lassen B, Helseth E, Meling TR (2014) Cerebrospinal fluid disturbances after 381 consecutive craniotomies for intracranial tumors in pediatric patients. J Neurosurg Pediatr 14:604–614. https://doi.org/10.3171/2014.8.peds13585

28.

Hsu S-Y, Chang H-H, Shih F-Y, Lin Y-J, Lin W-C, Cheng B-C, Su Y-J, Kung C-T, Ho Y-N, Tsai N-W, Lu C-H, Wang H-C (2017) Risk factors for ventriculoperitoneal shunt dependency in patients with spontaneous cerebellar hemorrhage. World Neurosurg 105:63–68. https://doi.org/10.1016/j.wneu.2017.05.119

29.

Jakola AS, Myrmel KS, Kloster R, Torp SH, Lindal S, Unsgard G, Solheim O (2012) Comparison of a strategy favoring early surgical resection vs a strategy favoring watchful waiting in low-grade gliomas. JAMA 308:1881–1888. https://doi.org/10.1001/jama.2012.12807

30.

John JK, Robin AM, Pabaney AH, Rammo RA, Schultz LR, Sadry NS, Lee IY (2016) Complications of ventricular entry during craniotomy for brain tumor resection. J Neurosurg 127:1–7. https://doi.org/10.3171/2016.7.JNS16340

31.

Juge L, Pong AC, Bongers A, Sinkus R, Bilston LE, Cheng S (2016) Changes in rat brain tissue microstructure and stiffness during the development of experimental obstructive hydrocephalus. PLoS One 11:e0148652. https://doi.org/10.1371/journal.pone.0148652

32.

Kalfas IH, Little JR (1988) Postoperative hemorrhage: a survey of 4992 intracranial procedures. Neurosurgery 23:343–347

33.

Keles GE, Chang EF, Lamborn KR, Tihan T, Chang CJ, Chang SM, Berger MS (2006) Volumetric extent of resection and residual contrast enhancement on initial surgery as predictors of outcome in adult patients with hemispheric anaplastic astrocytoma. J Neurosurg 105:34–40. https://doi.org/10.3171/jns.2006.105.1.34

34.

Kim SS, McCutcheon IE, Suki D, Weinberg JS, Sawaya R, Lang FF, Ferson D, Heimberger AB, DeMonte F, Prabhu SS (2009) Awake craniotomy for brain tumors near eloquent cortex: correlation of intraoperative cortical mapping with neurological outcomes in 309 consecutive patients. Neurosurgery 64:836–845; discussion 345-836. https://doi.org/10.1227/01.NEU.0000342405.80881.81

35.

Korinek AM (1997) Risk factors for neurosurgical site infections after craniotomy: a prospective multicenter study of 2944 patients. The French Study Group of Neurosurgical Infections, the SEHP, and the C-CLIN Paris-Nord. Service Epidemiologie Hygiene et Prevention. Neurosurgery 41:1073–1079 discussion 1079-1081

36.

Kulkarni AV, Drake JM, Kestle JR, Mallucci CL, Sgouros S, Constantini S, Canadian Pediatric Neurosurgery Study G (2010) Endoscopic third ventriculostomy vs cerebrospinal fluid shunt in the treatment of hydrocephalus in children: a propensity score-adjusted analysis. Neurosurgery 67:588–593. https://doi.org/10.1227/01.NEU.0000373199.79462.21

37.

Landy HJ, Feun L, Schwade JG, Snodgrass S, Lu Y, Gutman F (1994) Retreatment of intracranial gliomas. South Med J 87:211–214

38.

Lassen B, Helseth E, Egge A, Due-Tonnessen BJ, Ronning P, Meling TR (2012) Surgical mortality and selected complications in 273 consecutive craniotomies for intracranial tumors in pediatric patients. Neurosurgery 70:936–943; discussion 943. https://doi.org/10.1227/NEU.0b013e31823bcc61

39.

Lassen B, Helseth E, Ronning P, Scheie D, Johannesen TB, Maehlen J, Langmoen IA, Meling TR (2011) Surgical mortality at 30 days and complications leading to recraniotomy in 2630 consecutive craniotomies for intracranial tumors. Neurosurgery 68:1259–1268; discussion 1268-1259. https://doi.org/10.1227/NEU.0b013e31820c0441

40.

Lee M, Wisoff JH, Abbott R, Freed D, Epstein FJ (1994) Management of hydrocephalus in children with medulloblastoma: prognostic factors for shunting. Pediatr Neurosurg 20:240–247

41.

Lietard C, Thebaud V, Besson G, Lejeune B (2008) Risk factors for neurosurgical site infections: an 18-month prospective survey. J Neurosurg 109:729–734. https://doi.org/10.3171/JNS/2008/109/10/0729

42.

Mandl ES, Dirven CM, Buis DR, Postma TJ, Vandertop WP (2008) Repeated surgery for glioblastoma multiforme: only in combination with other salvage therapy. Surg Neurol 69:506–509; discussion 509. https://doi.org/10.1016/j.surneu.2007.03.043

43.

Marx S, Reinfelder M, Matthes M, Schroeder HWS, Baldauf J (2018) Frequency and treatment of hydrocephalus prior to and after posterior fossa tumor surgery in adult patients. Acta Neurochir 160:1063–1071. https://doi.org/10.1007/s00701-018-3496-x

44.

McGirt MJ, Chaichana KL, Gathinji M, Attenello FJ, Than K, Olivi A, Weingart JD, Brem H, Quinones-Hinojosa AR (2009) Independent association of extent of resection with survival in patients with malignant brain astrocytoma. J Neurosurg 110:156–162. https://doi.org/10.3171/2008.4.17536

45.

Mirimanoff RO, Dosoretz DE, Linggood RM, Ojemann RG, Martuza RL (1985) Meningioma: analysis of recurrence and progression following neurosurgical resection. J Neurosurg 62:18–24. https://doi.org/10.3171/jns.1985.62.1.0018

46.

Miyakoshi A, Kohno M, Nagata O, Sora S, Sato H (2013) Hydrocephalus associated with vestibular schwannomas: perioperative changes in cerebrospinal fluid. Acta Neurochir 155:1271–1276. https://doi.org/10.1007/s00701-013-1742-9

47.

Montano N, D'Alessandris QG, Bianchi F, Lauretti L, Doglietto F, Fernandez E, Maira G, Pallini R (2011) Communicating hydrocephalus following surgery and adjuvant radiochemotherapy for glioblastoma. J Neurosurg 115:1126–1130. https://doi.org/10.3171/2011.8.JNS11738

48.

Nanda A, Javalkar V, Banerjee AD (2011) Petroclival meningiomas: study on outcomes, complications and recurrence rates. J Neurosurg 114:1268–1277. https://doi.org/10.3171/2010.11.JNS10326

49.

Nitta T, Sato K (1995) Prognostic implications of the extent of surgical resection in patients with intracranial malignant gliomas. Cancer 75:2727–2731

50.

Pirouzmand F, Tator CH, Rutka J (2001) Management of hydrocephalus associated with vestibular schwannoma and other cerebellopontine angle tumors. Neurosurgery 48:1246–1253 discussion 1253-1244

51.

Ramakrishna R, Hebb A, Barber J, Rostomily R, Silbergeld D (2015) Outcomes in reoperated low-grade gliomas. Neurosurgery 77:175–184; discussion 184. https://doi.org/10.1227/NEU.0000000000000753

52.

Reddy GK, Bollam P, Caldito G, Willis B, Guthikonda B, Nanda A (2011) Ventriculoperitoneal shunt complications in hydrocephalus patients with intracranial tumors: an analysis of relevant risk factors. J Neuro-Oncol 103:333–342. https://doi.org/10.1007/s11060-010-0393-4

53.

Rinaldo L, Brown D, Lanzino G, Parney IF (2017) Outcomes following cerebrospinal fluid shunting in high-grade glioma patients. J Neurosurg 1–13. https://doi.org/10.3171/2017.6.JNS17859. https://www.ncbi.nlm.nih.gov/pubmed/29271709. Accessed 18 June 2018

54.

Riva-Cambrin J, Detsky AS, Lamberti-Pasculli M, Sargent MA, Armstrong D, Moineddin R, Cochrane DD, Drake JM (2009) Predicting postresection hydrocephalus in pediatric patients with posterior fossa tumors. J Neurosurg Pediatr 3:378–385. https://doi.org/10.3171/2009.1.PEDS08298

55.

Rossitti S (2013) Pathophysiology of increased cerebrospinal fluid pressure associated to brain arteriovenous malformations: the hydraulic hypothesis. Surg Neurol Int 4:42. https://doi.org/10.4103/2152-7806.109657

56.

Rostomily RC, Spence AM, Duong D, McCormick K, Bland M, Berger MS (1994) Multimodality management of recurrent adult malignant gliomas: results of a phase II multiagent chemotherapy study and analysis of cytoreductive surgery. Neurosurgery 35:378–388 discussion 388

57.

Roth J, Constantini S, Blumenthal DT, Ram Z (2008) The value of ventriculo-peritoneal shunting in patients with glioblastoma multiforme and ventriculomegaly. Acta Neurochir 150:41–46; discussion 46-47. https://doi.org/10.1007/s00701-007-1454-0

58.

Sainte-Rose C, Cinalli G, Roux FE, Maixner R, Chumas PD, Mansour M, Carpentier A, Bourgeois M, Zerah M, Pierre-Kahn A, Renier D (2001) Management of hydrocephalus in pediatric patients with posterior fossa tumors: the role of endoscopic third ventriculostomy. J Neurosurg 95:791–797. https://doi.org/10.3171/jns.2001.95.5.0791

59.

Santos de Oliveira R, Barros Juca CE, Valera ET, Machado HR (2008) Hydrocephalus in posterior fossa tumors in children. Are there factors that determine a need for permanent cerebrospinal fluid diversion? Childs Nerv Syst 24:1397–1403. https://doi.org/10.1007/s00381-008-0649-x

60.

Sawaya R, Hammoud M, Schoppa D, Hess KR, Wu SZ, Shi WM, Wildrick DM (1998) Neurosurgical outcomes in a modern series of 400 craniotomies for treatment of parenchymal tumors. Neurosurgery 42:1044–1055 discussion 1055-1046

61.

Suchorska B, Weller M, Tabatabai G, Senft C, Hau P, Sabel MC, Herrlinger U, Ketter R, Schlegel U, Marosi C, Reifenberger G, Wick W, Tonn JC, Wirsching HG (2016) Complete resection of contrast-enhancing tumor volume is associated with improved survival in recurrent glioblastoma-results from the DIRECTOR trial. Neuro-Oncology 18:549–556. https://doi.org/10.1093/neuonc/nov326

62.

Sundaresan N, Sachdev VP, DiGiacinto GV, Hughes JE (1988) Reoperation for brain metastases. J Clin Oncol 6:1625–1629. https://doi.org/10.1200/JCO.1988.6.10.1625

63.

Thiessen B, DeAngelis LM (1998) Hydrocephalus in radiation leukoencephalopathy: results of ventriculoperitoneal shunting. Arch Neurol 55:705–710

64.

Tully PA, Gogos AJ, Love C, Liew D, Drummond KJ, Morokoff AP (2016) Reoperation for recurrent glioblastoma and its association with survival benefit. Neurosurgery 79:678–689. https://doi.org/10.1227/NEU.0000000000001338

65.

Vecht CJ, Avezaat CJ, van Putten WL, Eijkenboom WM, Stefanko SZ (1990) The influence of the extent of surgery on the neurological function and survival in malignant glioma. A retrospective analysis in 243 patients. J Neurol Neurosurg Psychiatry 53:466–471

66.

von Lehe M, Kim HJ, Schramm J, Simon M (2013) A comprehensive analysis of early outcomes and complication rates after 769 craniotomies in pediatric patients. Childs Nerv Syst 29:781–790. https://doi.org/10.1007/s00381-012-2006-3

67.

Wallner KE, Galicich JH, Malkin MG, Arbit E, Krol G, Rosenblum MK (1989) Inability of computed tomography appearance of recurrent malignant astrocytoma to predict survival following reoperation. J Clin Oncol 7:1492–1496. https://doi.org/10.1200/JCO.1989.7.10.1492

68.

Yong RL, Wu T, Mihatov N, Shen MJ, Brown MA, Zaghloul KA, Park GE, Park JK (2014) Residual tumor volume and patient survival following reoperation for recurrent glioblastoma. J Neurosurg 121:802–809. https://doi.org/10.3171/2014.6.JNS132038
Funding
There are no financial disclosures or financial interests for the work reported in this manuscript.
Ethics declarations
Conflict of interest
On behalf of all authors, the corresponding author states that there is no conflict of interest.
Ethical approval
The study has been approved by the institutional ethics committee (Personvernombudets tilrådning 2013/14574).
Informed consent
Informed consent was waived in accordance with the institutional regulations of the institutional ethics committee.
About this article
Cite this article
Hosainey, S.A.M., Lassen, B., Hald, J.K. et al. The effect of tumor removal via craniotomies on preoperative hydrocephalus in adult patients with intracranial tumors. Neurosurg Rev 43, 141–151 (2020). https://doi.org/10.1007/s10143-018-1021-6
Received:

Revised:

Accepted:

Published:

Issue Date:
Keywords
Brain tumor

Craniotomy

Complications

Preoperative hydrocephalus

Postoperative hydrocephalus

Ventriculoperitoneal shunt