Abstract
Teflon has been commonly used as a surgical material. In particular, Teflon has been considered suitable for microvascular decompression of cranial nerves, as it is a stable, inert substance that does not resorb or migrate. Giant cell foreign body reactions after microvascular decompression (MVD) have been reported, but this rare complication has not been well recognized. Here, we report one case of Teflon granuloma that occurred 4 years after MVD for hemifacial spasm. We discuss the cause, histopathological analysis, particular MVD surgical methods, and management of Teflon granuloma.
This is a preview of subscription content, log in to check access.
Access options
Buy single article
Instant unlimited access to the full article PDF.
US$ 39.95
Price includes VAT for USA
Subscribe to journal
Immediate online access to all issues from 2019. Subscription will auto renew annually.
US$ 99
This is the net price. Taxes to be calculated in checkout.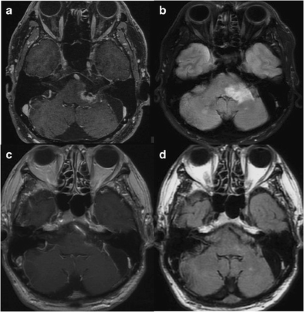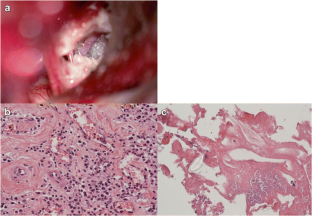 References
1.

Baker FG II, Janetta PJ, Bissonette DJ, Larkins MV, Jho HD (1996) The long-term outcome of microvascular decompression for trigeminal neuralgia. N Engl J Med 334:1077–1083

2.

Bederson JB, Wilson CB (1989) Evaluation of microvascular decompression and partial rhizotomy in 252 cases of trigeminal neuralgia. J Neurosurg 71:359–367

3.

Bejjani GK, Shekhar LN (1997) Repositioning of the vertebral artery as treatment for neurovascular compression syndromes: technical note. J Neurosurg 86:728–732

4.

Capelle HH, Brandis A, Tschan CA, Krauss JK (2010) Treatment of recurrent trigeminal neuralgia due to Teflon granuloma. J Headache Pain 11:339–344

5.

Chen J, Lee S, Lui T, Yen Y, Chen T, Tzaan W (2000) Teflon granuloma after microvascular decompression for trigeminal neuralgia. Surg Neurol 53:281–287

6.

Chung R, Piper MA, Boland TJ (1993) Recurrent giant cell reaction to residual Proplast in the temporomandibular joint. Oral Surg Oral Med Oral Pathol 76:9–16

7.

Dedo HH, Carlsoo B (1982) Histologic evaluation of Teflon granulomas of human vocal codes: a light and electron microscopic study. Acta Otolaryngol 93:475–484

8.

Deep NL, Graffeo CS, Copeland WR III, Link MJ, Atkinson JL, Neff BA et al (2016) Teflon granuloma mimicking cerebellopontine angle tumors following microvascular decompression. Laryngoscope 126:E310–E313

9.

Engh JA, Horowitz M, Burkhart L, Chang YF, Kassam A (2005) Repeat microvascular decompression for hemifacial spasm. J Neurol Neurosurg Psychiatry 76:1574–1580

10.

Fukushima T (1984) Results of posterior fossa microvascular decompression in the treatment of hemifacial spasm. Facial N Res Jpn 4:9–14 Japanese

11.

Goya T, Wakisaka S, Kinoshita K (1990) Microvascular decompression for trigeminal neuralgia with special reference to delayed recurrence. Neurol Med Chir (Tokyo) 30:462–467

12.

Jagannath PM, Venkataramana NK, Bansal A, Ravichandra M (2012) Outcome of microvascular decompression for trigeminal neuralgia using autologous muscle draft: a five-year prospective study. Asian J Neurosurg 7:125–130

13.

Janetta PJ, Tew PJ Jr (1979) Treatment of trigeminal neuralgia. Neurosurgery 4:93

14.

Matsushima T, Yamaguchi T, Inoue TK, Matsukado K, Fukui M (2000) Recurrent trigeminal neuralgia after microvascular decompression using an interposing technique. Teflon belt adhesion and the sling retraction technique. Acta Neurochir 142:557–561

15.

Megerian CA, Busaba NY, McKenna MJ, Ojemann RG (1995) Teflon granuloma presenting as an enlarging, gadolinium enhancing posterior fossa mass with progressive hearing loss following microvascular decompression. Am J Otol 16:783–786

16.

Park YS, Chang JH, Cho J, Park YG, Chung SS, Chung JW (2006) Reoperation for persistent or recurrent hemifacial spasm after microvascular decompression. Neurosurgery 58:1162–1167

17.

Premsagar IC, Moss T, Cakham HB (1997) Teflon-induced granuloma following treatment of trigeminal neuralgia by microvascular decompression: report of two cases. J Neurosurg 87:454–457

18.

Skinner HA (1931) Some histologic features of the cranial nerves. Arch Neuro Psychiatry 25:356

19.

Tanaka Y, Uchida M, Onodera H, Hiromoto J, Yoshida Y (2014) Simple transposition technique for microvascular decompression using an expanded polytetrafluoroethylene "belt": technical note. Neurol Med Chir (Tokyo) 54:483–485

20.

Toth G, Rubeiz H, Macdonald RL (2007) Polytetrafluoroethlene-induced granuloma and brainstem cyst after microvascular decompression for trigeminal neuralgia: case report. Neurosurgery 61:875–877
Acknowledgements
I would like to thank Hiroyuki Enomoto M.D. for useful discussions. I am grateful for assistance with the numerical simulations and carefully proofreading this manuscript from him.
Ethics declarations
Funding
This research received no specific grant from any funding agency in the public, commercial, or not-for-profit sectors.
Conflict of interest
The authors declare that they have no conflict of interest.
Ethical approval
All procedures performed in studies involving human participants were in accordance with the ethical standards of the institutional and/or national research committee and with the 1964 Helsinki declaration and its later amendments or comparable ethical standards.
Informed consent
Informed consent was obtained from 61-year-old male with recurrent left-sided facial paralysis, progressive hearing loss and fever as the case presented.
Electronic supplementary material
About this article
Cite this article
Oda, K., Higuchi, T., Murai, Y. et al. Teflon granuloma after microvascular decompression for hemifacial spasm: a case report and literature review. Neurosurg Rev 40, 513–516 (2017) doi:10.1007/s10143-017-0865-5
Received:

Revised:

Accepted:

Published:

Issue Date:
Keywords
Microvascular decompression

Teflon granuloma

Hemifacial spasm

Mononuclear cells