Abstract
The intraoperative confirmation of blood flow direction is necessary in cerebral vascular surgery. Using indocyanine green video angiography (ICG-VAG) with the FLOW 800 system, we examined the transit time of the blood vessel of interest and semiquantitatively evaluated the delay time (T1/2max) from indocyanine green (ICG) injection into the donor artery in reconstructive surgery and the middle cerebral artery (MCA) in aneurysmal surgery. The direction of cerebral blood flow (CBF), which can often be confirmed by ICG-VAG, may be more difficult to determine with faster blood flow. Here, we report our findings regarding the feasibility of detecting CBF direction using the FLOW 800 system. Twenty patients undergoing superficial temporal artery (STA) to MCA anastomosis for carotid occlusive disease and 13 patients with a small MCA aneurysm clipping were evaluated using the T1/2max, semiquantitative method with the FLOW 800 system. In STA–MCA anastomosis cases, the regions of interest (ROIs) included: the proximal donor STA and a region more than 10 mm on the distal side of the donor STA near the anastomosis site. In MCA aneurysms, the ROIs included the proximal M1 and distal M2 sides of the MCA aneurysm. T1/2max was significantly shorter for the proximal sites compared to the distal sites for all subjects (ps < 0.01). T1/2max was shorter for all subjects in the proximal sites. The direction of CBF can be determined using the FLOW 800 system.
This is a preview of subscription content, log in to check access.
We're sorry, something doesn't seem to be working properly.
Please try refreshing the page. If that doesn't work, please contact support so we can address the problem.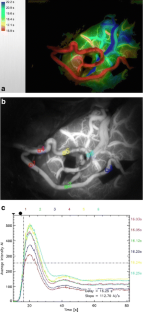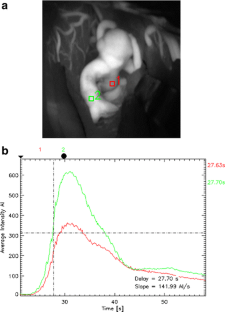 References
1.

Badie B, Lee FT Jr, Pozniak MA, Strother CM (2000) Intraoperative sonographic assessment of graft patency during extracranial-intracranial bypass. AJNR Am J Neuroradiol 21:1457–1459

2.

Bain MD, Moskowitz SI, Rasmussen PA, Hui FK (2010) Targeted extracranial-intracranial bypass with intra- aneurysmal administration of indocyanine green: case report. Neurosurgery 67(2 suppl operative):527–531

3.

Dashti R, Laasko A, Niemelä M, Porras M, Hernesniemi J (2009) Microscope integrated near-infrared indocyanine green video angiography during surgery of intracranial aneurysms: the Helsinki experience. Surg Neurol 71:543–550

4.

Della Puppa A, Rustemi O, Scienza R (2015) Intraoperative flow measurement by microflow probe during surgery for brain arteriovenous malformations. Neurosurgery 11(Suppl 2):268–273

5.

Esposito G, Durand A, van Doormaal TP, Regli L (2012) Selective-targeted extra-intracranial bypass surgery in complex middle cerebral artery aneurysms: correctly identifying the recipient artery using indocyanine green video- angiography. Neurosurgery 71(2 suppl operative):274–285

6.

Ferroli P, Acerbi F, Tringali G, Albanese E, Broggi M (2011) Venous sacrifice in neurosurgery: new insights from venous indocyanine green videoangiography. J Neurosurg 115:18–23

7.

Florian F, Niklas T, Gunther F, Walter R, Roland G (2011) Enhanced analysis of intracerebral arteriovenous malformations by the intraoperative use of analytical indocyanine green video angiography: technical note. Acta Neurochir 153:2181–2187

8.

Grubb RL Jr, Powers WJ, Clarke WR et al (2013) Surgical results of the Carotid Occlusion Surgery Study. J Neurosurg 118:25–33

9.

Gürer B, Antar V, Cikla U, Bauer A, Baskaya MK (2013) Intraoperative dynamic assessment of the posterior communicating artery and its branches by indocyanine green videoangiography. Surg Neurol Int 4:122

10.

Kamp MA, Slotty P, Turowski B, Etminan N, Steiger HJ, Hänggi D, Stummer W (2012) Microscope-Integrated quantitative analysis of intraoperative Indocyanine Green Fluorescence Angiography for blood flow assessment: first experience in 30 patients. Oper Neurosurg 70:ons65–ons74

11.

Morisawa H, Kawamata T, Kawashima A, Hayashi M, Yamaguchi K, Yoneyama T, Okada Y (2013) Hemodynamics and changes after STA-MCA anastomosis in moyamoya disease and atherosclerotic cerebrovascular disease measured by micro-Doppler ultrasonography. Neurosurg Rev 36:411–419

12.

Murai Y, Mizunari T, Koketsu K, Tateyama K, Kobayashi S, Morita A, Teramoto A (2015) Fluorescence angiography with temporary occlusion to confirm the distal artery: technical notes. Neurol Med Chir (Tokyo) 55:683–688

13.

Murai Y, Adachi K, Takagi R, Koketsu K, Matano F, Teramoto A (2011) Intraoperative Matas test using microscope-integrated intraoperative indocyanine green videoangiography with temporary unilateral occlusion of the A1 segment of the anterior cerebral artery. World Neurosurg 76:477.e7–477.e10

14.

Murai Y, Mizunari T, Koketsu K, Tateyama K, Kobayashi S, Umeoka K, Teramoto A, Morita A (2015) Target-controlled infusion technique with indocyanine green videoangiography for radial artery graft. Clin Neurol Neurosurg 119:70–74

15.

Ogasawara K, Ogawa A (2006) JET study (Japanese EC-IC Bypass Trial). Nihon Rinsho 64(Suppl 7):524–527 [Japanese]

16.

Powers WJ, Clarke WR, Grubb RL Jr, Videen TO, Adams HP Jr, Derdeyn CP, COSS Investigators (2011) Extracranial-intracranial bypass surgery for stroke prevention in hemodynamic cerebral ischemia: the Carotid Occlusion Surgery Study randomized trial. JAMA 306:1983–1992

17.

Prinz V, Hecht N, Kato N, Vajkoczy P (2014) Flow800 allows visualization of hemodynamic changes after extracranial-to-intracranial bypass surgery but not assessment of quantitative perfusion or flow. Operative Neurosurg 10(Suppl 2):231–239

18.

Raabe A, Beck J, Gerlach R, Zimmermann M, Seifert V (2003) Near-infrared indocyanine green video angiography: a new method for intraoperative assessment of vascular flow. Neurosurgery 52:132–139

19.

Raabe A, Nakaji P, Beck J, Kim LJ, Hsu FP, Kamerman JD, Seifert V, Spetzler RF (2005) Prospective evaluation of surgical microscope-integrated intraoperative near-infrared indocyanine green videoangiography during aneurysm surgery. J Neurosurg 103:982–989

20.

Rodríguez-Hernández A, Lawton MT (2012) Flash fluorescence with indocyanine green videoangiography to identify the recipient artery for bypass with distal middle cerebral artery aneurysms: operative technique. Neurosurgery 70(2 Suppl Operative):209–220

21.

Siebert E, Bohner G, Dewey M, Masuhr F, Hoffmann KT, Mews J, Engelken F, Bauknecht HC, Diekmann S, Klingebiel R (2009) 320-slice CT (computed tomography) neuroimaging: initial clinical experience and image quality evaluation. Br J Radiol 82:561–570

22.

Woitzik J, Horn P, Vajkoczy P, Schmiedek P (2005) Intraoperative control of extracranial-intracranial bypass patency by near-infrared indocyanine green videoangiography. J Neurosurg 102:692–698

23.

Yamamoto S, Kim P, Kurokawa R, Itoki K, Kawamoto S (2012) Selective intraarterial injection of ICG for fluorescence angiography as a guide to extirpate perimedullary arteriovenous fistulas. Acta Neurochir (Wien) 154:457–463
Electronic supplementary material
Below is the link to the electronic supplementary material.
About this article
Cite this article
Murai, Y., Nakagawa, S., Matano, F. et al. The feasibility of detecting cerebral blood flow direction using the indocyanine green video angiography. Neurosurg Rev 39, 685–690 (2016). https://doi.org/10.1007/s10143-016-0726-7
Received:

Revised:

Accepted:

Published:

Issue Date:
Keywords
Anastomosis

Cerebral aneurysm

Flow direction

Indocyanine green

Patency