Abstract
Spinal cavernous malformations (SCM) are rare lesions often presenting with acute onset of symptoms and progressive neurological deterioration due to hemorrhage into the spinal cord. With the aid of modern techniques, their surgical removal became much safer. The present study was undertaken to analyze the outcome of our series of surgically and conservatively treated patients with SCM. Over a period of 20 years, 20 surgically treated and 5 conservatively managed patients with spinal cavernous malformations were identified and enrolled into this analysis. Demographic data, clinical symptoms, localization and extension of the cavernoma, as well as pre- and postoperative neurological status were obtained. The clinical status was assessed using the Frankel score. Patients were followed up clinically and by MRI. Before surgery, 90 % (18/20) of our surgical patients were classified as Frankel D (93.8 %), whereas two patients (10 %) were graded C. None of the patients had a worse Frankel score at the time of discharge. Eighty percent of them (16 cases) remained unchanged, and 20 % (4 patients) improved during the first follow-up (mean 6.3 months, range 2–17 months). All improved patients had a superficially located SCM and were operated early (≤3 months). No worsening was observed during extended follow-up (range 9–134 months, mean 44.7 months). Five nonsurgically treated patients showed no significant clinical deterioration over a period of 6.7 years (mean, range 2.9–8 years). SCM localization and number of involved segments had no influence on outcome. Our data show that SCM can be resected with favorable neurological outcome by using intraoperative neuromonitoring. Within the follow-up period, patients treated conservatively remained in a stable neurological condition.
This is a preview of subscription content, log in to check access.
Access options
Buy single article
Instant unlimited access to the full article PDF.
US$ 39.95
Price includes VAT for USA
Subscribe to journal
Immediate online access to all issues from 2019. Subscription will auto renew annually.
US$ 99
This is the net price. Taxes to be calculated in checkout.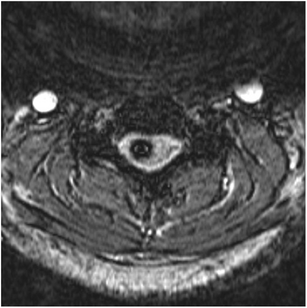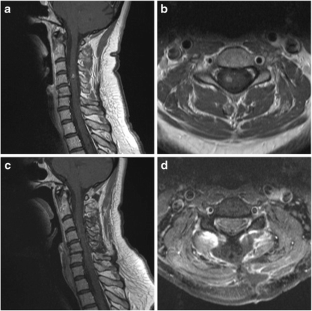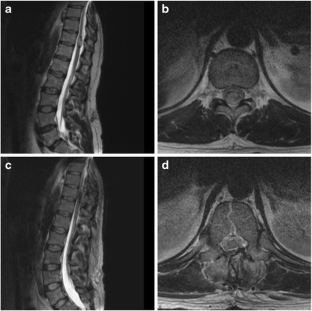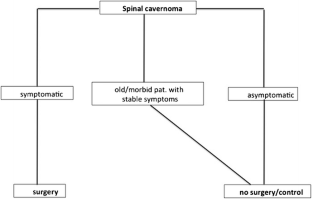 References
1.

Allen IM (1930) Tumours involving the cauda equina: a review of their clinical features and differential diagnosis. J Neurol Psychopathol 11:111–143

2.

Nowak DA, Widenka DC (2001) Spinal intradural capillary haemangioma: a review. Eur Spine J 10:464–472

3.

Rasmussen TB, Kernohan JW, Adson AW (1940) Pathologic classification, with surgical consideration, of intraspinal tumors. Ann Surg 111:513–530

4.

Cosgrove GR, Bertrand G, Fontaine S, Robitaille Y, Melanson D (1988) Cavernous angiomas of the spinal cord. J Neurosurg 68:31–36

5.

Nie QB, Chen Z, Jian FZ, Wu H, Ling F (2012) Cavernous angioma of the cauda equina: a case report and systematic review of the literature. J Int Med Res 40:2001–2008

6.

Simard JM, Garcia-Bengochea F, Ballinger WE Jr, Mickle JP, Quisling RG (1986) Cavernous angioma: a review of 126 collected and 12 new clinical cases. Neurosurgery 18:162–172

7.

Badhiwala JH, Farrokhyar F, Alhazzani W, Yarascavitch B, Aref M, Algirid A et al (2014) Surgical outcomes and natural history of intramedullary spinal cord cavernous malformations: a single-center series and meta-analysis of individual patient data. J Neurosurg Spine 21:662–676

8.

Dammann P, Hehr U, Weidensee S, Zhu Y, Gerlach R, Sure U (2013) Two-hit mechanism in cerebral cavernous malformation? A case of monozygotic twins with a CCM1/KRIT1 germline mutation. Neurosurg Rev 36:483–486

9.

Felbor U, Sure U, Grimm T, Bertalanffy H (2006) Genetics of cerebral cavernous angioma. Zentralbl Neurochir 67:110–116

10.

Gross BA, Du R, Popp AJ, Day AL (2010) Intramedullary spinal cord cavernous malformations. Neurosurg Focus 29:E14

11.

Pagenstecher A, Stahl S, Sure U, Felbor U (2009) A two-hit mechanism causes cerebral cavernous malformations: complete inactivation of CCM1, CCM2 or CCM3 in affected endothelial cells. Hum Mol Genet 18:911–918

12.

Stahl S, Gaetzner S, Voss K, Brackertz B, Schleider E, Surucu O, Kunze E, Netzer C, Korenke C, Finckh U, Habek M, Poljakovic Z, Elbracht M, Rudnik-Schoneborn S, Bertalanffy H, Sure U, Felbor U (2008) Novel CCM1, CCM2, and CCM3 mutations in patients with cerebral cavernous malformations: in-frame deletion in CCM2 prevents formation of a CCM1/CCM2/CCM3 protein complex. Hum Mutat 29:709–717

13.

Surucu O, Sure U, Gaetzner S, Stahl S, Benes L, Bertalanffy H, Felbor U (2006) Clinical impact of CCM mutation detection in familial cavernous angioma. Childs Nerv Syst Off J Int Soc Pediatr Neurosurg 22:1461–1464

14.

Wustehube J, Bartol A, Liebler SS, Brutsch R, Zhu Y, Felbor U, Sure U, Augustin HG, Fischer A (2010) Cerebral cavernous malformation protein CCM1 inhibits sprouting angiogenesis by activating DELTA-NOTCH signaling. Proc Natl Acad Sci U S A 107:12640–12645

15.

You C, Sandalcioglu IE, Dammann P, Felbor U, Sure U, Zhu Y (2013) Loss of CCM3 impairs DLL4-Notch signalling: implication in endothelial angiogenesis and in inherited cerebral cavernous malformations. J Cell Mol Med 17:407–418

16.

Dammann P, Barth M, Zhu Y, Maderwald S, Schlamann M, Ladd ME, Sure U (2010) Susceptibility weighted magnetic resonance imaging of cerebral cavernous malformations: prospects, drawbacks, and first experience at ultra-high field strength (7-Tesla) magnetic resonance imaging. Neurosurg Focus 29:E5

17.

Sandalcioglu IE, Gasser T, Asgari S, Lazorisak A, Engelhorn T, Egelhof T, Stolke D, Wiedemayer H (2005) Functional outcome after surgical treatment of intramedullary spinal cord tumors: experience with 78 patients. Spinal Cord 43:34–41

18.

Ozkan N, Dammann P, Chen B, Schoemberg T, Schlamann M, Sandalcioglu IE, Sure U (2013) Operative strategies in ventrally and ventrolaterally located spinal meningiomas and review of the literature. Neurosurg Rev 36:611–618

19.

Frankel HL, Hancock DO, Hyslop G, Melzak J, Michaelis LS, Ungar GH, Vernon JD, Walsh JJ (1969) The value of postural reduction in the initial management of closed injuries of the spine with paraplegia and tetraplegia. I. Paraplegia 7:179–192

20.

Kharkar S, Shuck J, Conway J, Rigamonti D (2007) The natural history of conservatively managed symptomatic intramedullary spinal cord cavernomas. Neurosurgery 60:865–872

21.

Kim LJ, Klopfenstein JD, Zabramski JM, Sonntag VK, Spetzler RF (2006) Analysis of pain resolution after surgical resection of intramedullary spinal cord cavernous malformations. Neurosurgery 58:106–111

22.

Labauge P, Bouly S, Parker F, Gallas S, Emery E, Loiseau H, Lejeune JP, Lonjon M, Proust F, Boetto S, Coulbois S, Auque J, Boulliat J, French Study Group of Spinal Cord C (2008) Outcome in 53 patients with spinal cord cavernomas. Surg Neurol 70:176–181

23.

Dammann P, Breyer T, Wrede KH, Stein KP, Wanke I, Grams AE, Gizewski ER, Schlamann M, Forsting M, Sandalcioglu IE, Sure U (2014) Treatment of complex neurovascular lesions: an interdisciplinary angio suite approach. Ther Adv Neurol Disord 7:60–70

24.

Dammann P, Wrede KH, Maderwald S, El Hindy N, Mueller O, Chen B, Zhu Y, Hutter BO, Ladd ME, Schlamann M, Sandalcioglu IE, Sure U (2013) The venous angioarchitecture of sporadic cerebral cavernous malformations: a susceptibility weighted imaging study at 7 T MRI. J Neurol Neurosurg Psychiatry 84:194–200

25.

Zhou H, Miller D, Schulte DM, Benes L, Bozinov O, Sure U, Bertalanffy H (2011) Intraoperative ultrasound assistance in treatment of intradural spinal tumours. Clin Neurol Neurosurg 113:531–537

26.

Liang JT, Bao YH, Thang HQ, Huo LR, Wang ZY, Ling F (2011) Management and prognosis of symptomatic patients with intramedullary spinal cord cavernoma: clinical article. J Neurosurg Spine 15:447–456

27.

Zevgaridis D, Buttner A, Weis S, Hamburger C, Reulen HJ (1998) Spinal epidural cavernous hemangiomas. Report of three cases and review of the literature. J Neurosurg 88:903–908

28.

Kivelev J, Niemela M, Hernesniemi J (2010) Outcome after microsurgery in 14 patients with spinal cavernomas and review of the literature. J Neurosurg Spine 13:524–534
Additional information
Comments
Oliver Bozinov, Zurich, Switzerland
The case series of Ardeshiri et al. provides an extensive single-center experience of a rare disease and concludes favorable outcome after surgery for those patients who are symptomatic and young. The clinical results are very good. Intraoperative neuromonitoring plays a significant role nowadays for these lesions, but intraoperative imaging did not in this long-term case series. Those cases, elderly or asymptomatic, which were treated conservatively by watch-and-wait remained in a stable neurological condition. These results confirm the modern understanding and current treatment regiments for spinal cavernomas, and Fig. 4 explains perfectly in a very simple way the golden strategy for this rare disease. This experienced and well-described retrospective case series is important and adds more cases to the literature. However, it is time for a prospective multicenter randomized study or a registry for such a disease where high numbers will not be achieved by a single institute. Technically, this is a straightforward surgical procedure and does not need very few specialized centers, but active institutions should combine their patient data to one (minimum) registry and achieve hopefully one profound consensus thereby.
Ardeshir Ardeshiri and Neriman Özkan contributed equally to this work.
Electronic supplementary material
Below is the link to the electronic supplementary material.
Video material showing resection of the SCM in patient 5 (Th11). Following steps are shown: opening of the dura, myelotomy, microsurgical resection of the cavernoma, inspection of resection cavity and dural closure. (WMV 6147 kb)
Video material showing resection of the SCM in patient 5 (Th11). Following steps are shown: opening of the dura, myelotomy, microsurgical resection of the cavernoma, inspection of resection cavity and dural closure. (WMV 6147 kb)
About this article
Cite this article
Ardeshiri, A., Özkan, N., Chen, B. et al. A retrospective and consecutive analysis of the epidemiology and management of spinal cavernomas over the last 20 years in a single center. Neurosurg Rev 39, 269–276 (2016). https://doi.org/10.1007/s10143-015-0674-7
Received:

Revised:

Accepted:

Published:

Issue Date:
Keywords
Cavernous malformations

Intramedullary spinal cord tumor

Spinal cavernomas

Spinal surgery