Abstract
Soybean is an economically important leguminous crop, and pod dehiscence of soybean could cause huge yield loss. In this study, we measured fruit-cracking forces and percentages of dehisced pods for ten soybean accessions, then separated them into two groups as shattering-sensitive (SS) and shattering-resistant (SR) soybeans. Pod transcriptomes from these two groups were analyzed, and 225 differentially expressed genes (DEGs) were identified between SS and SR soybeans. Some of these DEGs have been previously reported to be associated with pod dehiscence in soybean. The expression patterns of selected DEGs were validated by real-time quantitative reverse transcription PCR, which confirmed the expression changes found in RNA-seq analysis. We also de novo identified 246 soybean pod-long intergenic ncRNAs (lincRNAs), 401 intronic lncRNAs, and 23 antisense lncRNAs from these transcriptomes. Furthermore, genes and lincRNAs co-expression network analysis showed that there are distinct expression patterns between SS and SR soybeans in some co-expression modules. In conclusion, we systematically investigated potential genes and molecular pathways as candidates for differences in soybean pod dehiscence and will provide a useful resource for molecular breeding of soybeans.
This is a preview of subscription content, log in to check access.
Access options
Buy single article
Instant access to the full article PDF.
US$ 39.95
Price includes VAT for USA
Subscribe to journal
Immediate online access to all issues from 2019. Subscription will auto renew annually.
US$ 99
This is the net price. Taxes to be calculated in checkout.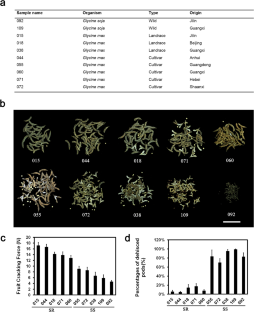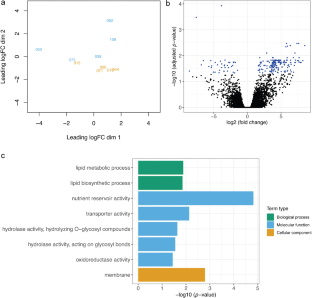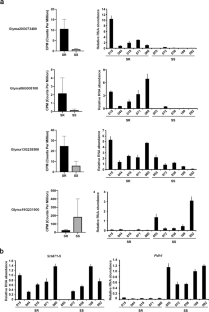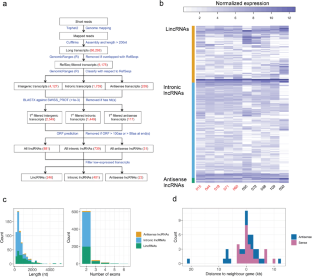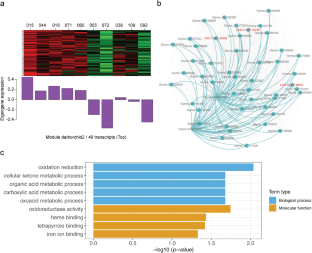 Data availability
The RNA-seq datasets generated in this study have been deposited in the NCBI's GEO database repository, and are accessible through GEO accession number GSE130010.
References
Ariel F, Romero-Barrios N, Jégu T, Benhamed M, Crespi M (2015) Battles and hijacks: noncoding transcription in plants. Trends Plant Sci 20(6):362–371

Chen W, Zhang X, Li J, Huang S, Xiang S, Hu X, Liu C (2018) Comprehensive analysis of coding-lncRNA gene co-expression network uncovers conserved functional lncRNAs in zebrafish. BMC Genomics 19(Suppl 2):112

D'haeseleer P, Liang S, Somogyi R (2000) Genetic network inference: from co-expression clustering to reverse engineering. Bioinformatics 16(8):707–726

Dong Y, Wang YZ (2015) Seed shattering: from models to crops. Front Plant Sci 6:476

Dong Y, Yang X, Liu J, Wang BH, Liu BL, Wang YZ (2014) Pod shattering resistance associated with domestication is mediated by a NAC gene in soybean. Nat Commun 5:3352

Dong R, Dong D, Luo D, Zhou Q, Chai X, Zhang J, Xie W, Liu W, Dong Y, Wang Y, Liu Z (2017) Transcriptome analyses reveal candidate pod shattering-associated genes involved in the pod ventral sutures of common vetch (Vicia sativa L.). Front Plant Sci 8:649

Fehr WR, Caviness CE (1977) Stages of soybean development. Special Report 87

Funatsuki H, Hajika M, Yamada T, Suzuki M, Hagihara S, Tanaka Y, Fujita S, Ishimoto M, Fujino K (2012) Mapping and use of QTLs controlling pod dehiscence in soybean. Breed Sci 61(5):554–558

Funatsuki H, Suzuki M, Hirose A, Inaba H, Yamada T, Hajika M, Komatsu K, Katayama T, Sayama T, Ishimoto M, Fujino K (2014) Molecular basis of a shattering resistance boosting global dissemination of soybean. Proc Natl Acad Sci U S A 111(50):17797–17802

Grant D, Nelson RT, Cannon SB, Shoemaker RC (2010) SoyBase, the USDA-ARS soybean genetics and genomics database. Nucleic Acids Res 38(Database issue):D843–D846

Kim D, Pertea G, Trapnell C, Pimentel H, Kelley R, Salzberg SL (2013) TopHat2: accurate alignment of transcriptomes in the presence of insertions, deletions and gene fusions. Genome Biol 14:R36

Langfelder P, Horvath S (2008) WGCNA: an R package for weighted correlation network analysis. BMC Bioinformatics 9:559

Li LF, Olsen KM (2016) To have and to hold: selection for seed and fruit retention during crop domestication. Curr Top Dev Biol 119:63–109

Liao Q, Liu C, Yuan X, Kang S, Miao R, Xiao H, Zhao G, Luo H, Bu D, Zhao H, Skogerbø G, Wu Z, Zhao Y (2011) Large-scale prediction of long non-coding RNA functions in a coding-non-coding gene co-expression network. Nucleic Acids Res 39(9):3864–3878

Liao Y, Smyth GK, Shi W (2014) featureCounts: an efficient general purpose program for assigning sequence reads to genomic features. Bioinformatics 30:923–930

Miller AJ, Gross BL (2011) From forest to field: perennial fruit crop domestication. Am J Bot 98(9):1389–1414

Orom UA, Derrien T, Beringer M, Gumireddy K, Gardini A, Bussotti G, Lai F, Zytnicki M, Notredame C, Huang Q, Guigo R, Shiekhattar R (2010) Long noncoding RNAs with enhancer-like function in human cells. Cell 143:46–58

Pineau E, Xu L, Renault H, Trolet A, Navrot N, Ullmann P, Légeret B, Verdier G, Beisson F, Pinot F (2017) Arabidopsis thaliana EPOXIDE HYDROLASE1 (AtEH1) is a cytosolic epoxide HYDROLASE involved in the synthesis of poly-hydroxylated cutin monomers. New Phytol 215(1):173–186

Romkaew J, Umezaki T (2015) Pod dehiscence in soybean: assessing methods and varietal difference. Plant Prod Sci 9(4):373–382

Ruan J, Dean AK, Zhang W (2010) A general co-expression network-based approach to gene expression analysis: comparison and applications. BMC Syst Biol 4:8

Schmutz J, Cannon SB, Schlueter J, Ma J, Mitros T, Nelson W, Hyten DL, Song Q, Thelen JJ, Cheng J, Xu D, Hellsten U, May GD, Yu Y, Sakurai T, Umezawa T, Bhattacharyya MK, Sandhu D, Valliyodan B, Lindquist E, Peto M, Grant D, Shu S, Goodstein D, Barry K, Futrell-Griggs M, Abernathy B, du J, Tian Z, Zhu L, Gill N, Joshi T, Libault M, Sethuraman A, Zhang XC, Shinozaki K, Nguyen HT, Wing RA, Cregan P, Specht J, Grimwood J, Rokhsar D, Stacey G, Shoemaker RC, Jackson SA (2010) Genome sequence of the palaeopolyploid soybean. Nature 463(7278):178–183

Wang D, Qu Z, Adelson DL, Zhu JK, Timmis JN (2014) Transcription of nuclear organellar DNA in a model plant system. Genome Biol Evol 6(6):1327–1334

Wang D, Qu Z, Yang L, Zhang Q, Liu ZH, Do T, Adelson DL, Wang ZY, Searle I, Zhu JK (2017) Transposable elements (TEs) contribute to stress-related long intergenic noncoding RNAs in plants. Plant J 90(1):133–146

Wang Y, Luo X, Sun F, Hu J, Zha X, Su W, Yang J (2018) Overexpressing lncRNA LAIR increases grain yield and regulates neighbouring gene cluster expression in rice. Nat Commun 9(1):3516

Xu YZ, Santamaria Rde L, Virdi KS, Arrieta-Montiel MP, Razvi F, Li S, Ren G, Yu B, Alexander D, Guo L, Feng X, Dweikat IM, Clemente TE, Mackenzie SA (2012) The chloroplast triggers developmental reprogramming when mutS HOMOLOG1 is suppressed in plants. Plant Physiol 159(2):710–720

Yu C, Qu Z, Zhang Y, Zhang X, Lan T, Adelson DL, Wang D, Zhu Y (2017) Seed weight differences between wild and domesticated soybeans are associated with specific changes in gene expression. Plant Cell Rep 36(9):1417–1426
Funding
This work was funded by the Natural Science Foundation of Jiangxi Province (20171ACB20001), National Science Foundation of China (Grants No. 31401077 and No. 31800224).
Additional information
Publisher's note
Springer Nature remains neutral with regard to jurisdictional claims in published maps and institutional affiliations.
Electronic supplementary material
About this article
Cite this article
Kang, X., Cai, J., Chen, Y. et al. Pod-shattering characteristics differences between two groups of soybeans are associated with specific changes in gene expression. Funct Integr Genomics 20, 201–210 (2020). https://doi.org/10.1007/s10142-019-00702-2
Received:

Revised:

Accepted:

Published:

Issue Date:
Keywords
Pod dehiscence

RNA-seq

Long noncoding RNA

Soybean