Abstract
It was the objective of this report to present a case of recurrent aneurysmal subarachnoid hemorrhage (SAH) and intracerebral hemorrhage (ICH) in which an MCA aneurysm was detected by 3D rotational fluoroscopy in an emergency situation. A 44-year-old woman was admitted from an external department after repeated SAH and temporal ICH. Due to progressive anisocoria and cardiocirculatory instability, she was transferred to the operating room without angiography. After a 3D rotational fluoroscopy baseline scan, another scan with 50 ml of iodine contrast agent was performed. The Digital Imaging and Communications in Medicine (DICOM) data sets were subtracted and reconstructed using the OsiriX® free imaging software. No adverse effect was observed during and after the administration of the contrast agent. The entire procedure from positioning of the fluoroscope to the production of utilizable 3D images was completely integrated into the surgical workflow with an image acquisition time of 2 × 24 s. The configuration of the aneurysm, the aneurysm-carrying vessel, and the distal vessel anatomy were well assessable. This technique quickly supplies images at adequate quality to assess the configuration of an intracranial aneurysm and is a useful diagnostic tool if the patient's critical condition prohibits aneurysm diagnostics by angiography or CT angiography.
This is a preview of subscription content, log in to check access.
Access options
Buy single article
Instant unlimited access to the full article PDF.
US$ 39.95
Price includes VAT for USA
Subscribe to journal
Immediate online access to all issues from 2019. Subscription will auto renew annually.
US$ 99
This is the net price. Taxes to be calculated in checkout.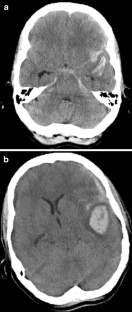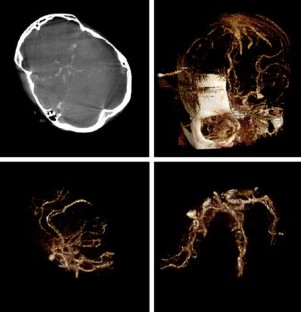 References
1.

Cardinale F, Moscato A, Cossu M, Castana L, Schiariti MP, Gozzo F, Pero G, Quilici L, Citterio A, Torresin A, LoRusso G (2012) Talairach methodology in the multimodal imaging and robotics era. In: Scarabin JM (ed) Stereotaxy and epilepsy surgery. John Libbey Eurotext, pp 245-272

2.

Fischer G, Stadie A, Oertel JM (2010) Near-infrared indocyanine green videoangiography versus microvascular Doppler sonography in aneurysm surgery. Acta Neurochir (Wien) 152:1519–1525

3.

Kobata H, Sugie A, Yoritsune E, Miyata T, Toho T (2013) Intracranial extravasation of contrast medium during diagnostic CT angiography in the initial evaluation of subarachnoid hemorrhage: report of 16 cases and review of the literature. Springerplus 2:413

4.

Li MH, Li YD, Tan HQ, Gu BX, Chen YC, Wang W, Chen SW, Hu DJ (2011) Contrast-free MRA at 3.0 T for the detection of intracranial aneurysms. Neurology 77:667–676

5.

Lubicz B, Neugroschl C, Collignon L, Francois O, Baleriaux D (2008) Is digital subtraction angiography still needed for the follow-up of intracranial aneurysms treated by embolisation with detachable coils? Neuroradiology 50:841–848

6.

Sun G, Ding J, Lu Y, Li M, Li L, Li GY, Zhang XP (2012) Comparison of standard- and low-tube voltage 320-detector row volume CT angiography in detection of intracranial aneurysms with digital subtraction angiography as gold standard. Acad Radiol 19:281–288

7.

Thines L, Gauvrit JY, Leclerc X, Le Gars D, Delmaire C, Pruvo JP, Lejeune JP (2008) Usefulness of MR imaging for the assessment of nonophthalmic paraclinoid aneurysms. AJNR Am J Neuroradiol 29:125–129

8.

Westerlaan HE, van der Vliet AM, Hew JM, Metzemaekers JD, Mooij JJ, Oudkerk M (2004) Magnetic resonance angiography in the selection of patients suitable for neurosurgical intervention of ruptured intracranial aneurysms. Neuroradiology 46:867–875

9.

Wu TC, Tsui YK, Chen TY, Lin CJ, Tzeng WS (2012) Rebleeding of aneurysmal subarachnoid hemorrhage in computed tomography angiography: risk factor, rebleeding pattern, and outcome analysis. J Comput Assist Tomogr 36:103–108

10.

Zhang H, Hou C, Zhou Z, Zhou G, Zhang G (2012) Evaluating of small intracranial aneurysms by 64-detector CT Angiography: a comparison with 3-dimensional rotation DSA or surgical findings. J Neuroimaging 10-6569
Conflict of interest
The authors declare that they have no conflict of interest.
Electronic supplementary material
Below is the link to the electronic supplementary material.
A 360° rotational view of the cerebral vessels. A 3D rotational fluoroscopy scan and image post-processing using the automated subtraction and reconstruction functions of the OsiriX® free software served for acquisition of this image (AVI 8008 kb)
A 360° rotational view of the cerebral vessels. A 3D rotational fluoroscopy scan and image post-processing using the automated subtraction and reconstruction functions of the OsiriX® free software served for acquisition of this image (AVI 8008 kb)
About this article
Cite this article
Westermaier, T., Willner, N., Vince, G.H. et al. Intraoperative 3D rotational angiography: an emergency tool for the diagnosis of intracranial aneurysms. Emerg Radiol 22, 97–100 (2015). https://doi.org/10.1007/s10140-014-1252-y
Received:

Accepted:

Published:

Issue Date:
Keywords
Subarachnoid hemorrhage

Intracerebral hemorrhage

Aneurysm

Rupture

Intravenous contrast

3D fluoroscopy