Abstract
Using light sources in phototherapy has presented promising results regarding several types of facial and body skin affections for centuries. The neodymium-doped yttrium aluminum garnet (ND:YAG) 1064 nm laser has become a standard treatment in dermatology for dermatological disturbances related to the pilous follicle and the structures surrounding it. Despite the reports of its clinical benefits, few scientific studies show its actual safety and efficacy. To substantiate the effects, benefits, and safety of applying an ND:YAG 1064 laser in the epilation process during esthetic treatment, a systematic review was carried out between October 2018 and January 2019, on studies published in the last 20 years. Randomized clinical trials in humans were considered that evaluated the efficacy, safety, and benefits of ND:YAG laser application at 1064 nm wavelengths for hair removal. A total of 198 articles were identified; 58 articles remained after their titles and abstracts were read; and 21 articles were selected after the removal of duplicates. After the integral reading, 13 of these articles were included in the systematic review (734 patients). The ND:YAG 1064 nm laser presents safety and promising, beneficial effects in epilation. However, further scientific studies with better methodologic quality are necessary to better standardize ND:YAG laser therapy and clarify its parameters for photoepilation.
This is a preview of subscription content, log in to check access.
Access options
Buy single article
Instant unlimited access to the full article PDF.
US$ 39.95
Price includes VAT for USA
Subscribe to journal
Immediate online access to all issues from 2019. Subscription will auto renew annually.
US$ 99
This is the net price. Taxes to be calculated in checkout.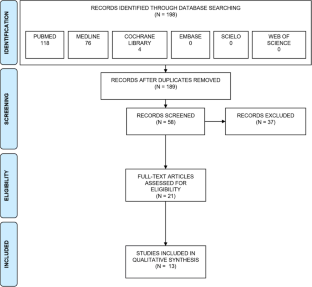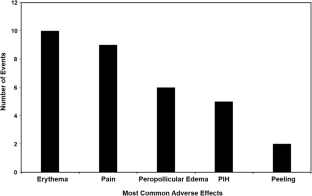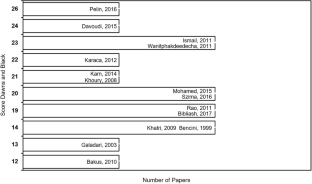 References
1.

Üstüner P, Balevi A, Özdemir M (2016) Efficacy and safety of mascara dyeing as an adjunct to alexandrite and Nd: YAG laser applications for removing thin and white-colored facial and axillary hair. J Cosmet Laser Ther 18(8):459–466

2.

Ismail SA (2012) Long-pulsed ND:YAG laser vs. intense pulsed light for hair removal in dark skin: a randomized controlled trial. Br J Dermatol 166:317–321

3.

Khatri KA, Lee RA, Goldberg LJ, Khatri B, Garcia V (2009) Efficacy and safety of a 0.65 millisecond pulsed portable ND:YAG laser for hair removal. J Cosmet Laser Ther 11:19–24

4.

Galadari I (2003) Comparative evaluation of different hair removal lasers in skin types IV, V, and VI. Int J Dermatol 42:68–70

5.

Bencini PL, Luci A, Galimberti M, Ferranti G (1999) Long-term epilation with long-pulsed neodimium:YAG laser. Dermatol Surg 25(3):175–178

6.

Rao K, Sankar TK (2011) Long-pulsed ND:YAG laser-assisted hair removal in Fitzpatrick skin types IV–VI. Lasers Med Sci 26:623–626

7.

Bakus AD, Garden JM, Yaghmai D, Massa MC (2010) Long-term fine caliber hair removal with an electro-optic Q-switched ND:YAG laser. Lasers Surg Med 42:706–711

8.

Davoudi SM, Behnia F, Gorouhi F, Keshavarz S, Kashani NM, Firoozabadi MR, Firooz A (2008) Comparison of long-pulsed alexandrite and ND:YAG lasers, individually and in combination, for leg hair reduction: an assessor-blinded, randomized trial with 18 months of follow-up. Arch Dermatol 144(10):1323–1327

9.

Khoury GJ, Saluja R, Goldman MP (2008) Comparative evaluation of long-pulse alexandrite and long-pulse ND:YAG laser systems used individually and in combination for axillary hair removal. Dermatol Surg 34:665–671

10.

Wanitphakdeedech R, Thanomkitti K, Sethabutra P, Eimpunth S, Manuskiatti W (2012) Split axilla comparison study of axillary hair removal with low fluence high repetition rate 810 nm diode laser vs. high fluence low repetition rate 1064 nm ND:YAG laser. J Eur Acad Dermatol Venereol 26(9):1133–1136

11.

Szima ZG, Janka AE, Kovacs A, Bortely B, Bodnar E, Sawhney I, Szabo E, Remenyik E (2017) Comparison of hair removal efficacy and side effect of neodymium: yttrium-aluminum-garnet laser and intense pulsed light systems (18-month follow-up). J Cosmet Dermatol 16:193–198

12.

Bibilash BS, Chittoria RK, Thappa MD, Mohapatra PD, Friji MT, Dineshkumar S, Pandey S (2017) Are lasers superior to lights in the photoepilation of Fitzpatrick V and VI skin types? – a comparison between ND:YAG laser and intense pulsed light. J Cosmet Laser Ther 19(5):252–255

13.

Karaca S, Kaçar DS, Ozuğuz P (2012) Comparison of SHR mode IPL system with alexandrite and Nd: YAG lasers for leg hair reduction. Balkan Med J 29(4):401–405

14.

El Ammar PBA, Costa BF, Kalil CLP, Campos VB (2011) Complications in laser dermatologic surgery part I: non-fractional non-ablative lasers. Surg Cosmet Dermatol 3(1):47–53

15.

Downs SH, Black N (1998) The feasibility of creating a checklist for the assessment of the methodological quality both of randomised and non-randomised studies of health careinterventions. J Epidemiol Community Health 52:377–384

16.

Ross EV, Cooke LM, Overstreet KA (2002) Treatment of pseudofolliculitis barbae in very dark skin with a long pulse ND:YAG laser. J Natl Med Assoc 94:888–893

17.

Mitta R, Sriram S, Sandhu K (2008) Evaluation of long-pulsed 1064 nm ND:YAG laser-assisted hair removal vs multiple treatment sessions and diferente hair types in Indian patients. J Cutan Aesthet Surg 1(2):75–79

18.

Schulze R, Mehan KJ, Lopez A, Sweeney K, Winstanley D, Apruzzese W, Ross V (2009) Low-fluence 1,064-nm laser hair reductio for pseudofolliculitis Barbae in skin types IV, V and VI. Dermatol Surg 35(1):98–107

19.

Weaver SM III, Sagaral EC (2003) Treatment of pseudofolliculitis barbae using the long-pulse ND:YAG laser on skin types V and VI. Dermatol Surg 29:1187–1191

20.

Jansy R, Manickaam N, Kandasamy M, Gopalan K, Revathi D (2018) Efficacy of long pulsed ND:YAG laser in the treament of hirsutism. IP Indian J Clin Exp Dermatol 4(2):85–89

21.

Lopes VIS (2012) Aplicação do laser em dermartologia, Lisboa, pp 21–23

22.

Khoury JG, Saluja R, Goldman M (2008) Comparative evaluation of long-pulse Alexadrite and long pulse ND:YAG laser systems used individually and in combination for axillary hair removal. Dermatol Sug 34:665–671

23.

Lim SPR, Lanigan SW (2006) A review of the adverse effects of laser hair removal. Lasers Med Sci 21:121–125

24.

Haedersdal M, Beerwerth F, Nash JF (2011) Laser and intense pulsed light hair removal technologies: from professional to home use. Br Assoc Dermatol 165(3):31–36

25.

Handley JM (2006) Adverse events associated with nonablative cutaneous visible and infrared laser treatment. J Am Acad Dermatol 55(3):482–489

26.

Dierickx CC, Grossman MC (2007) Epilação com laser. In: Golderg DJ (ed) Laser e Luz. Elsevier, Rio de Janeiro, pp 77–79

27.

Chua SH, Ang P, Khoo LS, Goh CL (2004) Nonablative 1450-nm diode laser in the treatment of facial atrophic acne scars in type IV to V Asian skin: a prospective clinical study. Dermatol Surg 30(10):1287–1291
Ethics declarations
Conflict of interest
The authors declare that they have no conflicts of interest.
Ethical approval
The research was not submitted to an ethics committee, as it was a review study.
Additional information
Publisher's note
Springer Nature remains neutral with regard to jurisdictional claims in published maps and institutional affiliations.
About this article
Cite this article
Modena, D.A.O., Miranda, A.C.G., Grecco, C. et al. Efficacy and safety of ND:YAG 1064 nm lasers for photoepilation: a systematic review. Lasers Med Sci (2020) doi:10.1007/s10103-019-02939-6
Received:

Accepted:

Published:
Keywords