Abstract
The aim of the present study was to evaluate the effect of intraoral photobiomodulation involving super-pulsed laser (905 nm) combined with red (640 nm) and infrared (875 nm) light-emitting diodes on pain, mandibular range of motion, and functioning in women with myogenous temporomandibular disorder. A randomized, sham-controlled, double-blind clinical trial was conducted involving 30 women with myogenous temporomandibular disorder diagnosed using the Research Diagnostic Criteria for Temporomandibular Disorders. The participants were randomly allocated to two groups (active and sham photobiomodulation). The evaluations involved this use of the visual analog scale, digital calipers, and a functional scale. Photobiomodulation was administered intraorally in the region of the pterygoid muscles, bilaterally, in all participants for a total of six sessions. Evaluations were performed on five occasions: prior to the intervention, immediately after the first session, 24 h and 48 h after the first session, and after the six sessions. Significant differences between groups were found regarding pain (p ≤ 0.01) and functioning (p ≤ 0.04). However, no statistically significant difference was found regarding range of mandibular motion. The findings demonstrate that intraoral photobiomodulation involving super-pulsed laser (905 nm) combined with red (640 nm) and infrared (875 nm) light-emitting diodes diminishes pain and improves functioning but does not exert an influence on mandibular range of motion in women with temporomandibular disorder.
Trial registration: NCT02839967
This is a preview of subscription content, log in to check access.
Access options
Buy single article
Instant access to the full article PDF.
US$ 39.95
Price includes VAT for USA
Subscribe to journal
Immediate online access to all issues from 2019. Subscription will auto renew annually.
US$ 99
This is the net price. Taxes to be calculated in checkout.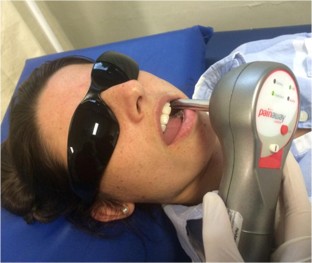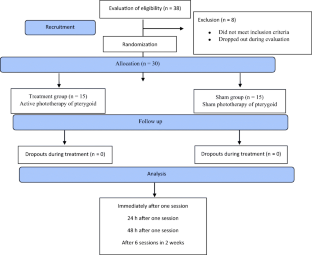 References
1.

deLeeuw R, Klasser GD (2013) The American Academy of Orofacial Pain. Orofacial pain: guidelines for assessment, diagnosis, and management. Quintessence Publishing, Chicago

2.

Truelove EL, Sommers EE, LeResche L, Dworkin SF, Von KM (1992) Clinical diagnostic criteria for TMD. New classification permits multiple diagnoses. J Am Dent Assoc 123:47–54

3.

Plesh O, Sinisi SE, Crawford PB, Gansky SA (2005) Diagnoses based on the research diagnostic criteria for temporomandibular disorders in a biracial population of young women. J Orofac Pain 19:65–75

4.

Orlando B, Manfredini D, Bosco M (2006) Efficacy of physical therapy in the treatment of masticatory myofascial pain: a literature review. Minerva Stomatol 55(6):355–366

5.

Gonçalves DA, Dal Fabbro AL, Campos JADB, Bigal ME, Speciali JG (2010) Symptoms of temporomandibular disorders in the population: an epidemiological study. J Orofac Pain 24(3):270–278

6.

Ferreira CLP, Silva MAMR, Felício CM (2016) Sinais e sintomas de desordem temporomandibular em mulheres e homens. CoDAS 28(1):17–21. https://doi.org/10.1590/2317-1782/20162014218

7.

Polso H, Napankangas R, Raustia AM (2010) Treatment outcome in patients with TMD – a survey of 123 patients referred to specialist care. Cranio 28(3):156–165

8.

Issa JPM, Silva MAMR, SILVA AMBR (2005) Disfunções temporomandibulares e suas implicações clínicas. Revista Dor 6(2):573–578

9.

Fikácková H, Dostálová T, Navrátil L et al (2007) Effectiveness of low-level laser therapy in temporomandibular joint disorders: a placebo-controlled study. Photomed Laser Surg 25(4):297–303

10.

Manfredini D, Favero L, Cocilovo F, Monici M, Guarda-Nadini L (2017) A comparison trial between three treatment modalities for the management of myofascial pain of jaw muscles: a preliminary study. Cranio: The Journal of Craniomandibular Practice 36(2):1–5. https://doi.org/10.1080/08869634.2017.1349571

11.

Seifi M, Ebadifar A, Kabiri S, Badiee MR, Abdolazimi Z, Amdjadi P (2017) Comparative effectiveness of low level laser therapy and transcutaneous electric nerve stimulation on temporomandibular joint disorders. J Lasers Med Sci 8(1):27–31

12.

Khalighi HR, Mortazavi H, Mojahedi SM, Marhabi SA, Abbasabadi FM (2016) Low level laser therapy versus pharmacotherapy in improving myofascial pain disorder syndrome. J Lasers Med Sci 7(1):45–50. https://doi.org/10.15171/jlms.2016.10

13.

Kelencz CA, Muñoz IS, Amorim CF, Nicolau RA (2010) Effect of low-power gallium-aluminum-arsenium noncoherent light (640 nm) on muscle activity: a clinical study. Photomed Laser Surg 28(5):647–652

14.

Hage YE, Politti F, Sousa DFM, Herpich CM et al (2013) Effect of facial massage on static balance in individuals with temporomandibular disorder - a pilot study. Int J Ther Massage Bodywork 6:6–11

15.

Herpich CM, Leal-Junior ECP, Gomes CAFP et al (2017) Immediate and short-term effects of phototherapy on pain, muscle activity, and joint mobility in women with temporomandibular disorder: a randomized, double-blind, placebo-controlled, clinical trial. Disabil Rehabil 1:1–7

16.

Herpich CM, Gomes CAFP, Gloria IPS et al (2018) Evaluation of pain threshold upon palpation of the masticatory muscles in women with temporomandibular disorder according to the Research Diagnostic Criteria of Temporomandibular Disorders. Rev CEFAC 20(2):175–181

17.

Barriere P, Zink S, Riehm S, Kahn JL, Veillon F, Wilk A (2009) Massage du muscle ptérygoïdien latéral dans le SADAM aigu Massage of the lateral pterygoid muscle in acute TMJ dysfunction syndrome. Rev Stomatol Chir Maxillofac 110(2):77–80. https://doi.org/10.1016/j.stomax.2008.05.010

18.

Kalamir A, Graham P, Vitiello AL, Bonello R, Pollard H (2013) Intra-oral myofascial therapy versus education and self-care in the treatment of chronic, myogenous temporomandibular disorder: a randomised, clinical trial. Chiropr Man Therap 21:17

19.

Fujita S, Iizuka T, Dauber W (2001) Variation of heads of lateral pterygoid muscle and morphology of articular disc of human temporomandibular joint—anatomical and histological analysis. J Oral Rehabil 28:560–571

20.

Friedmann H, Lipovsky A, Nitzan Y, Lubart R (2009) Combined magnetic and pulsed laser field produce synergistic acceleration of cellular electron transfer. Laser Ther 18:137–141

21.

Leal Junior ECP, Johnson DS, Saltmarche A, Demchak T (2014) Adjunctive use of combination of super-pulsed laser and light-emitting diodes phototherapy on nonspecific knee pain: double-blinded randomized placebo-controlled trial. Lasers Med Sci 29:1839–1847

22.

Silva MM, Albertine R, Carvalho PTC, Leal-Junior ECP, Bussadori SK, Vieira SS, Bocalini DS, Oliveira VS, Grandinetti V, Silva JÁ, Serra AJ (2017) Randomized, blinded, controlled trial on effectiveness of photobiomodulation therapy and exercise training in the fibromyalgia treatment. Lasers Med Sci. https://doi.org/10.1007/s10103-017-2388-2

23.

Ferreira-Valente MA, Pais-Ribeiro JL, Jensen MP (2011) Validity of four pain intensity-rating scales. Pain 152(10):2399–2404

24.

Horn KK, Jennings S, Richardson G, Vliet DV, Hefford C, Abbott JH (2012) The patient-specific functional scale: psychometrics, clinimetrics, and application as a clinical outcome measure. J Orthop Sports Phys Ther 42(1):30–42. https://doi.org/10.2519/jospt.2012.3727

25.

Stratmann U, Mokrys K, Meyer U, Kleinheinz J, Joos U, Dirksen D et al (2000) Clinical anatomy and palpability of the inferior lateral pterygoid muscle. J Prosthet Dent 83:548–554

26.

Pereira TS, Flecha OD, Guimarães RC, de Oliveira D, Botelho AM, Ramos Glória JC et al (2014) Efficacy of red and infrared lasers in treatment of temporomandibular disorders--a double-blind, randomized, parallel clinical trial. Cranio J Craniomandib Pract 32(1):51–56

27.

Cohen J (1988) Statistical power analysis for the behavioral sciences, 2nd edn. Erlbaum, Hillsdale

28.

Armijo-Olivo S, Pitance L, Neto VSF, Thie N, Michelotti A (2016) Effectiveness of manual therapy and therapeutic exercise for temporomandibular disorders: systematic review and meta-analysis. Phys Ther 96:9–25. https://doi.org/10.2522/ptj.20140548

29.

Chen J, Huang Z, Ge M, Gao M (2015) Efficacy of low-level laser therapy in the treatment of TMDs: a meta-analysis of 14 randomised controlled trials. J Oral Rehabil 42(4):291–299

30.

Bjordal JM (2006) Photoradiation in acute pain: a systematic review of possible mechanisms of action and clinical effects in randomized placebo-controlled trials. Photomed Laser Surg 24(2):158–168

31.

Miranda EF, LeaL Junior ECP, Marchetti PH, Dal Corso S (2014) Acute effects of light emitting diodes therapy (LEDT) in muscle function during isometric exercise in patients with chronic obstructive pulmonary disease: preliminary results of a randomized controlled trial. Lasers Med Sci 29:359–365

32.

Grace EG, Sarlani E, Reid B (2002) The use of an oral exercise device in the treatment of muscular TMD. Cranio 20(3):204–208

33.

de Felicio CM, de Oliveira MM, da Silva MA (2010) Effects of orofacial myofunctional therapy on temporomandibular disorders. Cranio 28(4):249–259

34.

Niemela K, Korpela M, Raustia A, Ylostalo P, Sipila K (2012) Efficacy of stabilisation splint treatment on temporomandibular disorders. J Oral Rehabil 39(11):799–804

35.

Freire AB, De Nardi AT, Boufleur J, Chiodelli L, Pasinato F, Corrêa ECR (2014) Multimodal physiotherapeutic approach: effects on the temporomandibular disorder diagnosis and severity. Fisioterapia em Movimento 27(2):219. https://doi.org/10.1590/0103-5150.027.002.AO07
Acknowledgments
The authors are grateful to the research team and all participants as well as the University Nove de Julho, and the Brazilian fostering agencies, the State of São Paulo Research Assistance Foundation, and Coordination for the Improvement of Higher Education Personnel (CAPES).
Funding
Funding for this study was provided by Coordination of Improvement of Higher Education Personnel (CAPES).
Ethics declarations
The present randomized, sham-controlled, double-blind clinical trial received approval from the Human Research Ethics Committee of University Nove de Julho, São Paulo, Brazil (certificate number: 42264715.0.0000.5511), and the protocol was registered with clinicaltrials.gov (NCT02839967). This clinical trial was conducted with patients referred from the Department of Physical Therapy of the University Nove de Julho. All volunteers received clarifications regarding the objectives and procedures of the study and those who agreed to participate signed a statement of informed consent.
Conflict of interest
Teacher Ernesto Cesar Pinto Leal-Junior receives research support from Multi Radiance Medical (Solon, OH, USA), a laser device manufacturer; he did not have any participation in data collection or data analysis. The remaining authors declare that they have no conflict of interests.
Additional information
Publisher's note
Springer Nature remains neutral with regard to jurisdictional claims in published maps and institutional affiliations.
About this article
Cite this article
Herpich, C.M., Leal-Junior, E.C.P., Politti, F. et al. Intraoral photobiomodulation diminishes pain and improves functioning in women with temporomandibular disorder: a randomized, sham-controlled, double-blind clinical trial. Lasers Med Sci 35, 439–445 (2020). https://doi.org/10.1007/s10103-019-02841-1
Received:

Accepted:

Published:

Issue Date:
Keywords
Temporomandibular joint dysfunction

Pain

Physiotherapeutic modalities

Temporomandibular disorder syndrome

Lasers

Phototherapy