Abstract
In response to stimuli in the microenvironment, macrophages adopt either the M1 or M2 phenotype to coordinate the tissue repair process. Photobiomodulation (PBM) plays an important role in the modulation of acute inflammation, including cellular influx, macrophage polarization, and the release of inflammatory mediators. The aim of the present study was to evaluate the effects of red and infrared PBM on the mRNA expression of cytokines and chemokines in macrophages polarized to the M1 and M2 phenotypes. J774 macrophages activated to induce M1 (lipopolysaccharide + interferon gamma) or M2 (interleukin-4) phenotypes were irradiated with red or infrared PBM (1 J). After 4 and 24 h, gene expression was analyzed by qPCR. PBM at 660 nm decreased the mRNA expression of CCL3, CXCL2, and TNF-α in M1 macrophages and CXCL2 in M2 macrophages 4 h after irradiation. Similarly, PBM at 780 nm decreased mRNA expression levels of CCL3 and IL-6 by M1 macrophages 24 h after irradiation. Moreover, PBM at 780 nm increased the mRNA expression of TGFβ1 4 h after irradiation and decreased the expression of this gene after 24 h in M2 macrophages. Although red and infrared PBM were able to modulate and reduce M1/M2a-related markers, infrared laser irradiation promoted a temporal increase in the expression of TGFβ1 in M2 macrophages. Thus, depending on the time PBM is used on injured tissue, different parameters can promote optimal results by modulating specific macrophage phenotypes.
This is a preview of subscription content, log in to check access.
Access options
Buy single article
Instant access to the full article PDF.
US$ 39.95
Price includes VAT for USA
Subscribe to journal
Immediate online access to all issues from 2019. Subscription will auto renew annually.
US$ 99
This is the net price. Taxes to be calculated in checkout.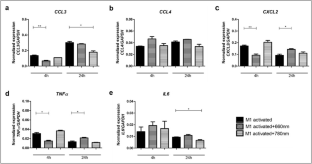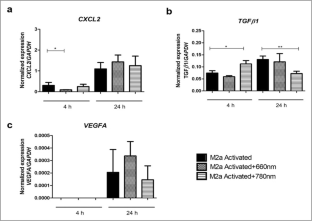 References
1.

Rőszer T (2015, 2015) Understanding the mysterious M2 macrophage through activation markers and effector mechanisms. Mediat Inflamm 16:816460 https://doi.org/10.1155/2015/816460

2.

Mehrsai A, Afsharpad M, Afsharpad M, Mohydin M, Ansari B, Pourmand G, Nikbin B (2009) The effect of low-level helium-neon (HeNe) laser radiation on the secretion of cytokines that promote chronic graft rejection – an in vitro study. Med Laser Appl 24:194–200

3.

Martinez FO, Gordon S (2014) The M1 and M2 paradigm of macrophage activation: time for reassessment. F1000 Prime Rep 6:13

4.

Mantovani A, Sica A, Sozzani S, Allavena P, Vecchi A, Locati M (2004) The chemokine system in diverse forms of macrophage activation and polarization. Trends Immunol 25:677–686

5.

Jaguin M, Houlbert N, Fardel O, Lecureur V (2013) Polarization profiles of human M-CSF-generated macrophages and comparison of M1-markers in classically activated macrophages from GM-CSF and M-CSF origin. Cell Immunol 281:51–61

6.

Xuan W, Qu Q, Zheng B, Xiong S, Fan G (2015) The chemotaxis of M1 and M2 macrophages is regulated by different chemokines. J Leukoc Biol 97:61–69

7.

Mantovani A, Biswas SK, Galdiero MR, Sica A, Locati M (2013) Macrophage plasticity and polarization in tissue repair and remodeling. J Pathol 229:176–185

8.

Novak ML, Koh TJ (2013) Macrophage phenotypes during tissue repair. J Leukoc Biol 93:875–881

9.

Duque AG, Descoteaux A (2014) Macrophage cytokines: involvement in immunity and infectious diseases. Front Immunol 5:491

10.

Barrientos S, Stojadinovic O, Golinko MS, Brem H, Tomic-Canic M (2008) Growth factors and cytokines in wound healing. Wound Repair Regen 16:585–601

11.

Souza TO, Mesquita DA, Ferrari RA, Pinto D, Júnior S, Correa L, Bussadori SK, Fernandes KPS, Martins MD (2011) Phototherapy with low-level laser affects the remodeling of types I and III collagen in skeletal muscle repair. Lasers Med Sci 26:803–814

12.

Fernandes KP, Alves AN, Nunes FD, Souza NH, Silva JA Jr, Bussadori SK, Ferrari RA (2013) Effect of photobiomodulation on expression of IL-1beta in skeletal muscle following acute injury. Lasers Med Sci 28:1043–1046

13.

de Lima FM, Aimbire F, Miranda H, Vieira RP, Oliveira AP, Albertini R (2014) Low-level laser therapy attenuates the myeloperoxidase activity and inflammatory mediator generation in lung inflammation induced by gut ischemia and reperfusion: a dose-response study. J Lasers Med Sci Spring 5:63–70

14.

Fernandes KPS, Souza NHC, Mesquita-Ferrari RA, Silva DF, Rocha LA, Alves AN, Sousa KB, Bussadori SK, Hamblin MR, Nunes FD (2015) Photobiomodulation with 660-nm and 780-nm laser on activated J774 macrophage-like cells: effect on M1 inflammatory markers. J Photochem Photobiol B 153:344–351

15.

Souza NHC, Mesquita-Ferrari RA, Rodrigues MFSD, da Silva DFT, Ribeiro BG, Alves AN, Garcia MP, Nunes FD, da Silva Junior EM, França CM, Bussadori SK, Fernandes KPS (2018) Photobiomodulation and different macrophages phenotypes during muscle tissue repair. J Cell Mol Med 22:4922–4934

16.

Gavish L, Perez LS, Reissman P, Gertz SD (2008) Irradiation with 780 nm diode laser attenuates inflammatory cytokines but upregulates nitric oxide in lipopolysaccharide-stimulated macrophages: implications for the prevention of aneurysm progression. Lasers Surg Med 40:371–378

17.

Sousa LR, Cavalcanti BN, Marques MM (2009) Effect of laser phototherapy on the release of TNF-alpha and MMP-1 by endodontic sealer-stimulated macrophages. Photomed Laser Surg 27:37–42

18.

de Lima FM, Villaverde AB, Albertini R, de Oliveira AP, Faria Neto HC, Aimbire F (2010) Low-level laser therapy associated to N-acetylcysteine lowers macrophage inflammatory protein-2 (MIP-2) mRNA expression and generation of intracellular reactive oxygen species in alveolar macrophages. Photomed Laser Surg 28:763–771

19.

Souza NH, Marcondes PT, Albertini R, Mesquita-Ferrari RA, Fernandes KP, Aimbire F (2014) Low-level laser therapy supresses the oxidative stress-induced glucocorticoids resistance in U937 cells: relevance to cytokine secretion and histone deacetylase in alveolar macrophages. J Photochem Photobiol B Biol 130:327–336

20.

Chen CH, Wang CZ, Wang YH, Liao WT, Chen YJ, Kuo CH, Kuo HF, Hung CH (2014) Effects of low-level laser therapy on M1-related cytokine expression in monocytes via histone modification. Hindawi Publishing Corporation 2014:625048

21.

Silva DF, Mesquita-Ferrari RA, Fernandes KPS, Raele MP, Wetter NU, Deana AM (2012) Effective transmission of light for media culture, plates and tubes. Photochem Photobiol 88:1211–1216

22.

Mosser DM, Edwards JP (2008) Exploring the full spectrum of macrophage activation. Nat Rev Immunol 8:958–969

23.

Filardy AA, Pires DR, Nunes MP, Takiya CM, Freire-de-Lima CG, Ribeiro-Gomes FL, Reis GA (2010) Proinflammatory clearance of apoptotic neutrophils induces an IL-12 (low) IL-10 (high) regulatory phenotype in macrophages. J Immunol 185:2044–2050

24.

Lindell DM, Standiford TJ, Mancuso P, Leshen ZJ, Huffnagle GB (2001) Macrophage inflammatory protein 1alpha/CCL3 is required for clearance of an acute Klebsiella pneumoniae pulmonary infection. Infect Immun 69:6364–6369

25.

Fahey TJ 3rd, Tracey KJ, Tekamp-Olson P, Cousens LS, Jones WG, Shires GT, Cerami A, Sherry B (1992) Macrophage inflammatory protein 1 modulates macrophage function. J Immunol 148:2764–2769

26.

Raman D, Sobolik-Delmaire T, Richmond A (2011) Chemokines in health and disease. Exp Cell Res 317:575–589

27.

Mesquita-Ferrari RA, Martins MD, Silva JA Jr, da Silva TD, Piovesan RF, Pavesi VC, Bussadori SK, Fernandes KP (2011) Effects of low-level laser therapy on expression of TNF-α and TGF-β in skeletal muscle during the repair process. Lasers Med Sci 26:335–340

28.

Albertini R, Villaverde AB, Aimbire F, Bjordal J, Brugnera A, Mittmann J, Silva JA Jr, Costa M (2008) Cytokine mRNA expression is decreased in the subplantar muscle of rat paw subjected to carrageenan-induced inflammation after low-level laser therapy. Photomed Laser Surg 26:19–24

29.

Almeida PD, Tomazoni SS, Frigo L, de Carvalho PT, Vanin AA, Santos LA, Albuquerque-Pontes GM, De Marchi T, Tairova O, Marcos RL, Lopes-Martins RA, Leal-Junior EC (2014) What is the best treatment to decrease pro-inflammatory cytokine release in acute skeletal muscle injury induced by trauma in rats: low-level laser therapy, diclofenac, or cryotherapy? Lasers Med Sci 29:653–658

30.

Arany PR (2016) Photobiomodulation therapy: communicating with stem cells for regeneration? Photomed Laser Surg 34:497–499

31.

Costa EBO, Pacheco C (2013) Epigenetics: gene expression regulation at transcriptional level and its implications. Semina cienc biol saude 34:125–136 https://doi.org/10.5433/1679-0367.2013v34n2p125

32.

Karin M, Clevers H (2016) Reparative inflammation takes charge of tissue regeneration. Nature 529:307–315

33.

Pallotta RC, Bjordal JM, Frigo L, Leal Junior EC, Teixeira S, Marcos RL, Ramos L, Messias FM, Lopes-Martins RA (2012) Infrared (810-nm) low-level laser therapy on rat experimental knee inflammation. Lasers Med Sci 27:71–78

34.

Silva IH, de Andrade SC, de Faria AB (2016) Increase in the nitric oxide release without changes in cell viability of macrophages after laser therapy with 660 and 808 nm lasers. Lasers Med Sci 31:1855–1862

35.

Alves AN, Fernandes KPS, Deana AM, Bussadori SK, Mesquita-Ferrari RA (2014) Effects of low-level laser therapy on skeletal muscle repair: a systematic review. Am J Phys Med Rehabil 93:1073–1085

36.

Karu TI, Afanas'eva NI (1995) Cytochrome c oxidase as the primary photoacceptor upon laser exposure of cultured cells to visible and near IR-range light. Dokl Akad Nauk 342:693–695

37.

Freitas LF, Hamblin MR (2016) Proposed mechanisms of photobiomodulation or low-level light therapy. IEEE J Sel Top Quantum Electron 22:7000417
Role of funding source
This study was funded by São Paulo Research Foundation (grant nos. 2013/07502-1 and 2015/21219-6) and by the National Council for Technological and Scientific Development (CNPq, grant nos.311078/2015-0, 305905/2014-7, and 305739/2014-0), and by Coordination of Improvement of Higher Education Personnel - Brazil (CAPES) - Finance Code 1690204.
Ethics declarations
Conflict of interest
The authors declare that they have no conflict of interest.
Additional information
Publisher's note
Springer Nature remains neutral with regard to jurisdictional claims in published maps and institutional affiliations.
Electronic supplementary material
About this article
Cite this article
de Brito Sousa, K., Rodrigues, M.F.S.D., de Souza Santos, D. et al. Differential expression of inflammatory and anti-inflammatory mediators by M1 and M2 macrophages after photobiomodulation with red or infrared lasers. Lasers Med Sci 35, 337–343 (2020). https://doi.org/10.1007/s10103-019-02817-1
Received:

Accepted:

Published:

Issue Date:
Keywords
Photobiomodulation

Inflammatory mediators

Macrophages

M1 phenotype

M2a phenotype