Synthesis of new materials based on metallurgical slags as a contribution to the circular economy
Abstract
This work is aimed at developing knowledge about the possibilities of a circular economy arising from the processing of metallurgical slag, which in a number of indicators is close to natural formations. The possibility of manufacturing ceramic catalyst carriers from natural raw materials and industrial waste (metallurgical slags) using powder metallurgy is considered. Properties of metallurgical slags are studied by X-ray diffraction analysis, methods of simultaneous thermal analysis (thermogravimetry/differential thermal analysis), optical microscopy and scanning electron microscopy. Studies have revealed the similarity of the structure and properties of natural raw materials and studied metallurgical slag. It was established that the studied metallurgical slags could be used as an additional component to the zeolite–bentonite base to create a ceramic carrier for the catalyst.
Graphic abstract
The scheme of manufacture of catalyst carriers from natural raw materials and metallurgical slag.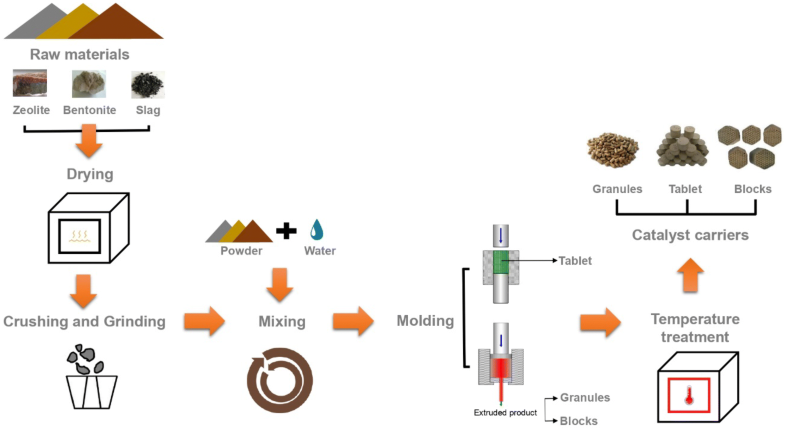 Keywords
Ceramics synthesis 
Metallurgical slag 
Waste to secondary material 
Catalyst carrier 
Notes
Acknowledgements
This research has been supported by the Project IRN AP05134733 "Development of technology for obtaining new ceramic materials based on domestic raw materials, and technogenic wastes of metallurgical companies of Kazakhstan", funded by Committee of Science of the Ministry of Education and Science of the Republic of Kazakhstan and the EU supported project "Sustainable Process Integration Laboratory – SPIL", Project No. CZ.02.1.01/0.0/0.0/15_003/0000456 funded by EU "CZ Operational Programme Research, Development and Education", Priority 1: Strengthening capacity for quality research under the collaboration agreement with D. Serikbayev East Kazakhstan State Technical University.
Copyright information
© Springer-Verlag GmbH Germany, part of Springer Nature 2019