Effect of water injection into the intake manifold on combustion and NOx emissions of CHP engine fuelled with natural gas
Abstract
The impact of variable water injection by mass on nitrogen oxide emission and performance characteristics of combined heat and power single-cylinder spark ignition engine fuelled by natural gas under constant power was investigated. For each water/fuel ratio, the combustion phasing was varied by adjusting spark timing and mass of fuel injection to maintain the indicated mean effect pressure at 6.35 bar. It was reported that the nitrogen oxide emissions decreased with the same centre of combustion when the amount of injected water increases. The nitrogen oxide emission averagely decreased by 20–25%, depending on combustion phasing with water/fuel ratio 0.3 compared to 0. Furthermore, the centre of combustion between 15 and 19 °CA after top dead centre represents lower nitrogen oxide emissions. It was recorded that the spark timing had to be advanced with water injection to maintain the indicated mean effect pressure at 6.35 bar. Also, the results of the effects of intake manifold water injection system on performance, combustion and emissions at the lowest level of the nitrogen oxides have been presented. The thermal efficiency and indicated specific fuel consumption were improved with water injection at an operation point compared with a reference point. The maximum nitrogen oxide reduction depends on the maximum water injection rate which is limited by intake air characteristics.
Graphical abstract
NO
x
emission for various WI rates over the centre of combustion CA50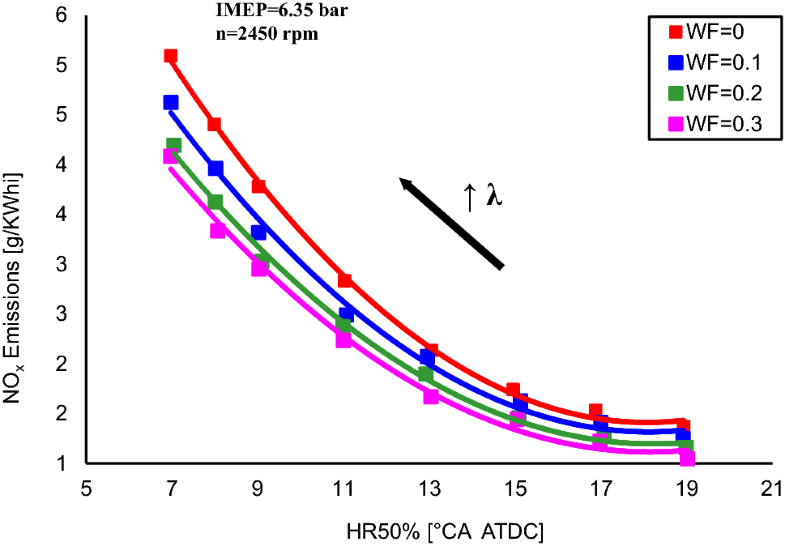 Keywords
CHP SI engine 
Nitrogen oxides (NOx) emission 
Intake manifold water injection 
Natural gas combustion 
Abbreviations
ATDC

After top dead centre

BSFC

Brake-specific fuel consumption

BTDC

Before top dead centre

BTE

Brake thermal efficiency

CA50

Center of combustion

HR50

Center of combustion

CHP

Combined heat and power

CO

Carbon monoxide

CO2

Carbon dioxide

COV

Coefficient of variation

EEA

European Environment Agency

EU

European Union

HC

Hydrocarbon

ICE

Internal combustion engine

IMEP

Indicated mean effect pressure

ISFC

Indicated specific fuel consumption

NOx

Nitrogen oxides

WF

Water/fuel ratio

WI

Water injection
Notes
Acknowledgements
The authors would like to thank the German Federal Ministry of Education and Research, which supported this project through the grant programme "Ingenieurnachwuchs", as well as all the persons that were involved in the project.
Copyright information
© Springer-Verlag GmbH Germany, part of Springer Nature 2018