Abstract
Optimal clinical decisions should be supported by clinical practice guidelines (CPG) based on evidence generated from randomized clinical trials (RCT). We aimed to evaluate the class and level of evidence (LOE) supporting the international community-acquired pneumonia (CAP) guidelines and their variation over time. The 2019 Infectious Diseases Society of America/American Thoracic Society (IDSA/ATS) and the 2011 European Respiratory Society/European Society Clinical Microbiology Infectious Diseases (ERS/ESCMID) CPG and its immediate predecessors (2007 and 2005) were evaluated. The number of recommendations and distribution as LOE A (supported by multiple RCT or a single, large RCT), B (supported by data from a single RCT or observational studies) and C (expert opinion, case studies, or standard of care) was identified. Overall, recommendations for diagnosis, management, and prevention were graded as strong in 51.4%, 62.9%, and 23.5% in spite that they were supported by LOE A in 5.7%, 11.1%, and 52.9%, respectively. In the 2019 ATS/IDSA guidelines (39 recommendations), 7.7% (n = 3) recommendations were classified as LOE A, 30.8% (n = 12) as LOE B, and 61.5% (24%) as LOE C. Across the 2011 ERS/ESCMID guidelines (68 recommendations), 21.2% (n = 14) recommendations were classified as LOE A, 4.6% (n = 3) as LOE B, and 74.2% (n = 49) as LOE C. When comparing with prior versions, the proportion of recommendations that were LOE A did not significantly increase in ERS/ESCMID (21.2% vs 20%) and decreased in ATS/IDSA (7.7% vs 32.0%). In conclusion, large randomized trials or network meta-analysis including comparison of regimens to identify high probability of best cure and mortality is an unmet clinical need on CAP.
This is a preview of subscription content, log in to check access.
Access options
Buy single article
Instant access to the full article PDF.
US$ 39.95
Price includes VAT for USA
Subscribe to journal
Immediate online access to all issues from 2019. Subscription will auto renew annually.
US$ 99
This is the net price. Taxes to be calculated in checkout.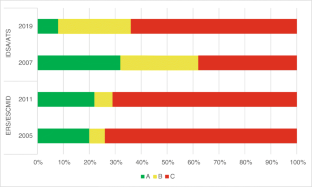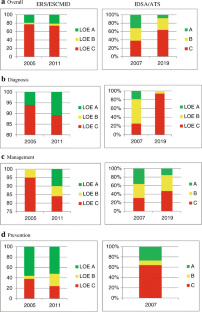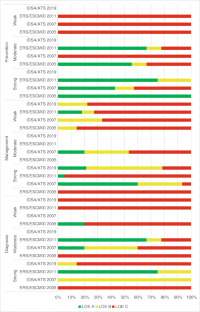 Abbreviations
ATS:

American Thoracic Society

ARDS:

Acute respiratory distress syndrome

CAP:

Community acquired pneumonia

COPD:

Chronic obstructive pulmonary disease

CPG:

Clinical practice guidelines

ERS:

European Respiratory Society

ESCMID:

European Society of Clinical Microbiology and Infectious Diseases

IDSA:

Infectious Diseases Society of America

LOE:

Level of evidence

NMA:

Network meta-analysis

MA:

Meta-analysis

RCT:

Randomized controlled trial

SR:

Systematic review
References
1.

Al-Abri SS, Al-Maashani S, Memish ZA, Beeching NJ (2012) An audit of inpatient management of community-acquired pneumonia in Oman: a comparison with regional clinical guidelines. J Infect Public Health

2.

Triantafyllidis C, Kapordelis V, Papaetis GS, Orphanidou D, Apostolidou M, Nikolopoulos I et al (2012) Guidelines adherence for patients with community acquired pneumonia in a Greek hospital. Eur Rev Med Pharmacol Sci

3.

Menéndez R, Torres A, Zalacaín R, Aspa J, Martín-Villasclaras JJ, Borderías L et al (2005) Guidelines for the treatment of community-acquired pneumonia: predictors of adherence and outcome. Am J Respir Crit Care Med

4.

Dean NC, Bateman KA, Donnelly SM, Silver MP, Snow GL, Hale D (2006) Improved clinical outcomes with utilization of a community-acquired pneumonia guideline. Chest

5.

Fanaroff AC, Califf RM, Windecker S, Smith SC, Lopes RD Levels of Evidence Supporting American College of Cardiology/American Heart Association and European Society of Cardiology Guidelines, 2008-2018. JAMA J Am Med Assoc:2019

6.

Meyer C, Bowers A, Wayant C, Checketts J, Scott J, Musuvathy S et al (2018) Scientific evidence underlying the American College of Gastroenterology's clinical practice guidelines. PLoS One

7.

Zhang Z, Hong Y, Liu N (2018) Scientific evidence underlying the recommendations of critical care clinical practice guidelines: a lack of high level evidence. Intensive Care Med

8.

Lee DH, Vielemeyer O (2011) Analysis of overall level of evidence behind Infectious Diseases Society of America practice guidelines. Arch Intern Med

9.

Woodhead M, Blasi F, Ewig S, Garau J, Huchon G, Ieven M et al (2011 Nov) Guidelines for the management of adult lower respiratory tract infections--full version. Clin Microbiol Infect 17(Suppl 6):E1–E59

10.

Metlay JP, Waterer GW, Long AC, Anzueto A, Brozek J, Crothers K et al (2019) Diagnosis and treatment of adults with community-acquired pneumonia. An official clinical practice guideline of the American Thoracic Society and Infectious Diseases Society of America. Am J Respir Crit Care Med 200(7):e45–e67

11.

Mandell LA, Wunderink RG, Anzueto A, Bartlett JG, Campbell GD, Dean NC et al (2007) Infectious Diseases Society of America/American Thoracic Society Consensus Guidelines on the Management of Community-Acquired Pneumonia in Adults. Clin Infect Dis

12.

Woodhead M, Blasi F, Ewig S, Huchon G, Leven M, Ortqvist A et al (2005) Guidelines for the management of adult lower respiratory tract infections. Eur Respir J

13.

Jacobs AK, Kushner FG, Ettinger SM, Guyton RA, Anderson JL, Ohman EM et al (2013) ACCF/AHA clinical practice guideline methodology summit report: a report of the American College of Cardiology Foundation/American Heart Association task force on practice guidelines. Circulation

14.

Atkins D, Eccles M, Flottorp S, Guyatt GH, Henry D, Hill S et al (2004) Systems for grading the quality of evidence and the strength of recommendations I: critical appraisal of existing approaches. BMC Health Serv Res

15.

Barnett AS, Lewis WR, Field ME, Fonarow GC, Gersh BJ, Page RL et al (2017) Quality of evidence underlying the American Heart Association/American College of Cardiology/Heart Rhythm Society guidelines on the management of atrial fibrillation. JAMA Cardiol

16.

Tricoci P, Allen JM, Kramer JM, Califf RM, Smith SC (2009) Scientific evidence underlying the ACC/AHA clinical practice guidelines. JAMA J Am Med Assoc

17.

Koh C, Zhao X, Samala N, Sakiani S, Liang TJ, Talwalkar JA (2013) AASLD clinical practice guidelines: a critical review of scientific evidence and evolving recommendations. Hepatology.

18.

Witkowski M, Wilkinson L, Webb N, Weids A, Glah D, Vrazic H (2018) A systematic literature review and network meta-analysis comparing once-weekly Semaglutide with other GLP-1 receptor agonists in patients with type 2 diabetes previously receiving 1–2 Oral anti-diabetic drugs. Diabetes Ther

19.

Mathenge PG, Low SK, Vuong NL, Mohamed MYF, Faraj HA, Alieldin GI et al (2019) Efficacy and resistance of different artemisinin-based combination therapies: a systematic review and network meta-analysis. Parasitol Int

20.

Turpen RM, Fesperman SF, Sultan S, Borawski KM, Norris RD, Klink J et al (2010) Levels of evidence ratings in the urological literature: an assessment of interobserver agreement. BJU Int

21.

Ramalho JN, Tedesqui G, Ramalho M, Azevedo RS, Castillo M (2015) Evidence levels for neuroradiology articles: Low agreement among raters. Am J Neuroradiol

22.

Bhandari M, Swiontkowski MF, Einhorn TA, Tornetta P, Schemitsch EH, Leece P et al (2004) Interobserver agreement in the application of levels of evidence to scientific papers in the American volume of the Journal of Bone and Joint Surgery. J Bone Joint Surg Am
Acknowledgements
Authors appreciate comments from Maria Teresa Martin, Microbiology Department, Vall d'Hebron University Hospital who helped to improve the final manuscript.
Funding
This work was funded in part by CIBERES, Instituto Salud Carlos III, Madrid, Spain (Fondos FEDER) (CB06–06-036).
Ethics declarations
Competing interests
Dr. Rello has served as consultant and in the speakers' bureau for Nzbriva, MSD, Pfizer & Astellas. The remaining authors have no conflicts of interest to declare.
Additional information
Publisher's note
Springer Nature remains neutral with regard to jurisdictional claims in published maps and institutional affiliations.
Electronic supplementary material
About this article
Cite this article
Ferreira-Coimbra, J., Tejada, S., Campogiani, L. et al. Levels of evidence supporting European and American community-acquired pneumonia guidelines. Eur J Clin Microbiol Infect Dis (2020). https://doi.org/10.1007/s10096-020-03833-8
Received:

Accepted:

Published:
Keywords
Community-acquired pneumonia

Diagnosis

Therapy

Prevention

Randomized controlled trial

Evidence-based medicine