Abstract
The roll-out of molecular diagnostic tools continues to be the most important shift in the tuberculosis diagnostic landscape. The aim of this study was to develop a novel external quality assessment (EQA) panels for molecular TB diagnostics. In addition, we also assessed the performance of the laboratories with the EQA panels in China. Dried Mycobacterium tuberculosis (MTB) DNA in the chelex resin was designed as part of an EQA program. The storage of genomic DNA in the chelex resin layer had no effect on the stability of genomic DNA, even after 12 weeks of storage. Seventy-one laboratories have participated in EQA of molecular diagnostics for TB diagnosis in 2018. GeneXpert (74.6%, 53/71) was the most predominant molecular method, followed by GeneChip (32.3%, 23/71), MeltPro (22.5%, 16/71), and TB-LAMP (7.0%, 5/71). Out of 105 EQA panels, 103 EQA results (98.1%) achieved perfect scores, whereas the other two (1.9%) had satisfactory scores. There were a total of two false-negative results reported from two laboratories with local LAMP, respectively. In conclusion, we firstly develop feasible EQA panels for molecular diagnostics for tuberculosis in China. Our data demonstrate that a majority of participating laboratories are able to produce perfect results with molecular diagnostics in China, giving us important hints for the implementation of molecular diagnostics.
This is a preview of subscription content, log in to check access.
Access options
Buy single article
Instant access to the full article PDF.
US$ 39.95
Price includes VAT for USA
Subscribe to journal
Immediate online access to all issues from 2019. Subscription will auto renew annually.
US$ 99
This is the net price. Taxes to be calculated in checkout.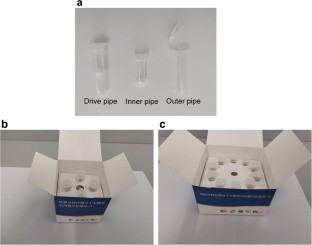 References
1.

World Health Organization. Global tuberculosis report 2018. 2018.

2.

Pai M, Schito M (2015) Tuberculosis diagnostics in 2015: landscape, priorities, needs, and prospects. J Infect Dis 211(Suppl 2):S21–S28

3.

Valentine-Thon E (2002) Quality control in nucleic acid testing--where do we stand? J Clin Virol 25(Suppl 3):S13–S21

4.

World Health Organization (2014) Xpert MTB/RIF assay for the diagnosis of pulmonary and extrapulmonary TB in adults and children: WHO Policy update. Geneva: World Health Organization; 2014. https://www.who.int/tb/publications/xpert_policyupdate/en/

5.

World Health Organization. The use of molecular line probe assays for the detection of resistance to isoniazid and rifampicin. 2016.

6.

World Health Organization. The use of a commercial loop-mediated isothermal amplification assay (TB-lamp) for the detection of tuberculosis. 2013.

7.

Wang L, Zhang H, Ruan Y, Chin DP, Xia Y, Cheng S, Chen M, Zhao Y, Jiang S, Du X, He G, Li J, Wang S, Chen W, Xu C, Huang F, Liu X, Wang Y (2014) Tuberculosis prevalence in China, 1990–2010; a longitudinal analysis of national survey data. Lancet 383(9934):2057–2064

8.

Xu C, Pang Y, Li R, Ruan Y, Wang L, Chen M, Zhang H (2018) Clinical outcome of multidrug-resistant tuberculosis patients receiving standardized second-line treatment regimen in China. J Inf Secur 76(4):348–353

9.

Pang Y, Du J, Qin ZZ, Greenwald Z, Liu Y, Mi F, Zhao Y, Li L (2016) An overview on tuberculosis-specific hospitals in China in 2009: results of a national survey. Eur Respir J 47(5):1584–1587

10.

Amaro A, Duarte E, Amado A, Ferronha H, Botelho A (2008) Comparison of three DNA extraction methods for Mycobacterium bovis, Mycobacterium tuberculosis and Mycobacterium avium subsp. avium. Lett Appl Microbiol 47(1):8–11

11.

Pang Y, Lu J, Yang J, Wang Y, Cohen C, Ni X, Zhao Y (2015) A novel method for diagnosis of smear-negative tuberculosis patients by combining a random unbiased Phi29 amplification with a specific real-time PCR. Tuberculosis (Edinb) 95(4):411–414

12.

Du J, Shu W, Liu Y, Wang Y, Zhan Y, Yu K, Gao J, Li L, Pang Y (2019) Development and validation of external quality assessment panels for mycobacterial culture testing to diagnose tuberculosis in China. Eur J Clin Microbiol Infect Dis 38(10):1961–1968

13.

Shi J, Dong W, Ma Y, Liang Q, Shang Y, Wang F, Huang H, Pang Y (2018) GeneXpert MTB/RIF outperforms mycobacterial culture in detecting Mycobacterium tuberculosis from salivary sputum. Biomed Res Int 2018:1514381

14.

Yang S, Rothman RE (2004) PCR-based diagnostics for infectious diseases: uses, limitations, and future applications in acute-care settings. Lancet Infect Dis 4(6):337–348

15.

Hillemann D, Rusch-Gerdes S, Boehme C, Richter E (2011) Rapid molecular detection of extrapulmonary tuberculosis by the automated GeneXpert MTB/RIF system. J Clin Microbiol 49(4):1202–1205

16.

Guo Y, Zhou Y, Wang C, Zhu L, Wang S, Li Q, Jiang G, Zhao B, Huang H, Yu H, Xing W, Mitchelson K, Cheng J, Zhao Y (2009) Rapid, accurate determination of multidrug resistance in M. tuberculosis isolates and sputum using a biochip system. Int J Tuberc Lung Dis 13(7):914–920

17.

Nagaraj S, Ramlal S, Kingston J, Batra HV (2018) Thermostabilization of indigenous multiplex polymerase chain reaction reagents for detection of enterotoxigenic Staphylococcus aureus. J Microbiol Immunol Infect 51(2):191–198
Acknowledgments
This study was supported by the Innovation Alliance on Tuberculosis Diagnosis and Treatment (Beijing). We would like to thank all the staffs participating in this study in the tuberculosis hospitals.
Ethics declarations
Conflict of interest
The authors declare that they have no conflict of interests.
Ethical approval
Not required
Additional information
Publisher's note
Springer Nature remains neutral with regard to jurisdictional claims in published maps and institutional affiliations.
About this article
Cite this article
Du, J., Shu, W., Liu, Y. et al. Multicenter feasibility study to assess external quality panels for molecular diagnostics for tuberculosis in China. Eur J Clin Microbiol Infect Dis 39, 339–343 (2020). https://doi.org/10.1007/s10096-019-03730-9
Received:

Accepted:

Published:

Issue Date:
Keywords
Tuberculosis

External quality

Molecular diagnostics

China