Abstract
The aim of this study was to assess which Mycoplasma pneumoniae genotypes were present in Moscow during the years 2015–2018 and whether the proportion between detected genotypes changed over time. We were also interested in the presence of macrolide resistance (MR)Mycoplasma pneumoniae. We performed multilocus variable-number tandem-repeat (VNTR) analysis (MLVA), SNP typing, and mutation typing in the 23S rRNA gene from 117 M. pneumoniae clinical isolates. Our analysis suggests two major MLVA types: 4572 and 3562. In 2017–2018, MLVA type 4572 gradually became predominant. In general, the SNP type range is the same as described earlier for European countries. The analysis of MR mutations showed that 7% of the isolates had an A2063G mutation in the 23S rRNA gene with no isolates carrying an A2064G mutation. In 2017–2018, MLVA type 4572 (SNP type 1) begins to spread in Moscow, which was widespread globally, especially in Asian countries. SNP typing of our sample showed higher discriminatory power than MLVA typing.
This is a preview of subscription content, log in to check access.
Access options
Buy single article
Instant access to the full article PDF.
US$ 39.95
Price includes VAT for USA
Subscribe to journal
Immediate online access to all issues from 2019. Subscription will auto renew annually.
US$ 99
This is the net price. Taxes to be calculated in checkout.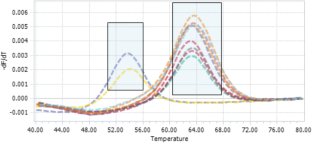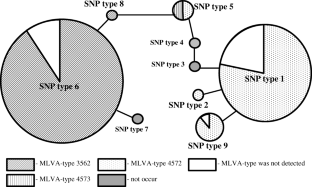 Funding
The work was partially supported by the Russian State–funded budget project of ICBFM SB RAS # АААА-А17-117020210027-9.
Ethics declarations
All procedures performed in studies involving human participants were in accordance with the ethical standards of the institutional research committee (the ethical committee under Speransky Children's Municipal Clinical Hospital N9 January 21, 2014) and with the 1964 Helsinki declaration and its later amendments or comparable ethical standards.
Conflict of interest
The authors declare that they have no conflict of interest.
Informed consent
Informed consent was obtained from all individual participants included in the study.
Additional information
Publisher's note
Springer Nature remains neutral with regard to jurisdictional claims in published maps and institutional affiliations.
About this article
Cite this article
Voronina, E.N., Gordukova, M.A., Turina, I.E. et al. Molecular characterization of Mycoplasma pneumoniae infections in Moscow from 2015 to 2018. Eur J Clin Microbiol Infect Dis 39, 257–263 (2020). https://doi.org/10.1007/s10096-019-03717-6
Received:

Accepted:

Published:

Issue Date:
Keywords
Mycoplasma pneumoniae
MLVA
SNP
Macrolide resistance