Abstract
Background and purpose
The number of people suffering from stroke is strongly increasing, giving rise to multiple cognitive deficits which frequently prevent a full recovery. The identification of both spared and impaired cognitive domains has a key role to plan adequate interventions. However, the existing standard tests are either too expensive in terms of time and efforts for patients in acute stage or they derived from instruments addressing different pathologies such as dementia.
Methods
We developed a brief neuropsychological battery (mental performance in acute stroke, MEPS) to assess different cognitive domains (language, memory, praxis, visual perception) in acute stroke patients. MEPS was validated by enrolling a sample of 204 patients suffering from stroke in acute stage, and 263 healthy controls participants.
Results
The results indicated an adequate construct validity and a high ability in discriminating patients from healthy controls.
Conclusions
MEPS can be considered a simple and highly valuable bedside battery, easy to administer, with values of sensitivity and specificity suitable to be proposed as a screening tool for patients with acute stroke.
This is a preview of subscription content, log in to check access.
Access options
Buy single article
Instant unlimited access to the full article PDF.
US$ 39.95
Price includes VAT for USA
Subscribe to journal
Immediate online access to all issues from 2019. Subscription will auto renew annually.
US$ 99
This is the net price. Taxes to be calculated in checkout.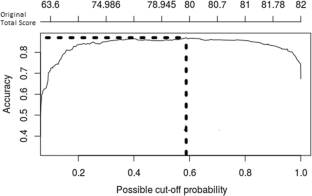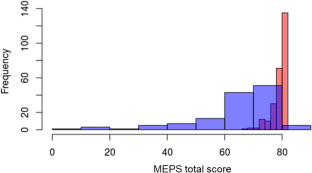 Notes
1.

A copy of the MEPS (Italian version) can be obtained by contacting the authors at: fabriziopasotti@gmail.com
References
1.

Feigin VL, Forouzanfar MH, Krishnamurthi R et al (2014) Global and regional burden of stroke during 1990-2010: findings from the Global Burden of Disease Study 2010. Lancet 383:245–254

2.

Ferro JM (2001) Hyperacute cognitive stroke syndromes. J Neurol 248:841–849. https://doi.org/10.1007/s004150170067

3.

Carrera E, Tononi G (2014) Diaschisis: past, present, future. Brain 137:2408–2422. https://doi.org/10.1093/brain/awu101

4.

Fornito A, Zalesky A, Breakspear M (2015) The connectomics of brain disorders. Nat Rev Neurosci 16:159–172. https://doi.org/10.1038/nrn3901

5.

Nys GMS, van Zandvoort MJE, de Kort PLM, van der Worp H, Jansen BP, Algra A, de Haan EH, Kappelle LJ (2005) The prognostic value of domain-specific cognitive abilities in acute first-ever stroke. Neurology 64:821–827. https://doi.org/10.1212/01.WNL.0000152984.28420.5A

6.

Hoffmann M (2001) Higher cortical function deficits after stroke: an analysis of 1,000 patients from a dedicated cognitive stroke registry. Neurorehabil Neural Repair 15:113–127. https://doi.org/10.1177/154596830101500205

7.

Haacke C, Althaus A, Spottke A et al (2006) Long-term outcome after stroke. Stroke 37:193–198. https://doi.org/10.1161/01.STR.0000196990.69412.fb

8.

Riepe MW, Riss S, Bittner D, Huber R (2004) Screening for cognitive impairment in patients with acute stroke. Dement Geriatr Cogn Disord 17:49–53. https://doi.org/10.1159/000074082

9.

Folstein MF, Folstein SE, Mchugh PR (1975) "Mini-Mental State": a practical method for grading the cognitive state of patients for the clinician. J Gsychiaf Res 12:189–198

10.

Blake H, McKinney M, Treece K, Lee E, Lincoln NB (2002) An evaluation of screening measures for cognitive impairment after stroke. Age Ageing 31:451–456. https://doi.org/10.1093/ageing/31.6.451

11.

Hachinski V, Iadecola C, Petersen RC, Breteler MM, Nyenhuis DL, Black SE, Powers WJ, DeCarli C, Merino JG, Kalaria RN, Vinters HV, Holtzman DM, Rosenberg GA, Wallin A, Dichgans M, Marler JR, Leblanc GG (2006) National Institute of Neurological Disorders and Stroke–Canadian stroke network vascular cognitive impairment harmonization standards. Stroke 37:2220–2241. https://doi.org/10.1161/01.STR.0000237236.88823.47

12.

Mole JA, Demeyere N (2018) The relationship between early post-stroke cognition and longer term activities and participation: a systematic review. Neuropsychol Rehabil:1–25. https://doi.org/10.1080/09602011.2018.1464934

13.

Nasreddine ZS, Phillips NA, Bédirian V, Charbonneau S, Whitehead V, Collin I, Cummings JL, Chertkow H (2005) The Montreal Cognitive Assessment, MoCA: a brief screening tool for mild cognitive impairment. J Am Geriatr Soc 53:695–699. https://doi.org/10.1111/j.1532-5415.2005.53221.x

14.

Allibrio G, Gori A, Signorini G, Luzzatti C (2009) Un esame del linguaggio per la diagnosi dei deficit afasici al letto del malato 3:7–21

15.

Bisiach E, Cappa S, Vallar G (1983) Guida all'Esame Neuropsicologico

16.

Spinnler H, Tognoni G (1987) Italian standardization and classification of neuropsychological tests. The Italian Group on the Neuropsychological Study Of Aging. Ital J Neurol Sci Suppl 8:1–120

17.

Monaco M, Costa A, Caltagirone C, Carlesimo GA (2013) Forward and backward span for verbal and visuo-spatial data: standardization and normative data from an Italian adult population. Neurol Sci 34:749–754. https://doi.org/10.1007/s10072-012-1130-x

18.

Mondini S (2011) Esame neuropsicologico breve 2 (ENB-2): una batteria di test per lo screening neuropsicologico. Raffaello Cortina

19.

De Renzi E, Faglioni P (1996) Aprassia. In: Manuale di Neuropsicologia. Zanichelli, Bologna

20.

Bertinetto Pier M, Burani Cristina, Alessandro L et al (2005) Corpus e Lessico di Frequenza dell'Italiano Scritto (CoLFIS). In: Lab. di Linguist. "Giovanni Nencioni"

21.

Snodgrass JG, Vanderwart M (1980) A standardized set of 260 pictures: norms for name agreement, image agreement, familiarity, and visual complexity. J Exp Psychol Hum Learn Mem. https://doi.org/10.1037/0278-7393.6.2.174

22.

Dubois B, Slachevsky A, Litvan I, Pillon B (2000) The FAB: a frontal assessment battery at bedside. Neurology. https://doi.org/10.1212/WNL.55.11.1621

23.

Carlesimo GA, Caltagirone C, Gainotti GUID, Fadda L, Gallassi R, Lorusso S, Parnetti L (1996) The mental deterioration battery: normative data, diagnostic reliability and qualitative analyses of cognitive impairment. Eur Neurol 36(6):378–384

24.

Mahoney FI, Barthel DW (1965) Functional evaluation: the Barthel index. Md State Med J 14:61–65

25.

Salvadori E, Pasi M, Poggesi A, Chiti G, Inzitari D, Pantoni L (2013) Predictive value of MoCA in the acute phase of stroke on the diagnosis of mid-term cognitive impairment. J Neurol 260:2220–2227. https://doi.org/10.1007/s00415-013-6962-7

26.

Dong Y, Sharma VK, Chan BP-L et al (2010) The Montreal Cognitive Assessment (MoCA) is superior to the Mini-Mental State Examination (MMSE) for the detection of vascular cognitive impairment after acute stroke. J Neurol Sci 299:15–18. https://doi.org/10.1016/j.jns.2010.08.051

27.

Shopin L, Shenhar-Tsarfaty S, Ben Assayag E, Hallevi H, Korczyn AD, Bornstein NM, Auriel E (2013) Cognitive assessment in proximity to acute ischemic stroke/transient ischemic attack: comparison of the Montreal cognitive assessment test and MindStreams computerized cognitive assessment battery. Dement Geriatr Cogn Disord 36:36–42. https://doi.org/10.1159/000350035

28.

Wong A, Nyenhuis D, Black SE, Law LS, Lo ES, Kwan PW, Au L, Chan AY, Wong LK, Nasreddine Z, Mok V (2015) Montreal Cognitive Assessment 5-minute protocol is a brief, valid, reliable, and feasible cognitive screen for telephone administration. Stroke 46:1059–1064. https://doi.org/10.1161/STROKEAHA.114.007253

29.

Demeyere N, Riddoch MJ, Slavkova ED, Bickerton WL, Humphreys GW (2015) The Oxford Cognitive Screen (OCS): validation of a stroke-specific short cognitive screening tool. Psychol Assess 27:883–894. https://doi.org/10.1037/pas0000082
Acknowledgments
The development was supported by the ISO-SPREAD (Stroke Prevention and Educational Awareness Diffusion) initiative, an Italian think-tank and consensus group that produced local evidence-based guidelines for the management and rehabilitation of stroke (http://www.iso-spread.it/index.php?azione=capitoli#) and granted by the Italian Ministry of Health.
We are thankful to Dr. Sterzi R. for giving us the opportunity to start the present project at the Niguarda Hospital in Milan and for having supported the development of the research.
Ethics declarations
Conflict of interest
The authors declare that they have no conflicts of interest.
Ethical approval
This study was conducted in accordance with the Declaration of Helsinki. The experimental protocol received the ethical approval by the local Research Ethics Committee (study number 1549303). All the participants signed the informed consent prior to their participation in the study.
Additional information
Publisher's note
Springer Nature remains neutral with regard to jurisdictional claims in published maps and institutional affiliations.
Electronic supplementary material
About this article
Cite this article
Pasotti, F., Magnani, F.G., Gallucci, M. et al. Neuropsychological assessment in acute stroke patients. Neurol Sci (2020). https://doi.org/10.1007/s10072-019-04236-0
Received:

Accepted:

Published:
Keywords
Stroke

Battery

Cognitive domain

Brain lesion