Abstract
Multiple sclerosis (MS) is among the most common diseases affecting brain and spinal cord. MS progression is characterized by breakdown of blood brain barrier which leads to increased vascular permeability and angiogenesis. Consequently, vascular endothelial growth factor A (VEGF) and its receptors are considered to be important components of MS progression. VEGFA and fms-related tyrosine kinase 1 (FLT1) play important roles in various aspects of MS. In this study, we investigated the relationship between these genes and MS. For this purpose, the expression levels of VEGFA and FLT1 were measured in the blood of 50 relapsing-remitting MS (RR-MS) patients and 50 healthy individuals using TaqMan quantitative real-time PCR. A significant upregulation of VEGFA expression was observed among MS patients compared with controls (p = 0.04). However, the difference in FLT1 gene expression between study groups was insignificant (p = 0.947). In addition, there was a significant positive correlation between VEGFA and FLT1 genes expressions (r = 0.769, p < 0.0001). In spite of the highly complex molecular mechanisms behind this, the findings imply participation of VEGFA in the pathogenesis of MS.
This is a preview of subscription content, log in to check access.
Access options
Buy single article
Instant unlimited access to the full article PDF.
US$ 39.95
Price includes VAT for USA
Subscribe to journal
Immediate online access to all issues from 2019. Subscription will auto renew annually.
US$ 99
This is the net price. Taxes to be calculated in checkout.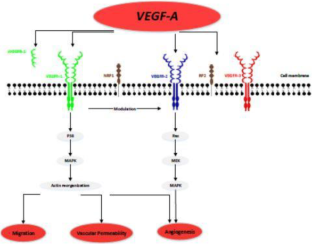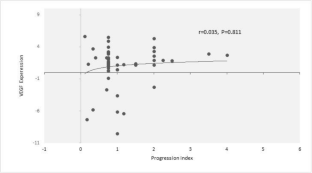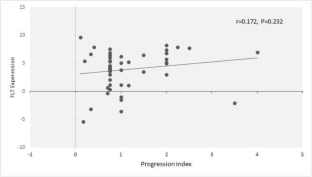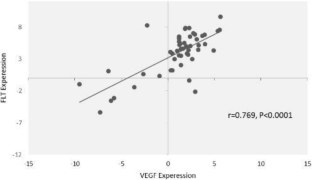 References
1.

Anisimov A, Leppänen V-M, Tvorogov D, Zarkada G, Jeltsch M, Holopainen T, Kaijalainen S, Alitalo K (2013) The basis for the distinct biological activities of vascular endothelial growth factor receptor–1 ligands. Sci Signal 6:ra52–ra52

2.

Bouérat L, Fensholdt J, Liang X, Havez S, Nielsen SF, Hansen JR, Bolvig S, Andersson C (2005) Indolin-2-ones with high in vivo efficacy in a model for multiple sclerosis. J Med Chem 48:5412–5414

3.

Carmeliet P, Ruiz de Almodovar C (2013) VEGF ligands and receptors: implications in neurodevelopment and neurodegeneration. Cell Mol Life Sci 70:1763–1778

4.

Carvalho JF, Blank M, Shoenfeld Y (2007) Vascular endothelial growth factor (VEGF) in autoimmune diseases. J Clin Immunol 27:246–256

5.

Choi J-S, Kim H-Y, Cha J-H, Choi J-Y, In Park S, Jeong CH, Jeun S-S, Lee M-Y (2007) Upregulation of vascular endothelial growth factor receptors Flt-1 and Flk-1 following acute spinal cord contusion in rats. J Histochem Cytochem 55:821–830

6.

Claudio L, Kress Y, Norton WT, Brosnan C (1989) Increased vesicular transport and decreased mitochondrial content in blood-brain barrier endothelial cells during experimental autoimmune encephalomyelitis. Am J Pathol 135:1157

7.

Conn G, Soderman DD, Schaeffer M-T, Wile M, Hatcher VB, Thomas KA (1990) Purification of a glycoprotein vascular endothelial cell mitogen from a rat glioma-derived cell line. In: Proceedings of the National Academy of Sciences, vol 87, pp 1323–1327

8.

Croll SD, Ransohoff RM, Cai N, Zhang Q, Martin FJ, Wei T, Kasselman LJ, Kintner J, Murphy AJ, Yancopoulos GD (2004) VEGF-mediated inflammation precedes angiogenesis in adult brain. Exp Neurol 187:388–402

9.

Dvorak HF, Brown LF, Detmar M, Dvorak AM (1995) Vascular permeability factor/vascular endothelial growth factor, microvascular hyperpermeability, and angiogenesis. Am J Pathol 146:1029–1039

10.

Eftekharian MM, Ghannad MS, Taheri M, Roshanaei G, Mazdeh M, Musavi M, Hormoz MB (2016) Frequency of viral infections and environmental factors in multiple sclerosis. Hum Antibodies 24:17–23

11.

Fong G-H, Rossant J, Gertsenstein M, Breitman ML (1995) Role of the Flt-1 receptor tyrosine kinase in regulating the assembly of vascular endothelium. Nature 376:66

12.

Girolamo F, Coppola C, Ribatti D, Trojano M (2014) Angiogenesis in multiple sclerosis and experimental autoimmune encephalomyelitis. Acta Neuropathol Commu 2:84

13.

Graumann U, Reynolds R, Steck AJ, Schaeren-Wiemers N (2003) Molecular changes in normal appearing white matter in multiple sclerosis are characteristic of neuroprotective mechanisms against hypoxic insult. Brain Pathol 13:554–573

14.

Hauser SL, Oksenberg JR (2006) The neurobiology of multiple sclerosis: genes, inflammation, and neurodegeneration. Neuron 52:61–76

15.

Holley JE, Newcombe J, Whatmore JL, Gutowski NJ (2010) Increased blood vessel density and endothelial cell proliferation in multiple sclerosis cerebral white matter. Neurosci Lett 470:65–70

16.

Kivelä R, Bry M, Robciuc MR, Räsänen M, Taavitsainen M, Silvola JM, Saraste A, Hulmi JJ, Anisimov A, Mäyränpää MI (2014) Vegf-B-induced vascular growth leads to metabolic reprogramming and ischemia resistance in the heart. EMBO Mol Med 6:307–321

17.

Krum JM, Khaibullina A (2003) Inhibition of endogenous VEGF impedes revascularization and astroglial proliferation: roles for VEGF in brain repair. Exp Neurol 181:241–257

18.

Lengfeld J, Cutforth T, Agalliu D (2014) The role of angiogenesis in the pathology of multiple sclerosis. Vascular cell 6:23

19.

Leray E, Moreau T, Fromont A, Edan G (2016) Epidemiology of multiple sclerosis. Rev Neurol 172:3–13

20.

Macmillan CJ, Furlong SJ, Doucette CD, Chen P-L, Hoskin DW, Easton AS (2012) Bevacizumab diminishes experimental autoimmune encephalomyelitis by inhibiting spinal cord angiogenesis and reducing peripheral T-cell responses. J Neuropathol Exp Neurol 71:983–999

21.

Maggi P, Macri SM, Gaitan MI, Leibovitch E, Wholer JE, Knight HL, Ellis M, Wu T, Silva AC, Massacesi L, Jacobson S, Westmoreland S, Reich DS (2014) The formation of inflammatory demyelinated lesions in cerebral white matter. Ann Neurol 76:594–608

22.

Mallucci G, Peruzzotti-Jametti L, Bernstock JD, Pluchino S (2015) The role of immune cells, glia and neurons in white and gray matter pathology in multiple sclerosis. Prog Neurobiol 127:1–22

23.

Mazdeh M, Noroozi R, Gharesouran J, Sayad A, Komaki A, Eftekharian MM, Habibi M, Toghi M, Taheri M (2017) The importance of VEGF-KDR signaling pathway genes should not be ignored when the risk of developing multiple sclerosis is taken into consideration. J Mol Neurosci 62:73–78

24.

Mazdeh M, Taheri M, Sayad A, Bahram S, Omrani MD, Movafagh A, Inoko H, Akbari MT, Noroozi R, Hajilooi M (2016) HLA genes as modifiers of response to IFN-β-1a therapy in relapsing-remitting multiple sclerosis. Pharmacogenomics 17:489–498

25.

Mcdonald WI, Compston A, Edan G, Goodkin D, Hartung HP, Lublin FD, Mcfarland HF, Paty DW, Polman CH, Reingold SC (2001) Recommended diagnostic criteria for multiple sclerosis: guidelines from the international panel on the diagnosis of multiple sclerosis. Ann Neurol 50:121–127

26.

Nagy JA, Dvorak AM, Dvorak HF (2012) Vascular hyperpermeability, angiogenesis, and stroma generation. Cold Spring Harbor Perspect Med 2:a006544

27.

Papadaki, E. Z., Simos, P. G., Mastorodemos, V. C., Panou, T., Maris, T. G., Karantanas, A. H. & Plaitakis, A. 2014. Regional MRI perfusion measures predict motor/executive function in patients with Clinically Isolated Syndrome Behavioural neurology, 2014

28.

Polman CH, Reingold SC, Edan G, Filippi M, Hartung HP, Kappos L, Lublin FD, Metz LM, Mcfarland HF, O'connor PW (2005) Diagnostic criteria for multiple sclerosis: 2005 revisions to the "McDonald criteria". Ann Neurol 58:840–846

29.

Proescholdt MA, Jacobson S, Tresser N, Oldfield EH, Merrill MJ (2002) Vascular endothelial growth factor is expressed in multiple sclerosis plaques and can induce inflammatory lesions in experimental allergic encephalomyelitis rats. J Neuropathol Exp Neurol 61:914–925

30.

Robciuc MR, Kivelä R, Williams IM, de Boer JF, van Dijk TH, Elamaa H, Tigistu-Sahle F, Molotkov D, Leppänen V-M, Käkelä R (2016) VEGFB/VEGFR1-induced expansion of adipose vasculature counteracts obesity and related metabolic complications. Cell Metab 23:712–724

31.

Roscoe W, Welsh M, Carter D, Karlik S (2009) VEGF and angiogenesis in acute and chronic MOG (35–55) peptide induced EAE. J Neuroimmunol 209:6–15

32.

Sayad A, Ghafouri-Fard S, Omrani MD, Noroozi R, Taheri M (2017) Myxovirus resistance protein A (MxA) polymorphism is associated with IFNbeta response in Iranian multiple sclerosis patients. Neurol Sci 38:1093–1099

33.

Shim JW, Madsen JR (2018) VEGF signaling in neurological disorders. Int J Mol Sci 19:275

34.

Sospedra M, Martin R (2005) Immunology of multiple sclerosis. Annu Rev Immunol 23:683–747

35.

Su JJ, Osoegawa M, Matsuoka T, Minohara M, Tanaka M, Ishizu T, Mihara F, Taniwaki T, Kira J-I (2006) Upregulation of vascular growth factors in multiple sclerosis: correlation with MRI findings. J Neurol Sci 243:21–30

36.

Takahashi H, Shibuya M (2005) The vascular endothelial growth factor (VEGF)/VEGF receptor system and its role under physiological and pathological conditions. Clin Sci 109:227–241

37.

Tham E, Gielen AW, Khademi M, Martin C, Piehl F (2006) Decreased expression of VEGF-A in rat experimental autoimmune encephalomyelitis and in cerebrospinal fluid mononuclear cells from patients with multiple sclerosis. Scand J Immunol 64:609–622

38.

Theoharides TC, Konstantinidou AD (2007) Corticotropin-releasing hormone and the blood-brain-barrier. Front Biosci 12:1615–1628

39.

Virgintino D, Girolamo F, Errede M, Capobianco C, Robertson D, Stallcup WB, Perris R, Roncali L (2007) An intimate interplay between precocious, migrating pericytes and endothelial cells governs human fetal brain angiogenesis. Angiogenesis 10:35–45

40.

Wittko-Schneider IM, Schneider FT, Plate KH (2013) Brain homeostasis: VEGF receptor 1 and 2—two unequal brothers in mind. Cell Mol Life Sci 70:1705–1725
Ethics declarations
The study was approved by the local Ethics Committee of Shahid Beheshti University of Medical Sciences (SBMU Academic Ethics Committee on Biomedical Research). To be included in the study, all patients and controls were asked to sign an informed consent form and the blood samples were collected at Iran MS Society Clinic.
Competing interests
The authors declare that they have no conflict of interest.
Additional information
Publisher's note
Springer Nature remains neutral with regard to jurisdictional claims in published maps and institutional affiliations.
About this article
Cite this article
Azimi, G., Ranjbaran, F., Arsang-Jang, S. et al. Upregulation of VEGF-A and correlation between VEGF-A and FLT-1 expressions in Iranian multiple sclerosis patients. Neurol Sci (2020). https://doi.org/10.1007/s10072-019-04234-2
Received:

Accepted:

Published:
Keywords
Multiple sclerosis

VEGF-A
FLT-1