This is a preview of subscription content, log in to check access.
Access options
Buy single article
Instant access to the full article PDF.
US$ 39.95
Price includes VAT for USA
Subscribe to journal
Immediate online access to all issues from 2019. Subscription will auto renew annually.
US$ 99
This is the net price. Taxes to be calculated in checkout.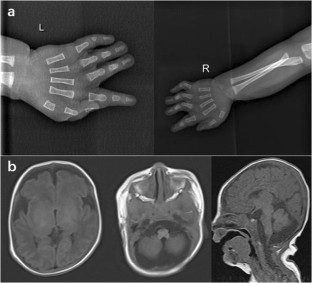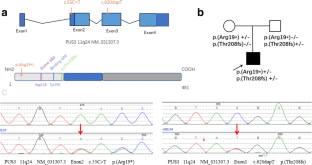 References
1.

Hur S, Stroud RM (2007) How U38, 39, and 40 of many tRNAs become the targets for pseudouridylation by TruA. Mol Cell 26(2):189–203

2.

Yang C, Hua Y, Zhang W, Xu J, Xu L, Gao F, Jiang P (2018) Variable epilepsy phenotypes associated with heterozygous mutation in the SCN9A gene: report of two cases. Neurol Sci 39(6):1113–1115

3.

Shaheen R, Han L, Faqeih E, Ewida N, Alobeid E, Phizicky EM, Alkuraya FS (2016) A homozygous truncating mutation in PUS3 expands the role of tRNA modification in normal cognition. Hum Genet 135(7):707–713

4.

Abdelrahman HA, Al-Shamsi AM, Ali BR, Al-Gazali L (2018) A null variant in PUS3 confirms its involvement in intellectual disability and further delineates the associated neurodevelopmental disease. Clin Genet 94(6):586–587

5.

De Paiva ARB, Lynch DS, Melo US, Lucato LT, Freua F, de Assis BDR, Barcelos I, Listik C, de Castro Dos Santos D, Macedo-Souza LI, Houlden H, Kok F (2019) PUS3 mutations are associated with intellectual disability, leukoencephalopathy, and nephropathy. Neurol Genet 5(1):e306
Funding
This work was supported financially by Omics-based precision medicine of epilepsy being entrusted by Key Research Project of the Ministry of Science and Technology of China (No. 2016YFC0904400) and the Science and Technology Department Funds of Hunan Province Key Project (No.2016JC2057 to B.X. and No.2018JJ3822 to H.Y.L).
Ethics declarations
Conflict of interest
The authors declare that they have no conflict of interest.
Additional information
Publisher's note
Springer Nature remains neutral with regard to jurisdictional claims in published maps and institutional affiliations.
About this article
Cite this article
Fang, H., Zhang, L., Xiao, B. et al. Compound heterozygous mutations in PUS3 gene identified in a Chinese infant with severe epileptic encephalopathy and multiple malformations. Neurol Sci 41, 465–467 (2020). https://doi.org/10.1007/s10072-019-04049-1
Received:

Accepted:

Published:

Issue Date: