Abstract
We report the case of a patient with hereditary ceruloplasmin deficiency due to a novel gene mutation in ceruloplasmin gene (CP), treated with fresh frozen plasma (FFP) and iron chelation therapy. A 59-year-old man with a past history of diabetes was admitted to our department due to progressive gait difficulties and cognitive impairment. Neurological examination revealed a moderate cognitive decline, with mild extrapyramidal symptoms, ataxia, and myoclonus. Brain T2-weighted MR imaging showed bilateral basal ganglia hypointensity with diffuse iron deposition. Increased serum ferritin, low serum copper concentration, undetectable ceruloplasmin, and normal urinary copper excretion were found. The genetic analysis of the CP (OMIM #604290) reported compound heterozygosity for two mutations, namely c.848G > A and c.2689_2690delCT. Treatment with FFP (500 mL i.v./once a week) and administration of iron chelator (Deferoxamine 1000 mg i.v/die for 5 days, followed by Deferiprone 500 mg/die per os) were undertaken. At the 6-month follow-up, clinical improvement of gait instability, trunk ataxia, and myoclonus was observed; brain MRI scan showed no further progression of basal ganglia T2 hypointensity. This case report suggests that the early initiation of combined treatment with FFP and iron chelation may be useful to reduce the accumulation of iron in the central nervous system and to improve the neurological symptoms.
This is a preview of subscription content, log in to check access.
Access options
Buy single article
Instant unlimited access to the full article PDF.
US$ 39.95
Price includes VAT for USA
Subscribe to journal
Immediate online access to all issues from 2019. Subscription will auto renew annually.
US$ 99
This is the net price. Taxes to be calculated in checkout.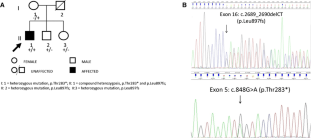 References
1.

Kono S, Miyajima H (2006) Molecular and pathological basis of aceruloplasminemia. Biol Res 39:15–23

2.

Miyajima H, Takahashi Y, Kamata T et al (1997) Use of desferrioxamine in the treatment of aceruloplasminemia. Ann Neurol 41:404–407

3.

Pan PL, Tang HH, Chen Q et al (2011) Desferrioxamine treatment of aceruloplasminemia: long-term follow-up. Mov Disord 26:2142–2144

4.

Roberti Mdo R, Borges Filho HM, Goncalves CH et al (2011) Aceruloplasminemia: a rare disease—diagnosis and treatment of two cases. Rev Bras Hematol Hemoter 33:389–392

5.

Skidmore FM, Drago V, Foster P et al (2008) Aceruloplasminaemia with progressive atrophy without brain iron overload: treatment with oral chelation. J Neurol Neurosurg Psychiatry 79:467–470

6.

Finkenstedt A, Wolf E, Hofner E et al (2010) Hepatic but not brain iron is rapidly chelated by deferasirox in aceruloplasminemia due to a novel gene mutation. J Hepatol 53:1101–1107

7.

Tai M, Matsuhashi N, Ichii O et al. (2014) Case of presymptomatic aceruloplasminemia treated with deferasirox. Hepatol Res 44(12):1253–1258

8.

Yonekawa M, Okabe T, Asamoto Y et al (1999) A case of hereditary ceruloplasmin deficiency with iron deposition in the brain associated with chorea, dementia, diabetes mellitus and retinal pigmentation: administration of fresh-frozen human plasma. Eur Neurol 42:157–162

9.

Kuhn J, Bewermeyer H, Miyajima H et al (2007) Treatment of symptomatic heterozygous aceruloplasminemia with oral zinc sulphate. Brain Dev 29:450–453

10.

Loreal O, Turlin B, Pigeon C et al (2002) Aceruloplasminemia: new clinical, pathophysiological and th erapeutic insights. J Hepatol 36:851–856
Ethics declarations
Conflict of interest
None.
Electronic supplementary material
Below is the link to the electronic supplementary material.
Patient before and after the treatment (WMV 38453 kb)
About this article
Cite this article
Poli, L., Alberici, A., Buzzi, P. et al. Is aceruloplasminemia treatable? Combining iron chelation and fresh-frozen plasma treatment. Neurol Sci 38, 357–360 (2017). https://doi.org/10.1007/s10072-016-2756-x
Received:

Accepted:

Published:

Issue Date:
Keywords
Aceruloplasmin

Iron chelation

Neurodegenerative disorders

Movement disorders