This is a preview of subscription content, log in to check access.
Access options
Buy single article
Instant unlimited access to the full article PDF.
US$ 39.95
Price includes VAT for USA
Subscribe to journal
Immediate online access to all issues from 2019. Subscription will auto renew annually.
US$ 99
This is the net price. Taxes to be calculated in checkout.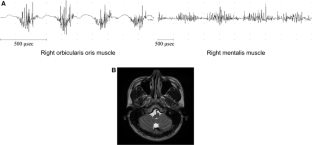 References
1.

Schwartz M, Hocherman S (2004) Antipsychotic-induced rabbit syndrome: epidemiology, management and pathophysiology. CNS Drugs 18(4):213–220

2.

Deshmukh DK, Joshi VS, Agarwal MR (1990) Rabbit syndrome: a rare complication of long-term neuroleptic medication. Br J Psychiatry 157:293

3.

Hunker CJ, Abbs JH (1990) Uniform frequency of parkinsonian resting tremor in the lips, jaw, tongue and index finger. Mov Disord 5(1):71–77

4.

Sheffield JK, Jankovic J (2007) Botulinum toxin in the treatment of tremors, dystonias, sialorrhea and other symptoms associated with Parkinson's disease. Expert Rev Neurother 7(6):637–647

5.

Savitz SI, Ronthal M, Caplan LR (2006) Vertebral artery compression of the medulla. Arch Neurol 63(2):234–241

6.

Caplan LR (2005) Dilatative arteriopathy (dolichoectasia): what is known and not known. Ann Neurol 57(4):469–471

7.

Meyer MA, David CE, Chahin NS (2000) Palatal myoclonus secondary to vertebral artery compression of the inferior olive. J Neuroimaging 10(4):221–223

8.

Lavezzi AM, Corna M, Matturri L, Santoro F (2009) Neuropathology of the Guillain-Mollaret triangle (dentato-rubro-olivary network) in sudden unexplained perinatal death and SIDS. Open Neurol J 3:48–53

9.

Pearce JM (2008) Palatal myoclonus (syn. Palatal Tremor). Eur Neurol 60(6):312–315
Ethics declarations
Conflict of interest
The authors have no conflicts of interest or financial support to report.
Patient consent
The patients have consented to the submission of the case report to the journal.
Electronic supplementary material
Below is the link to the electronic supplementary material.
Video segment 1: The patient had perioral tremor with a frequency of 2-Hz around the right side of the nose and upper lip. In addition, uvular and tongue deviation to the right side were also found. (WMV 31710 kb)
About this article
Cite this article
Park, H., Lee, J., Son, B. et al. Rabbit syndrome associated with medullary compression by vertebral artery. Neurol Sci 37, 1167–1168 (2016) doi:10.1007/s10072-016-2509-x
Received:

Accepted:

Published:

Issue Date:
Keywords
Vertebral Artery

Direct Compression

Vestibular Symptom

Neuroleptic Medication

Structural Brain Abnormality