Abstract
We reported a 72-year-old man with thymoma who presented with hemichorea. Although his brain CT and MRI revealed no abnormality, regional cerebral blood flow changes, identified by single photon emission computed tomography, suggested that the mechanism underlying the chorea seemed to be a dysfunction of the subthalamic nucleus and pallidum. His hemichorea was completely resolved after thymectomy. Absence of serum anti-neural autoantibodies, including small-cell lung carcinoma-related chorea anti-CRMP-5 antibody, suggests that mechanisms different from cross-talk neural-targeted tumor immune response can be responsible for the thymoma-associated paraneoplastic chorea.
This is a preview of subscription content, log in to check access.
Access options
Buy single article
Instant unlimited access to the full article PDF.
US$ 39.95
Price includes VAT for USA
Subscribe to journal
Immediate online access to all issues from 2019. Subscription will auto renew annually.
US$ 99
This is the net price. Taxes to be calculated in checkout.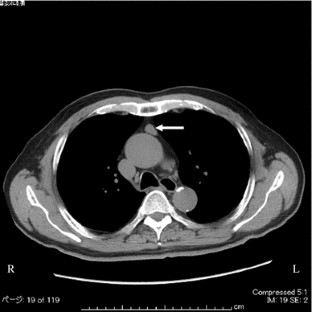 References
1.

Cardoso F (2009) Huntington disease and other choreas. Neurol Clin 27:719–736

2.

Cervera R, Asherson RA, Font J, Tikly M, Pallarés L, Chamorro A, Ingelmo M (1997) Chorea in the antiphospholipid syndrome. Clinical, radiologic, and immunologic characteristics of 50 patients from our clinics and the recent literature. Medicine (Baltimore) 76:203–212

3.

Yu Z, Kryzer TJ, Griesmann GE, Kim K, Benarroch EE, Lennon VA (2001) CRMP-5 neuronal autoantibody: marker of lung cancer and thymoma-related autoimmunity. Ann Neurol 49:146–154

4.

Honnorat J, Cartalat-Carel S, Ricard D, Camdessanche JP, Carpentier AF, Rogemond V, Chapuis F, Aguera M, Decullier E, Duchemin AM, Graus F, Antoine JC (2009) Onco-neural antibodies and tumour type determine survival and neurological symptoms in paraneoplastic neurological syndromes with Hu or CV2/CRMP5 antibodies. J Neurol Neurosurg Psychiatry 80:412–416

5.

Takeuchi R, Sengoku T, Matsumura K (2006) Usefulness of fully automated constant ROI analysis software for the brain: 3DSRT and FineSRT. Radiat Med 24:538–544
Acknowledgments
We express our gratitude to Professor Keiko Tanaka, Department of Neurology, Kanazawa Medical University, for measurement of neuronal autoantibodies in this case.
Conflict of interest
The authors have no conflict of interest to declare.
Electronic supplementary material
Below is the link to the electronic supplementary material.
Supplementary material 2 (MPG 4323 kb)
Supplementary material 3 (MPG 4148 kb)
About this article
Cite this article
Nakae, Y., Ikeda, S., Yamamoto, R. et al. Hemichorea in a thymoma patient without anti-CRMP-5 antibody. Neurol Sci 35, 629–630 (2014) doi:10.1007/s10072-014-1629-4
Received:

Accepted:

Published:

Issue Date:
Keywords
Paraneoplastic chorea

Hemichorea

Thymoma

Anti-CRMP-5 antibody