Abstract
Background
Patients with rheumatoid arthritis (RA) tend to be more overweight, take less physical exercise, exhibit decreased cardiorespiratory fitness and demonstrate reduced muscle strength compared with age- and sex-matched controls. Impaired cognitive function in RA is an important associated factor, although it has been less well-recognized. The aim of this study was to investigate the effects of a specifically designed exercise programme on body composition, aerobic capacity, muscle strength and cognition in RA.
Methods
Sixty-six patients with RA were randomized to a specifically designed, personalized exercise programme or standard care. Assessments included body composition, fitness, grip strength and cognitive testing, in addition to disease related measures.
Results
Significant improvements in C-reactive protein (p = 0.025), fatigue scores (p = 0.047) and truncal fat (p = 0.004) were observed in the exercise group compared with controls. Median waist circumference was significantly reduced (94.0 to 91.4 cm, p < 0.0001). Improvements were also seen in aerobic capacity (23.2 to 27.6 ml/kg/min, p = 0.002) and in median right (12.0 to 13.0 kg, p = 0.025) and left grip strength (8.0 to 10 kg, p = 0.005). Cognitive function improved in the exercise group, with median Montreal Cognitive Assessment score 25.5 at 0 months compared to 28.0 at 3 months (p = 0.001).
Conclusion
This study demonstrates that exercise has a significant and positive impact on cognitive function in RA. Furthermore, physical activity is safe and effective in chronic inflammatory joint disease and is recommended as a vital component in the holistic management of these patients.
Key Points
• A dedicated physical exercise programme is feasible and safe in patients with rheumatoid arthritis (RA).
• Physical exercise helps reduce fatigue scores and improves cardiovascular fitness in stable RA patients.
• Physical exercise has a positive impact on cognition in patients with RA.
• A structured exercise programme should be an integral part of chronic disease management protocols for patients with RA.
This is a preview of subscription content, log in to check access.
Access options
Buy single article
Instant access to the full article PDF.
US$ 39.95
Price includes VAT for USA
Subscribe to journal
Immediate online access to all issues from 2019. Subscription will auto renew annually.
US$ 99
This is the net price. Taxes to be calculated in checkout.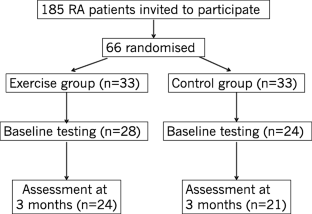 Abbreviations
RA:

Rheumatoid arthritis

CVD:

Cardiovascular disease

ACSM:

American College of Sports Medicine

ACPA:

Anti-citrullinated protein antibody.

DMARD:

Disease modifying anti-rheumatoid drug

CRP:

c-reactive protein

ESR:

Erythrocyte sedimentation rate

DAS28:

Disease activity score

HAQ:

Health assessment questionnaire

GFI:

Global fatigue index

BMI:

Body mass index

WC:

Waist circumference

VO2Max:

Maximal oxygen consumption

MoCA:

Montreal Cognitive Assessment

SART:

Sustained attention reaction time
References
1.

Davis JM 3rd, Matteson EL, American College of R, European League Against R (2012) My treatment approach to rheumatoid arthritis. Mayo Clin Proc 87:659–673

2.

Scott DL, Wolfe F, Huizinga TW (2010) Rheumatoid arthritis. Lancet 376:1094–1108

3.

Prete M, Racanelli V, Digiglio L, Vacca A, Dammacco F, Perosa F (2011) Extra-articular manifestations of rheumatoid arthritis: an update. Autoimmun Rev 11:123–131

4.

Nadareishvili Z, Michaud K, Hallenbeck JM, Wolfe F (2008) Cardiovascular, rheumatologic, and pharmacologic predictors of stroke in patients with rheumatoid arthritis: a nested, case-control study. Arthritis Rheum 59:1090–1096

5.

del Rincon ID, Williams K, Stern MP, Freeman GL, Escalante A (2001) High incidence of cardiovascular events in a rheumatoid arthritis cohort not explained by traditional cardiac risk factors. Arthritis Rheum 44:2737–2745

6.

Katz PP, Yazdany J, Trupin L, Schmajuk G, Margaretten M, Barton J, Criswell LA, Yelin EH (2013) Sex differences in assessment of obesity in rheumatoid arthritis. Arthritis Care Res 65:62–70

7.

Stavropoulos-Kalinoglou A, Metsios GS, Veldhuijzen van Zanten JJ, Nightingale P, Kitas GD, Koutedakis Y (2013) Individualised aerobic and resistance exercise training improves cardiorespiratory fitness and reduces cardiovascular risk in patients with rheumatoid arthritis. Ann Rheum Dis 72:1819–1825

8.

Strasser B, Leeb G, Strehblow C, Schobersberger W, Haber P, Cauza E (2011) The effects of strength and endurance training in patients with rheumatoid arthritis. Clin Rheumatol 30:623–632

9.

Cooney JK, Law RJ, Matschke V et al (2011) Benefits of exercise in rheumatoid arthritis. J Aging Res 2011:681640

10.

Sokka T, Hakkinen A, Kautiainen H et al (2008) Physical inactivity in patients with rheumatoid arthritis: data from twenty-one countries in a cross-sectional, international study. Arthritis Rheum 59:42–50

11.

Appenzeller S, Bertolo MB, Costallat LT (2004) Cognitive impairment in rheumatoid arthritis. Methods Find Exp Clin Pharmacol 26:339–343

12.

Smith PJ, Blumenthal JA, Hoffman BM, Cooper H, Strauman TA, Welsh-Bohmer K, Browndyke JN, Sherwood A (2010) Aerobic exercise and neurocognitive performance: a meta-analytic review of randomized controlled trials. Psychosom Med 72:239–252

13.

Ahlskog JE, Geda YE, Graff-Radford NR, Petersen RC (2011) Physical exercise as a preventive or disease-modifying treatment of dementia and brain aging. Mayo Clin Proc 86:876–884

14.

Urbaniak GC, Plous S (2013) Research Randomizer (Version 4.0)

15.

Nunez C, Gallagher D, Visser M, Pi-Sunyer FX, Wang Z, Heymsfield SB (1997) Bioimpedance analysis: evaluation of leg-to-leg system based on pressure contact footpad electrodes. Med Sci Sports Exerc 29:524–531

16.

Smolen JS, Breedveld FC, Eberl G, Jones I, Leeming M, Wylie GL, Kirkpatrick J (1995) Validity and reliability of the twenty-eight-joint count for the assessment of rheumatoid arthritis activity. Arthritis Rheum 38:38–43

17.

Sokka T, Kautiainen H, Hannonen P, Pincus T (2006) Changes in health assessment questionnaire disability scores over five years in patients with rheumatoid arthritis compared with the general population. Arthritis Rheum 54:3113–3118

18.

Belza BL, Henke CJ, Yelin EH, Epstein WV, Gilliss CL (1993) Correlates of fatigue in older adults with rheumatoid arthritis. Nurs Res 42:93–99

19.

Novaes GS, Perez MO, Beraldo MB, Pinto CR, Gianini RJ (2011) Correlation of fatigue with pain and disability in rheumatoid arthritis and osteoarthritis, respectively. Rev Bras Reumatol 51:451–455

20.

Schmidt RT, Toews JV (1970) Grip strength as measured by the Jamar dynamometer. Arch Phys Med Rehabil 51:321–327

21.

Bruce RA (1971) Exercise testing of patients with coronary heart disease. Principles and normal standards for evaluation. Ann Clin Res 3:323–332

22.

Bruce RA, Kusumi F, Hosmer D (1973) Maximal oxygen intake and nomographic assessment of functional aerobic impairment in cardiovascular disease. Am Heart J 85:546–562

23.

Karvonen MJ, Kentala E, Mustala O (1957) The effects of training on heart rate; a longitudinal study. Ann Med Exp Biol Fenn 35:307–315

24.

Heyward V (2010) Advanced fitness assessment and exercise prescription, 6th edn. Human Kinetics

25.

Nasreddine ZS, Phillips NA, Bedirian V et al (2005) The Montreal cognitive Assessment, MoCA: a brief screening tool for mild cognitive impairment. J Am Geriatr Soc 53:695–699

26.

Nelson ME, Rejeski WJ, Blair SN, Duncan PW, Judge JO, King AC, Macera CA, Castaneda-Sceppa C (2007) Physical activity and public health in older adults: recommendation from the American College of Sports Medicine and the American Heart Association. Med Sci Sports Exerc 39:1435–1445

27.

Hakkinen A, Sokka T, Kotaniemi A, Hannonen P (2001) A randomized two-year study of the effects of dynamic strength training on muscle strength, disease activity, functional capacity, and bone mineral density in early rheumatoid arthritis. Arthritis Rheum 44:515–522

28.

van den Ende CH, Breedveld FC, le Cessie S, Dijkmans BA, de Mug AW, Hazes JM (2000) Effect of intensive exercise on patients with active rheumatoid arthritis: a randomised clinical trial. Ann Rheum Dis 59:615–621

29.

Church TS, Barlow CE, Earnest CP, Kampert JB, Priest EL, Blair SN (2002) Associations between cardiorespiratory fitness and C-reactive protein in men. Arterioscler Thromb Vasc Biol 22:1869–1876

30.

van Breukelen-van der Stoep DF, Klop B, van Zeben D, Hazes JM, Castro CM (2013) Cardiovascular risk in rheumatoid arthritis: how to lower the risk? Atherosclerosis 231:163–172

31.

Neill J, Belan I, Ried K (2006) Effectiveness of non-pharmacological interventions for fatigue in adults with multiple sclerosis, rheumatoid arthritis, or systemic lupus erythematosus: a systematic review. J Adv Nurs 56:617–635

32.

Durcan L, Wilson F, Cunnane G (2014) The effect of exercise on sleep and fatigue in rheumatoid arthritis: a randomized controlled study. J Rheumatol 41:1966–1973

33.

Hakkinen A, Pakarinen A, Hannonen P et al (2005) Effects of prolonged combined strength and endurance training on physical fitness, body composition and serum hormones in women with rheumatoid arthritis and in healthy controls. Clin Exp Rheumatol 23:505–512

34.

Uutela T, Kautiainen H, Jarvenpaa S, Salomaa S, Hakala M, Hakkinen A (2014) Waist circumference based abdominal obesity may be helpful as a marker for unmet needs in patients with RA. Scand J Rheumatol:43, 279–285

35.

Wei M, Kampert JB, Barlow CE, Nichaman MZ, Gibbons LW, Paffenbarger RS Jr, Blair SN (1999) Relationship between low cardiorespiratory fitness and mortality in normal-weight, overweight, and obese men. JAMA 282:1547–1553

36.

Fraser A, Vallow J, Preston A, Cooper RG (1999 Please note theat reference sblah and blajh have the same bib details. Please delete the duplicated reference and renumber the affected ref citations) Predicting 'normal' grip strength for rheumatoid arthritis patients. Rheumatology 38:521–528

37.

Dellhag B, Bjelle A (1999) A five-year followup of hand function and activities of daily living in rheumatoid arthritis patients. Arthritis Care Res 12:33–41

38.

Pincus T (2005) Rheumatology function tests: quantitative physical measures to monitor morbidity and predict mortality in patients with rheumatic diseases. Clin Exp Rheumatol 23:S85–S89

39.

Smiley-Oyen AL, Lowry KA, Francois SJ, Kohut ML, Ekkekakis P (2008) Exercise, fitness, and neurocognitive function in older adults: the "selective improvement" and "cardiovascular fitness" hypotheses. Ann Behav Med 36:280–291
Additional information
Publisher's note
Springer Nature remains neutral with regard to jurisdictional claims in published maps and institutional affiliations.
Electronic supplementary material
About this article
Cite this article
Azeez, M., Clancy, C., O'Dwyer, T. et al. Benefits of exercise in patients with rheumatoid arthritis: a randomized controlled trial of a patient-specific exercise programme. Clin Rheumatol (2020). https://doi.org/10.1007/s10067-020-04937-4
Received:

Revised:

Accepted:

Published:
Keywords
Rheumatoid arthritis

Exercise Programme

Cognition