Abstract
Introduction
Methotrexate is the gold-standard DMARD in rheumatoid arthritis but is often associated with "mild" adverse effects like intolerance or laboratory abnormalities. Although non-life threatening, they are responsible for drug discontinuation in 17–50%. There is limited data on clinical and genetic markers that predict their occurrence.
Methods
This prospective study enrolled patients with active rheumatoid arthritis. They were started on methotrexate at a weekly dose of 15 mg, escalated gradually to reach 25 mg which was continued till the end of the study. Intolerance (symptomatic adverse effects) was ascertained by a questionnaire at 4, 8, 16, and 24 weeks. Laboratory testing for occurrence of cytopenia and/or transaminitis was done at the same study visits. Seven SNPs in four genes involved in methotrexate handling were genotyped using real-time polymerase chain reaction.
Results
This study included 110 patients with rheumatoid arthritis who received methotrexate for 24 weeks; the final mean weekly methotrexate dose was 22.0 ± 4.0 mg. Methotrexate intolerance occurred in 40 (37%), common being nausea (and vomiting) in 29 and anxiety (and dizziness) in 9. It was associated with lower BMI at baseline (21.5 ± 3.7, 23.8 ± 4.6 kg/m2, p = 0.01). FPGS rs10106 was significantly associated with intolerance with an allelic odds ratio (95% CI) of 2.02 (1.14–3.57) and the recessive genetic model (AA+AG versus GG) with an odds ratio of 3.8 (95% CI 1.5–9.6, p = 0.004). A model including both BMI and FPGS rs10106 could modestly predict methotrexate intolerance with an accuracy of 66.3%.
Conclusions
A clinical-genetic model including BMI and SNP FPGS 10101 was found to have a modest prediction ability for methotrexate intolerance.
Key Points
• Methotrexate intolerance (symptomatic adverse effects) was common and occurred in 37% patients over 6 months.
• SNP FPGS rs10106 and low body mass index were associated with methotrexate intolerance.
• Clinico-genetic model had a modest ability of 66% for predicting intolerance.
This is a preview of subscription content, log in to check access.
Access options
Buy single article
Instant unlimited access to the full article PDF.
US$ 39.95
Price includes VAT for USA
Subscribe to journal
Immediate online access to all issues from 2019. Subscription will auto renew annually.
US$ 99
This is the net price. Taxes to be calculated in checkout.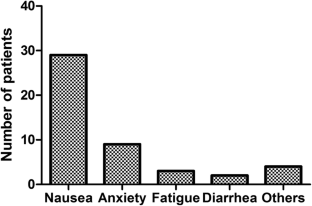 References
1.

Pincus T, Yazici Y, Sokka T, Aletaha D, Smolen JS (2003) Methotrexate as the "anchor drug" for the treatment of early rheumatoid arthritis. Clin Exp Rheumatol 21:S179–S185

2.

Curtis JR, Bykerk VP, Aassi M, Schiff M (2016) Adherence and persistence with methotrexate in rheumatoid arthritis: a systematic review. J Rheumatol 43:1997–2009

3.

Alarcon GS, Tracy IC, Blackburn WD Jr (1989) Methotrexate in rheumatoid arthritis. Toxic effects as the major factor in limiting long-term treatment. Arthritis Rheum 32:671–676

4.

Cansu DU, Teke HU, Bodakci E, Korkmaz C (2018) How should we manage low-dose methotrexate-induced pancytopenia in patients with rheumatoid arthritis? Clin Rheumatol 37:3419–3425

5.

Bulatovic M, Heijstek MW, Verkaaik M et al (2011) High prevalence of methotrexate intolerance in juvenile idiopathic arthritis: development and validation of a methotrexate intolerance severity score. Arthritis Rheum 63:2007–2013

6.

Lie E, van der Heijde D, Uhlig T, Heiberg MS, Koldingsnes W, Rodevand E, Kaufmann C, Mikkelsen K, Kvien TK (2010) Effectiveness and retention rates of methotrexate in psoriatic arthritis in comparison with methotrexate-treated patients with rheumatoid arthritis. Ann Rheum Dis 69:671–676

7.

Dhir V, Sandhu A, Kaur J, Pinto B, Kumar P, Kaur P, Gupta N, Sood A, Sharma A, Sharma S (2015) Comparison of two different folic acid doses with methotrexate--a randomized controlled trial (FOLVARI study). Arthritis Res Ther 17:156

8.

Morgan SL, Baggott JE, Vaughn WH, Austin JS, Veitch TA, Lee JY, Koopman WJ, Krumdieck CL, Alarcón GS (1994) Supplementation with folic acid during methotrexate therapy for rheumatoid arthritis. A double-blind, placebo-controlled trial. Ann Intern Med 121:833–841

9.

van Ede AE, Laan RF, Rood MJ, Huizinga TW, van de Laar M, van Denderen C, Westgeest TA, Romme TC, de Rooij DJ, Jacobs MJ, de Boo TM, van der Wilt G, Severens JL, Hartman M, Krabbe PF, Dijkmans BA, Breedveld FC, van de Putte L (2001) Effect of folic or folinic acid supplementation on the toxicity and efficacy of methotrexate in rheumatoid arthritis: a forty-eight week, multicenter, randomized, double-blind, placebo-controlled study. Arthritis Rheum 44:1515–1524

10.

Cronstein BN (2005) Low-dose methotrexate: a mainstay in the treatment of rheumatoid arthritis. Pharmacol Rev 57:163–172

11.

Arnett FC, Edworthy SM, Bloch DA, Mcshane DJ, Fries JF, Cooper NS, Healey LA, Kaplan SR, Liang MH, Luthra HS, Medsger TA, Mitchell DM, Neustadt DH, Pinals RS, Schaller JG, Sharp JT, Wilder RL, Hunder GG (1988) The American Rheumatism Association 1987 revised criteria for the classification of rheumatoid arthritis. Arthritis Rheum 31:315–324

12.

Dhir V, Singla M, Gupta N, Goyal P, Sagar V, Sharma A, Khanna S, Singh S (2014) Randomized controlled trial comparing 2 different starting doses of methotrexate in rheumatoid arthritis. Clin Ther 36:1005–1015

13.

Sole X, Guino E, Valls J, Iniesta R, Moreno V (2006) SNPStats: a web tool for the analysis of association studies. Bioinformatics 22:1928–1929

14.

Calasan MB, van den Bosch OF, Creemers MC et al (2013) Prevalence of methotrexate intolerance in rheumatoid arthritis and psoriatic arthritis. Arthritis Res Ther 15:R217

15.

Dhir V, Aggarwal A (2012) Methotrexate-related minor adverse effects in rheumatoid arthritis: more than a nuisance. J Clin Rheumatol 18:44–46

16.

Moya P, Salazar J, Arranz MJ, Díaz-Torné C, del Río E, Casademont J, Corominas H, Baiget M (2016) Methotrexate pharmacokinetic genetic variants are associated with outcome in rheumatoid arthritis patients. Pharmacogenomics 17:25–29

17.

Yanagimachi M, Naruto T, Hara T, Kikuchi M, Hara R, Miyamae T, Imagawa T, Mori M, Kaneko T, Morita S, Goto H, Yokota S (2011) Influence of polymorphisms within the methotrexate pathway genes on the toxicity and efficacy of methotrexate in patients with juvenile idiopathic arthritis. Br J Clin Pharmacol 71:237–243

18.

van der Straaten RJ, Wessels JA, de Vries-Bouwstra JK et al (2007) Exploratory analysis of four polymorphisms in human GGH and FPGS genes and their effect in methotrexate-treated rheumatoid arthritis patients. Pharmacogenomics 8:141–150

19.

Sandhu A, Ahmad S, Kaur J, Bhatnagar A, Dhawan V, Dhir V (2018) Do SNPs in folate pharmacokinetic pathway alter levels of intracellular methotrexate polyglutamates and affect response? A prospective study in Indian patients. Clin Rheumatol 37:3221–3228

20.

McGuire JJ, Heitzman KJ, Haile WH, Russell CA, McCloskey DE, Piper JR (1993) Cross-resistance studies of folylpolyglutamate synthetase-deficient, methotrexate-resistant CCRF-CEM human leukemia sublines. Leukemia 7:1996–2003

21.

Stranzl T, Wolf J, Leeb BF, Smolen JS, Pirker R, Filipits M (2003) Expression of folylpolyglutamyl synthetase predicts poor response to methotrexate therapy in patients with rheumatoid arthritis. Clin Exp Rheumatol 21:27–32

22.

Yamamoto T, Shikano K, Nanki T, Kawai S (2016) Folylpolyglutamate synthase is a major determinant of intracellular methotrexate polyglutamates in patients with rheumatoid arthritis. Sci Rep 6:35615

23.

Huang Z, Tong HF, Li Y, Qian JC, Wang JX, Wang Z, Ruan JC (2016) Effect of the polymorphism of folylpolyglutamate synthetase on treatment of high-dose methotrexate in pediatric patients with acute lymphocytic leukemia. Med Sci Monit 22:4967–4973

24.

Oppeneer SJ, Ross JA, Koh WP, Yuan JM, Robien K (2012) Genetic variation in folylpolyglutamate synthase and gamma-glutamyl hydrolase and plasma homocysteine levels in the Singapore Chinese Health Study. Mol Genet Metab 105:73–78

25.

Kent PD, Luthra HS, Michet C Jr (2004) Risk factors for methotrexate-induced abnormal laboratory monitoring results in patients with rheumatoid arthritis. J Rheumatol 31:1727–1731
Acknowledgments
Methotrexate tablets were received as an educational grant from Zydus Activa (Zydus Cadilla Inc., Ahmedabad, India). We acknowledge the efforts of Mrs. Nidhi Gupta and Mr. Mohinder Kumar for sample collection. We also acknowledge all technical staff of central sophisticated cell of PGIMER for the use of instruments.
Funding information
This work was funded by a grant Asia Pacific League of Associations for Rheumatology (APLAR) (gene polymorphisms) and from the Department of Biotechnology, Government of India (Grant#BT/PR4608/MED/30/800/2012) (methotrexate polyglutamate levels). Mr. Amit Sandhu was supported by ICMR through its Junior Research Fellowship scheme. Mr. Shabeer Ahmad was supported through a Junior Research Fellowship from the Department of Science and Technology (DST), Government of India.
Ethics declarations
Disclosures
None.
Ethics approval and consent to participate
This study was approved by the institutional ethics committee of Post Graduate Institute of Medical Education and Research. All patients gave written informed consent.
Additional information
Publisher's note
Springer Nature remains neutral with regard to jurisdictional claims in published maps and institutional affiliations.
About this article
Cite this article
Sandhu, A., Dhir, V., Ahmad, S. et al. Clinico-genetic model to predict methotrexate intolerance in rheumatoid arthritis. Clin Rheumatol 39, 201–206 (2020) doi:10.1007/s10067-019-04770-4
Received:

Revised:

Accepted:

Published:

Issue Date:
Keywords
ABCB1

Folate

Folate antagonist

FPGS

GGH

Methotrexate

Methotrexate polyglutamate

Mutation

RFC

Rheumatoid arthritis

Single nucleotide polymorphism