Der besondere STEMI – Zusatzableitungen und aVR im EKG
Einfach und praktisch
Der ST-Hebungsinfarkt (STEMI) sollte umgehend im Elektrokardiogram (EKG) erkannt und entsprechend behandelt werden. Der zugrunde liegende Koronararterienverschluss muss zügig rekanalisiert werden, um einen bleibenden Myokardschaden zu vermeiden [
4
]. Dabei ist die EKG-Interpretation nicht immer trivial. Insbesondere das Erkennen von ST-Hebungen (STE) bei rechtsventrikulären und posterioren Infarktlokalisationen erfordert eine erweiterte EKG-Diagnostik (Abb.
1
) mit den entsprechenden Ableitungen (Abb.
2
). Nachfolgend soll auf besondere STEMI-Konstellationen eingegangen werden und die erweiterte EKG-Diagnostik erläutert werden.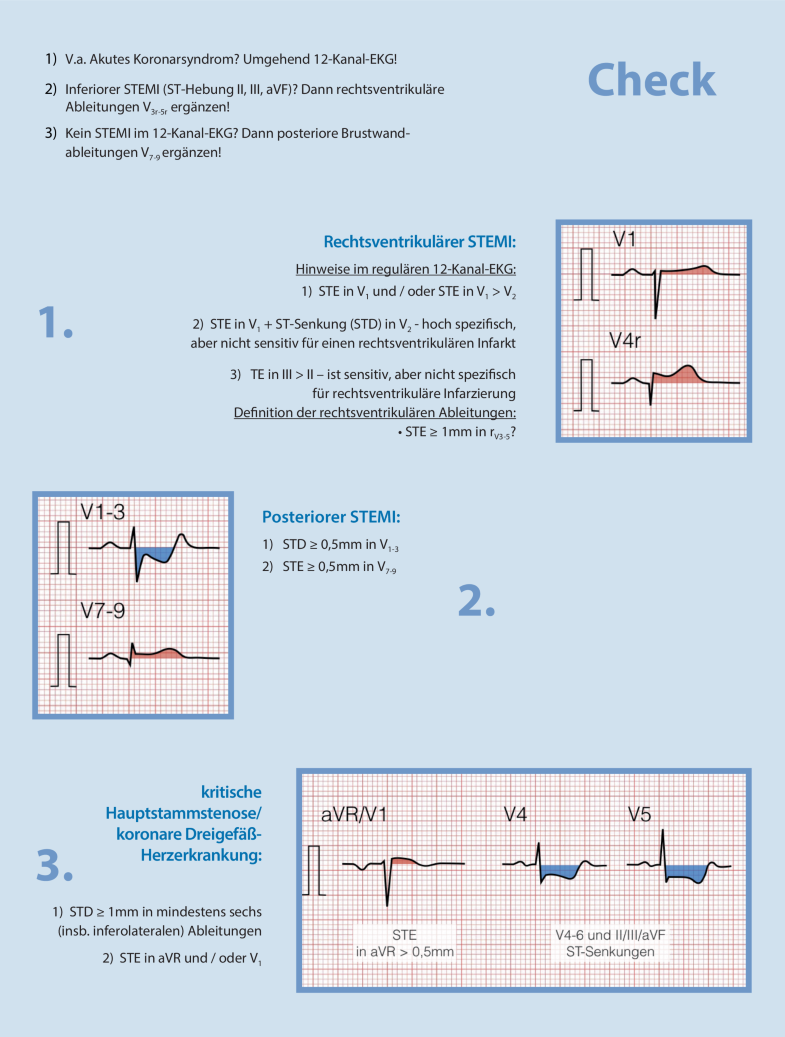 Special types of STEMI—value of additional leads and aVR in the ECG
Simple and practical
Notes
Einhaltung ethischer Richtlinien
Interessenkonflikt
P. Gotthardt, S. Popp, M. Pauschinger und K. Fessele geben an, dass kein Interessenkonflikt besteht.
Dieser Beitrag beinhaltet keine von den Autoren durchgeführten Studien an Menschen oder Tieren.
Copyright information
© Springer Medizin Verlag GmbH, ein Teil von Springer Nature 2018