Abstract
KCNJ10 encodes the inward-rectifying potassium channel (Kir4.1) that is expressed in the brain, inner ear, and kidney. Loss-of-function mutations in KCNJ10 gene cause a complex syndrome consisting of epilepsy, ataxia, intellectual disability, sensorineural deafness, and tubulopathy (EAST/SeSAME syndrome). Patients with EAST/SeSAME syndrome display renal salt wasting and electrolyte imbalance that resemble the clinical features of impaired distal tubular salt transport in Gitelman's syndrome. A key distinguishing feature between these two conditions is the additional neurological (extrarenal) manifestations found in EAST/SeSAME syndrome. Recent reports have further expanded the clinical and mutational spectrum of KCNJ10-related disorders including non-syndromic early-onset cerebellar ataxia. Here, we describe a kindred of three affected siblings with early-onset ataxia, deafness, and progressive spasticity without other prominent clinical features. By using targeted next-generation sequencing, we have identified two novel missense variants, c.488G>A (p.G163D) and c.512G>A (p.R171Q), in the KCNJ10 gene that, in compound heterozygosis, cause this distinctive EAST/SeSAME phenotype in our family. Electrophysiological characterization of these two variants confirmed their pathogenicity. When expressed in CHO cells, the R171Q mutation resulted in 50% reduction of currents compared to wild-type KCNJ10 and G163D showed a complete loss of function. Co-expression of G163D and R171Q had a more pronounced effect on currents and membrane potential than R171Q alone but less severe than single expression of G163D. Moreover, the effect of the mutations seemed less pronounced in the presence of Kir5.1 (encoded by KCNJ16), with whom the renal Kir4.1 channels form heteromers. This partial functional rescue by co-expression with Kir5.1 might explain the lack of renal symptoms in the patients. This report illustrates that a spectrum of disorders with distinct clinical symptoms may result from mutations in different parts of KCNJ10, a gene initially associated only with the EAST/SeSAME syndrome.
This is a preview of subscription content, log in to check access.
Access options
Buy single article
Instant access to the full article PDF.
US$ 39.95
Price includes VAT for USA
Subscribe to journal
Immediate online access to all issues from 2019. Subscription will auto renew annually.
US$ 99
This is the net price. Taxes to be calculated in checkout.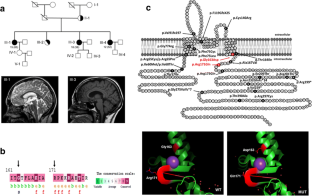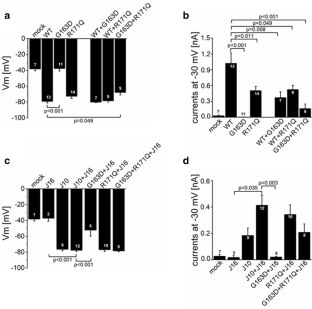 References
1.

Scholl UI, Choi M, Liu T, Ramaekers VT, Hausler MG, Grimmer J, Tobe SW, Farhi A, Nelson-Williams C, Lifton RP (2009) Seizures, sensorineural deafness, ataxia, mental retardation, and electrolyte imbalance (SeSAME syndrome) caused by mutations in KCNJ10. Proc Natl Acad Sci 106(14):5842–5847

2.

Scholl UI, Dave HB, Lu M, Farhi A, Nelson-Williams C, Listman JA, Lifton RP (2012) SeSAME/EAST syndrome-phenotypic variability and delayed activity of the distal convoluted tubule. Pediatr Nephrol 27(11):2081–2090

3.

Bockenhauer D, Feather S, Stanescu HC, Bandulik S, Zdebik AA, Reichold M, Tobin J, Lieberer E, Sterner C, Landoure G, Arora R, Sirimanna T, Thompson D, Cross JH, van't Hoff W, Al Masri O, Tullus K, Yeung S, Anikster Y, Klootwijk E, Hubank M, Dillon MJ, Heitzmann D, Arcos-Burgos M, Knepper MA, Dobbie A, Gahl WA, Warth R, Sheridan E, Kleta R (2009) Epilepsy, ataxia, sensorineural deafness, tubulopathy, and KCNJ10 mutations. N Engl J Med 360(19):1960–1970

4.

Cross JH, Arora R, Heckemann RA, Gunny R, Chong K, Carr L, Baldeweg T, Differ AM, Lench N, Varadkar S, Sirimanna T, Wassmer E, Hulton SA, Ognjanovic M, Ramesh V, Feather S, Kleta R, Hammers A, Bockenhauer D (2013) Neurological features of epilepsy, ataxia, sensorineural deafness, tubulopathy syndrome. Dev Med Child Neurol 55(9):846–856

5.

Freudenthal B, Kulaveerasingam D, Lingappa L, Shah MA, Brueton L, Wassmer E, Ognjanovic M, Dorison N, Reichold M, Bockenhauer D, Kleta R, Zdebik AA (2011) KCNJ10 mutations disrupt function in patients with EAST syndrome. Nephron Physiol 119(3):p40–p48

6.

Thompson DA, Feather S, Stanescu HC, Freudenthal B, Zdebik AA, Warth R, Ognjanovic M, Hulton SA, Wassmer E, van't Hoff W, Russell-Eggitt I, Dobbie A, Sheridan E, Kleta R, Bockenhauer D (2011) Altered electroretinograms in patients with KCNJ10 mutations and EAST syndrome. J Physiol 589(Pt 7):1681–1689

7.

Parrock S, Hussain S, Issler N, Differ AM, Lench N, Guarino S, Oosterveld MJ, Keijzer-Veen M, Brilstra E, van Wieringen H, Konijnenberg AY, Amin-Rasip S, Dumitriu S, Klootwijk E, Knoers N, Bockenhauer D, Kleta R, Zdebik AA (2013) KCNJ10 mutations display differential sensitivity to heteromerisation with KCNJ16. Nephron Physiol 123(3–4):7–14

8.

Kara B, Ekici B, Ipekci B, Aslanger AK, Scholl U (2013) KCNJ10 gene mutation in an 8-year-old boy with seizures. Acta Neurol Belg 113(1):75–77

9.

Severino M, Lualdi S, Fiorillo C, Striano P, De Toni T, Peluso S, De Michele G, Rossi A, Filocamo M, Bruno C (2018) Unusual white matter involvement in EAST syndrome associated with novel KCNJ10 mutations. J Neurol 265(6):1419–1425

10.

Mir A, Chaudhary M, Alkhaldi H, Alhazmi R, Albaradie R, Housawi Y (2019) Epilepsy in patients with EAST syndrome caused by mutation in the KCNJ10. Brain Dev

11.

Celmina M, Micule I, Inashkina I, Audere M, Kuske S, Pereca J, Stavusis J, Pelnena D, Strautmanis J (2019) EAST/SeSAME syndrome: review of the literature and introduction of four new Latvian patients. Clin Genet 95(1):63–78

12.

Nadella RK, Chellappa A, Subramaniam AG, More RP, Shetty S, Prakash S, Ratna N, Vandana VP, Purushottam M, Saini J, Viswanath B, Bindu PS, Nagappa M, Mehta B, Jain S, Kannan R (2019) Identification and functional characterization of two novel mutations in KCNJ10 and PI4KB in SeSAME syndrome without electrolyte imbalance. Hum Genomics 13(1):53

13.

Zhang H, Zhu L, Wang F, Wang R, Hong Y, Chen Y, Zhu B, Gao Y, Luo H, Zhang X, Sun H, Zhou Y, Yao Y, Wang X (2019) Novel KCNJ10 compound heterozygous mutations causing EAST/SeSAME-like syndrome compromise potassium channel function. Front Genet 10:912

14.

Nicita F, Tasca G, Nardella M, Bellacchio E, Camponeschi I, Vasco G, Schirinzi T, Bertini E, Zanni G (2018) Novel homozygous KCNJ10 mutation in a patient with non-syndromic early-onset cerebellar ataxia. Cerebellum 17(4):499–503

15.

Papavasiliou A, Foska K, Ioannou J, Nagel M (2017) Epilepsy, ataxia, sensorineural deafness, tubulopathy syndrome in a European child with KCNJ10 mutations: a case report. SAGE Open Med Case Rep 5:2050313X1772354

16.

Al Dhaibani MA, El-Hattab AW, Holroyd KB, Orthmann-Murphy J, Larson VA, Siddiqui KA, Szolics M, Schiess N (2018) Novel mutation in the KCNJ10 gene in three siblings with seizures, ataxia and no electrolyte abnormalities. J Neurogenet 32(1):1–5

17.

Abdelhadi O, Iancu D, Stanescu H, Kleta R, Bockenhauer D (2016) EAST syndrome: clinical, pathophysiological, and genetic aspects of mutations in KCNJ10. Rare Dis 4(1):e1195043

18.

Reichold M, Zdebik AA, Lieberer E, Rapedius M, Schmidt K, Bandulik S, Sterner C, Tegtmeier I, Penton D, Baukrowitz T, Hulton SA, Witzgall R, Ben-Zeev B, Howie AJ, Kleta R, Bockenhauer D, Warth R (2010) KCNJ10 gene mutations causing EAST syndrome (epilepsy, ataxia, sensorineural deafness, and tubulopathy) disrupt channel function. Proc Natl Acad Sci U S A 107(32):14490–14495

19.

Ashkenazy H, Abadi S, Martz E, Chay O, Mayrose I, Pupko T, Ben-Tal N (2016) ConSurf 2016: an improved methodology to estimate and visualize evolutionary conservation in macromolecules. Nucleic Acids Res 44(W1):W344–W350

20.

Lee SJ, Ren F, Zangerl-Plessl EM, Heyman S, Stary-Weinzinger A, Yuan P, Nichols CG (2016) Structural basis of control of inward rectifier Kir2 channel gating by bulk anionic phospholipids. J Gen Physiol 148:227–237
Acknowledgments
We thank the family for its help and co-operation. We thank M. Krieger for expert assistance.
Funding
This research was funded by the Spanish Institute of Health Carlos III (ISCIII) cofunded with the European Regional Development Fund (ERDF) within the "Plan Estatal de Investigación Científica y Técnica y de Innovación 2017-2020" (PI14-948 and PI17-1659 to MAMP), the Spanish Center for Biomedical Network Research on Rare Diseases (CIBERER, 06/07/0036 grant, to M-A M-P), by the Regional Government of Madrid (CAM, B2017/BMD3721) (to M-AM-P), and by the "Deutsche Forschungsgemeinschaft" (DFG, German Research Foundation), project number 387509280, SFB 1350 (to RW).
Ethics declarations
This study was designed in compliance with the tenets of the Helsinki Declaration, and patient enrolment was approved by the ethics committee of the institution. All participants provided written informed consent prior to their participation in this study.
Conflict of interest
The authors declare that they have no conflict of interest.
Additional information
Publisher's note
Springer Nature remains neutral with regard to jurisdictional claims in published maps and institutional affiliations.
About this article
Cite this article
Morin, M., Forst, A., Pérez-Torre, P. et al. Novel mutations in the KCNJ10 gene associated to a distinctive ataxia, sensorineural hearing loss and spasticity clinical phenotype. Neurogenetics (2020). https://doi.org/10.1007/s10048-020-00605-6
Received:

Accepted:

Published:
Keywords
Ataxia

KCNJ10

Kir4.1

KCNJ16

Kir5.1

SeSAME/EAST syndrome