Constraints and solutions for groundwater development, supply and governance in urban areas in Kenya
Abstract
Based on a five-town case-study cohort in Kenya, a conceptual framework has been developed to enable the formulation of holistic and effective strategies that encompass the national aspirations and regional to global sustainability agendas, and which can be used to monitor progress in achieving set objectives. The approach is flexible, scalable and transferrable, so that it can be applied in different contexts and using different indicators, based upon the same construct. Insufficient technical knowledge of urban aquifers and their interplay with the wider social-ecological system constrains the development of holistic, effective and robust management systems to ensure their sustainability for intended uses. The objective was to consider governance and management solutions that could promote water security for urban towns in Kenya through the sustainable use of groundwater in the context of its complex hydrogeology, water access disparities, competing uses and future risks. The in force national and county water policies, strategies, and plans for the case study areas were critically reviewed. The status of aquifer knowledge, water access disparities, competing uses, and risks was evaluated from critical literature reviews and data compilation, fieldwork, and analysis of indicator datasets from the Kenya 2009 census. Key aquifers need urgent characterisation to reverse the current situation whereby development proceeds with insufficient aquifer knowledge. Private sector and public participation in management should be enhanced through decentralised management approaches. Water infrastructure and technologies should be fit-for-purpose in application and scale, and the pro-poor focus should be underpinned by appropriately focused management regimes.
Keywords
Arid regions 
Conceptual models 
Groundwater management 
Urban groundwater 
Kenya 
Contraintes et, solutions pour l'exploitation, l'alimentation en eau potable et la gouvernance des eaux souterraines dans des zones urbaines au Kenya
Résumé
A partir d'une cohorte de cinq villes étudiées au Kenya, un cadre conceptuel a été élaboré afin de permettre la formulation de stratégies holistiques et efficaces qui englobent les aspirations nationales et les agendas régionaux et mondiaux de développement durable, et qui peuvent être utilisés pour évaluer l'atteinte des objectifs fixés. L'approche utilisée est flexible, évolutive et transférable, de sorte qu'elle puisse être appliquée dans différents contextes, et en utilisant différents indicateurs, basés sur la même architecture. Une compréhension technique insuffisante des aquifères en milieu urbain et de leurs interactions avec le système socio-écologique élargi contraint le développement de systèmes de gestion holistiques, efficaces et robustes afin de garantir leur durabilité pour les usages prévus. L'objectif était d'envisager des solutions de gouvernance et de gestion susceptibles de promouvoir la sécurité en approvisionnement en eau dans les villes du Kenya, grâce l'utilisation durable des eaux souterraines dans des contextes hydrogéologiques complexes, de disparités en matière d'accès à l'eau, de conflits d'usage et de risques futurs. Les réglementations et stratégies nationales et locales en vigueur sur l'eau, ainsi que les planifications sectorielles pour les zones de cas d'étude ont été passées en revue de manière critique. L'état des connaissances sur les aquifères, des disparités en matière d'accès à l'eau, des conflits d'usage, et des risques a été évalué sur la base d'une analyse bibliographique et d'un recueil de données, d'un travail de terrain, et d'une analyse d'un ensemble d'indicateurs issus du recensement de 2009 au Kenya. Il apparaît urgent de procéder à une caractérisation des aquifères clefs afin de renverser la situation actuelle, qui repose sur une poursuite de l'exploitation des aquifères avec une connaissance insuffisante de ces derniers. Une participation du secteur privé et public dans la gestion devrait être renforcée par des approches de gestion décentralisées. Les infrastructures hydrauliques et les technologies devraient être adaptées aux besoins en matière d'application et d'échelle, et les approches en faveur des pauvres devraient être étayées par des plans de gestion ciblés de manière adéquate.
Restricciones y soluciones para el desarrollo, abastecimiento y gobernanza del agua subterránea en áreas urbanas en Kenia
Resumen
En base a un grupo de cinco ciudades en Kenia, se desarrolló un marco conceptual para permitir la formulación de estrategias holísticas y efectivas que abarcan las aspiraciones nacionales y las agendas de sostenibilidad regionales y globales, y que pueden usarse para monitorear el progreso en el logro de los objetivos. El enfoque es flexible, escalable y transferible, por lo que se puede aplicar en diferentes contextos y utilizando diferentes indicadores, basados en la misma construcción teórica. El conocimiento técnico insuficiente de los acuíferos urbanos y su interacción con el sistema socioecológico más amplio limita el desarrollo de sistemas de gestión holísticos, eficaces y sólidos para garantizar su sostenibilidad para los usos previstos. El objetivo era considerar soluciones de gobernanza y gestión que podrían promover la seguridad del agua para las ciudades urbanas en Kenia a través del uso sostenible del agua subterránea en el contexto de su compleja hidrogeología, las disparidades en el acceso al agua, los usos competitivos y los riesgos futuros. Se revisaron críticamente las políticas, las estrategias y los planes nacionales y municipales vigentes para el estudio de casos en materia de agua. El estado del conocimiento del acuífero, las disparidades en el acceso al agua, los usos competitivos y los riesgos se evaluaron a partir de revisiones bibliográficas críticas y compilación de datos, trabajo de campo y análisis de conjuntos de datos de indicadores del censo de Kenia 2009. Los acuíferos clave necesitan una caracterización urgente para revertir la situación actual por la cual el desarrollo avanza con un conocimiento insuficiente de los acuíferos. El sector privado y la participación pública en la gestión deberían mejorarse a través de enfoques de gestión descentralizados. La infraestructura y las tecnologías hídricas deben ser aptas para su aplicación y escala, y el enfoque a favor de los pobres debe estar respaldado por regímenes de gestión adecuadamente enfocados.
肯尼亚城市地区地下水开发、供水和管理的限制条件和解决办法
摘要
根据肯尼亚五个城镇的研究案例,提出了包含国家意愿以及从区域到全球的可持续目标的能够规划整体和有效战略的概念框架,在完成既定目标时,这个概念框架可用来监测进展。该方法具有灵活性、可扩展、可转换,因此,可用于不同的背景下,基于相同的构想,采用不同的指示物。对较宽广的社会生态系统下城市含水层及其相互影响缺乏足够的了解限制了能够确保含水层可持续利用的整体、有效及强有劲的管理系统的开发。目标就是考虑管理解决方法,而这些方法就是通过在复杂的水文地质条件、获取水的差异、用水和未来风险等背景下,能够促进肯尼亚城区的水安全。文章详细论述了研究区正在实施的国家、乡村政策、策略和规划。通过重要文献综述及数据汇编、野外工作以及肯尼亚2009年人口普查指示物数据集分析,评估了对含水层的了解程度、获取水的差异、用水情况以及风险等。对含水层的了解非常匮乏的情况下开发水资源时,迫切需要对关键含水层进行特征描述以扭转目前的形势。应当通过分散管理方法增强私人部门和公共部门参与管理。水公共建筑和技术在应用和规模上应当量身定做,适当集中的管理机构应当面向贫困人口。
Restrições e soluções do desenvolvimentos, fornecimento e governança das águas subterrâneas em áreas urbanas no Quênia
Resumo
Baseado em um estudo de caso de cinco cidades situadas no Quênia, um arcabouço conceitual foi desenvolvido para permitir a formulação de estratégias holísticas e eficazes que abrangem as aspirações nacionais e regionais para as agendas de sustentabilidade globais, e que podem ser usadas para monitorar o progresso em alcançar o conjunto de objetivos. A abordagem é flexível, escalável e transferível, podendo assim ser aplicadas em contextos diferentes e utilizando indicadores diferentes, baseados na mesma estrutura. Conhecimento técnico insuficiente dos aquíferos urbanos e a sua interação com um sistema socioecológico mais amplo restringem o desenvolvimento de sistemas de gerenciamento holísticos, eficazes e robusto para assegurar a sua sustentabilidade para os usos previstos. O objetivo foi considerar soluções de governança e gerenciamento que pudessem promover a segurança hídrica para as áreas urbanas no Quênia através do uso sustentável das águas subterrâneas no contexto da sua hidrogeologia complexa, disparidades no acesso à água, usos competitivos e riscos futuros. As políticas, estratégias e planos da região e nacionais impostos para o estudo de caso foram criticamente revisados. O status do conhecimento dos aquíferos, as disparidades do acesso à água, os usos competitivos e os riscos foram avaliados de revisões críticas de literatura e compilação de dados, trabalho de campo, e análise de base de dados de indicadores do censo de 2009 do Quênia. Os aquíferos chave precisam de caracterização urgente para reverter a situação atual através da qual o desenvolvimento ocorre com conhecimento insuficiente dos aquíferos. O setor privado e a participação pública no gerenciamento podem ser melhoradas através de abordagens de gerenciamento descentralizado. Infraestrutura e tecnologias hídricas por ser melhor aproveitadas em aplicação e escala, e o foco social poderia ser apoiado pelos regimes de gerenciamento focados apropriadamente.
Introduction
The urban population of Sub-Saharan Africa (SSA) is growing at a faster rate than any other region of the world. It has been observed that the shift from rural to more urban societies is a global trend, and by 2050, 64–69% of the world population will be living in urban areas (Seto et al. 2014). Thus, Kenya with slightly over 30% of its population currently living in urban areas (MEWNR and JICA 2013) is not an exception. The cities and towns are occupied predominantly by low income households, with generally more than 50% of the population categorized as poor. The new constitution of 2010, which effectively changed the Kenya governance structure from a centralised one to one where some key functions were devolved to the newly created county governments, has all the ingredients to rapidly accelerate urban growth in the 47 towns that host the county government headquarters. Population redistribution through sedentarisation, migration and urbanization is a key dynamic in the East Africa region (Few et al. 2015). Now, the prospect of many more new economic growth centres other than the two main and established ones, Nairobi and Mombasa, becomes another component of the key dynamics driving population redistribution.
Water supply sources for the town dwellers include boreholes, shallow wells, unprotected and protected water springs, treated piped water (from lakes, rivers and/or springs), and water vendors (who sell water from all sources at different prices); in some cases, one source may dominate, while in others a hybrid variety of sources is accessed, which tend to have widely variable quality, from human-potable and livestock-potable to saline and non-potable. It is ironical that some of these towns suffer from a shortage of clean water though they may lie next to freshwater lakes and rivers, or close to groundwater sources. The patterns of urban water scarcity in large cities (>750,000 people) have been found to be influenced by geographical and financial limitations (McDonald et al. 2014) and this is also partly the case for Kenya's urban centres. Water service providers and water and sanitation infrastructure are struggling to keep pace within the rapidly growing urbanisation context (Dominguez Torres 2012; Hove et al. 2013; Wright et al. 2013) so that insufficient water supply is becoming the norm (Hove et al. 2013), forcing more urban dwellers to turn to wells and boreholes, among other water supply sources, which may offer unsafe drinking water due to lack of maintenance or protection (Dominguez Torres 2012). Water quality may be adversely compromised by geology (e.g. fluoride in the rift system, Olago et al. 2009; Olaka et al. 2016), but there is widespread contamination of urban/peri-urban water resources from closely located shallow water wells and pit latrines, solid wastes (Henry et al. 2006; Osman et al. 2014; Wright et al. 2013; Okotto et al. 2015), as well as domestic, industrial, and rural or peri-urban agricultural activities. Short water supply and poor sanitation frameworks which characterise many of the towns create situations where semi-treated or untreated sewage is in some areas discharged directly into water courses, especially in informal settlement areas. It is estimated that 80% of all communicable diseases are directly or indirectly linked to insufficient access to water and sanitation facilities and hygiene practices (Ministry of State for Planning 2007), so that the health burden can be significantly reduced and the quality of life can be significantly improved when there is safe, affordable, accessible and adequate quantity of potable water supplies.
The limited evidence on groundwater quality in urban areas in Sub-Saharan Africa (SSA) constrains the development of robust long-term policies on the development and management of urban groundwater resources (Lapworth et al. 2017). This is compounded by the dearth of knowledge (Xu 2008) on the characteristics of these urban aquifers and others that can potentially supply urban areas such as their geometries, transmissivities and storage capacities, which can contribute to the development of more precise and aquifer-specific strategies for their sustainable management. This report explores the challenges and proffers some solutions to promote water security for urban towns in Kenya through sustainable use of groundwater in the context of (1) complex hydrogeology and hydrogeochemistry, and (2) water access disparities which relates the source to the users who are an important consideration in sustainable groundwater supply and management.
Materials and methods
The case study sites and their hydrogeological setting
Kenya is characterised by bimodal rainfall distribution (March–May and October–December), except in the Lake Victoria basin region where there is a third subdued rainfall peak in August. The country's rainfall and surface water are highly variable in time and space, and drought is common. Five towns in Kenya in which the author has had substantial field experience have been selected as a multitown cohort of case studies for this report: Kisumu City and the town of Nakuru are in the sub-humid zones; Lodwar and Wajir towns are in the arid zones; and, the town of Msambweni is in the semi-arid zone. The towns are assessed in the context of the scale of their peculiar regional groundwater settings, not in terms of the sensu stricto administrative boundaries. Kisumu City lies on the shores of Lake Victoria's Winam Gulf. It is one of the study areas for the AfriWatSan project (AfriWatSan 2015) that seeks to develop the scientific evidence to inform policies and practices sustaining low-cost, on-site water supplies and sanitation systems in urban Africa and to strengthen the capacity of individuals and institutions to conduct this vital research. The town of Nakuru, bounded by Lake Nakuru to the south and the Menengai Crater to the north, was one of the sites for the MAWARI project (2006–2010, supported by CIFEG, France) which focused on sustainable management of the groundwater resource in the East African Rift System. The town of Lodwar and its environs is one of two observatories in Kenya for the global REACH programme (REACH 2015) which aims to determine how water supplies can be expanded and sustained for present and future generations in the face of uncertainties related to climate variability, extremes and change, rapid urban demographic growth, as well as growing demands from industry, agriculture, commercial and hydropower enterprises. The town of Wajir has been investigated through environmental impact assessments for petroleum exploration activities, while the town of Msambweni, the smallest town of those selected for the case studies, is within an area where there are huge demands for water from large-scale agriculture and mining concerns, alongside municipal and domestic urban and rural water demand. Here, the Gro-for-GooD project (Gro-for-GooD 2018) aims to develop a groundwater risk management tool that integrates natural and social data to promote improved groundwater governance that balances economic growth, groundwater sustainability and poverty reduction.
Methods
The general settings of the towns in terms of their wider hydrogeological contexts are described as follows: Kisumu Regional Aquifer (KRA, Kisumu), Greater Nakuru Aquifer (GNA, Nakuru), Lodwar Aquifer (LA, Lodwar), Wajir Town Aquifer (WTA, Wajir) and Msambweni Aquifer (MA, Msambweni) in conformity with the most commonly used descriptors in the literature.
Hydrogeology and groundwater quality
This aspect is based on a critical review/assessment of the literature and personal observations in the field spanning a 15-year period. For hydrogeology, the fieldwork comprised geological mapping at all sites coupled with some geophysical surveys using both vertical electrical sounding (VES) and electrical resistivity tomography (ERT) in Nakuru and Msambweni, and geo-log assessments for Nakuru. However, a generalised approach to avoid double reporting of hydrogeology and groundwater quality data is taken since there are currently ongoing geological, geophysical and groundwater quality surveys, amongst others, in three of the towns (Kisumu, Lodwar, and Msambweni) and their environs which will be the subject of comprehensive papers. Currently, no hydrogeological maps, sensu stricto, exist for any of these sites (Mumma et al. 2011; Kuria 2013). The groundwater quality data is based on consolidation of data from analyses of samples collected in the field as well as published and reported values (indicative only as a lot more unpublished and difficult to access data exist than have been covered here). The parameters presented are electrical conductivity and the concentration ranges of nitrate, fluoride, thermotolerant coliforms (TTC) and E. coli since, with respect to potable water quality, these are the parameters that are of most concern in Kenya's groundwaters.
Water access disparities
Data on the sources of water used in the various towns of interest was obtained and compiled from the joint Kenya National Bureau of Standards and the Society for International Development – East Africa county reports that were published in the year 2013, and based on the Kenya Census of 2009, which is therefore used as the base year in this report. In the reports, this data was not delineated by towns, but by rather by county, constituency, and ward, in descending hierarchy of administrative jurisdictions. Consequently, the data was derived on this basis, and therefore there are some variances with the census urban "core" and "peri-urban" categories. For the town of Msambweni, the population figure of 22,633 persons for Kinondo Ward was taken to represent the town and its peri-urban population, since the town lies within that ward. This differs from and is larger than the census tabulation of the core urban population of 12,503 persons; however, it is considered more representative since the census denotes the peri-urban population for the town as zero, suggesting that those areas immediately adjacent to the core were considered as rural settings. For Kisumu, the total population of 439,009 persons for Kisumu Central, Kisumu East and Kisumu West was used, compared to the census total of 383,444 persons in the urban core and peri-urban areas. The three constituencies are considered to be town affiliates, not belonging to the rural category, and therefore the derived population number is more representative. In Lodwar, the total population of 54,549 persons in Lodwar Town Ward and Kanam Ward was used, compared to the census total of 47,101 persons for the urban core and peri-urban areas. For Nakuru, the total population of 298,254 persons for the Nakuru Town West and Nakuru Town East constituencies was used, compared to the census total of 367,183 persons for the urban core and peri-urban areas. Finally, in Wajir, the total population of 51,729 persons in Wajir Ward and Wagberi Ward was used, compared to the 82,106 persons recorded in the 2009 census. Of this number, almost 70,000 are listed in the census as being in the peri-urban category, suggesting that this zone is quite diffuse. Where two or more wards or constituencies were used, the proportional percentages accessing different sources of water were recalculated from the primary datasets to get the correct proportions for the combined totals.
The contributions by volume of shallow well water to domestic water supply in the towns was garnered from the literature. Gaps were noted, including only localised or old assessments, and there was no published data for Nakuru, Lodwar and Msambweni. Data on per capita daily water consumption, nonrevenue water or unaccounted-for water were extracted from the literature and here again, there were clear data gaps.
Governance and management framework
The in-force national water policy and strategies, and county integrated development plans for the case study areas were critically reviewed to assess gaps and potential synergies in terms of how they deal with the issues of governance, management and risk. Although three strategy documents are outlined in the Water Act 2002, the focus in this report is on the following two: the National Water Resources Management Strategy (NWRMS) and the National Water Services Strategy (NWSS). The third one, the Catchment Management Strategy, is subsidiary to the NWRMS (MWI 2007a, b). These two strategies in the Water Act 2002 were also assessed against the equivalent strategies outlined in the revised Water Act 2016, where they are referred to as the National Water Resource Strategy (NWRS) and the National Water Services Strategy (NWSS; MWI 2016). The other strategy document included in this analysis is the National Water Master Plan 2030, which was formulated in 2013. The first CIDPs were developed for the period 2013–2017, and are the counties development blueprints. Other national policies and strategies that are in force are referred to, where relevant. Based on this analysis and considerations from the other findings of this report, outlined in the following, coupled with personal observations and experience, a governance and management framework to guide resource assessment, strategy formulation, and monitoring is proposed.
Findings
Water access disparities
While households receiving piped water supply into dwellings rely on it almost solely for all domestic water requirements, those living in informal settlements or low-income urban areas rely on a wider range of water sources such as boreholes, springs and shallow wells that have different quality and prices for different domestic uses including drinking, cooking, and washing (e.g. Philip and Stevens 2013). However, planned low income areas and parts of the informal settlements do receive piped water into yards. Though the right to clean and safe water is recognised in Article 43 of the Constitution of Kenya 2010, it has been a key objective of the government since independence, and the slogan "Water for all by the year 2000" was well known by the public (Nyanchaga 2016).
There are some similarities and differences as to how water from the different sources is used depending on one's income level (Table
4
). Water from shallow wells is commonly used for other purposes other than drinking and cooking, such as washing clothes due to ease of access, affordability and constancy of supply (Okotto et al.
2015
). It was, however, noted that spring water was often used for drinking and cooking even though households seemed to be well aware of the health risks posed from consuming water from shallow wells (Okotto et al.
2015
). Shallow well and spring waters in low income and poor urban areas are often contaminated by human wastes due to conjunctive use of the sub-surface for water and sanitation. In recognition of this, the Kenya Environmental Sanitation and Hygiene Policy 2016–2030 (Ministry of Health
2016
) states that "household or private sector or any other eligible entity, when establishing environmental sanitation facilities, shall ensure that the wastes from such environmental sanitation facilities do not pollute the environment and water bodies, including groundwater aquifers".
Table 4
Sources of water and their treatment and uses by income group levels (low income group are not italicised; middle and upper income group are italicised) in the towns of—Kis Kisumu, Nak Nakuru, Lod Lodwar, Waj Wajir, Msb Msambweni (data from KNBS and SID 2013a, b, c, d, e; KDHS 2014; personal knowledge)
Source of water

Kenya urban

Kis

Nak

Lod

Waj

Msb

Low income group; middle and upper income groups

Surface water (%)

River

9.2

15.8

0.3

13.2

0.0

5.6

Domestic uses and drinking after treatmenta and peri-urban agriculture; gardening

Peri-urban agriculture;

Gardening

Lake

0.5

1.9

0.0

0.0

0.0

0.0

Dam

0.7

0.5

0.0

0.4

0.0

0.0

Pond

0.9

0.9

0.2

0.2

0.1

2.5

Groundwater (%)

Spring (P)

4.0

2.8

1.0

1.2

0.3

1.1

Domestic uses and drinking after treatmenta and peri-urban agriculture; gardening

Peri-urban agriculture;

Gardening

Spring (U)

1.9

2.1

0.1

0.6

1.3

0.8

Shallow well (P)

6.8

7.7

0.5

4.9

39.4

18.6

Shallow well (U)

2.9

2.2

0.1

4.4

55.9

27.8

Borehole

10.7

14.5

7.1

18.6

0.5

41.2

Owned by landlords/Individuals;

Domestic uses and drinking (both); Assumed to be uncontaminated, uncommonly treated; treated (chlorinated/filtration)

Piped water (%)

Piped

34.9

30.0

56.3

41.2

1.3

1.6

Domestic uses and drinking (both)

Piped into dwelling

14.7

5.5

22.0

10.6

0.3

0.4

(not further treated, sometimes boiled or filtered)

Vended water (%)

Water vendor

11.8

15.0

12.2

4.0

0.1

0.4

Domestic uses and drinking after treating sometimes; Domestic uses during piped water shortages; treated

Rock catchment (%)

Rainfall/runoff

0.2

0.1

0.1

0.0

0.0

0.1

Not used (both groups)

Roof harvesting (%)

Rainfall

0.5

0.9

0.6

0.0

0.0

0.0

Rare for individuals; some rental residential units do harvest to boost supplies; Sometimes treated;

In areas with common water shortages or unserved areas

Other (%)

 

0.1

0.0

0.1

0.5

0.9

0.0

Not used (both groups)

Total (%)

 

99.8

99.9

100.6

99.8

100.1

100.1

–

No. of people (millions)

 

11.844

0.439

0.298

0.055

0.052

0.023

–
Groundwater yield data for LA and GNA was not available in the accessed literature. In Kisumu's (KRA) urban estates of Manyatta A and Migosi, the overall contribution of shallow well water to the domestic water supply was estimated to be 381 and 91 m3/day, respectively (Okotto et al. 2015), but shallow wells dot all the unplanned settlements. Considering these estimates by Okotto et al. (2015), and converting into daily per capita supply using the area populations and assuming that there is no significant variance in usage between different areas, the total amount of shallow groundwater used in all Kisumu City unplanned settlements (MajiData 2018) is between 1,177 and 1,748 m3/day or more.
Several hundreds of wells have been drilled in the town of Wajir and the surrounding settlements to satisfy the water demand (Mailu 1997). In the 1970s, Swarzenski and Mundorff (1977) reported that water withdrawals from the shallow wells in the Wajir area was already as high as 4,500 m3/day. In 2005, the estimated abstraction for the town of Wajir was 5,502 m3/day, with one fifth of it being used for irrigation (MWI 2005). This represents very little development over the past four decades, and suggests that the town of Wajir has been getting more and more water stressed with time. By 2014, Wajir County had over 182 boreholes, 5,000 shallow wells and over 300 water pans, but due to recurrent drought and mushrooming of settlements, the accessibility and availability of water was limited in most parts (NDMA 2014). Due to local variations in the character of the aquifer, there is high variability in water levels, yields (range is ca. 60−200+ m3/day) and water quality, even within a single group of wells (Swarzenski and Mundorff 1977).
In the MA unconfined layer, yields range from 12 to 192 m3/day, while in the confined layers it ranges from 7 to 480 m3/day (Gro-for-GooD Project). Furthermore, in many cases around the country, wells are poorly constructed and protected, and there is infrequent and irregular maintenance or repair if at all (Ong'ang'a and Righa 2009). It is noted that access to groundwater sources and improvement of the flow and safety of springs in particular can accrue multiple benefits to the users, particularly women, in terms of health, income, and security (Philip and Stevens 2013). By channeling and protecting springs (and shallow wells), greater volumes of water are made available to residents (Philip and Stevens 2013).
As of 2010, the existing water supply system could provide only 36 L/day (L/d) of water on average in Kenya, though it is required to provide 60 L/day even for populations in low class housing, according to the national standard (Table
5
). In Kisumu, only the high-income class exceeds the basic water requirement of 60 L/day, while on the lower end are the generally poor informal settlement residents who have a mean per capita daily water use of 22.5 L (Wagah et al.
2010
). Too much water is being lost as nonrevenue or unaccounted-for water as listed in Table
5
; the Water Services Regulatory Board (WASREB) has set a target of reducing NRW to 20%.
Table 5
Per capita daily water use, nonrevenue water (NRW) and unaccounted-for water (UFW) in the case study regions
Usage

Year

Kenya

Kisumu

Nakuru

Msambweni

Lodwar

Wajir

Data source

Per capita daily water use (L)

–

45.2

32.9

–

–

–

–

Wagah et al. 2010

Served populations (L/day)

2014/2015

–

47

34

–

10

–

WASREB 2016

NRW or UFW (%)

2014/2015

–

49 (5 towns served)

37 (4 towns served)

–

40

–

WASREB 2016

2010

45

53

50

50 (5 towns/areas served)

–

–

MEWNR and JICA 2013

2010

–

66

–

–

–

–

Wagah et al. 2010

NWMP urban water supply (domestic, L/day)

2030

100

146

119

119

119

119

MEWNR and JICA 2013
Governance and management framework
The concept of "governance" is understood very differently in different contexts (Norichika et al. 2014). In this report, the following definitions apply: "Governance" refers to the oversight and decision-making that provide strategic direction relating to policies, plans and strategies that provide guidelines for management, while "management" refers to the routine decisions and administrative work related to the daily operations of institutions or agencies mandated to implement the policies, plans and strategies.
Governance framework
The Water Act 2016 and related policies
The Water Act 2002 has now been replaced by the Water Act No. 43 of 2016, which came into effect on 21 April 2017. It was necessary to revise the act to bring it into alignment with the constitution of Kenya 2010 and its devolved governance structure. The act states, in Article 63, that "Every person in Kenya has the right to clean and safe water in adequate quantities and to reasonable standards of sanitation as stipulated in Article 43 of the Constitution." Under the Water Act 2002, the purpose of the NWRMS was to specify how Kenya's water resources would be managed, protected, used, developed, conserved and controlled, and to provide for national monitoring and information systems on water resources. Under the same act, the NWSS was required to institute arrangements to ensure that at all times there is in every area of Kenya a person capable of providing water supply, design a programme to bring about progressive extension of sewerage to every centre of population in Kenya, and to provide for national monitoring and information on water systems and water services. The strategies were revised and aligned to Vision 2030 following its adoption by the government in 2007. Vision 2030 is Kenya's development blueprint for the period 2008–2030, by which time the country should have transitioned from a low-income country to a middle-income country. Consequently, every activity in the water sector since 2002 to 2017 has been guided by the two key strategy documents under the Water Act 2002.
The Water Act 2016 addresses some of the weaknesses in the 2002 Act that became apparent as the policy was implemented. Two key strategy documents have been clearly specified as necessary in the act. The broad objective of the National Water Resources Strategy (NWRS) is to "provide the Government's plans and programs for the protection, conservation, control and management of water resources", and that of the NWSS is to "provide the Government's plans and programs for the progressive realization of the right of every person in Kenya to water". These objective statements are followed by detailed descriptions of their respective strategic scopes. It expanded on or elaborated the scope of the objectives of the strategies under the Water Act 2002.
The National Water Master Plan 2030
The National Water Master Plan (NWMP) 2030 (formerly the NWMP 1992), which incorporates the relevant elements of Vision 2030, is the key document against which the strategies are benchmarked. It aims to develop the country's available surface and groundwater resources to the maximum to meet the water demands through multipurpose development, interbasin transfer, intra-basin transfer, water saving, reuse of water, and by promoting other approaches such as roof and rock catchments for water harvesting to supplement supplies and mitigate drought impacts (MEWNR and JICA 2013). The aim of the NWMP 2030 is to ensure that all people living in urban areas will have access to piped water (whether into dwelling or to shared water points such as a yard) by the year 2030. In addition, it proposes the development of small-scale rural water supply systems (SSRWSS) that include construction and improvement of boreholes, wells, and springs on a personal and community basis. The rural areas that are in proximity with urban centres may therefore end up competing for the same water resource. This rural-urban linkage in the water management regimes is considered a key vulnerability, particularly during droughts (Field et al. 2014).
Management framework
Under the Water Act 2002, a decentralised management system was devised and implemented through the creation of institutions such as the Water Resources Management Authority (WRMA) to effect the NWRMS, and the Water Services Regulatory Board to effect the NWSS. The Water Appeals Board was set up to resolve any water-related disputes. The 2016 Act reorganised existing institutions and their respective mandates, and established new institutions—for example, rainwater harvesting was not included in the 2002 Act, but in the 2016 Act it has been given a lot of prominence, with the establishment of a National Water Harvesting and Storage Authority. Groundwater recharge, previously not mentioned in the 2002 Act, is now recognised and has been brought under the permitting regime. The 2016 Act has also taken cognisance of public participation in the formulation and periodic revision of the strategies, and private sector participation in water development and services provision. Under the 2016 Act, the new Water Resources Authority (WRA) is mandated to develop the NWRS, while the top policy-making level, the Office of the Cabinet Secretary for the Ministry of Water and Irrigation formulates the NWSS with the WASREB tasked with monitoring and assessing its implementation, like the arrangement under the 2002 Act.
The influence of the NWMP 2030 on the institutional set-up outlined in the Water Act 2016 is evident, with the formation of the National Water Harvesting and Storage Authority, and the establishment of water works development agencies whose mandates include undertaking the development, maintenance and management of the national public water works within their areas of jurisdiction. Other aspects have also been incorporated such as the NWMP 2030 call for institutional strengthening of the WRMA and catchment-based organisations to improve on governance, and the formulation of development master plans for subsectors, such as water and sanitation, irrigation, hydropower, urban development, and regional development, in order to quantify the future water demands more clearly.
Challenges and gaps
Three issues stand out from analysis of national versus county policies, plans and strategies with respect to water, and groundwater in particular: (1) the translation of national policies and strategies into county contexts, (2) lack of expert advice or capacity in water for the formulation of County Integrated Development Plans (CIDPs), and (3) lack of structures and capacity to collect county water data that would be aggregated and assessed at the national level. Indeed, it has been noted that the development of groundwater and its efficient use for urban water supply in the developing world is sometimes hindered by existing institutional and administrative arrangements (Foster et al. 2011). The five CIDPs assessed lack a proper reflection of the national policies, plans and strategies. They focus primarily on Vision 2030, and other national policies are generally inadequately addressed. None of them mention NWMP 2030, and only the Nakuru CIDP alludes to the development of a county water master plan. The mention of the terms "groundwater" or "underground water" appears only once in the Kisumu CIDP in relation to its contamination where septic tanks are used. In the Nakuru CIDP, there is no mention at all, but there is a lot of focus on water projects incorporating borehole drilling in the logframe, similar to the Turkana CIDP where "groundwater harvesting" is thrice referred to but only in the logframe. Technically wrong or misleading statements and quantitative data relating to water appear in some of the CIDPs. This suggests that at the county level, the technical and/or institutional capacities to manage water resources are low and concerted efforts need to be made to rectify this situation.
In all its geological terranes, the estimates of Kenya's groundwater endowment in terms of "safe yield" has been rising with each assessment, from 632 MCM as given in the National Water Master Plan 1992 (GoK/WWAP 2005) to 1040 MCM in 2007 (Mumma et al. 2011). The National Water Master Plan 2030 of 2012 provides a sustainable yield estimate of 1927 MCM (MEWNR and JICA 2013). The safe yield is defined as "the amount of water that can be abstracted without causing undesirable effects to the aquifer" (GoK/WWAP 2005), a concept which Mumma et al. (2011) view as being vague, essentially undefined, and contentious. More recent studies in Turkana County by RTI (2013), however, suggest that the latest sustainable yield estimate of groundwater (taken as 10% of the groundwater recharge amount) given in the National Water Master Plan 2030 may be a gross underestimation, but the huge deep aquifers that they postulate, e.g. in the Lotikipi Basin (ca. 207,000 MCM) and the Lodwar Basin (ca. 10,000 MCM) are yet to be proven and are more likely than not, palaeo-groundwaters except for where the systems are shallow (>50 m) alluvial types that and can be linked to present-day river recharge. The shallow groundwater is sensitive to rainfall fluctuations, and during the dry season the water levels in wells that tap this source fall rapidly.
Implementation of the NWMP 2030 faces many challenges—for example, the target water source for urban water supply systems in the NWMP 2030 is surface water and only about 5% of the total demand is to be met by groundwater (MEWNR and JICA 2013). However, towns in sub-humid areas such as Nakuru are partially dependent on groundwater, while those in ASAL areas such as Lodwar and Wajir are almost totally dependent on groundwater. While interbasin transfers of surface water are proposed and are being implemented in some cases, such transfers would be extremely difficult and prohibitively costly to implement in ASAL towns due to distance, terrain characteristics, land easements, community interests, resettlements, and compensations. The NWSS 2007 to 2015 only mentions groundwater once, with respect to prioritising environmentally friendly sanitation to "…enhance acceptance among the users and limit the risk of polluting of groundwater" (MWI 2007a, b). This demonstrates that there is lack of cross fertilisation between it and the NWRMS to address interlinkages, which is critical if the NWMP 2030 is to be successfully and sustainably implemented. Further, the water sectors' strategic targets were not being met by the institutions that were supposed to implement them (Mumma et al. 2011).
Discussion
The constraints and challenges have been presented in the preceding findings section. The NWMP recognizes that, in order to be able to define a robust and practical framework of water resources management and to have proper regulation of water resources at the national and regional levels, it is necessary to establish a credible, transparent, accountable, scientific and quantitative management of water resources that is trusted by stakeholders.
A planning framework
It has been noted that groundwater and surface water should not be managed separately (Levy and Xu
2012
). A generic planning framework that can be used to assess and address holistically the central need for "safe and clean water for all by the year 2030", and to this end guide the formulation of governance and management systems that work effectively has been developed here as shown in Fig. 
2
. It uses indicators that are common and embedded in the country's decision-making processes relating to water governance, planning and management so that radical reorganisation, which tends to be associated with time, financial constraints, as well as institutional and capacity-building drags, is circumvented. The diagram presents a way of rapidly being able to see where interventions in the water sector are needed with respect to location, related water sources, and the water access disparities that exist there (Fig.
2
). The diagram construct is based on: (1) the sources of water indicator that is commonly used in the country in government, practitioner/user, commercial/industrial and research circles, (2) the central need (policy objective or optimal condition) which is "clean and safe water", (3) the waterscape condition, and allowing for conjunctive use of resources (4) the desired infrastructure for development and conveyance of safe water and its reach (piped system of protected and treated water), and (5) the enveloping conceptual model for framing the issues that need to be considered for a targeted, practical and robust governance and management framework. Further, the peculiarities of the urban centres can be clearly differentiated and are location-specific, so that customised rather than planned blanket or uniform programmes and management schemes can be devised using such a planning framework. The approach is scalable, both upwards (e.g. to regional level) or downwards (to county level or even to sections within one urban centre), and flexible so that different indicators can be used based on the same construct. It therefore also presents a useful basis for monitoring progress via stepped time intervals.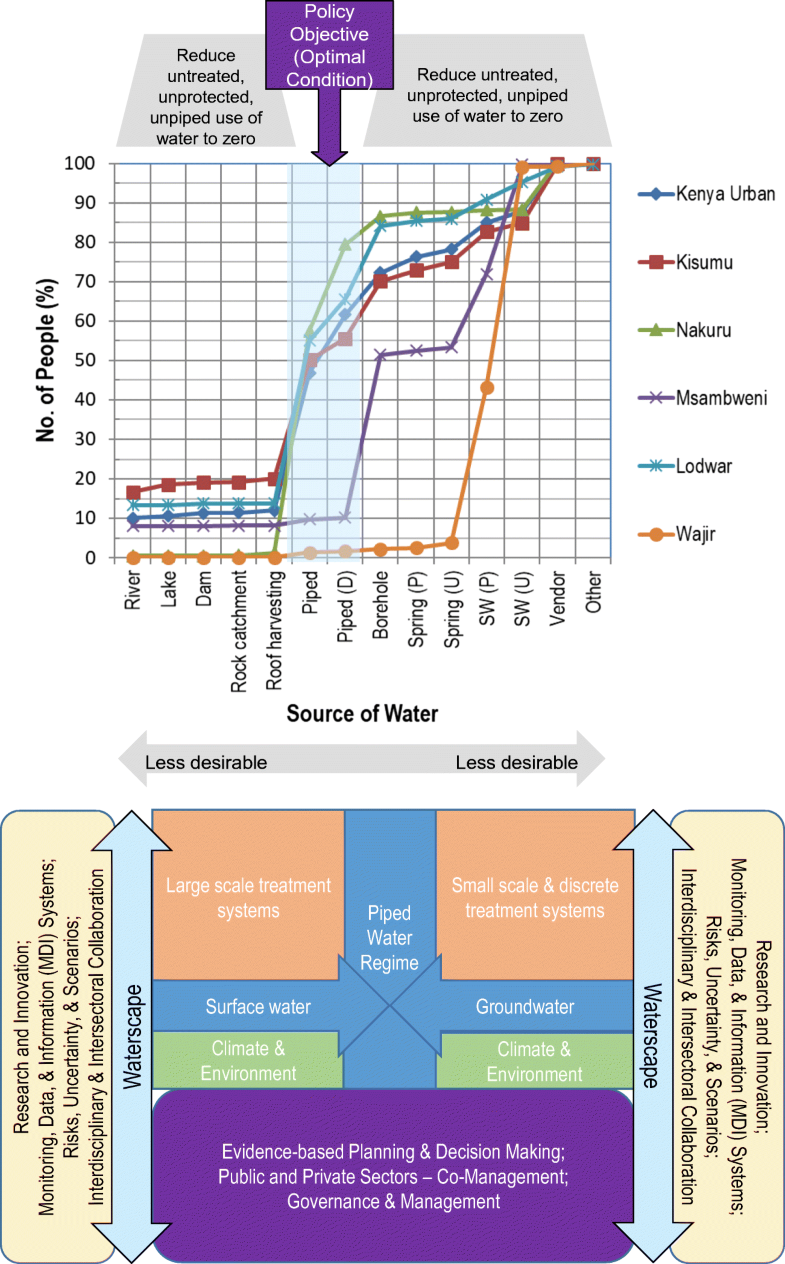 There are also a number of broader considerations that should be taken into account as indicated in Fig. 2. The intricate interconnections between groundwater, surface water, climate and the environment, how the interactions affect groundwater quality and quantity, and how these changes impact on the social-ecological systems over space and time and ultimately on the policy objective, which is "safe and clean water", are important considerations for the planning framework (Fig. 2). Further, specific plans and programmes should take into account the four sustainability dimensions (WCED 1987)—safeguarding long-term ecological sustainability, satisfying basic human needs, and promoting intragenerational and intergenerational equity. The Sustainable Development Goal 6 on water is broadly incorporated in the Water Act 2016, and the related water strategies are under revision. However, the act and current strategies are silent on the special consideration of vulnerable groups other than women (goal 6.3); this should be included in the revision of the strategies and plans. It is also important to differentiate and quantify to the extent possible the potential effects of the risk factors and their scales of influence (Foster and MacDonald 2014). Evaluation of risks, uncertainties and adaptation options through integrated (biophysical and socioeconomic) scenario analyses should accompany decisions made on groundwater management (SEI 2009; Mumma et al. 2011)—for example, climate change may lead to higher costs for water supply related to falling surface and groundwater levels (Bates et al. 2008), which may affect the on-boarding of more users. Periodic drought may also become common, meaning that even the less efficient aquifers will become vital components in small-town-water-management strategies (Mumma et al. 2011). Decision-making in development should also consider uncertainty in project benefits and the risks of project failure (Luedeling et al. 2015), as well as the potential impacts of rural-urban connections (Field et al. 2014) such as a shared water resource.
Translation of the policies and strategies from national to regional levels
There is increasing recognition that sectoral policies, plans and strategies need to be aware of where they need to create synergies or coordinate functions between themselves. It is essential that strong coordination structures are established between national and county institutions to ensure a two-way flow of information so that water sector development is undertaken in a structured and cohesive manner, even though there may be different approaches in different areas.
Considerations for improvement of groundwater management
It has been noted that whilst professionals in their interactions reflect the cross-boundary interactions needed for transition management, scientific outputs do not indicate an actual system level shift towards transdisciplinary modes of knowledge production to address the complexity of urban water systems management (Wen et al. 2015). Interdisciplinary research needs to be encouraged (Currell 2014; Barthel et al. 2017) and the capacity of researchers and scientists in the various government, research institutions and agencies, including the private sector, to produce and communicate such outputs should be enhanced. Partnerships between the government, private sector and research institutions should be enhanced (Barthel et al. 2017) in areas such as resource survey and development, while communities and the public sector should be encouraged in conservation, protection and co-management of the resource. Water management boards should take up the propositions by IPCC (2014) on adaptive water management, which includes scenario planning, learning-based approaches, flexible and low-regret solutions, reduction of non-climate stressors on water resources; strengthening of institutional capacities for demand management, groundwater assessments, integrated water-wastewater planning, integrated land and water governance, and sustainable urban development to create and build resilience to uncertain hydrological changes and impacts due to climate change. It is necessary, therefore, to build the institutional and technical capacities to address these issues, as well as the technological capacities required for groundwater development.
Given the growing policy emphasis on reducing inequalities with respect to water and sanitation, an important question is the extent to which such interventions can be considered pro-poor and how the incidence of benefits from, e.g. well upgrading might vary across different socio-economic groups (Okotto et al. 2015). In addition, groundwater resources are not amenable to centralized regulation and management (Mumma et al. 2011). Therefore, water infrastructure and technologies should be fit for purpose in application and scale, and the pro-poor focus adopted in the strategies should be underpinned by appropriately focused management regimes. Water resources management has tended to be under-funded relative to water supplies, and it has been suggested that this is because the resources management side hardly generates any income (Bakker 1997). Some institutional or agency funds should be ring-fenced for research and monitoring and pegged to well-defined and costed objectives. Further, some resources should be committed towards a process that seeks to set strict and enforceable minimum standards for any new water management projects that incorporates issues of sustainability, access rights and natural resources management (Mude et al. 2007).
Conclusions
The objective was to consider governance and management solutions that could promote water security for urban towns in Kenya through the sustainable use of groundwater in the context of its complex hydrogeology, hydrogeochemistry, and water access disparities among the users. The in-force national and county water policies, strategies, and plans for the case study areas were critically reviewed. The status of aquifer knowledge, water access disparities, competing uses, and risks were evaluated from critical literature reviews and data compilation, fieldwork, and analysis of indicator datasets from the Kenya 2009 census. Analysis of national versus county policies, plans and strategies with respect to water, and groundwater in particular showed that there was need to bridge the gap in the translation of national policies and strategies into county contexts, and that the technical and/or institutional capacities to manage water resources was low, requiring concerted efforts to build them up to required levels.
Lack of cross fertilisation between the NWMP 2030 and the NWRMS reflects one weak aspect that would retard the attainment of the 2030 water vision of Kenya. The aquifer systems are insufficiently studied to properly guide interventions; each is hierarchically and spatially stratified and the depth of knowledge about them ranges from poor in many to fair in a few, and better in densely populated areas as compared to less populated ones. Aquifer knowledge lags behind aquifer development, so that development decisions are made without sufficient basis. The convergence of climate shocks, urban population explosion, infrastructure expansion, resource mining, refugee fluxes, and other factors, presents significant (and differentiated depending on location) but uncertain risks and opportunities for the evolution of small towns in Kenya, with the towns in the ASALs being particularly more vulnerable to these factors, singly and collectively. Key risks are related to rapidly increasing demand for water for various purposes, as well as land degradation and climate change, both of which threaten the quality and quantity of the groundwater resource. These will have ramifications on sustainable supplies, with attendant social and economic costs.
A flexible, scalable and transferrable holistic governance and management framework has been developed to guide the formulation of governance and management systems that work effectively and that ensure sustainability. It incorporates the country's water aspirations, the four dimensions of sustainable development and the sustainable development goals, specifically goal 6 on water. It uses indicators that are commonly applied in the country's decision-making processes in the water sector, and so can be immediately applied. Focused and intensive studies to characterise the key groundwater aquifers need to be carried out urgently to guide aquifer development and management. Water resources, supplies and management strategies should clearly involve the public and private sectors in roles where they can add value such as in conservation and aquifer development, respectively. In addition to their pro-poor focus, the strategies should also incorporate other vulnerable groups other than women who are already included. The National Monitoring and Data information system should expand, through collaboration with stakeholders, its scope on knowledge and data capture, institute quality control and assurance measures from capture through archiving to dissemination nodes, increasingly adopt automated monitoring systems, and update its indicator dataset to expand its capacity to monitor the condition of the resources, and thereby design effective protection and control measures. The evaluation of risks, uncertainties and adaptation options through integrated (biophysical and socioeconomic) scenario analyses should underpin decisions made on groundwater management. Structures should be put in place to guide intra- and intersectoral as well as national-county coordination to better govern the groundwater resource. Counties in particular need capacity-building programmes to ensure that their institutional and technical capacities to manage groundwater resources are up to par. Water infrastructure, technologies and management regimes should be fit-for-purpose in application and scale, and the funding base for all the activities envisaged in the strategies should be secured based on clearly outlined action plans.
Notes
Acknowledgements
The views expressed and information contained in this report are not necessarily those of or endorsed by the funders; hence, they are not liable to accept responsibility for the views or information presented herein nor for any reliance placed on them.
Funding information
The Stellenbosch Institute for Advanced Study (STIAS) are thanked for the STIAS Fellowship and providing a much-needed conducive and creative space for this report to be written. Also thanks go to the teams of the past MAWARI Project (Sustainable Management of Water Resource in the East African Rift System, funded by CIFEG, France), and the on-going AfriWatSan, Gro-for-GooD and REACH projects that inspired the report and the project funders for the enabling support; AfriWatSan, funded by the Royal Society Capacity Building Initiative and the UK Department for International Development (Grant AQ140023); Gro-for-GooD, funded by the UK's Department for International Development (DFID), Natural Environment Research Council (NERC) and the Economic and Social Research Council (ESRC) (Grant NE/M008894/1); REACH Programme (Aries Code 201880), funded by the UK Department for International Development (DFID).
Copyright information
© The Author(s) 2018
Open Access This article is distributed under the terms of the Creative Commons Attribution 4.0 International License (http://creativecommons.org/licenses/by/4.0/), which permits unrestricted use, distribution, and reproduction in any medium, provided you give appropriate credit to the original author(s) and the source, provide a link to the Creative Commons license, and indicate if changes were made.