Abstract
Tauranga low-temperature geothermal system (New Zealand) has been used for the last 40 years for direct uses including space heating, bathing and greenhouses. Warm-water springs in the area are between 22 and 39 °C, with well temperatures up to 67 °C at 750 m depth. A heat and fluid flow model of the system is used to determine reservoir properties and assess thermal potential. The model covers 130 km by 70 km to 2 km depth, and was calibrated against temperatures measured in 17 wells. Modelling shows that to maintain the observed primarily conductive heat flow regime, bulk permeability is ≤2.5 × 10−14 m2 in sedimentary cover and ≤1 × 10−16 m2 in the underlying volcanic rocks. The preferred model (R 2 = 0.9) corresponds to thermal conductivities of 1.25 and 1.8 W/m2 for sedimentary and volcanic rocks, respectively, and maximum heat flux of 350 mW/m2. The total surface heat flow is 258 MW over 2,200 km2. Heat flux is highest under Tauranga City, which may be related to inferred geology. Model simulations give insights into rock properties and the dynamics of heat flow in this low-temperature geothermal system, and provide a basis to estimate the effects of extracting hot fluid.
Résumé
Le système géothermal basse-température de Turanga, Nouvelle Zélande, a été exploité durant les 40 dernières années pour des usages directs incluant le chauffage de l'air, des bains et des serres. Les sources chaudes de cette zone sont entre 22 et 39 °C, avec des températures au puits allant jusqu'à 67 °C à 750 m de profondeur. Un modèle du flux de chaleur et d'écoulement du fluide dans ce système est utilisé pour déterminer les propriétés du réservoir et évaluer le potentiel thermique. Le modèle couvre 130 km par 70 km sur 2 km de profondeur et a été calé par rapport aux températures mesurées dans 17 puits. La modélisation montre que pour maintenir le flux de chaleur conductive initialement observé la perméabilité est en général de ≤2.5 × 10−14 m2 dans la couverture sédimentaire et ≤1 × 10−16 m2 dans les roches volcaniques sous-jacentes. Le modèle retenu (R 2 = 0.9) correspond à des conductivités thermiques de respectivement 1.25 et 1.8 W/m2 pour les roches sédimentaires et les roches volcaniques et un flux de chaleur maximum de 350 mW/m2. Le flux de chaleur total en surface est de 258 MW à l'intérieur d'une zone de 2,200 km2. C'est sous la Ville de Tauranga que le flux de chaleur est le plus élevé, ce qui peut être imputé à la géologie telle qu'on la suppose. Le modèle de simulation permet une bonne compréhension des propriétés de la formation et de la dynamique du flux de chaleur dans ce système geothermal basse-température et fournit une base pour estimer les effets d'une exploitation du fluide thermal.
Resumen
El sistema geotermal de baja temperatura de Tauranga (Nueva Zelanda) ha sido usado durante los últimos 40 años para usos directos, incluyendo calefacción, baños e invernaderos. Los manantiales de agua cálida en el área están entre 22 y 39 °C, con temperaturas de pozo de hasta 67 °C a 750 m de profundidad. Se utiliza un modelo de flujo de fluido y calor del sistema para determinar las propiedades del reservorio y evaluar el potencial termal. El modelo cubre 130 km por 70 km y hasta una profundidad de 2 km, y fue calibrado contra temperaturas medidas en 17 pozos. El modelado muestra que para mantener el régimen primario observado del flujo de conductividad de calor, la permeabilidad general es ≤2.5 × 10−14 m2 en la cubierta sedimentaria y ≤1 × 10−16 m2 en las rocas volcánicas subyacentes. El mejor modelo (R 2 = 0.9) corresponde a conductividades termales de 1.25 y 1.8 W/m2 para las rocas sedimentarias y volcánicas respectivamente, y un máximo flujo de calor de 350 mW/m2. El flujo de superficie total de calor es 258 MW sobre 2,200 km2. El flujo de calor es mayor bajo la ciudad de Tauranga, lo cual puede estar relacionado con la geología inferida. Las simulaciones de modelos dan conocimientos de las propiedades de las rocas y de la dinámica del flujo de calor en este sistema geotermal de baja temperatura, y proporciona una base para estimar los efectos de extracción del fluido caliente.
摘要
(新西兰)Tauranga地温地热系统已经利用40年了, 直接用于空间加热、洗澡和温室。本地区的温水泉温度为22到39度, 750米深的井水温度达67度。系统的热量和液体流模型用于确定热储的特性, 评价热能潜力。模型覆盖的面积130公里x70公里, 深度2米, 根据17个井测量的温度进行了校准。模拟显示要维持观测到的导热流状态, 整个透水率在沉积层中应该为≤2.5 × 10−14 m2, 在下伏的火山岩中应该 为≤1 × 10−16 m2。首先的模型(R 2 = 0.9)对应沉积岩和火山岩的热传导率分别为1.25 和 1.8 W/m2, 最大热通量为350 mW/m2。总的地表热流2200平方公里为258 MW。热通量在Tauranga城之下最高, 可能与推断的地质条件有关。模型模拟使人们可以了解这个地温地热系统中岩石特性和热流动力学, 为评估抽取热流的影响提供了依据。
Resumo
O sistema geotérmico de baixa temperatura de Tauranga (Nova Zelândia) foi usado nos últimos 40 anos para usos diretos incluindo o aquecimento de espaços, banhos e estufas. As nascentes de água quente da zona têm entre 22 e 39 °C, com temperaturas em furos até 67 °C à profundidade de 750 m. Foi usado um modelo de fluxo de fluidos e de calor do sistema para determinar as propriedades do reservatório e avaliar o seu potencial térmico. O modelo abrange 130 km por 70 km e 2 km de profundidade e foi calibrado com as temperaturas medidas em 17 furos. A modelação mostra que para a manutenção do regime de fluxo de calor condutivo primário que se observa, a permeabilidade bruta seria ≤2.5 × 10−14 m2 na cobertura sedimentar e ≤1 × 10−16 m2 nas rochas vulcânicas subjacentes. O modelo preferido (R 2 = 0.9) corresponde a condutividades térmicas de 1.25 e 1.8 W/m2 para as rochas sedimentares e vulcânicas, respetivamente, com um fluxo de calor máximo de 350 mW/m2. O fluxo de calor superficial total é 258 MW para 2,200 km2. O fluxo de calor é máximo sob a cidade de Tauranga, o que pode se relacionar com a geologia inferida. As simulações do modelo contribuem para o conhecimento das propriedades da rocha e a dinâmica do fluxo de calor neste sistema geotérmico de baixa temperatura e proporcionam uma base para se estimarem os efeitos da extração de fluidos quentes.
This is a preview of subscription content, log in to check access.
Access options
Buy single article
Instant unlimited access to the full article PDF.
US$ 39.95
Price includes VAT for USA
Subscribe to journal
Immediate online access to all issues from 2019. Subscription will auto renew annually.
US$ 99
This is the net price. Taxes to be calculated in checkout.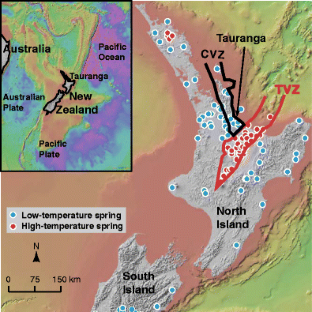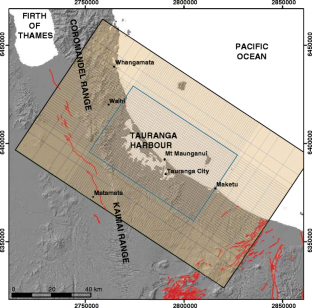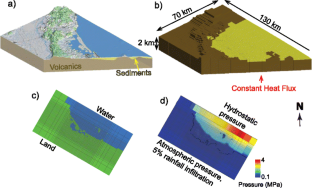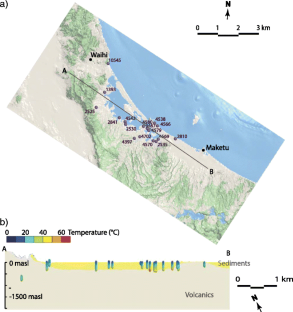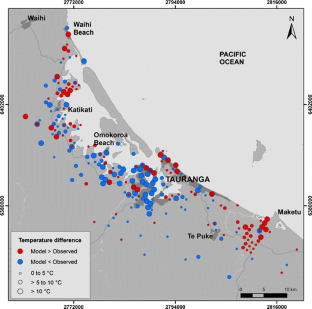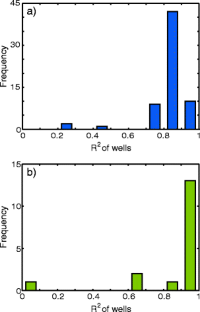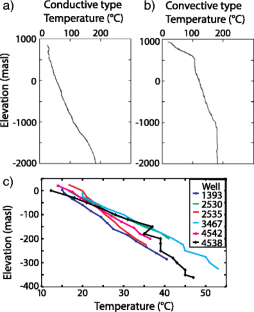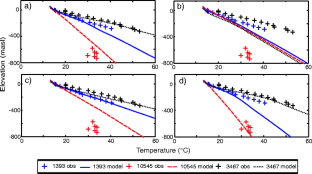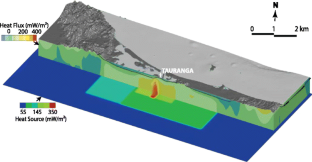 References
Adams CJ, Graham IJ, Seward D, Skinner DNB (1994) Geochronological and geochemical evolution of late Cenozoic volcanism in the Coromandel Peninsula, New Zealand. NZ J Geol Geophys 37:359–379

Axelsson G (2010) Sustainable geothermal utilization: case histories, definitions, research issues and modelling. Geothermics 39:283–291

Axelsson G, Bjornsson G, Quijano JE (2005) Reliability of lumped parameter modeling of pressure changes in geothermal reservoirs. Proceedings World Geothermal Congress, Antalya, Turkey, 24–29 April 2005, pp 1–8

Bear J (1972) Dynamics of fluids in porous media. Dover, Mineola, NY

Björbsson G, Bodvarsson G (1990) A survey of geothermal reservoir properties. Geothermics 19:17–27

Booden MA, Smith IEM, Mauk JL, Black PM (2012) Geochemical and isotopic development of the Coromandel Volcanic Zone, northern New Zealand, since 18 Ma. J Volcanol Geothermal Res 219–220:15–32

Briggs RM, Houghton BF, McWilliams M, Wilson CJN (2005) 40Ar/39Ar ages of silicic volcanic rocks in the Tauranga-Kaimai area, New Zealand: dating the transition between volcanism in the Coromandel Arc and the Taupo Volcanic Zone. NZ J Geol Geophys 48:459–469

Davis RA, Healy TR (1993) Holocene coastal depositional sequences on a tectonically active setting: southeastern Tauranga Harbour, New Zealand. Sediment Geol 84:57–69

Edbrooke SW (compiler) (2001) Geology of the Auckland area: scale 1:250,000. Geological map 3, Institute of Geological & Nuclear Sciences, Lower Hutt, New Zealand, 74 pp + 1 folded map

Eugster WJ, Rybach L (2000) Sustainable production from borehole heat exchanger systems. Proceedings World Geothermal Congress 2000, Kyushu–Tohoku, Japan, May 28–June 10, 2000, pp 825–830

Fridleifsson IB, Bertani R, Huenges E et al (2008) The possible role and contribution of geothermal energy to the mitigation of climate change. IPCC Scoping Meet Renew Energy Sources Proc, Lübeck, Germany, 20–25 January 2008, pp 59–80

GNS Science (1987) Tauranga: downhole temperatures. File no. U14/425, GNS Science, Lower Hutt, New Zealand

Harding, BC, Pattle A, Harris MG, Twose G (2010) Groundwater response to the dewatering of a volcanic vent. IAEG Congress, Auckland, 5–10 September 2010

Heu AS (1985) Weavers opencase hydrological investigation: Interim Report. NZ State Coal Mines Geomech Rep 85/12, Solid Energy Coals of New Zealand, Christchurch, New Zealand

Ingebritsen SE, Scholl MA (1993) The hydrogeology of Kilauea volcano. Geothermics 22:255–270

Iregui R, Hunsbedt A, Kruger P, London AL (1978) Analysis of heat transfer and energy recovery in fractured geothermal reservoirs. Stanford Geotherm Program Tech Rep SGP-TR-31, Stanford University, Stanford, CA, 200 pp

Leonard GS, Begg JG, Wilson CJN (compilers) (2010) Geology of the Rotorua area: scale 1:250,000. Geological map 5, Institute of Geological Sciences & Nuclear Sciences, Lower Hutt, New Zealand, 99 pp + 1 folded map

Lopez S, Hamm V, LeBrun M et al (2010) 40 years of Dogger aquifer management in Ile-de-France, Paris Basin, France. Geothermics 39:339–356

Lund JW, Freeston DH, Boyd TL (2011) Direct utilization of geothermal energy 2010 worldwide review. Geothermics 40:159–180

Manger GE (1963) Porosity and bulk density of sedimentary rocks. Geol Surv Bull 114-E:55

Ministry of Economic Development (2012) New Zealand energy data file. MED, Wellington

Nicholson K (1993) Geothermal fluids: chemistry and exploration techniques. Springer, Berlin

NIWA (2011) The national climate database. http://cliflo.niwa.co.nz/pls/niwp/wgenf.genform1. Accessed 5 May 2011

NIWA (2012) Southwest Pacific region Bathymetry. http://www.niwa.co.nz/our-science/oceans/bathymetry/download?sid=5962. Accessed 20 November 2012

O'Sullivan MJ, Pruess K, Lippmann MJ (2001) State of the art of geothermal reservoir simulation. Geothermics 30:395–429

O'Sullivan MJ, Yeh A, Mannington WI (2009) A history of numerical modelling of the Wairakei geothermal field. Geothermics 38:155–168

O'Sullivan M, Yeh A, Mannington W (2010) Renewability of geothermal resources. Geothermics 39:314–320

Petch RA, Marshall TW (1988) Ground water resources of the Tauranga Group sediments in the Hamilton Basin, North Island, New Zealand. J Hydrol NZ 27:81–98

Pollack HN, Hurter SJ, Johnson JR (1993) Heat flow from the earth's interior: analysis of the global data set. Rev Geophys 31:267–280

Pruess K (1990) Modeling of geothermal reservoirs: fundamental processes, computer simulation and field applications. Geothermics 19:3–15

Pruess K (1991) TOUGH2: a general purpose numerical simulator for multiphase fluid and heat flow. Lawrence Berkeley National Laboratory, Berkeley, CA

Pruess K (2002) Mathematical modelling of fluid and heat transfer in geothermal systems: an introduction in five lectures. Geotherm train programme, IS-108, Orkustofnun, Reykjavik, Iceland

Pruess K, Oldenburg C, Moridis G (1999) TOUGH2 user's guide, version 2.0. LBNL-43134, Lawrence Berkeley National Laboratory, Berkeley, CA

Reyes AG (2008) Water–rock interaction in a low-enthalpy back-rift geothermal system, New Zealand. Geothermal training programme. United Nations University, Reykjavik, Iceland, pp 1–8

Reyes AG, Christianson BW (2006) Mineral waters. In: Graham I (ed) GSNZ monograph, Geological Society of New Zealand, Takaka, New Zealand

Sarak H, Onur M, Satman A (2004) Lumped-parameter models for low-temperature geothermal fields and their application. Geothermics 34:728–755

Schofield JC (1972) Ground water of the Hamilton Lowland. NZ Geol Surv Bull 89

Simpson B (1987) Heat flow measurements on the Bay of Plenty coast, New Zealand. J Volcanol Geotherm Res 34:25–33

Simpson B, Stewart MK (1987) Geochemical and isotope identification of warm groundwaters in coastal basins near Tauranga, New Zealand. Chem Geol 64:67–77

Statistics New Zealand (2012) Estimated subnational population (TA,AU) by age and sex at 30 June 2006–11 (2011 boundaries). http://www.stats.govt.nz/tools_and_services/tools/TableBuilder/intercensal-population-estimates-tables.aspx. Accessed 12 Jan 2012

Studt FE, Thompson GEK (1969) Geothermal heat flow in the North Island of New Zealand. NZ J Geol Geophys 12:673–683

Teng Y, Koike K (2007) Three-dimensional imaging of a geothermal system using temperature and geological models derived from a well-log dataset. Geothermics 36:518–538

Waples DW, Waples JS (2004) A review and evaluation of specific heat capacities of rocks, minerals and subsurface fluids, part 1: minerals and nonporous rocks. Nat Resour Res 13:97–122

White PA, Zemansky G, Hong T, Kilgour G, Wall M (2007) Lake Rotorua groundwater and Lake Rotorua nutrients: phase 3 science programme technical report. GNS Science client report 2007/220, GNS Science, Lower Hutt, New Zealand

White PA, Meilhac C, Zemansky G, Kilgour G (2009) Groundwater resource investigations of the Western Bay of Plenty area stage 1: conceptual geological and hydrological models and preliminary allocation assessment. GNS Science consultancy report 2008/240, GNS Science, Lower Hutt, New Zealand
Acknowledgements
This work benefited from the advice of Mike O'Sullivan at the University of Auckland. Reviews from Paul White, Nico Fournier and two anonymous reviewers improved the manuscript. The work was supported in part by Bay of Plenty Regional Council, and by GNS Science Geothermal Core Research Program.
Additional information
Published in the theme issue "Hydrogeology of Shallow Thermal Systems"
About this article
Cite this article
Pearson, S.C.P., Alcaraz, S.A. & Barber, J. Numerical simulations to assess thermal potential at Tauranga low-temperature geothermal system, New Zealand. Hydrogeol J 22, 163–174 (2014) doi:10.1007/s10040-013-1076-y
Received:

Accepted:

Published:

Issue Date:
Keywords
Numerical modelling

Thermal conditions

New Zealand

Heat flow

TOUGH2