Abstract
Purpose
Reconstruction of large abdominal-wall defects (AWD) in patients after massive weight loss (MWL) can be challenging. Patients are left with a sizeable amount of excess skin and subcutaneous tissue which can serve as a natural and readily available source of mesh coverage. In this article, we present our experience in the reconstruction of large AWD in patients after MWL, using autogenous dermal flaps combined with a synthetic mesh.
Method
All patients with large AWD and MWL, diagnosed between January 2012 and December 2016, were considered to be candidates for the procedure. During the operation, an attempt was made to attain full closure of the defect above the mesh. In those patients for whom such closure was not possible, a dermal flap technique was used. Patients were closely monitored for at least 1 year. Outcome measures included early and late postoperative complications. Data are presented as mean ± standard deviation (SD).
Results
Over the study period, a total of 14 patients underwent a surgery involving combined mesh and dermal flap technique. Early post-operative complications included three patients who suffered from minor wound disruption and were treated with local dressings. One patient had an abdominal-wall hematoma that required an evacuation. Two patients suffered from an epidermal cyst and chronic sinuses that required surgical debridement. None of the patients experienced intra-abdominal complication, respiratory failure, or required ICU treatment. No mesh contamination or hernia recurrence was observed during the follow-up period of 22.25 ± 6.4 months.
Conclusion
Autologous dermal flap combined with mesh technique may serve as an effective surgical alternative in patients after MWL with large AWD for whom full muscular coverage of the underlying prosthesis is not possible.
This is a preview of subscription content, log in to check access.
Access options
Buy single article
Instant access to the full article PDF.
US$ 39.95
Price includes VAT for USA
Subscribe to journal
Immediate online access to all issues from 2019. Subscription will auto renew annually.
US$ 99
This is the net price. Taxes to be calculated in checkout.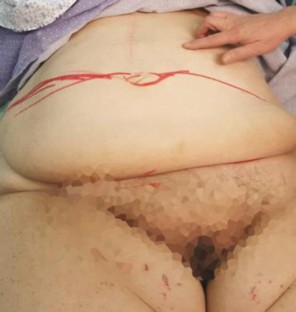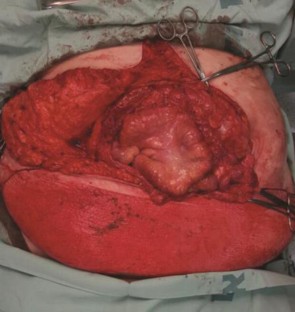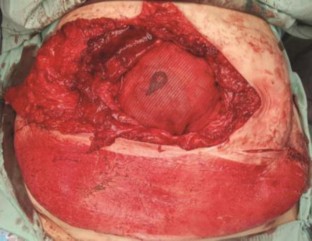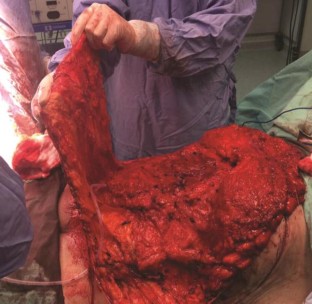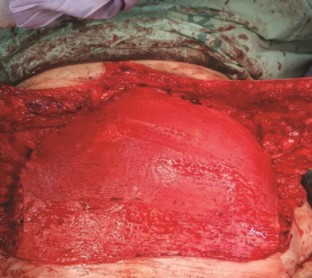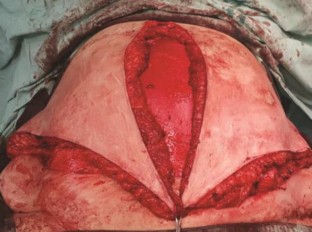 References
1.

Rao RS, Gentileschi P, Kini SU (2011) Management of ventral hernias in bariatric surgery. Surg Obes Relat Dis 7(1):110–116

2.

Joslyn NA, Esmonde NO, Martindale RG, Hansen J, Khansa I, Janis JE (2018) Evidence-based strategies for the prehabilitation of the abdominal wall reconstruction patient. Plast Reconstr Surg 142(3S):21S–29S

3.

Burger JW, Luijendijk RW, Hop WC, Halm JA, Verdaasdonk EG, Jeekel J (2004) Long-term follow-up of a randomized controlled trial of suture versus mesh repair of incisional hernia. Ann Surg 240(4):578

4.

Holihan JL, Nguyen DH, Nguyen MT, Mo J, Kao LS, Liang MK (2016) Mesh location in open ventral hernia repair: a systematic review and network meta-analysis. World J Surg 40(1):89–99

5.

Breuing K, Butler CE, Ferzoco S, Franz M, Hultman CS, Kilbridge JF, Michael R, Ronald P, Silverman DV, Ventral Hernia Working Group (2010) Incisional ventral hernias: review of the literature and recommendations regarding the grading and technique of repair. Surgery 148(3):544–558

6.

Janis JE, Nahabedian MY, Heniford BT (2018) Current concepts in abdominal wall reconstruction. Plast Reconstr Surg 142(3S):21S–29S

7.

Williams JK, Carlson GW, Howell R, Coleman JJ (1998) Role of tensor fasciae latae in abdominal wall reconstruction. Plast Reconstr Surg 101(3):713–718

8.

Ninković M, Kronberger P, Harpf C, Rumer A, Anderl H (1998) Free innervated latissimus dorsi muscle flap for reconstruction of full-thickness abdominal wall defects. Plast Reconstr Surg 101(4):971–978

9.

Kuo YR, Kuo MH, Lutz BS, Huang YC, Liu YT, Wu SC, Jeng SF (2004) One-stage reconstruction of large midline abdominal wall defects using a composite free anterolateral thigh flap with vascularized fascia lata. Ann Surg 239(3):352

10.

Chevray PM, Singh NK (2003) Abdominal wall reconstruction with the free tensor fascia lata musculofasciocutaneous flap using intraperitoneal gastroepiploic recipient vessels. Ann Plast Surg 51(1):97–102

11.

de Reilingh TS, Bodegom ME, Van Goor H, Hartman EHM, van der Wilt GJ, Bleichrodt RP (2007) Autologous tissue repair of large abdominal wall defects. Br J Surg 94(7):791–803

12.

Silverman RP, Singh NK, Li EN, Disa JJ, Girotto JA, Slezak S, Goldberg NH (2004) Restoring abdominal wall integrity in contaminated tissue-deficient wounds using autologous fascia grafts. Plast Reconstr Surg 113(2):673–675

13.

Leppäniemi A, Tukiainen E (2013) Reconstruction of complex abdominal wall defects. Scand J Surg 102(1):14–19

14.

Patel NG, Ratanshi I, Buchel EW (2018) The best of abdominal wall reconstruction. Plast Reconstr Surg 141(1):113e–136e

15.

Legbo JN, Legbo JF (2010) Abdominal wall reconstruction using de-epithelialized dermal flap: a new technique. J Surg Tech Case Rep 2(1):3

16.

Bogetti P, Boriani F, Gravante G, Milanese A, Ferrando PM, Baglioni E (2012) A retrospective study on mesh repair alone vs mesh repair plus pedicle flap for large incisional hernias. Eur Rev Med Pharmacol Sci 16(13):1847–1852

17.

Scheuerlein H, Thiessen A, -Pass C, Köckerling F (2018) What do we know about component separation techniques for abdominal wall hernia repair? Front Surg 5:24

18.

Majumder A, Miller HJ, Del Campo LM, Soltanian H, Novitsky YW (2018) Assessment of myofascial medialization following posterior component separation via transversus abdominis muscle release in a cadaveric model. Hernia 22:637–644

19.

Shestak KC, Edington HJ, Johnson RR (2000) The separation of anatomic components technique for the reconstruction of massive midline abdominal wall defects: anatomy, surgical technique, applications, and limitations revisited. Plast Reconstr Surg 105(2):731–739

20.

Martis G, Damjanovich L (2016) Use of double-layer autologous dermal flap in the treatment of recurrent and/or infected incisional hernias: Presentation of the surgical technique and the results of 1-year follow-up—a prospective, consecutive cohort study. Hernia 20(3):461–470

21.

Malik A, Macdonald ADH, de Beaux AC, Tulloh BR (2014) The peritoneal flap hernioplasty for repair of large ventral and incisional hernias. Hernia 18(1):39–45

22.

Nielsen MF, de Beaux A, Tulloh B (2019) Peritoneal flap hernioplasty for reconstruction of large ventral hernias: long-term outcome in 251 patients. World J Surg 43:1–7

23.

Kushimoto S, Yamamoto Y, Aiboshi J, Ogawa F, Koido Y, Yoshida R, Kawai M (2007) Usefulness of the bilateral anterior rectus abdominis sheath turnover flap method for early fascial closure in patients requiring open abdominal management. World J Surg 31(1):2–8

24.

Schaverien M, Saint-Cyr M, Arbique G, Brown SA (2008) Arterial and venous anatomies of the deep inferior epigastric perforator and superficial inferior epigastric artery flaps. Plast Reconstr Surg 121(6):1909–1919

25.

Butler PD, Wu LC (2015) Abdominal perforator vs muscle sparing flaps for breast reconstruction. Gland Surg 4(3):212

26.

Chiu DTW (1990) Repair and grafting of dermis fat and fascia. Plast Surg 1:516–520

27.

Cartotto R, Musgrave MA, Beveridge M, Fish J, Gomez M (2000) Minimizing blood loss in burn surgery. J Trauma Acute Care Surg 49(6):1034–1039
Funding
There were no funding sources for the manuscript.
Ethics declarations
Conflict of interest
The authors have no conflicts of interest to declare.
Ethical approval
For this type of study ethical approval is not required.
Human and animal rights
This article does not contain any studies with human participants performed by any of the authors.
Informed consent
For this type of study formal consent is not required.
Additional information
Publisher's Note
Springer Nature remains neutral with regard to jurisdictional claims in published maps and institutional affiliations.
About this article
Cite this article
Bitterman, N., Ben-Nun, O., Calderon, N. et al. Use of autologous dermal flap as mesh coverage in the treatment of large abdominal-wall defect in patients following massive weight loss: presentation of a novel surgical technique . Hernia (2020). https://doi.org/10.1007/s10029-020-02127-4
Received:

Accepted:

Published:
Keywords
Dermal flap

Hernia

Mesh

Abdominal-wall reconstruction

Weight loss