Abstract
Purpose
The recent international hernia guidelines advocate laparoscopic pre-peritoneal mesh repair for primary femoral hernias. However, no randomised trial has demonstrated a lower recurrence rate compared to suture repair. This study aimed to determine the 5-year recurrence rate following femoral hernia repair, in elective and emergency settings, according to surgical approach (open or laparoscopic) and method (suture, suture + mesh, or mesh alone).
Methods
Consecutive patients undergoing primary femoral hernia repairs within a single health board, between 2007 and 2013, were identified from a prospective audit. Patients who had died or were uncontactable during the period of follow-up were excluded. Recurrence was defined as the clinical suspicion of an ipsilateral groin hernia at outpatient review or patient reported ipsilateral groin swelling.
Results
A total of 297 patients underwent primary femoral hernia repairs in the time period. Of the 138 cases with complete follow-up, 25 patients experienced recurrence at 5 years (18%), with 60% of recurrences evident within the first post-operative year. The median follow-up of the remaining 113 patients was 93 months (range 63–127). No difference could be detected in recurrence rates (P = 0.372, P = 0.353), or time to recurrence (P = 0.421, P = 0.295), according to repair type (suture only, suture and mesh, or mesh only) or surgical approach (high open, low open and laparoscopic pre-peritoneal), respectively.
Conclusions
Use of different surgical approaches and types of repair for primary presentations of femoral hernia did not affect the recurrence rate or time to recurrence. Use of a pre-peritoneal mesh did not alter the recurrence rate or recurrence free survival, in either elective or emergency settings, compared to simple suture repair. Recurrence following primary femoral hernia repair tends to occur within the first post-operative year, suggesting that technical factors may be as important as suture or mesh failure.
This is a preview of subscription content, log in to check access.
Access options
Buy single article
Instant access to the full article PDF.
US$ 39.95
Price includes VAT for USA
Subscribe to journal
Immediate online access to all issues from 2019. Subscription will auto renew annually.
US$ 99
This is the net price. Taxes to be calculated in checkout.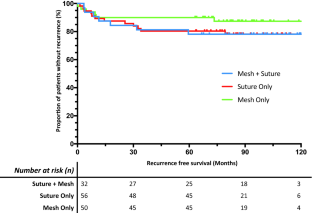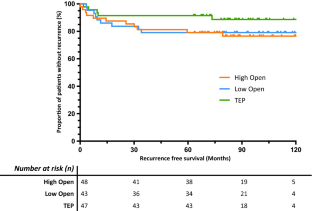 References
1.

Whalen HR, Kidd GA, O'Dwyer P (2011) Femoral Hernias. BMJ 343:d7668

2.

Andresen K, Bisgaard T, Kehlet H (2014) Reoperation rates for laparoscopic vs open repair of Femoral Hernias in Denmark: a nationwide analysis. J Am Med Assoc Surg 149(8):853–857

3.

Lockhart K, Dunn D, Teo S, Ng JY, Dhillon M, Teo E, van Driel M (2018) Mesh versus non-mesh for inguinal and femoral hernia repair. Cochrane Database Syst Rev 9:CD011517

4.

The HerniaSurge Group (2018) International guidelines for groin hernia management. Hernia 22(1):1–165

5.

Kim G, Yan So JB, Shabbir A (2017) Totally extra-peritoneal repair for acute incarcerated femoral hernia with intestinal obstruction. Int J Surg Case Rep 32:16–18

6.

Dahlstrand U, Wollert S, Nordin P, Sandbolm G, Gunnarsson U (2009) Emergency femoral hernia repair: a study based on a national registrar. Ann Surg 249(4):672–676

7.

Ge BJ, Huang Q, Liu LM, Bian HP, Fan YZ (2010) Risk factors for bowel resection and outcome in patients with incarcerated groin hernias. Hernia 14(3):259–264

8.

Humes DJ, Radcliffe RS, Camm C, West J (2013) Population-based study of presentation and adverse outcomes after femoral hernia surgery. Br J Surg 100(3):1827–1832

9.

Nilsson H, Stylianidis G, Haapamaki M, Nilsson E, Nordin P (2007) Mortality after groin hernia surgery. Ann Surg 254(4):656–660

10.

Bendavid R (1997) The Shouldice technique: a canon in hernia repair. Can J Surg 40(3):199–205

11.

Bendavid R (1998) Complications of groin hernia surgery. Surg Clin North Am 78(6):1089–1103

12.

Mandalà S, La Barbera C, Callari C, Mirrabella A, Mandalà V (2018) Primary femoral hernia: open anterior treatment. In: Campanelli G (ed) The art of Hernia surgery a step-by-step guide. Springer, New York, pp 445–461

13.

Scott N, Go P, Graham P, McCormack K, Ross S, Grant A (2001) Open versus non-mesh for groin hernia repair. Cochrane Database Syst Rev 3:CD002197

14.

McIntosh A, Hutchison A, Roberts A, Withers H (2000) Evidence-based management of groin hernia in primary care—a systematic review. Fam Pract 17:442–447

15.

Bay-Nielsen M, Kehlet H, Strand L, Malstrom J, Andersen FH, Wara P, Juul P, Callesen T, Danish Hernia Database Collaboration (2001) Quality assessment of 26,304 herniorrhaphies in Denmark: a prospective nationwide study. Lancet 358(9288):1124–1128

16.

Fuchs KH (2002) Minimally invasive surgery. Endoscopy 34(2):154–159

17.

O'Neill JR, Stephens NA, Save V, Kamel HM, Phillips HA, Driscoll PJ, Paterson-Brown S (2013) Defining a positive circumferential resection margin in oesophageal cancer and its implications for adjuvant treatment. Br J Surg 100(8):1055–1063

18.

Yalamarthi S, Kumar S, Stapleton E, Nixon SJ (2004) Laparoscopic totally extraperitoneal mesh repair for femoral hernia. J Laparoendosc Adv Surg Techn A 14:358–361

19.

Sorelli PG, El-Masry NS, Garett WV (2009) Open femoral hernia repair: one skin incision for all. World J Emerg Surg 4:44

20.

Burcharth J, Andresen K, Pommergaard HC, Bisgaard T, Rosenberg J (2014) Direct inguinal hernia and anterior surgical approach re risk factors for female inguinal hernia recurrences. Langenbeck's Arch Surg 339(1):71–76

21.

Watson SD, Saye W, Hollier PA (1993) Combined laparoscopic incarcerated herniorrhaphy and small bowel resection. Surg Laparosc Endosc Percutaneous Tech 106–108(4):44

22.

Rebuffat C, Galli A, Scalambra MS, Balsamo F (2006) Laparoscopic repair of strangulated hernias. Surg Endosc Other Interv Tech 20(1):131–134

23.

Lundstrom KJ, Holmberg H, Montgomery A, Nordin P (2018) Patient reported rates of chronic pain and recurrence after groin hernia repair. Br J Surg 105(1):106–112

24.

Kockerling F, Koch A, Lorenz R, Schug-Pass C, Stechemesser B, Reinpold W (2015) How long do we need to follow-up our hernia patients to find the real recurrence rate? Front Surg 2:24

25.

Chan G, Chan CK (2008) Longterm results of a prospective study of 225 femoral hernia repairs: indications for tissue and mesh repair. J Am Coll Surg 207(3):360–367

26.

Suppiah A, Gatt M, Barandiaran J, Heng MS, Perry EP (2007) Outcomes of emergency and elective femoral hernia surgery in four district general hospitals: a 4-year study. Hernia 11(6):509–512

27.

Bendavid R (1989) Femoral hernias: primary versus recurrence. Int Surg J 74(2):99–100

28.

Magnusson N, Nordin P, Hedberg M, Gunnarsson U, Sandbolm G (2010) The time profile of groin hernia recurrences. Hernia 14(4):341–344
Ethics declarations
Conflict of interest
The authors declare that they have no conflict of interest.
Ethical approval
This study was classified as an audit of clinical outcome and, therefore, ethical approval was not required.
Human and animal rights
No animals were used in this study. There are no concerns regarding any compromise or challenge of human rights.
Informed consent
All patients who participated in this study gave informed verbal consent at the time of telephone follow-up.
Additional information
Publisher's Note
Springer Nature remains neutral with regard to jurisdictional claims in published maps and institutional affiliations.
About this article
Cite this article
Clyde, D.R., de Beaux, A., Tulloh, B. et al. Minimising recurrence after primary femoral hernia repair; is mesh mandatory?. Hernia 24, 137–142 (2020). https://doi.org/10.1007/s10029-019-02007-6
Received:

Accepted:

Published:

Issue Date:
Keywords
Femoral hernia

Recurrence

McEvedy

Mesh

TEP