Abstract
Purpose
Relying solely on in-person encounters to assess long-term outcomes of hernia repair leads to substantial loss of information and patients lost-to-follow-up, hindering research and quality improvement initiatives. We aimed to determine if inguinal hernia recurrences could be assessed using the Ventral Hernia Recurrence Inventory (VHRI), a previously existing patient-reported outcome (PRO) tool that can be administered through the telephone and has already been validated for diagnosing ventral hernia recurrence.
Methods
A prospective, multicentric comparative study was conducted. Adult patients from two centers (United States and Brazil) at least 1 year after open or minimally invasive inguinal hernia repair were asked to answer the questions of the VHRI in relation to their prior repair. A physical exam was then performed by a blinded surgeon. Testing characteristics and diagnostic performance of the PRO were calculated. Patients with suspected recurrences were preferentially recruited.
Results
128 patients were enrolled after 175 repairs. All patients answered the VHRI and were further examined, where a recurrence was present in 32% of the repairs. Self-reported bulge and patient perception of a recurrence were highly sensitive (84–94%) and specific (93–94%) for the diagnosis of an inguinal hernia recurrence. Test performance was similar in the American and Brazilian populations despite several baseline differences in demographic and clinical characteristics.
Conclusion
The VHRI can be used to assess long-term inguinal hernia recurrence and should be reestablished as the Hernia Recurrence Inventory (HRI). Its implementation in registries, quality improvement efforts, and research could contribute to improving long-term follow-up rates in hernia patients.
This is a preview of subscription content, log in to check access.
Access options
Buy single article
Instant access to the full article PDF.
US$ 39.95
Price includes VAT for USA
Subscribe to journal
Immediate online access to all issues from 2019. Subscription will auto renew annually.
US$ 99
This is the net price. Taxes to be calculated in checkout.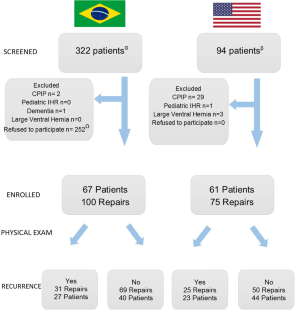 References
1.

Ganesh Kumar N, Faqih AA, Feng MP, Miller RS, Pierce RA, Sharp KW, Holzman MD, Poulose BK (2017) Using quality improvement principles to enhance long-term completion of patient-reported outcomes after ventral hernia repair. J Am Coll Surg 224:172–179

2.

Smith JS, Watts HG (1998) Methods for locating missing patients for the purpose of long-term clinical studies. J Bone Jt Surg Am 80:431–438

3.

Baucom RB, Ousley J, Feurer ID, Beveridge GB, Pierce RA, Holzman MD, Sharp KW, Poulose BK (2016) Patient reported outcomes after incisional hernia repair-establishing the ventral hernia recurrence inventory. Am J Surg 212:81–88

4.

Novitsky YW, Fayezizadeh M, Majumder A, Neupane R, Elliott HL, Orenstein SB (2016) Outcomes of posterior component separation with transversus abdominis muscle release and synthetic mesh sublay reinforcement. Ann Surg 264:226–232

5.

HerniaSurge Group (2018) International guidelines for groin hernia management. Hernia 22:1–165

6.

van den Berg JC, de Valois JC, Go PM, Rosenbusch G (1999) Detection of groin hernia with physical examination, ultrasound, and MRI compared with laparoscopic findings. Invest Radiol 34:739–743

7.

Beck WC, Holzman MD, Sharp KW, Nealon WH, Dupont WD, Poulose BK (2013) Comparative effectiveness of dynamic abdominal sonography for hernia vs computed tomography in the diagnosis of incisional hernia. J Am Coll Surg 216:447-453 (quiz 510–441)

8.

Youden WJ (1950) Index for rating diagnostic tests. Cancer 3:32–35

9.

Harris PA, Taylor R, Thielke R, Payne J, Gonzalez N, Conde JG (2009) Research electronic data capture (REDCap)—a metadata-driven methodology and workflow process for providing translational research informatics support. J Biomed Inf 42:377–381

10.

Luijendijk RW, Hop WC, van den Tol MP, de Lange DC, Braaksma MM, IJzermans JN, Boelhouwer RU, de Vries BC, Salu MK, Wereldsma JC, Bruijninckx CM, Jeekel J (2000) A comparison of suture repair with mesh repair for incisional hernia. N Engl J Med 343:392–398

11.

van den Heuvel B, van Jarwaarde JA, Wichers P, de Klerk EDS, Bonjer HJ, Dwars BJ, (2015) Follow-up after laparoscopic inguinal hernia repair, can it be done by phone? A prospective study in 300 patients, the PINQ-PHONE. Surg Endosc 29:3292–3297

12.

Hu QL, Chen DC (2018) Approach to the patient with chronic groin pain. Surg Clin N Am 98:651–665
Funding
This research did not receive any specific grant from funding agencies in the public, commercial, or not-for-profit sectors.
Ethics declarations
Conflict of interest
Luciano Tastaldi has received a Resident/Fellow Research Grant award from the Americas Hernia Society Quality Collaborative (AHSQC) that is not related to the present submission. David Krpata received an educational grant from W.L. Gore not related to the present work. Ajita S. Prabhu receives personal fees from Medtronic and Intuitive Surgical Inc. and has an ongoing research grant from Intuitive Inc. Sergio Roll has received personal fees for consulting from B. Braun, Medtronic, Ethicon and Bard that are not related to the present submission. Michael Rosen received salary support for his leadership position in the AHSQC, is a board member and has stock/stock options from Ariste Medical and has ongoing research grants from Pacira Pharmaceuticals Inc. and Intuitive Inc. Benjakim Poulose receives salary support for his leadership position in the AHSQC and research funding from Bard Davol Inc.
Ethical approval
This study complies with institutional/national ethical standards and was approved by the Institutional Review Board and/or Ethics Committee of the participating institutions.
Human and animal rights
All procedures performed in studies involving human participants were in accordance with the ethical standards of the institutional and/or national research committee (include name of committee + reference number) and with the 1964 Helsinki declaration and its later amendments or comparable ethical standards.
Informed consent
Informed consent was obtained from all individual participants included in the study.
Additional information
Publisher's Note
Springer Nature remains neutral with regard to jurisdictional claims in published maps and institutional affiliations.
About this article
Cite this article
Tastaldi, L., Barros, P.H.F., Krpata, D.M. et al. Hernia recurrence inventory: inguinal hernia recurrence can be accurately assessed using patient-reported outcomes. Hernia 24, 127–135 (2020). https://doi.org/10.1007/s10029-019-02000-z
Received:

Accepted:

Published:

Issue Date:
Keywords
Patient-reported outcomes

Hernia recurrence inventory

Inguinal

Hernia

Recurrence