Abstract
Herbivory is a key process structuring plant communities in both terrestrial and aquatic ecosystems, with variation in herbivory often being related to shifts between alternate states. On coral reefs, regional reductions in herbivores have underpinned shifts from coral to dominance by leathery macroalgae. These shifts appear difficult to reverse as these macroalgae are unpalatable to the majority of herbivores, and the macroalgae suppress the recruitment and growth of corals. The removal of macroalgae is, therefore, viewed as a key ecological process on coral reefs. On the Great Barrier Reef, Sargassum is a dominant macroalgal species following experimentally induced coral–macroalgal phase-shifts. We, therefore, used Sargassum assays and remote video cameras to directly quantify the species responsible for removing macroalgae across a range of coral reef habitats on Lizard Island, northern Great Barrier Reef. Despite supporting over 50 herbivorous fish species and six macroalgal browsing species, the video footage revealed that a single species, Naso unicornis, was almost solely responsible for the removal of Sargassum biomass across all habitats. Of the 42,246 bites taken from the Sargassum across all habitats, N. unicornis accounted for 89.8% (37,982) of the total bites, and 94.6% of the total mass standardized bites. This limited redundancy, both within and across local scales, underscores the need to assess the functional roles of individual species. Management and conservation strategies may need to look beyond the preservation of species diversity and focus on the maintenance of ecological processes and the protection of key species in critical functional groups.
This is a preview of subscription content, log in to check access.
Access options
Buy single article
Instant unlimited access to the full article PDF.
US$ 39.95
Price includes VAT for USA
Subscribe to journal
Immediate online access to all issues from 2019. Subscription will auto renew annually.
US$ 99
This is the net price. Taxes to be calculated in checkout.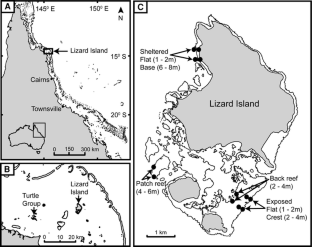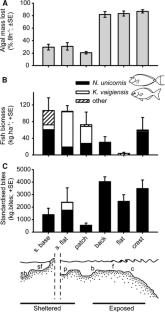 References
Archer S, Scifres C, Bassham CR. 1988. Autogenic succession in a subtropical savanna: conversion of grassland to thorn woodland. Ecol Monogr 58:111–27.

Arthur R, Done TJ, Marsh H. 2005. Benthic recovery 4 years after an El Nino-induced coral mass mortality in the Lakshadweep atolls. Curr Sci 89:694–9.

Atsatt PR, O'Dowd DJ. 1976. Plant defense guilds. Science 193:24–9.

Bazely DR, Jefferies RL. 1986. Changes in the composition and standing crop of salt-marsh communities in response to the removal of a grazer. J Ecol 74:693–706.

Bell RHV. 1971. A grazing ecosystem in the Serengeti. Sci Am 225:86–94.

Bellwood DR. 1995. Carbonate transport and within-reef patterns of bioerosion and sediment release by parrotfish (family Scaridae) on the Great Barrier Reef. Mar Ecol Prog Ser 117:127–36.

Bellwood DR, Hoey AS, Choat JH. 2003. Limited functional redundancy in high diversity systems: resilience and ecosystem function on coral reefs. Ecol Lett 6:281–5.

Bellwood DR, Hughes TP, Folke C, Nyström M. 2004. Confronting the coral reef crisis. Nature 429:827–33.

Bellwood DR, Hughes TP, Hoey AS. 2006. Sleeping functional group drives coral-reef recovery. Curr Biol 16:2434–9.

Bellwood DR, Wainwright PC. 2001. Locomotion in labrid fishes: implications for habitat use and cross-shelf biogeography on the Great Barrier Reef. Coral Reefs 20:139–50.

Bolser RC, Hay ME. 1996. Are tropical plants better defended? Palatability and defenses of temperate vs. tropical seaweeds. Ecology 77:2269–86.

Carpenter RC. 1997. Invertebrate predators and grazers. In: Birkeland C, Ed. Life and death of coral reefs. New York: Chapman and Hall. p 198–229.

Chapin FS, Walker BW, Hobbs RJ, Hooper DU, Lawton JH, Sala OE, Tilman D. 1997. Biotic control over the functioning of ecosystems. Science 277:500–4.

Choat JH, Axe LM. 1996. Growth and longevity in acanthurid fishes; an analysis of otolith increments. Mar Ecol Prog Ser 134:15–26.

Choat JH, Clements KD, Robbins WD. 2002. The trophic status of herbivorous fishes on coral reefs I: dietary analyses. Mar Biol 140:613–23.

Coley PD, Barone JA. 1996. Herbivory and plant defenses in tropical forests. Annu Rev Ecol Sys 27:305–35.

Coppard SE, Campbell AC. 2007. Grazing preferences of diadematid echinoids in Fiji. Aquat Bot 86:204–12.

Cruz-Rivera E, Paul VJ. 2006. Feeding by coral reef mesograzers: algae or cyanobacteria? Coral Reefs 25:617–27.

Cvitanovic C, Bellwood DR. 2009. Local variation in herbivore feeding activity on an inshore reef of the Great Barrier Reef. Coral Reefs 28:127–33.

Dalzell P, Adams TJH, Polunin NVC. 1996. Coastal fisheries in the Pacific Islands. Oceanogr Mar Biol Annu Rev 34:395–531.

Diaz-Pulido G, McCook LJ. 2002. The fate of bleached corals: patterns and dynamics of algal recruitment. Mar Ecol Prog Ser 232:115–28.

Dobson A, Crawley M. 1994. Pathogens and the structure of plant communities. Trends Ecol Evol 9:393–8.

Done TJ, Turak E, Wakeford M, DeVantier L, McDonald A, Fisk D. 2007. Decadal changes in turbid-water coral communities at Pandore Reef: loss of resilience or too soon to tell? Coral Reefs 26:789–805.

Dublin HT, Sinclair AR, McGlade G. 1990. Elephants and fire as causes of multiple stable states in the Serengeti-Mara woodlands. J Anim Ecol 59:1147–64.

Fabricius K, De'ath G. 2001. Environmental factors associated with the spatial distribution of crustose coralline algae on the Great Barrier Reef. Coral Reefs 19:303–9.

Folke C, Carpenter S, Walker B, Scheffer M, Elmquist T, Gunderson L, Holling CS. 2004. Regime shifts, resilience, and biodiversity in ecosystem management. Annu Rev Ecol Evol Syst 35:557–81.

Fox RJ, Bellwood DR. 2007. Quantifying herbivory across a coral reef depth gradient. Mar Ecol Prog Ser 339:49–59.

Fox RJ, Bellwood DR. 2008. Remote video bioassays reveal the potential feeding impact of the rabbitfish Siganus canaliculatus (f. Siganidae) on an inner-shelf reef on the Great Barrier Reef. Coral Reefs 27:605–15.

Graham NAJ, Wilson SK, Jennings S, Polunin NVC, Pijous JP, Robinson J. 2006. Dynamic fragility of oceanic coral reef systems. Proc Natl Acad Sci USA 103:8425–9.

Gruner DS, Smith JE, Seabloom EW, Sandin SA, Ngai JT, Hillebrand H, Harpole WS, Elser JJ, Cleland EE, Bracken MES, Borer ET, Bolker BM. 2008. A cross-system synthesis of consumer and nutrient resource control on producer biomass. Ecol Lett 11:740–55.

Hay ME. 1991. Marine-terrestrial contrasts in the ecology of plant chemical defenses against herbivores. Trends Ecol Evol 6:362–5.

Hoey AS, Bellwood DR. 2008. Cross-shelf variation in the role of parrotfishes on the Great Barrier Reef. Coral Reefs 27:37–47.

Holling CS. 1973. Resilience and stability of ecological systems. Annu Rev Ecol Syst 4:1–23.

Holmgren M, Lopez BC, Gutierrez JR, Squeo FA. 2006. Herbivory and plant growth rate determine the success of El Nino Southern oscillation-driven tree establishment in semiarid South America. Global Change Biol 12:2263–71.

Hughes TP. 1994. Catastrophes, phase shifts, and large-scale degradation of a Caribbean coral reef. Science 265:1547–51.

Hughes TP, Rodrigues MJ, Bellwood DR, Ceccarelli D, Hoegh-Guldberg O, McCook L, Moltschaniwskyj N, Pratchett MS, Steneck RS, Willis B. 2007. Phase shifts, herbivory, and the resilience of coral reefs to climate change. Curr Biol 17:360–5.

Jompa J, McCook LJ. 2002. The effects of nutrients and herbivory on competition between a hard coral (Porites cylindrica) and a brown alga (Lobophora variegata). Limnol Oceanogr 47:527–34.

Jones RS. 1968. Ecological relationships in Hawaiian and Johnston Island Acanthuridae (Surgeonfishes). Micronesica 4:309–61.

Kulbicki M. 1998. How the acquired behaviour of commercial reef fishes influence the results obtained from visual censuses. J Exp Mar Biol Ecol 222:11–30.

Kulbicki M, Guillemot N, Amand M. 2005. A general approach to length–weight relationships for New Caledonian lagoon fishes. Cybium 29:235–52.

Ledlie MH, Graham NAJ, Bythell JC, Wilson SK, Jennings S, Polunin NVC, Hardcastle J. 2007. Phase shifts and the role of herbivory in the resilience of coral reefs. Coral Reefs 26:641–53.

McClanahan TR, Muthiga NA, Mangi S. 2001. Coral and algal changes after the 1998 coral bleaching: Interaction with reef management and herbivores on Kenyan reefs. Coral Reefs 19:380–91.

McCook LJ. 1996. Effects of herbivores and water quality on Sargassum distribution on the central Great Barrier Reef: cross-shelf transplants. Mar Ecol Prog Ser 139:179–92.

McCook LJ, De'ath G, Price IR, Diaz-Pulido G, Jompa J. 2000. Macroalgal resources of the Great Barrier Reef: taxonomy, distributions and abundances on coral reefs. Report to the Great Barrier Reef Marine Park Authority, Townsville. 22 p.

McNaughton SJ. 1984. Grazing lawns: animals in herds, plant form, and co-evolution. Am Nat 124:863–86.

Mantyka CS, Bellwood DR. 2007. Direct evaluation of macroalgal removal by herbivorous coral reef fishes. Coral Reefs 26:435–42.

Martin-Smith KM. 1993. The phenology of four species of Sargassum at Magnetic Island, Australia. Bot Mar 36:327–34.

Meyer CG, Holland KN. 2005. Movement patterns, home range size and habitat utilization of the bluespine unicorfish, Naso unicornis (Acanthuridae) in a Hawaiian marine reserve. Environ Biol Fish 73:201–10.

Mumby PJ, Hastings A, Edwards HJ. 2007. Thresholds and the resilience of Caribbean coral reefs. Nature 450:98–101.

Myers RF. 1991. Micronesian reef fishes. Guam: Coral Graphics. p 298.

Nyström M. 2006. Redundancy and response diversity of functional groups: implications for the resilience of coral reefs. Ambio 35:30–5.

Nyström M, Folke C. 2001. Spatial resilience of coral reefs. Ecosystems 4:406–17.

Owen-Smith N. 1994. Foraging responses of kudus to seasonal changes in food resources: elasticity in constraints. Ecology 75:1050–62.

Peterson G, Allen CR, Holling CS. 1998. Ecological resilience, biodiversity and scale. Ecosystems 1:6–18.

Polunin NVC, Klumpp DW. 1992. Algal food supply and grazer demand in a very productive coral-reef zone. J Exp Mar Biol Ecol 164:1–15.

Rhodes KL, Tupper MH, Wichilmel CB. 2008. Characterization and management of the commercial sector of the Pohnpei coral reef fishery, Micronesia. Coral Reefs 27:443–54.

Riginos C, Grace JB. 2008. Savanna tree density, herbivores, and the herbaceous community: bottom-up vs. top-down effects. Ecology 89:2228–38.

Robertson DR, Gaines SD. 1986. Interference competition structures habitat use in a local assemblage of coral reef surgeonfishes. Ecology 67:1372–83.

Scheffer M, Carpenter SR, Foley J, Folke C, Walker BH. 2001. Catastrophic shifts in ecosystems. Nature 413:591–6.

Shepherd SA, Hawkes MW. 2005. Algal food preferences and seasonal foraging strategy of the marine iguana, Amblyrhynchus cristatus, on Santa Cruz, Galapagos. Bull Mar Sci 77:51–72.

Shurin JB, Gruner DS, Hillebrand H. 2006. All wet or dried up? Real differences between aquatic and terrestrial food webs. Proc R Soc B 273:1–9.

Steinberg PD, Edyvane K, de Nys R, Birdsley R, van Altena IA. 1991. Lack of avoidance of phenolic-rich brown algae by tropical herbivorous fishes. Mar Biol 109:335–43.

Steinberg PD, Paul VJ. 1990. Fish feeding and chemical defenses of tropical brown algae in Western Australia. Mar Ecol Prog Ser 58:253–9.

Steneck RS. 1988. Herbivory on coral reefs: a synthesis. In: Proceedings of 6th International Coral Reef Symposium, vol 1, p 37–49.

Steneck RS, Graham MH, Bourque BJ, Corbett D, Erlandson JM, Estes JA, Tegner MJ. 2002. Kelp forest ecosystems: biodiversity, stability, resilience and future. Environ Conserv 29:436–59.

Wahl M, Hay ME. 1995. Associational resistance and shared doom: effects of epibiosis on herbivory. Oecologia 102:329–40.

Walker BH, Ludwig D, Holling CS, Peterman RM. 1981. Stability of semi-arid savanna grazing systems. J Ecol 69:473–98.

Wantiez L, Thollot P, Kulbicki M. 1997. Effects of marine reserves on coral reef fish communities from five islands in New Caledonia. Coral Reefs 16:215–24.

Wilson SK, Bellwood DR, Choat JH, Furnas M. 2003. Detritus in coral reef ecosystems and its use by coral reef fishes. Oceanogr Mar Biol Annu Rev 41:279–309.

Wismer S, Hoey AS, Bellwood DR. 2009. Cross-shelf benthic community structure on the Great Barrier Reef: relationships between macroalgal cover and herbivore biomass. Mar Ecol Prog Ser 376:45–54.
Acknowledgments
We thank P. Cowman, C. Lefèvre, and S. Wismer for field assistance, and J. Hoey for assistance with video analysis. Comments by J. Hoey, S. Wismer, T. Done and two anonymous reviewers greatly improved the manuscript. We thank the staff at the Lizard Island Research Station—a facility of the Australian Museum for invaluable field support. Financial support was provided by The Ian Potter Doctoral Fellowship at Lizard Island (ASH), the Great Barrier Reef Marine Park Authority and the Australian Research Council (DRB).
Electronic supplementary material
Below is the link to the electronic supplementary material.
Supplementary material 1 (MOV 1902 kb)
Supplementary material 2 (MOV 1944 kb)
About this article
Cite this article
Hoey, A.S., Bellwood, D.R. Limited Functional Redundancy in a High Diversity System: Single Species Dominates Key Ecological Process on Coral Reefs. Ecosystems 12, 1316–1328 (2009) doi:10.1007/s10021-009-9291-z
Received:

Accepted:

Published:

Issue Date:
Keywords
Naso unicornis

functional redundancy

phase-shift

macroalgae

Sargassum

coral reef

herbivory