Hybrid material of polyaniline incorporated industrial waste of fly ash to enhance the electrode performance of polyaniline in supercapacitor application
Abstract
The existing high market potential for supercapacitors in electric vehicles created enthusiasm for the development of safer and high-performance supercapacitor gadgets. The ongoing examination endeavors on electrochemical power sources are composed toward achieving high-explicit energy, high-explicit power, long-cycle life, and so forth, at a realistic cost. In this work, low-cost hybrid material of polyaniline-sulfate salt and ash from the bituminous coal is synthesized via in situ polymerization of aniline. The formation of hybrid in this polymerization process was confirmed from FTIR, XRD, EDAX, and TGA. Thus, prepared polyaniline-sulfate●ash (PANI-ash) hybrid is taken as electro-active material for the construction of supercapacitor cell in a symmetric configuration in 1 M H2SO4 electrolyte. PANI-ash, wherein ash prepared at 600 oC of bituminous coal, gave higher electrochemical performance compared to its individual components of PANI and ash materials. Initial specific capacitance observed for the samples of PANI, PANI-A400, and PANI-A600 are 155, 328, and 363 F g−1, respectively. PANI-A600 symmetric cell system subjected to a higher current density of 0.75 A g−1 for 10,000 cycles. Remaining in specific capacitance values of polyaniline salts at 10,000 CD cycles is found to be 70 %, and further at 35,000 cycles, it shows 43% retention of specific capacitance.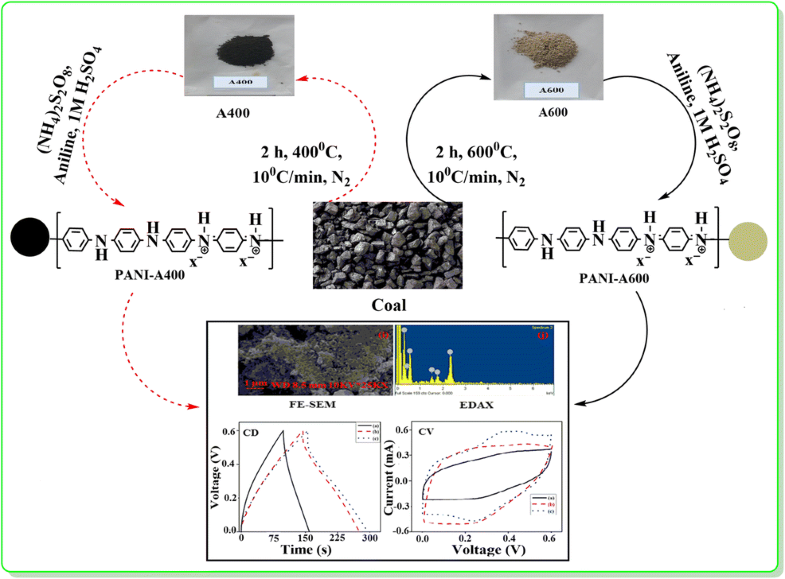 Keywords
Ash from industrial waste 
Polyaniline 
Polyaniline-ash hybrid 
Supercapacitor 
Electrochemical performance 
Energy density 
Notes
Funding information
We thank CSIR, New Delhi, India for financial support under the program of TAPSUN (NWP-0056). We are thankful to Dr. S. Chandrasekhar, Director, CSIR-IICT for his support and encouragement. Authors also thank Dr. C.S. Gopinath, Chief Scientist, CSIR-NCL, Pune, India, for his help in recording XPS spectra. SNK thanks UGC, India, and SPE thanks CSIR India for financial Support. CSIR-IICT communication no. IICT/Pubs./2018/369.
Compliance with ethical standards
Conflict of interest
The authors declare no conflicts of interest.
Copyright information
© Springer-Verlag GmbH Germany, part of Springer Nature 2019