Development of a Randles-Ševčík-like equation to predict the peak current of cyclic voltammetry for solid metal hexacyanoferrates
Abstract
A mathematical model, derived from Fick's second law for planar and spherical coordinates, is presented and solved to obtain novel equations that satisfactorily predict the charge transfer and peak current observed in cyclic voltammetry of solid hexacyanoferrates. For a planar geometry, two cases are considered. The first one takes into account the effect of the evolution of the activities of the oxidized and reduced phases of the hexacyanoferrates on the peak currents, while in the second one, the activities of both phases were considered as a constant. In the first case, an analysis of charges involved in the reaction is required to obtain the molar fractions of the oxidized and reduced forms of the hexacyanoferrates. In this case, the solution of the model is obtained numerically using the lines method. In the second case, the model is analytically solved obtaining a Randles-Ševčík-like equation. When spherical coordinates are considered, the activities of the solid phase are assumed to be constant and the model is analytically solved. In this way, other novel equations allowing the calculus of the electroactive electrode area and the diffusion coefficient of the alkali ions are presented. The advantages of an analytical expression for the peak current as a function of the square root of the potential scan rate, instead of a numerical solution, are analyzed. The validity of each model is proven by its comparison with experimental measurements for peak currents in a carbon paste electrode containing nickel hexacyanoferrate immersed in a 0.5M KNO3 solution.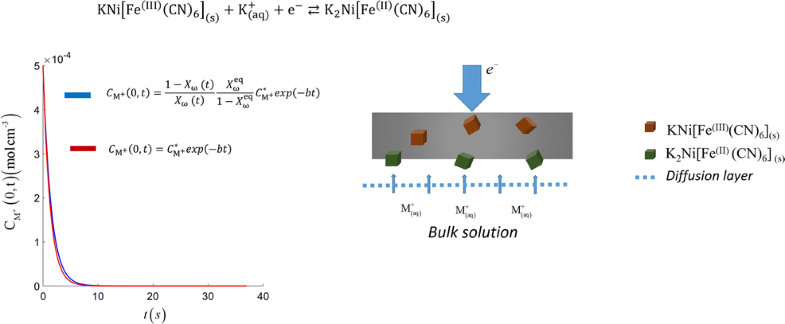 Keywords
Nickel hexacyanoferrate 
Randles-Ševčík 
Diffusion coefficient 
Peak current 
Notes
Acknowledgments
O. A. González-Meza is grateful to CONACyT for the financial support for his Ph. D. Studies (CVU: 665472).
The authors wish to dedicate this work and its results to Prof. Dr. Fritz Scholz as a deep and sincere acknowledgment to his valuable contribution to the field of the electrochemistry of metal hexacyanoferrates.
Glossary
| Symbol | Meaning | Units |
| --- | --- | --- |
| A | Area | cm2 |
| a i | Activity of specie i | None |
| b | \( \frac{nF}{RT}v \) | s−1 |
| C i | Concentration of species i | mol cm−3 |
| \( {C}_{\mathrm{i}}^{\ast } \) | Bulk concentration of species i | mol cm−3 |
| \( \overset{\sim }{C_{\mathrm{i}}}\left(x,s\right) \) | Laplace-transformed concentration | mol s cm−3 |
| D i | Diffusion coefficient of species i | cm2 s−1 |
| e− | Electron | None |
| E | Potential of an electrode versus a reference | V |
| E° | Standard potential of an electrode | V |
| E°′ | Formal potential of an electrode | V |
| E°′′ | Apparent formal potential of an electrode | V |
| E eq | Equilibrium potential of an electrode | V |
| E p | Peak potential | V |
| F | Faraday's constant | C mol−1 |
| γ i | Activity coefficient for species i | none |
| i 0 | Straight line intercept in (33) \( \frac{nFA{D}_{{\mathrm{M}}^{+}}{C}_{{\mathrm{M}}^{+}}^{\ast }}{r_0} \) | A |
| I | Current | A |
| I p | Peak current | A |
| I pa | Anodic peak current | A |
| I pc | Cathodic peak current | A |
| \( \overset{\sim }{I(s)} \) | Laplace-transformed current | A s |
| m | Straight line slope in (33) | A s1/2 V−1/2 |
| n | Stoichiometric number of electrons involved in the electrode reaction | None |
| (Qa)v | Total anodic charge, experimentally obtained, for a scan rate v | C |
| Qa(t)|v | Total anodic charge, experimentally obtained, for a scan rate v as a time function |   |
| (Qc)v | Total cathodic charge, experimentally obtained, for a scan rate v | C |
| Qc(t)|v | Cathodic charge, experimentally obtained, for a scan rate v as a time function |   |
| r | Radial distance from the center of the electrode | cm |
| r 0 | Radius of an spherical electrode | cm |
| R | Gas constant | J mol−1 K−1 |
| s | Laplace's variable | s−1 |
| t | Time | s |
| T | Absolute temperature | K |
| v | Linear potential scan rate | V s−1 |
| w(r, t) | Auxiliary function | mol cm−2 |
| x | Coordinate away from the electrode | cm |
| X i | Molar fraction of species i | None |
| Xi(t) | Molar fraction of species i as a time function | None |
| \( {X}_{\mathrm{i}}^{\mathrm{eq}} \) | Molar fraction of species i at equilibrium | None |
Copyright information
© Springer-Verlag GmbH Germany, part of Springer Nature 2019