Unveiling ionic diffusion in MgNiMnO4 cathode material for Mg-ion batteries via combined computational and experimental studies
Abstract
A major challenge in the field of rechargeable Mg batteries is the development of high voltage/high capacity cathode materials. Naturally, a first step in a general search of cathode materials for Mg batteries should be following the plethora of cathode materials relevant to Li-ion batteries. Indeed, several compounds that were thoroughly studied in connection to Li-ion batteries were found to interact reversibly with Mg ions, as well. The functionality of metal ion batteries relies on an efficient ionic transport within the electrodes' active mass. In this study, we examined the extreme case of the MgNiMnO4 material, using a combination of computational and experimental techniques. The scientific question being raised in this study was whether Mg ions can be extracted electrochemically from this compound. The experiments provided a negative answer and calculations based on density functional theory (DFT) + U showed that indeed Mg ions diffusion in this material is energetically unfavorable. It was confirmed again how computational work can be very useful in predicting barriers for ionic diffusion in hosts and hence, can save much of tedious experimental works.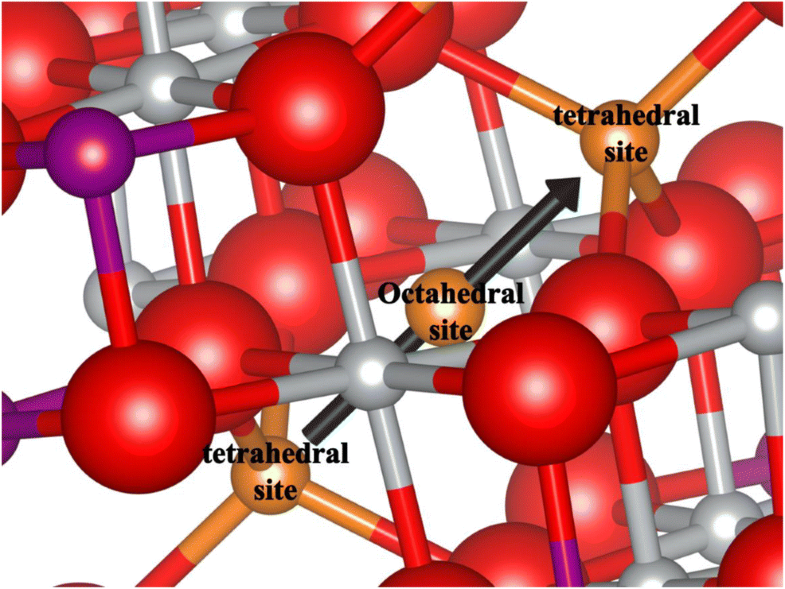 Keywords
Ionic diffusion 
Density functional theory 
DFT + U 
Mg-ion batteries 
Transition metal oxides 
Spinel structure 
Notes
Funding information
The work was supported by ISAEF-Israel Strategic Alternative Energy Foundation, INREP-2 [2nd Israel National Research on Electrochemical Propulsion], the Morantz Energy Research Fund, the Nancy and Stephen Grand Technion Energy Program. The guest stay of M. Prill at the Technion was financially supported by the HITEC graduate school exchange program of Forschungszentrum Jülich.
Copyright information
© Springer-Verlag GmbH Germany, part of Springer Nature 2019