Polyethylene glycol-assisted growth of Ni3S4 closely packed nanosheets on Ni-foam for enhanced supercapacitor device
Abstract
Rich redox peaks, high surface area, good surface wettability, fast ion passage channels, high rate capability and excellent stability are some of the essential features of an electrode for the superior electrochemical performance of a material for charge storage applications. In this work, we report the synthesis of Ni3S4 nanostructures on Ni-foam at various polyethylene glycol (PEG) concentrations, via the hydrothermal route, for supercapacitor applications. The Ni3S4 nanostructures prepared with 402 mM PEG concentration (PNS3) offers a high specific capacitance of 1458 F g−1 at 2 A g−1 and retain 37% of rate capacitance at a high and more realistic current density of 50 A g−1. The PNS3 nanosheets exhibit outstanding stability over 2400 repeated cycling processes. The best capacitive performance of PNS3 is owing to its high surface area, closely packed nanosheet morphology, good surface wettability, uniform growth on the substrate and effective storage of hydroxyl ions in the mesopores. A symmetric supercapacitor device (PNS3//PNS3) delivers a large energy density of 34 W h kg−1 with a power density of 350 W kg−1. The electrochemical results and excellent symmetric device performance recommend Ni3S4 nanosheets (PNS3) to be a promising electrode material for supercapacitor applications.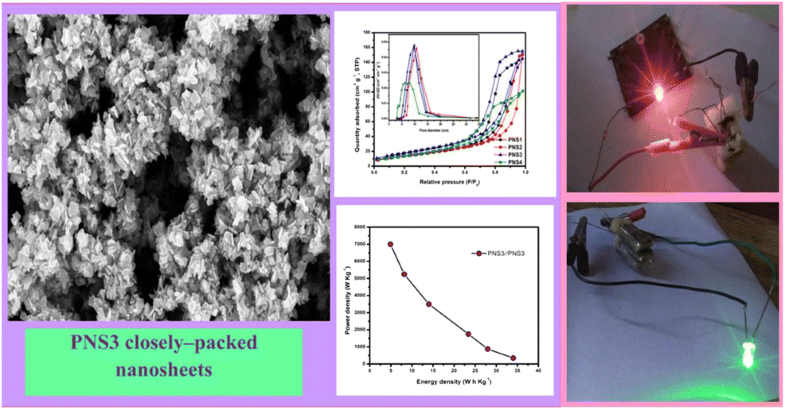 Keywords
Ni3S4 closely packed nanosheets 
Hydrothermal growth 
Polyethylene glycol 
Symmetric supercapacitor device 
Energy density 
Notes
Acknowledgments
One of the authors, S. Nandhini (RGNF-2015-17-SC-TAM-18395), is thankful to the University Grants Commission, New Delhi, for providing the financial support through the Rajiv Gandhi National Fellowship (RGNF). The authors thank the Department of Science and Technology, Government of India, for providing x-ray diffraction facilities through FIST (SR/FST/PSI-199/2015(G)).
Copyright information
© Springer-Verlag GmbH Germany, part of Springer Nature 2019