Characterization and electrochemical studies on poly(1-naphthylamine)-graphene oxide nanocomposites prepared by in situ chemical oxidative polymerization
Abstract
Present work demonstrates the synthesis of novel poly(1-naphthylamine)-graphene oxide (PNA–GO) nanocomposites by the polymerization of NA in GO dispersion. Here, GO was synthesized by greener oxidation of graphite without using sodium nitrate. The characterization of PNA–GO nanocomposites by different analytical techniques indicates that structural, thermal, and electrochemical properties are dependent on GO content. Observation of interconnected fibrous arrangement of PNA in PNA–GO nanocomposites suggests the templating interaction of GO on PNA. Electrochemical studies reveal the improvement in capacitance, cyclic stability, and charge transfer characteristics of PNA–GO nanocomposite offering a low-cost and highly processable electrode material.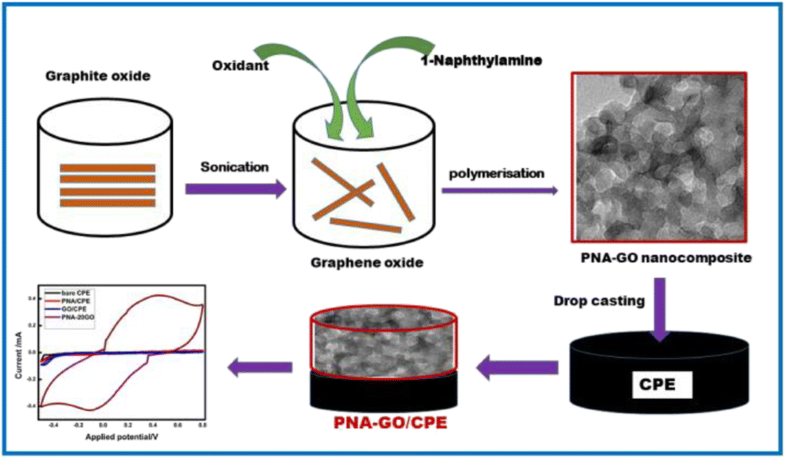 Keywords
Nanocomposite 
Poly(1-naphthylamine) 
Intercalation 
Polymerization 
Notes
Acknowledgment
The authors would like to thank the SAIF, STIC, CUSAT, and Kerala, India, for characterization facilities.
Funding information
The authors would like to thank the financial assistance to Femina K.S. granted by the University Grants Commission, Govt. of India under Faculty Development Programme (Grant No. FIP/12th Plan/KLMG 009 TF 12 dated 20 /04/2017) and to Alex Joseph by the Kerala State Council for Science, Technology and Environment (KSCSTE) Thiruvananthapuram, Kerala, India under SARD scheme (Grant No.002/SARD/2015/KSCSTE). 
Compliance with ethical standards
Conflict of interest
The authors declare that they have no conflict of interest.
Copyright information
© Springer-Verlag GmbH Germany, part of Springer Nature 2019